Max Scharping is a young NFL player who is making a big name as an offensive lineman. His exceptional performance and versatility have led him to be the prominent Houston Texans player in recent days.
For those unknown, he is a captain material lineman who also played for Northern Illinois. His different skills enable him to play as a guard, right or left tackle or offensive; you just name it.
Max Scharping has an outstanding football character as a big man, and probably Scharping could play all four positions on the offensive line.
Scharping had completed a pretty good career at Northern Illinois with l52 matches before joining Huston Texans.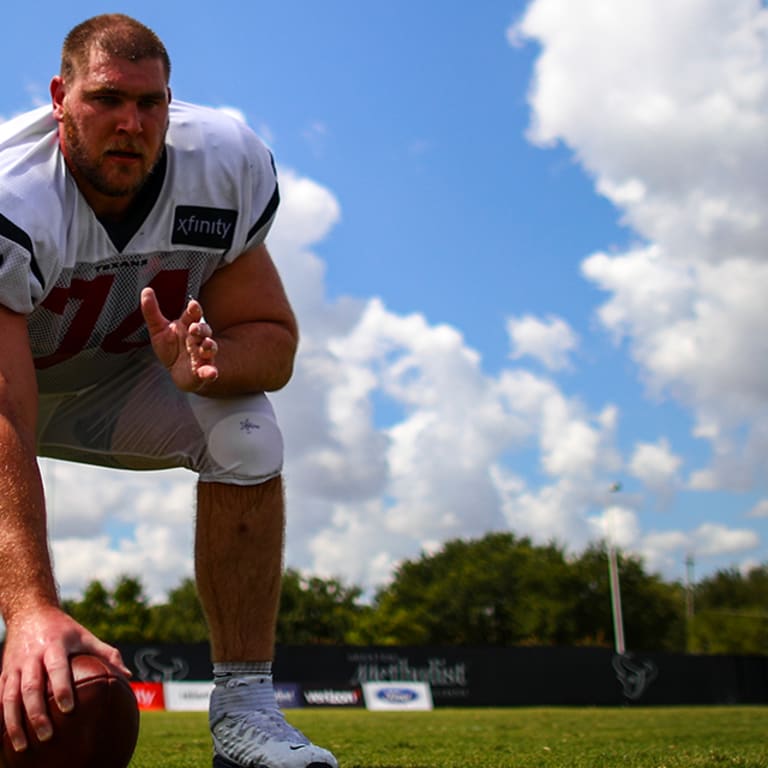 Scharping is listed among the top 10 offensive linemen in the FBS by USA Today. And to know more about Max Scharping's career, wife, net worth, and marriage, just scroll down.
But first, check out some quick facts.
Quick Facts:
| | |
| --- | --- |
| Full Name | Max Scharping |
| Birth Date | August 10, 1996 |
| Birth Place | Green Bay, Wisconsin, United States |
| Nick Name | Max |
| Religion | Christian |
| Nationality | American |
| Ethnicity | White |
| Education | Green Bay Southwest High School |
| Horoscope | Virgo |
| Father's Name | Paul Scharping |
| Mother's Name | Jackie Scharping |
| Siblings | None |
| Age | 25 years old |
| Height | 6 feet 6 inches (198 cm) |
| Weight | 327 lb (148 kg) |
| Hair Color | Blonde |
| Eye Color | Brown |
| Build | Athletic |
| Profession | NFL Player |
| Current Team | Houston Texans |
| Position | Guard |
| Active Years | 2018 – Present |
| Marital Status | Engaged |
| Girlfriend | Cassidy Halloran |
| Kids | None |
| Net Worth | Over $2 million |
| Social Media | Instagram, Twitter |
| San Francisco 49ers' Merch | Helmet, Jersey |
| Last Update | January, 2022 |
Max Scharping | Early Life, Family & Education
Max Scharping is an American player who was born and raised in Green Bay Winsncons. He was born to parents Paul Scharping (father) and Jackie Scharping (mother).
His father, Paul, has a business of A-1 Vacuum and Radon. Since childhood, Max was passionate about sports. However, he never specifically aimed to be an NFL player from the beginning.
Evidently, Max's father was the one who used to motivate him to practice 2.7 miles from Max's school.
Though Max's hometown isn't known for producing professional NFL players, his mother Jackie has managed to support her son to be the brightest NFL player.
At an early age, Scharping had a great passion for baseball; it was like his first love.
However, the head coach of Southwest, Bryce Paup, former Packer linebacker, somehow convinced him to initiate his career in football.
Perhaps Max's size and athleticism had made Bryce encourage him for football.
That's why Max's is the only handful of Green Bay origins to get an NFL Scouting Combine to invite over the last few decades.
How old is Max Scharping?
Age, Height & Weight
The professional football player was born in the year 1996, which makes him 25 years old. Max is American by nationality and belongs to white ethnicity.
'The Big Guy of Houston Texans,' Max's stands 6'6″ (1.98 m) tall and weighs around 148 kg (327 lb).
The zodiac sign of Max is Leo. And so far, he has appeared twice in the NFL season, where he had played 31 national games.
Max Scharping | Playing Career
Max has completed his high school level of education from Green Bay Southwest High School. During his high school days, he has earned all-area awards from WIAA and Green Bay Press.
He has enabled his team to win junior season with the first team all-area and all-conference laurels in the school tournament.
Nevertheless, Max was had received all-conference honors as a sophomore. During high school, Max was not sure enough that he will be made it to NFL.
However, he became one of the prominent players in the history of Green Bay, Southwest.
Evidently, he is considered to be the first high school graduate of Green Bay Public School that has been drafted to the NFL since 1988. In 1998 Bud Key, west quarterback, was drafted from Green Bay Public.
College Days
Before completing school, Max was already raised to fame through his playing skills. That's why Max got a bunch of scholarships and offers from different universities.
Scharping had received 10 scholarship offers. However, he was waiting for an offer from Wisconsin.
Because was grew up watching the Wisconsin Badgers teams game, and it was a bit upsetting for him not to get offered.
Moreover, he chooses Northern Illinois, where he used to play from tackle position, offensive line, and quite often as a guard.
During his college days, he was a vital part of the team, where they won 53 consecutive wins and reached at semifinals for the Wuerffel Trophy.
His scores and performance in high school enable him to accumulate lots of praise. And even for his college team of Northern Illinois, his appearance was vital.
Prior to his education, Max had obtained a master's degree in exercise physiology.
NFL Career
Scharping had spent a couple of months in Phoenix, where he was preparing for the NFL draft. And he got his NFL draft in 2019, where the Huston Texans picked him up in the second round (55th overall).
In fact, even after getting recruited for the Huston, he was on the team's backup list for almost a year. After a long year, Scharping debuted as a left guard in the season's final 14 games.
So far, he had played in the Senior Bowl whereas, in February, he had played NFL matches.
Max's Recovery from Covid
With the widespread of Covid 19 in America, many celebrities and athletes also got infected by this disease.
Similarly, in October 2019, Scharping was also tested positive for Covid-19. The news was something unexpected for Max's fans because he was performing pretty much well in the season.
Additionally, the Texans shut down their facility after Max's covid test came out positive.
Playing Style
Max generally impresses his coach and his fans with his unique moving tackle and an incredible blending of technical and athlete ability.
Scharping can control and handle bull rushers, and he also figures out the way to recover as they get blocked.
However, he got contrary footwork and balance, and while he passes sets, they are pretty rushed and erratic.
But Max is best suited for the right side on the field, where he has the great potential to save the game.
Regarding his college game, he has much experience in left and right tackle. In general, his above-average proportioned mass gives him enough power to become a giant run blocker.
One of the main reasons, the Texans drafted Northern Illinois offensive lineman Max in the second round was his intellect. Before Scharping's draft to NFL, he graduated with a 3.99-grade point average.
You can find the latest news, stats, injury history, and latest updates of Max Scharping on NBC Sports Edge.
Relationships & Affairs
In fact, there are no reliable sources that could give a hint regarding Max's current affairs and relationship. And so far, he remains tight lips regarding his girlfriend and love affair.
Moreover, there are rumors that Max has been engaged with a girl named Cassidy Halloran.
Moreover, he is a single man, and there are no rumors regarding his marriage, break-ups, or girlfriend.
However, there are no authentic reports; Max and Cassidy often share their pictures on their Instagram account. Max has posted a picture of him and Cassidy where he captioned:
"I can feel the magic floating in the air, being with you gets me that way… I watch the sunlight dance across your face, and I've never been this swept away"
Moreover, from the above picture, it's clear that Max and Cassidy are engaged now. Having said that, there is no information regarding their marriage.
Max Charping | Charitable Works
Scharping loves to contribute to his community. He gives an annual service of more than 19 hours per season for charitable works.
Scharping works for the local YMCA, engages in Safe Kids Day, organizes soccer and tournament activities. In addition, he is active with different programs at many primary and daycare schools.
Max Scharping also had visited hospitals in DeKalb and Chicago and had a clean-up after tornadoes affected local areas.
You can find the latest news, stats, transactions, scores, game logs, and scouting reports of Max Scharping on the SportsForecaster website.
Net Worth & Earnings
Without a doubt, the Huston Texans giant Max is earning million being a professional NFL player.
Max signed a 4-year contract with Houston Texans on May 10, 2019, worth $5,068,088 with $2,926,248 guaranteed money.
As of 2022, Max's estimated net worth is around $2.5 million. Being the Houston Texans player, his annual salary is estimated at about $955,736.
However, his accumulated bonus and incentive from the team reached up to $426,470.
Awards & Honor
A two-time First Team All-MAC
MAC Male Scholar-Athlete
MAC West Division Championship
Freshman All-American in 2015
2018 Wuerffel Trophy semifinalist
Social Media Presence:
Scharping loves to share his daily life activities and everyday routine from his social media account. On Instagram @mscharps, he has got 6k followers.
His Insta post is full of pictures of him and his newly engaged fiance, and he is also active on Twitter @Maxscharping, where he has 2967 followers.
Some FAQs:
Is Max Scharping injured?
As of 2021, his health condition is well, and there are no reports regarding his injury. However, three months ago, he tested positive for Covid-19, but now he has recovered.
Is Max Scharping married?
Max Scharping has not tied in a knot so far, but he got engaged with his long-time girlfriend, Cassidy Halloran. Sadly, there is no more information regarding Max and Cassidy's marriage.
What is the jersey number of Max Scharping?
Max Scharping wears jersey number #74 for Houston Texans.
What is the name of the current team of Max Scharping?
Max Scharping started playing NFL in 2019. The professional American football team Huston Texans drafted him, and to this day, he is with the same team.
What are Max Scharping's 2021 season sacks allowed and penalties?
Max Scharping hadn't allowed a single sack in the 2021 season, and he had zero penalties.
Who did Houston Texans bench Max Scharping for?
Houston Texans benched Max Scharping for Senio Kelemete at left guard.
How much did Max Scharping bench press in the NFL?
At the 2019 NFL Scouting Combine, Max made 27 reps on the bench press.