Braden Schneider girlfriend, Josée, remains away from the public limelight. Josée has been occasionally spotted with Braden's parents.
The 21-year-old Braden Schneider took the world by storm in his first game with the New York Rangers in 2022.
His first goal in his first game. Not many have the privilege to say that. Since then, he has been one of the most sought-after players in the league.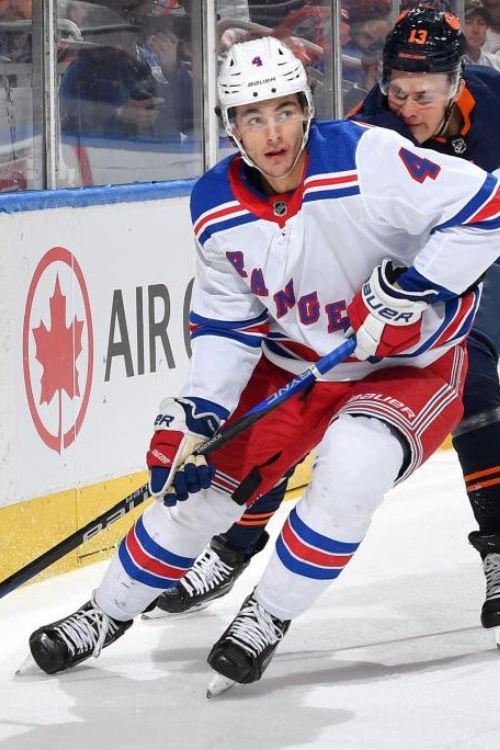 The physical defenseman scored a vital goal in the ongoing playoff series against New Jersey Devils, leveling the series and forcing game 7.
The other scorers of the night were Vladimir Tarasenko, Barclay Goodrow, Mika Zibanejad, and Chris Kreider. With the series going down to the wire, the Rangers and Devils will go head-to-head on May 2, with Braden certain to start.
Braden Schneider Girlfriend Josée
Braden Schneider's girlfriend, Josée, has been a name known by his fans since the day the hockey player debuted.
On January 13, 2022, as Braden made his NHL debut against San Jose Sharks, Josée was one of the faces in the crowd, sitting along with his parents.
Right before Braden scored, Josée was explaining to Braden's mother, Carmela, why Braden's teammate Artemi Panarin's nickname is bread man.
And right when she had started explaining to Mama Braden the reason behind it, the crowd around them exploded into cheers as Braden scored his first NHL goal.
Carmela and Josée were left stunned and took their time to process what was happening around them. It was nothing short of a dream for Braden and his family.
The NHL star has chosen to keep his relationship with his girlfriend, Josée, a private affair. Though his Instagram handle is locked, in the profile picture, you can see him with a girl, likely to be Josée.
Along with being a gifted hockey talent, Braden Schneider has been blessed with good-looking genetics.
That is also one of the reasons you can see several fan girls of the Rangers star on Tiktok seething over the fact he hasn't accepted his Instagram request.
Braden Schneider Family: Parents Carmela, And Kelly Schneider
Braden Schneider's girlfriend, Josée, shares a tight-knit bond with his parents.
Attending his games together and cheering him on is one of the favorite things to do for Josée and Mr. and Mrs. Schneider.
Carmela and Kelly Schneider raised two sons, Braden and Marek, in Prince Albert, Canada. The pair learned about their son's debut through his agent a day before his debut.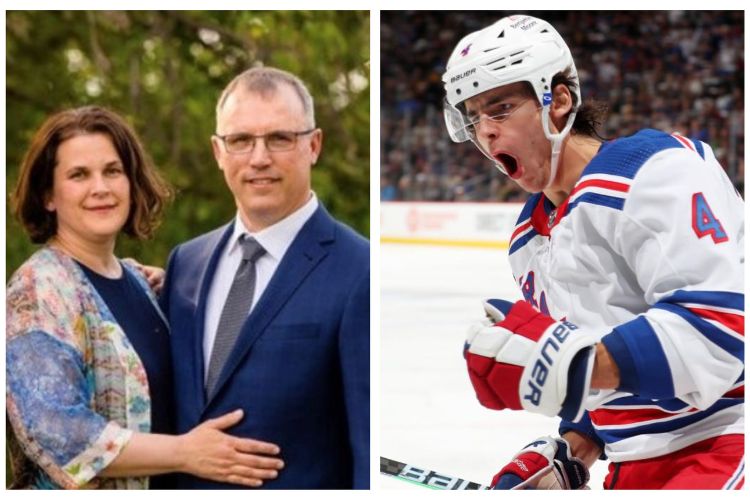 The couple then flew to San Jose to watch their son make his NHL debut. His mother, Carmela, is a staff sergeant with the RCMP.
She joined RCMP in 1996 and has a degree in criminology. Carmela has represented the institution on international stages, including a trip to Switzerland for a trade exposition.
Braden's father, Kelly Schneider, works in the freshwater fish industry. He is available on Twitter with the username @snide55, with his page dedicated to sharing news about his son.
Braden Schneider Brother Marek Schneider Is A Hockey Prospect
Braden Schneider's brother, Marek Schneider, has planned to follow in his brother's footsteps.
Born on February 5, 2003, Marek, in the 2022-23 season, played for Red Deer Rebels in the Western Hockey League. He has previously played for Saskatoon Blades and Flin Flon Bombers in the SJHL.
The younger brother of Braden Schneider, Marek was 30th overall in the second round of the 2018 WHL Prospects Draft and is hopeful of playing in NHL, like his brother.