The NHL star Carter Verhaeghe and Mekaela Mauzey (then-girlfriend) are not together anymore. The Canadian ice hockey player is now in a new relationship- his new girlfriend, Casey Engleson, is a real estate agent.
While Verhaeghe limits posts about his love life on social media, Engleson's Instagram profile often features the duo's pictures since they went official in mid-2022.
Carter Verhaeghe (b. August 14, 1995) currently plays for the NHL team Florida Panthers after signing a two-year deal in 2020.
Later, in July 2021, he signed an extension with the Panthers.
Earlier, he played as a center for the Tampa Bay Lightning & won the 2020 Stanley Cup with them, with a 4-2 victory over Dallas Stars.
The 1.88 m tall ice hockey star was the 82nd overall pick of the Toronto Maple Leafs in the 2013 NHL Draft. However, he would initially play with AHL teams & then as a two-way player in the NHL.
Carter also owes his professional success to his father Thomas Verhaeghe, who introduced the young Canadian to the world of ice hockey.
Moreover, he frequently uses his social media to express his love and support for his parents.
Carter Verhaeghe's Girlfriend, Casey Engleson: Dating Story!
The Florida Panthers player made a buzz among fans after he came forth with his new girlfriend, Casey Engleson, a model & a real estate agent.
Even though they are yet to open up about when & how they began dating, the two seemingly are together since August of 2021.
The duo went Instagram official about their relationship in June 2022. Casey shared a picture with the NHL player with a red heart emoji.
Carter Verhaeghe even took her to his best friend Mike Harris's wedding to Marina Liovass.
According to Casey's Instagram profile, the two have a pet dog named Henry.
She is very supportive of her NHL player boyfriend's career & often attends his games.
Is Casey Goodl Luck Charm Of Carter? Another Stanley Cup?
On April 29, 2023, Engleson shared a picture with Carter & wore a jacket named Verhaeghe with number #23, wishing him for Game 7 of the first round of the Eastern Conference.
On April 30, the Panthers defeated the Boston Bruins, securing their way to the second round to play against the Toronto Maple Leafs- which they later won.
In the Conference Finals, the Florida Panthers won in four straight games against Carolina Hurrican & earned a spot for the 2023 Stanley Cup Finals.
So, fans are curious if Verhaeghe could get his hands on his second Stanley Cup with his probable good luck charm (his girlfriend) by his side. Let's see!
Casey Engleson Is Into Real Estate
She is currently working as a realtor associate for Douglas Elliman Real Estate.
Casey adds a degree of professionalism that the industry requires in this fiercely competitive marketplace.
To the best of her ability, she makes use of all the information accessible.
Englesman is one of the company's best employees and has a broad range of marketing expertise.
Also helping her career is the fact that she has a background in sales.
She also succeeds in her job thanks to her involvement in the fashion and entertainment industries, in addition to her sales talents.
The realtor also enjoys leading a healthy lifestyle in addition to her work.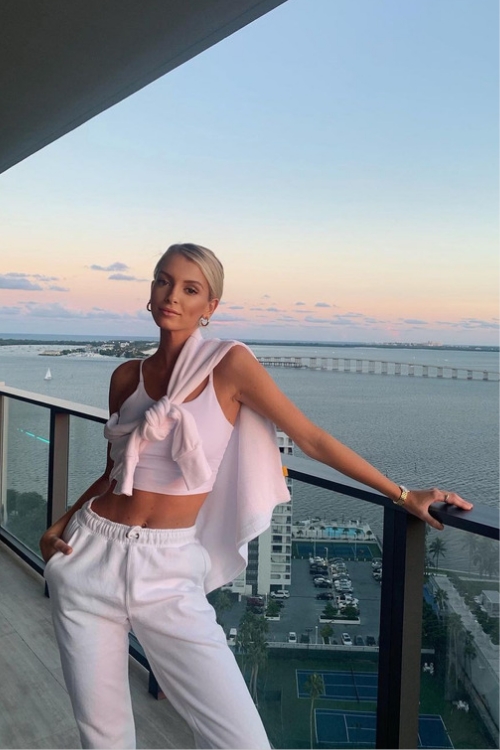 Casey enjoys traveling, fine dining, tennis, and physical fitness.
Furthermore, Englesman favors giving back to the community. She frequently gives back to the community and is involved in organizations: Best Buddies and Feeding America.
Past Relationship: Ex-Girlfriend Of Verhaeghe
Prior to Casey, the former Tampa Bay Lightning player was in a relationship with Mekaela Mauzey. She is a registered nurse.
In September 2020, when Carter won the 2020 Stanley Cup with Tampa Bay, she was there to celebrate with him.
However, the two were not seen together afterward & fans confirmed his break-up after the NHL player introduced his new girlfriend. The reason for their split remains under wraps.
According to her LinkedIn profile, Mekaela currently works as a clinical research nurse at IQVIA (May 2022- now) and as a registered nurse at North Kansas City Hospital (Aug 2021- now).
The Missouri-born is a graduate of Northwest Missouri State University, where she obtained a degree in Public Relations & Pre-Medical Studies.
Afterward, from 2015 to 2019, she enrolled at Avila University & earned a Bachelor's degree in Registered Nursing.