Melvyn Jaminet's parents, Isabelle and Herve Jaminet raised three boys in Hyeres, France. Herve and Isabelle are no longer together but have played an equally important role in their son's life, on and off the field.
A former rugby player, Herve Jaminet shares a strong bond with his superstar son. He began training Melvyn at a young age. And there was a point when Melvyn almost gave up on his rugby dream.
But his parents gave him the confidence to continue, and today, Melvyn has become the main man for his team. Since bursting onto the scene in 2021, Jaminet has been considered a vital player.
In the ongoing Rugby World Cup, Melvyn has starred alongside Thomas Ramos. He has scored against Uruguay and New Zealand and looks to maintain his hot streak for the rest of the tournament.
Melvyn Jaminet Parents, Isabelle, And Herve Jaminet
Melvyn Jaminet's parents, Isabelle and Herve Jaminet, have gone their separate ways. But the couple share an amicable relationship.
The French rugby player grew up in Toulon with two brothers. Both his brothers are rugby players. So, you can certainly picture a rugby ball being thrown from one corner of the house to another when the boys were little kids.
Isabelle Jaminet was never interested in the sport. To this date, Isabelle says she doesn't understand the game. But for the sake of her sons, Isabelle shows interest and is getting the hang of it.
In an interview, Isabelle said she was proud of her boys and that though they play the same sport, there isn't any animosity or jealousy among them. Isabelle would have to make countless trips of 20 km between Belgentier and Toulon, whether her children played rugby.
There would be three sessions a week, plus matches on weekends. Among her three sons, Isabelle shares that Melvyn had a bad temper as a kid. Herve backs her claim.
Herve Jaminet, a former local rugby player and coach at Valee du Gapeau, helped his sons get into the sport. He enrolled them at the RC Toulon training center and said he regretted not playing the sport professionally.
Herve described his son as a hyperactive child. Melvyn grew up late, and Isabelle and Herve weren't sure whether Melyn would make it to the big leagues.
But Herve said the determination to succeed was what separated Melvyn from his brothers. He knew what he wanted.
Herve is available on Facebook and has shared tons of family pictures. He might be the father of three men, but Herve has kept himself in shape and looks like a professional athlete.
Melvyn Jaminet Brothers, Kylian, And Dylan Jaminet
Melvyn Jaminet has two brothers, Kylian and Dylan Jamient. Both are professional rugby players.
Kylian is four years older than Melvyn, and Dylan is three years younger than the Toulouse's fullback. In an interview, Kylian admitted he and Melvyn fought a lot as kids and broke a few beds.
Known as the calmer sibling, Kylian began his professional rugby career with Toulon in 2015. He played in the Top 14 and Top 14 Champions Cup tournaments and signed with Colomiers in 2018.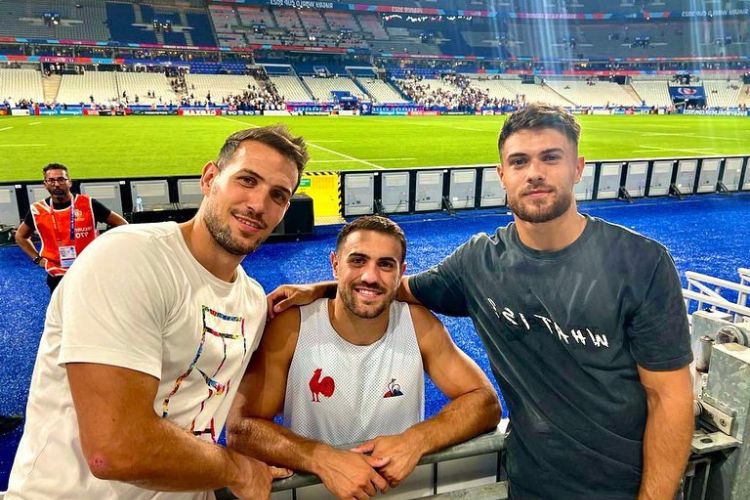 After one season with Colomiers in Pro D2, making 22 appearances, Kylian joined Nevers. He has started in 108 matches in Pro D2 and plays as a fullback.
The youngest, Dylan Jamient, also plays as a fullback for Nevers Rugby. Though Dylan admits it isn't easy to have the label of "brother of," he wants to crave his own path.
He looks up to his brothers as models, and despite Melvyn breaking his finger when they were kids, the brothers have a strong bond.