Wayne Gretzky is widely recognized to be the best hockey player of all time. Gretzky, also known as "The Great One," dominated the Stanley Cup playoffs.
He has set multiple records and reached the finals six times (five times with the Edmonton Oilers and once with the Los Angeles Kings).
Nobody has accomplished more in the NHL than "The Great One." Moreover, he has earned nine Hart Trophies during his illustrious career.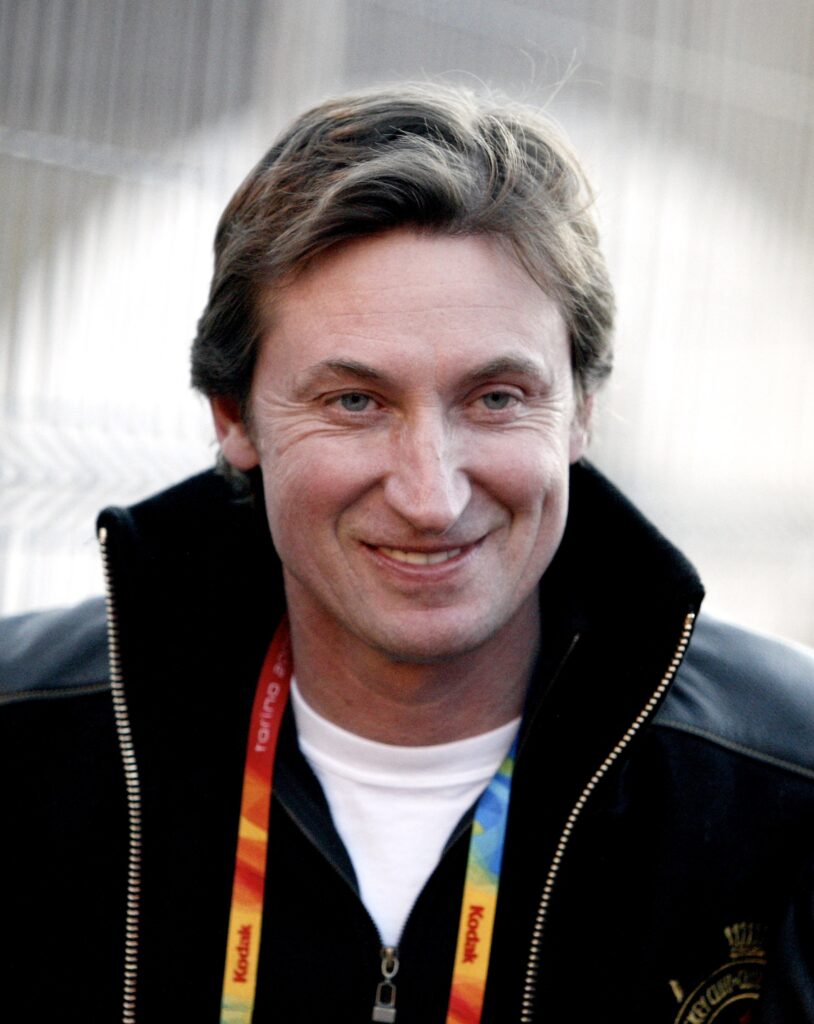 Gretzky has a resume that no one else in professional sports can match. He owns the NHL record books more than any other athlete in the league.
In addition, he has enough hardware and jewelry to support a Third World country. The article here covers every major event of Gretzky's life.
But before getting into the details, let's dig into the quick facts about him.
Wayne Gretzky: Quick Facts
Full name
Wayne Douglas Gretzky
Nickname
The Great One
Birthdate
January 26, 1961
Birthplace
Brantford, Ontario, Canada
Nationality
Canadian
Ethnicity
Unknown
Religion
Jewish
Zodiac Sign
Aquarius
Age
62 years old
Father's name
Walter Gretzky
Mother's name
Phyllis Hockin
Sibling
Brent Gretzky
Keith Gretzky
Glen Gretzky
Kim Gretzky
High School
Brantford
College
Sault Ste.
Gender
Male
Marital Status
Married
Wife's Name
Janet Jones (m. 1988)
Ex-Girlfriends
Unknown
Children
Five; two daughters and three sons
Children's Name
Paulina Gretzky
Emma Gretzky
Tristan Gretzky
Trevor Gretzky
Ty Gretzky
Weight
185 lb (84 kg)
Height
6 feet (183 cm)
Eye Color
Blue
Hair Color
Light Brown
Profession
Ice hockey player
Coach
Position
Centre
Shot
Left
Played For
Indianapolis Racers
Edmonton Oilers
Los Angeles Kings
St. Louis Blues
New York Rangers
National Team
Canada
Active
1978-1999
Salary
$45,079,614
Net Worth
$250 million
Social Media
Twitter, Instagram
Website
gretzky.com
Merch
Jersey, Funko Pop, Hockey Card
Last Update
June, 2023
Early Life
Wayne Douglas Gretzky was born in Brantford, Ontario, to Phyllis Leone (Hockin) and Walter Gretzky on January 26, 1961.
In 1960, the pair married and moved to Brantford, where Walter worked for Bell Telephone Canada.
Seven months after Wayne was born, the family moved into a house on Varadi Avenue in Brantford. Moreover, Wayne was accompanied by his brother Keith, Glen, Brent, and his sister Kim (born 1963).
Also, read;15 Best MLB Catchers of All Time
Early Coaching Influence
On a rink, Wayne's father Walter built a place in the back yard of the family house, nicknamed the "Wally Coliseum," where he taught hockey to Wayne, Keith, Brent, Glen, and their friends.
Walter also advised skaters to "skate where the puck is going, not where it has been." Wayne was a typical prodigy whose exceptional abilities drew the wrath of his parents.
Gretzky's team, at the age of six, mainly was made up of 10-year-olds. Dick Martin, his first coach, said he handled the puck better than the 10-year-olds.
"Wayne was so terrific," Martin says, "that you could have a son who was a fantastic hockey player, and he'd be overlooked because of what the Gretzky kid was doing."
Gretzky coped by tucking the sweater inside his slacks on the right side, as the sweaters for 10-year-olds were way too oversized for him. This was something Gretzky did throughout his NHL career.
Moreover, he denied that he possessed any exceptional natural ability. Instead, he claimed that his father's outstanding tutoring was responsible for many of his advantages.
Early Career
Gretzky had scored 139 assists and 378 goals and 139 in just one season with the Brantford Nadrofsky Steelers at the age of ten. His play drew media attention beyond Brantford, including a profile in the Toronto Telegram by John Iaboni in October 1971.
Gretzky scored 26 points for Brantford in the 1974 Quebec International Pee-Wee Hockey Tournament. He had achieved above 1,000 goals by the age of thirteen.
His actions drew much criticism from other players' parents, including his teammates, and he was frequently booed. According to Walter, on "Brantford Day" at Toronto's Maple Leaf Gardens in February 1975, the "capper" was booed.
Gretzky's family arranged for him to move to Toronto and play hockey when he was 14, partially to further his career and partly to get him away from the unwelcome attention he received in his birthplace.
The Gretzkys had to take the Canadian Amateur Hockey Association to court for Wayne to be allowed to play in a different area, which was previously forbidden.
He had accumulated 72 points in 32 games with the same team, called the Shock, the following year as a 15–16-year-old.
Wayne Gretzky: Body Strength & Size
Critics said Gretzky was "too little, too wiry, and too slow to be a force in the [NHL]" when he first entered the league in 1979. At the time, he weighed 160 pounds (73 kg), compared to the NHL average of 189 pounds (86 kg).
On the other hand, Gretzky tied for first in scoring and earned the Hart Trophy as the league's most valuable player that year.
He smashed the previous single-season scoring record with 164 points in his second year in the league, despite weighing only 165 pounds.
He set the all-time goal-scoring record the following year (1981–82), putting 92 pucks in the net at 170 pounds, still "a wisp compared to the ordinary NHL player."
For the majority of his career, he weighed "about 170 pounds." He frequently scored last in Edmonton Oilers strength testing, bench pressing barely 140 pounds (64 kg)
Currently, Gretzky weighs 84kg (185 lb). Similarly, he stands at the height of 6 ft (183 cm).
Professional Career
World Hockey Association (WHA)
In 1978, the World Hockey Association (WHA) competed against the NHL for the first time. The NHL prohibited the signing of players under the age of 20, while the WHA had no such restrictions.
Gretzky was courted by several WHA teams, including the Indianapolis Racers and the Birmingham Bulls.
John F. Bassett, the owner of the Birmingham Bulls, intended to challenge the NHL by signing as many promising and young superstars as possible. Therefore he considered Gretzky as the most promising young prospect.
Gretzky only appeared in eight games for Indianapolis. The Racers were averaging a loss of $40,000 each game. Skalbania informed Gretzky that he would be traded and allowed him to join the Edmonton Oilers and the Winnipeg Jets.
Gretzky's appearance in the 1979 WHA All-Star Game was one of the season's highlights. The WHA All-Stars and Dynamo Moscow faced off in a three-game series in Edmonton's Northlands Coliseum.
Wayne Gretzky: NHL Teams
Edmonton Oilers (1979-1988)
Gretzky's dominance in the WHA carried over despite predictions that he would struggle in the NHL because it was a "bigger, rougher, and more talented league."
The Edmonton Oilers and three other teams entered the NHL after the World Hockey Association dissolved in 1979. Gretzky was maintained on the Oilers' roster as a "priority selection."
Gretzky won the Hart Memorial Trophy as the NHL's Most Valuable Player for the first of eight consecutive seasons in 1979–80 and tied Marcel Dionne for the scoring lead with 137 points.
The season still holds the record for the most points scored by a rookie in NHL history.
He continued to play under his personal services contract with Oilers owner Peter Pocklington. However, by the mid-1980s, this arrangement had come under examination.
Moreover, there were claims that Pocklington had used the contract as collateral to get a $31 million loan from Alberta Treasury Branches, which the government of Alberta controls.
Los Angeles King (1988-1996)
However, in the summer of 1988, the Oilers pulled off the unthinkable by trading Gretzky to the Los Angeles Kings in exchange for a bevy of players, draft picks, and cash.
The rationale for the move has sparked a lot of speculation. Gretzky, who had recently married actress Janet Jones, was widely assumed to have lobbied for the deal to help his wife's career.
Likewise, another hypothesis holds that the NHL forced the move because it was concerned that its most valuable asset was squandered in Edmonton.
The logic was that if Gretzky was in Los Angeles, the league's finest player could substantially assist the league in becoming relevant in southern California.
In Gretzky's first season in Los Angeles, attendance and fan enthusiasm skyrocketed in a city that had previously been uninterested in hockey. The Kings now had a large number of sold-out crowds.
Many credit Gretzky's arrivals with putting non-traditional American hockey markets on the "NHL map." Moreover, his popularity in the region also prompted the league to establish teams in other United States Sun Belt parts.
St. Louis Blues (1996)
Gretzky left Los Angeles in 1996 to join the St. Louis Blues. After only one season with the team, he was traded to the New York Rangers, where he stayed for three more seasons before retiring in 1999.
He was named captain of the team immediately. In the regular season and playoffs, he scored 37 points in 31 games for the Blues. In addition, they came within one game of reaching the Conference Finals.
Gretzky's professional relationship with the team coach, Keenan, was never amicable. So he turned down a three-year, $15 million deal with the Blues and signed as a free agent with the Rangers.
In addition, he reunited with longtime Oiler's colleague Mark Messier for a two-year, $8 million (with incentives) agreement.
Read next;12 Best Cricket Spinner of All Time
New York Rangers (1996-1999)
Gretzky's professional hockey career came to an end with the Rangers. He spent his final three seasons and helped the team reach the Eastern Conference Finals in 1997.
Despite his ten goals and ten assists in the playoffs, the Rangers were defeated in five games by the Philadelphia Flyers in the Conference Finals.
Gretzky was not named captain for the first time in his NHL career; however, he did wear the captain's "C" temporarily in 1998 when captain Brian Leetch was injured and out of the lineup.
Prior to his retirement in 1997, The Hockey News formed a committee of 50 hockey experts to choose and rate the top 50 players in NHL history.
Furthermore, he was considered the best player by the experts. According to Gretzky, Bobby Orr or Gordie Howe would have been the best players of all time.
Unique Style of Play
A lot has been written about Gretzky's highly developed hockey instincts. However, he recently noted that what looked to be instinct was primarily the result of his constant study and practice of the game with his instructors.
He gained it thorough comprehension of its fluctuating patterns and dynamics as a result.
"What we believe to be a creative genius is, in fact, a reaction to a situation he has stored in his brain as profoundly and securely as his phone number." Peter Gzowski says of Gretzky's hockey abilities.
Gzowski presented Gretzky with this hypothesis, and he enthusiastically agreed. "Absolutely," answered Gretzky.
"That is correct. It's simply a matter of getting used to it. My father gave it to me. It's not instinct, as nine out of ten people believe." said Gretzky.
He further added, "Nobody would ever claim that a doctor learns his job by instinct, but I've spent about as much time learning hockey as a medical student does studying medicine."
Wayne Gretzky: Post-retirement
In August 1999, Gretzky was chosen honorary chairman of the Open Ice Summit, which discussed ways to strengthen Canadian ice hockey. He emphasized the importance of playing and practicing hockey for the love of the game.
He believed that skill development was more essential than talent and that Canada could lead the world in skill development.
On November 22, 1999, Gretzky was inducted into the Hockey Hall of Fame. In addition, he became the tenth player to do so without waiting for the three-year period.
In addition, at the 2000 NHL All-Star Game, Gretzky's jersey number 99 was retired league-wide. It was a decision inspired by Major League Baseball's retirement of Jackie Robinson's number 42.
The LA Sports & Entertainment Commission presented him with The Ambassador Award of Excellence on May 10, 2010. In 2017, Gretzky was chosen as one of the 100 Greatest NHL Players.
Wayne Gretzky: Wife and Kids
Gretzky met actress Janet Jones while working as a judge on Dance Fever. Jones, according to Gretzky, has no recollection of appearing on the show.
After that, they met up regularly, but it wasn't until 1987 that they became a couple. Coincidentally, they ran into one other at a Los Angeles Lakers game that Gretzky and Alan Thicke attended.
Gretzky proposed to Jones in January 1988, and they got married on July 16, 1988. They threw a grandiose ceremony called "The Royal Wedding" by the Canadian press.
Members of the Edmonton Fire Department served as ceremonial guards. In addition, the wedding was broadcast live throughout Canada from St. Joseph's Basilica in Edmonton.
Gretzky is said to have spent over $1 million on occasion.
Now, he shares five children Paulina, Ty, Trevor, Tristan, and Emma, with his wife, Jones. On August 18, 2013, Paulina and golfer Dustin Johnson confirmed their engagement.
Ty played hockey for Shattuck-Saint Mary's before dropping out and enrolling at Arizona State University. Trevor was a minor league baseball player in the past.
Wayne Gretzky: Books
Gretzky co-wrote several books, including Gretzky: An Autobiography with Rick Reilly in 1990 and 99: My Life in Pictures with John Davidson and Dan Diamond in 1999.
99: Stories of the Game (2016), which he co-wrote with Kirstie McLellan Day, was an in-depth look into the history of hockey. It was Canada's best-selling book of 2016.
Political Involvement
Gretzky praised President George W. Bush and his handling of the conflict in 2003. However, he did not criticize Canada for declining to participate in the invasion of Iraq.
He said, "The President of the United States is a great leader. I happen to think he's a nice man. If he believes what he's doing is correct, I back him 100 percent."
He endorsed the Conservative Party and Prime Minister Stephen Harper during the 2015 Canadian federal election campaign. Moreover, he was seen at a campaign rally praising Harper and calling him "great to the country."
Gretzky was criticized for his sponsorship because he was a non-resident. However, at a United for Ukraine Gala event in Toronto in 2014, he complimented Harper, calling him "one of the finest prime ministers ever."
Earlier in 2015, during Patrick Brown's successful bid for the leadership of the Progressive Conservative Party of Ontario, Gretzky endorsed him.
Wayne Gretzky: Legacy
Many trophies and honors have been bestowed upon Gretzky over his career. As the most valuable player in the NHL, he won a record nine Hart Trophies.
He won the Art Ross Trophy ten times between 1981 and 1994, given to the NHL's season points leader. In addition, Gretzky won the Conn Smythe Trophy as the MVP of the Stanley Cup playoffs in 1985 and 1988.
He also won the Lester B. Pearson Award (now known as the Ted Lindsay Award) five times, given to the NHL's "most outstanding player."
Between 1980 and 1999, Gretzky received the Lady Byng Trophy five times for sportsmanship and performance.
Under his name, a variety of honors and trophies have been produced. The Wayne Gretzky 99 Award is given to the most valuable player in the playoffs of the Ontario Hockey League each year.
The Wayne Gretzky Trophy is presented yearly to the Western Conference playoff champion in the Ontario Hockey League. Additionally, Gretzky also has an award named after him in the Edmonton Minor Hockey Association.
In May 2021, a private auction sold one of his 1979 O-Pee-Chee hockey cards for $3.75 million.
Business Ventures
Before joining the Phoenix Coyotes as a partner, Gretzky was a partner in the ownership of two sports franchises.
Gretzky purchased the Hull Olympiques of the Quebec Major Junior Hockey League for $175,000 in 1985. However, in 1992, Gretzky sold the team for $550,000 Canadian.
The Toronto Argonauts of the CFL were purchased by Bruce McNall in 1991, with Gretzky and John Candy as minority owners. Only McNall's name as team owner was inscribed on the Grey Cup.
However, the CFL fixed the error in November 2007, adding Gretzky's and Candy's names. Gretzky's popularity as a brand ambassador significantly outstripped that of other hockey players at the time.
Moreover, he founded Wayne Gretzky Estates, a vineyard, and distillery in Niagara-on-the-Lake, Ontario, in 2017 as a joint venture with Andrew Peller Ltd.
Gretzky and a business partner ran the Wayne Gretzky's restaurant near the Rogers Centre in downtown Toronto from 1993 to 2020.
Wayne Gretzky: Controversy
When Gretzky left Edmonton, there was a lot of bad blood, and his new wife/would-be actress was blamed for the deal. And as an owner/coach with the Coyotes, he wasn't particularly successful.
But those were hockey issues, and most of the hockey community happily accepted his greatness based on his on-ice record.
However, Gretzky's legacy has begun to be tainted during the last few years due to his family, not hockey.
Janet Jones, Gretzky's wife, was at the center of a federal investigation into an illicit gambling business in 2006.
In the end, former Coyotes assistant Rick Tocchet was jailed, and it was revealed that Jones had gambled up to $100,000 on various events.
Gretzky's Daughter Paulina became an Internet Victim.
After uploading provocative pictures on her Twitter account, Paulina Gretzky, Gretzky's Daughter, became an internet sensation.
Her account has since been deactivated, but some of the photos she willingly shared caused quite a stir.
It's no longer viable to control the news cycle in this era of social media dominance.
Unfortunately, the Great One has no control over his Daughter's iPhone or his wife's parlays. As a result, his legacy is being harmed.
Wayne Gretzky: Net Worth
Wayne Gretzky's net worth is expected to be over $250 million in 2021. In addition, he was among the top five highest-paid athlete endorsers in North America by 1995.
He was involved with companies like The Coca-Cola Company, Domino's Pizza, Sharp Corporation, and Upper Deck Company.
Gretzky earned $93.8 million between 1990 and 1998, according to Forbes.
From pillowcases to insurance, he has sponsored and launched a wide range of items. In addition, Gretzky is a partner in First Team Sports, a sports equipment manufacturer, and Worldwide Roller Hockey, Inc., a roller hockey rink operator.
Wayne Gretzky: Social Media
Gretzky is active on various social media platforms. However, he joined Instagram very recently in October 2021.
Below are the links to his social media profiles, along with his recent (2021) number of followers.
Twitter– 191.9k followers
Instagram– 87.6k followers
FAQs (Frequently Asked Questions)
How many Stanley Cups did Wayne Gretzky win?
Wayne Gretzky won four Stanley Cups during his career. In 1983-84, 1984-85, 1986-87, and 1987-88, he won four Stanley Cups with the Edmonton Oilers.
Why did Wayne Gretzky retire?
There were no mitigating reasons that prompted Gretzky's retirement; nonetheless, due to his age of 38, he had begun to show signs of deteriorating talent and opted to retire.
Where is Gretzky now?
Following his departure from the Oilers, Wayne Gretzky joins Turner as a studio commentator. His next step will be to pursue a career in radio.
Turner Sports has hired "The Great One" as an NHL studio commentator. It will begin later this year when the network starts its rights arrangement with the league.
Why did Gretzky pick jersey no. 99?
Gretzky first wore the number 99 jersey when he was with the Greyhounds. Then, he wanted to wear number 9 in honor of his hockey hero Gordie Howe.
However, his teammate Brian Gualazzi was already wearing it. So Gretzky chose 99 at the recommendation of coach Muzz MacPherson.