The German former racing driver, Michael Schumacher, competed in Formula One for Jordon, Benetton, Ferrari, and Mercedes and has a net worth of 650 million as of 2023.
He has a joint record of seven World Diver's Championship titles and has the most wins (91), pole positions (68), and podium finishes (155) at the time of his retirement in 2012.
Moving on, Michael's close friend reportedly took the accident photo of the F1 legend lying in bed, smuggled it out of the family mansion, and attempted to auction off the media, as the reports published by the Sun on January 27, 2023.
No photos or videos of Schumacher were seen since his skiing accident in 2013. The F1 legend suffered from traumatic brain injury and was put in an induced coma. He awoke a year later.
This article includes Michael Schumacher's net worth, sponsorship deals, lifestyle, and social media presence. So, please read the article to the end.
Before that, let's go through his quick facts.
Quick Facts
Full name
Michael Schumacher
Nickname
Regenkönig, Regenmeister, Schu, Schuey
Birthdate
January 3, 1969
Birthplace
Hurth, West Germany
Nationality
German
Religion
Catholic
Zodiac Sign
Capricorn
Age
54 Years Old
Father's Name
Rolf Schumacher
Mother's Name
Elisabeth Schumacher
Siblings
Two Brothers; Ralf Schumacher and Sebastian Stahl
High School
Realschule der Stadt Kerpen school
College
N/A
Marital status
Married
Wife's Name
Corinna Schumacher
Children
One son and one daughter
Children's Name
Mick Schumacher Gina-Maria Schumacher
Weight
74 kg/165 lb
Height
5′9″/1.74 m/174 cm
Eye Color
Green
Hair Color
Dark Brown
Profession
German Racing Driver (Former)
Teams
Jordan
Benetton
Ferrari
Mercedes
Entries
308 (306 starts)
Championship
7
Wins
91
Fastest laps
77
Career Points
1,566
Career History
1991-2006, 2010-2012
Salary
$50 Million
Net Worth
$650 Million
Social Media
Instagram, Twitter
Merch
Graphic T-shirt, One Grand Prix Auto Racing Art Poster
Last Update
March, 2023
Net Worth & Salary
Michael is one of the most successful retired Formula One driver in history. He has appeared on the Forbes list of the wealthiest athletes many times.
The racing driver is among the highest-paid athletes, surpassing 1 billion dollars in career earnings. He is the 5th highest-earning athlete behind Jack Nicklaus, Arnold Palmer, and Tiger Woods.
Most of their salary for Michael came from his primary career, racing for Mercedes and Ferrari. He earned $19 million from his Ferrari contract, which increased to $37 million in 1999.
On Schumacher's F1 return in 2010, he earned $37 million as his annual salary. The deal included a salary of $25 million and $11 million in private endorsements.
He also earned millions from brand endorsements with clothing brands Navy Boots, DVAG, Rosbacher, and many others.
The German retired F1 racer has a net worth of $650 million in 2023.
Net Worth Of Michael Schumacher In Different Currencies
Let's look at Michael Schumacher's net worth in different currencies, including BitCoin.
| | |
| --- | --- |
| Currency | Net Worth |
| Euro | €596850475 |
| Pound Sterling | £524693000 |
| Australian Dollar | A$913402750 |
| Canadian Dollar | C$866134750 |
| Indian Rupee | ₹52995865000 |
| BitCoin | ฿28295.26 |
Lifestyle
House
The Formula 1 legend, Michael Schumacher, and his wife, Corrina Schumacher, live in the famous estate on Lake Geneva, Switzerland.
The estate is in a posh area and surrounded by dense trees, with utmost priority given to the privacy of the Schumacher family. Likewise, the property consists of three distinct buildings inside it.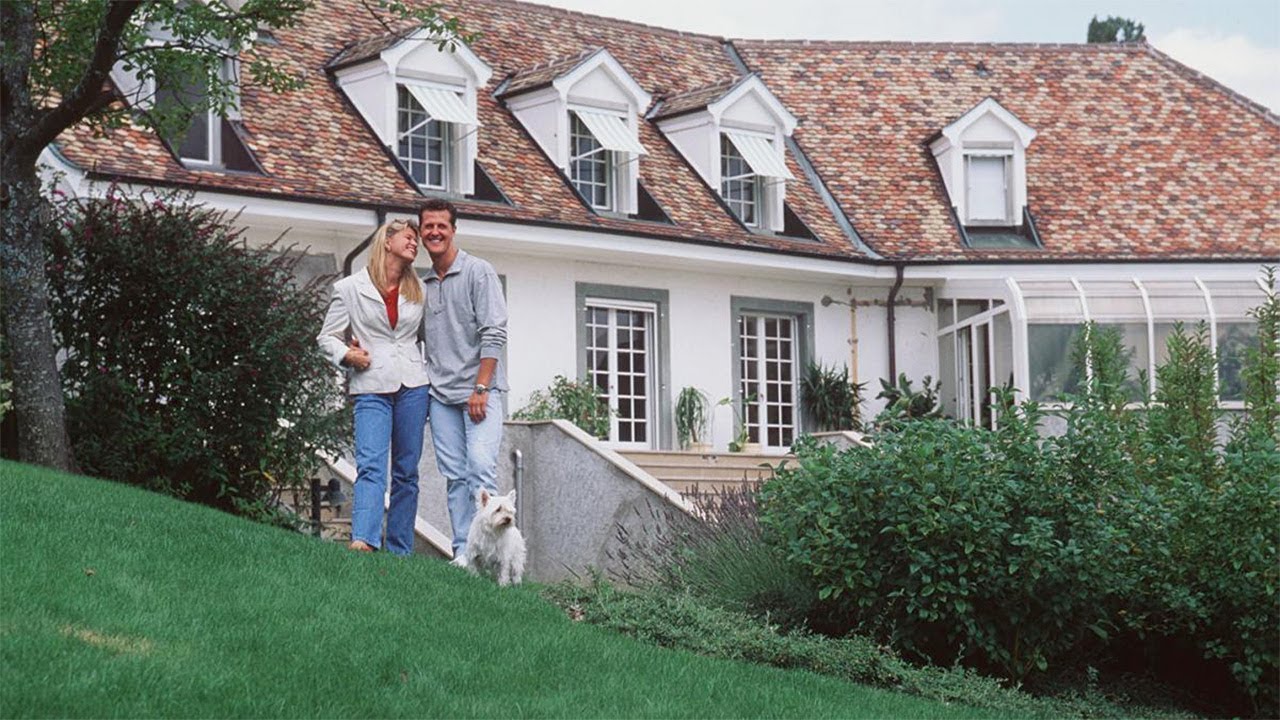 The building overlooks the famous Lake Geneva, where the Schumacher family resides with their children, Mick and Gina Schumacher.
The second building inside the property is the guesthouse. Lastly, the third structure is Michael's workplace.
What Followed After Michael's Tragic Incident?
After Michael's tragic skiing accident, his wife Corrina kept the couple's famous estate in Switzerland on the market.
The Schumacher property of 20,000 square meters on the bank of Lake Geneva has been listed at $7.9 million. The current amount is said to be double that Schumacher paid for the property in 2002.
Likewise, the Schumacher couples also own horse ranches in Texas, the USA, and Switzerland.
According to the Sun, the family has been living in Majorca, Spain, for a while. The couple purchased the 54,315 square meter plot near Port Andratx at $3.04 million.
Cars
The former Formula 1 driver has a private car collection worth millions. Not to mention, Schumacher took possession of various F1 cars he drove during his career.
The Ferrari FXX was made to track-only development prototype built, and Schumacher himself had a hand in its development process. The car alone is worth $2.1 million, excluding taxes.
Similarly, Michael also had some input on the buildout of the Ferrari Enzo, and he had owned it since it came off the assembly line. The cost of the Enzo is $2.64 million.
The former racer also owns one of the fastest cars on the track, the Mercedes SLS AMGs, worth $200k in 2023. The car accelerates to 100 km/h in 3.6 seconds and attains a top speed of 315 km/h.
Endorsement And Sponsorship
The former F1 race driver is among the highest-paid athletes, and even after his retirement, Michael still earns from his endorsements.
During his career course, Michael was paid a staggering $10 million per year by the Shell Company to wear a hat with the Company's logo in all public appearances.
Likewise, he was paid $8 million by the Deutsche Vermögensberatung Company over three years from 1999 to wear a cap with its logo. Later, he extended his contract until 2010.
Michael was the advertising partner for the watch Company, Omega. After winning his third title in 2000, the F1 racer issued in Schumacher edition watch, which had his signature on the back.
Sports Illustrated claimed that the German earned nearly $20 million in racing for Mercedes yearly.
In 2017, Forbes reported him as the fifth-highest career-earning athlete.
Charity Works
Schumacher has a charitable side to him and has been a special ambassador to UNESCO from his early days. He donated 1.5 million to the organization and involved himself in various humanitarian projects, childline, and others.
During the 2004 Tsunami crisis, Schumacher provided aid and even helped set up schools and clinics in various places.
The retired F1 racer started the 'Palace for the Poor' in Peru, which focused on uplifting poor children from the streets by providing education, food, training, and medical assistance.
Similarly, he also provided funds to the Clinton Foundation and participated in several road safety campaigns organized by Bacardi and the FIA.
Michael was also the figurehead of the Bacardi Campaign, which focused on raising awareness about responsible drinking.
Along with his family, Michael Schumacher has established a charitable organization named Keep Fighting Foundation that focuses on development projects related to social, cultural, and public health causes.
Career & Record
Michael has broken many world records with the most wins and championship points in F1. At 19, he became a driver of Formula Three cars, and in 1990, he won the German F3 championship.
Schumacher had a fantastic start as a rookie, with the record of first place in his first race back in Belgium and third in his first year in F1.
Despite having a mid-season slump, he returned more vital than ever with an emotional win in Italy and seized his third world championship title.
This record made him the first Ferrari driver to claim the championship after twenty-one years.
With outstanding performance, Michael broke the record of Alain Prost, who held a fifty-one career-win record. He also tied with the former driver Graham Hill's five career wins record at Monte Carlo.
He holds the records for career points earned (945) and for the fastest laps (51).
In the 2002 season, Michael finished in the top three in every race and won the fifth world championship title.
Michael broke Fangio's record of five World Driver's Championships by winning the driver's title for the sixth time in 2003.
He won 12 out of 13 races in 2004, only failing to finish in Monaco after an accident during the safety period. Schumacher finished the season with a record of 148 points.
Michael's performance in the Japanese Grand Prix was classified as heroic after he finished in fourth place despite having a fuel pressure problem.
Further
The former F1 returned to Formula One in 2010 alongside Nico Rosberg in the new Mercedes GP team. Later, he signed a three-year contract worth $24 million.
Schumacher finished eighth place in the Drivers Championship with 76 points in 2011. The Rosberg partnered with him at Mercedes for the 2012 season.
The seven-time world champion retired from F1 racing for the second time in 2012. He first retired in 2006 and later made a comeback, returning in 2010 on a three-year contract with Mercedes.
Honors, Trivia & Quotes
With outstanding performances and records, Michael Schumacher was honored on various occasions in his career.
The German Moter Sports Federation honored him with the ONS Cup 3 times. Similarly, he won a Bambi Sports Award and was the first racing driver to receive the Golden Steering Wheel.
In 2006, MotorSport awarded him an FIA Gold Medal to honor his racing career and improve safety. Likewise, he was inducted into the FIA Hall of Fame and Germany's Sports Hall of Fame in 2017.
With such achievements, honors, and more, Michael Schumacher is considered the greatest Formula One driver of all time.
Trivia
To help support his son's dream and passion for racing, Rold Schumacher, his Father, took a second job renting and repairing karts.
Michael Schumacher obtained his German license after he won the German Junior Kart Championship in 1983.
The former race driver's younger brother, Ralf Schumacher, is also a racer.
He's a multi-talented person who engages in other sports such as scuba diving, Bike racing, and Horse Riding.
Michael Schumacher and Schubert's team developed a lightweight and ultra-strong helmet called RF 1.5.
Quotes
"Once something is a passion, the motivation is there."
"I always thought records were there to be broken."
"When you start in a team, you have to get the teamwork going, and then you get something back."
Frequently Asked Questions (FAQs)
Is Schumacher still in a coma?
After the devastating skiing incident in December 2013, Schumacher was in a coma for six months. At present, he is fit and fine. Back then, he was paralyzed and couldn't speak.
Does Michael Schumacher have a documentary?
Yes, the Netflix documentary Schumacher is made based on his life. It is co-directed by Hanns-Bruno Kammertöns, Vanessa Nöcker, and Michael Wech.
What is Michael Schumacher's number?
Well, Michael Schumacher's number is 47. He previously chose number 4 and 7, which was already taken. As a result, he decided to combine both and choose number 47.
Which helmet did Michael Schumacher use in the last race in Formula One?
Michael Schumacher continued to use the Schuberth helmet until his last race in Formula One. Schuberth GmbH is a German Company that produces safety and combat helmets for motorcyclists and industrial workers.
Who is the better driver, Lewis Hamilton or Michael Schumacher?
Lewis Hamilton and Michael Schumacher are considered the best race drivers, so it's quite impossible to decide who is better. Both F1 racers have shown their dominance on the track, finishing in podium positions several times. So both are considered great drivers, and their numbers and wins aren't enough to determine the greatest outright.
Where was Michael Schumacher when Ayrton Senna crashed?
Michael Schumacher was behind Ayrton Senna at the San Marino Grand Prix when he crashed at over 130mph at the Tamburello corner.
Was Michael Schumacher The Stig of Top Gear?
The Stig is a character from the British television show Top Gear. In series 13, episode 1, the television show jokingly unmasked the Stig as Michael Schumacher.