Michael Strahan is a T.V. host, sports analyst, and former football player in the National Football League. The host played for the New York Giants for 15 years before he retired. A former defensive end for the New York Giants of the NFL got his hands on T.V. and Journalism and became a famous television personality.
He was also a Superbowl Champion in 2007 when his team won against the New England Patriots.
Besides that, you might've seen him on a two-time Daytime Emmy award-winning show, Live with Kelly and Michael.
He did the show for four years with Actresses and hosted Kelly Ripa. Also, you can catch him on ABC's Good Morning America.
The former NFL player is also a sports analyst on Fox NFL Sunday. Jersey number 92 served as a defensive end for the Giants.
The athlete followed in his uncle and former NFL player Art's footsteps.
As a result of Strahan's hard work in the field, he went on to study at Texas Southern University on scholarship.
Before exploring the player's life details, here are some quick facts about him.
Quick Facts
| | |
| --- | --- |
| Full Name | Michael Anthony Strahan |
| Birth Date | November 21, 1971 |
| Birth Place | Houston, Texas |
| Nick Name | Not Available |
| Religion | Christian |
| Nationality | American |
| Ethnicity | African American |
| Education | Texas Southern University |
| Horoscope | Scorpio |
| Father's Name | Gene Willie Strahan |
| Mother's Name | Louise (Traylor) Strahan |
| Siblings | Five |
| Age | 51 years old |
| Height | 6 ft 5 in |
| Weight | 255 lb |
| Hair Color | Black |
| Eye Color | Black |
| Build | Athletic |
| Profession | Former NFL player, Tv host |
| Team | New York Giants |
| Position | Defensive end |
| Active Years | 1993-2007 |
| Marital Status | Divorced |
| Ex-Wife | Wanda Hutchins, Jean Muggli |
| Kids | Four |
| Net Worth | $65 million |
| Social Media | Instagram, Twitter |
| Merch | Autographed Jersey, Trading Cards |
| Last Update | June, 2023 |
Michael Strahan | Early Life, Family, and Education
The former NFL player was born in Houston, Texas, to a basketball coach, Louise Strahan, and a boxer Gene Willie Strahan.
His Father, Gene, was also a retired Army Major. On top of that, his uncle, Arthur Strahan, is a former NFL player who played for the Houston Oilers and Atlanta Falcons.
When the player was nine, his entire family moved to the army base in Mannheim, West Germany.
He played in the Mannheim American High School as a linebacker for their school team Mannheim Bison.
Strahan is the youngest of six children and has two sisters and three brothers.
For his senior year, his Father sent him back to Houston to live with his uncle, Art, and study at Westbury High School.
Under his uncle's care, he thrived as a football player and played for a season with the school's team.
Above all, the game was sufficient for him to receive a scholarship from Texas Southern University.
After that, he returned to his family in Germany for his last semester and graduated from Mannheim Christian.
Michael Strahan | Age, Height, and Weight
The former NFL player will turn 51 years old on November 21, 2023.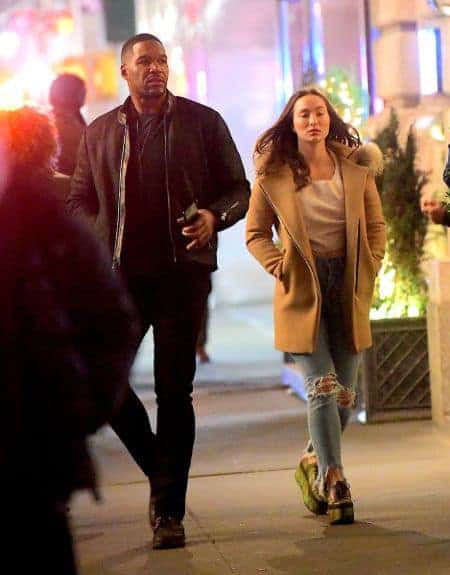 He weighs 255 lb, approximately 116 kg, and is 6 feet 5 inches high.
Michael Strahan | Football Career
College Career
Strahan had a successful college career as a defensive end at the Texas Southern University for the Southern Tigers.
The player had built such a reputation in college that he was already getting attention as an NFL candidate by his junior year.
In the athlete's senior year, many outlets chose him as All-America's first team and Division I-AA Defensive Player of the Year.
On top of that, he was also called the Southwestern Athletic Conference's First Team.
Besides that, he was called the SWAC's Player of the Year for two consecutive years. In the meantime, he was also Black College Defensive Player of the Year.
Professional Career
After the sports analyst graduated from college in 1993, the New York Giants drafted him. In his first season, he missed many games due to injuries and ended up playing only six.
However, in 1997 and 1998, he had a remarkable career; these were some of his shining moments.
The morning show host scored 14 racks in 1997 and 15 racks in 1998, and as a result, he got himself voted in the Pro Bowl and All-Pro team twice.
Michael was a powerful defensive end in his critical years. In 2001, he broke the previously held record for the highest number of sacks per season with 22.5.
Furthermore, he was the NFL Defensive Player of the Year in 2001 and NFC Defensive Player of the Year in 2001 and 2003.
However, in 2004, he was injured for most of the season, but in 2005 he lived up to his name again and re-entered Pro Bowl.
The Scorpio and his teammate, Osi Umenyiora, scored a combined 26 sacks in 2005. His coaches and experts considered the former NFL player one of the best defensive ends.
The sports analyst played a few games in the 2006 season before suffering a Lisfranc fracture, which caused him to miss the entire season.
Many rumors were flying around that time that he would retire in 2006.
However, he returned for his 15th and last season with the New York Giants.
As for his last season with the Giants, the team won their first NFL championship against the undefeated New England Patriots.
The win was the Giants' first win since 1990, with a score of 17-14.
Retirement
Strahan retired from the NFL in 2008 and got voted into the Pro Football Hall of Fame in 2014. He also performed the ceremonial coin toss in Super Bowl XLVIII.
Strahan was presented with his Hall Of Fame ring on November 3 at halftime in the game between the Giants and the Colts.
Many of his former teammates and former Giants attended the game.
Michael Strahan | Marriage, Relationship and Kids
The morning show host has two children with his first wife, Wanda Hutchins.
The pair got married in 1992 and gave birth to their first child Tanita Strahan, either before or right after they married.
Her exact birth date is not well known, but according to her German arm tattoo, she might've been born in 1991.
The former pair also has a son named Michael Anthony Strahan, Jr., born in 1995 and 27 years old as of 2023.
Michael Junior resides in New York City and recently graduated from Texas Southern University like his old man. Nonetheless, the duo divorced in 1996.
Strahan met his second wife, Jean Muggli, in her spa in 1999. They share two beautiful twin daughters who were born in December 2004.
They are teenagers now and are in their sophomore year of high school.
Nevertheless, the pair divorced in 2006, and Jean got $15 million in the settlement on top of $18,000 monthly child support.
Following it, he and the fashion model Nicole Mitchell engaged in 2009. Mitchell is the ex-wife of comedian-actor Eddie Murphy. However, the pair broke off their engagement in 2014.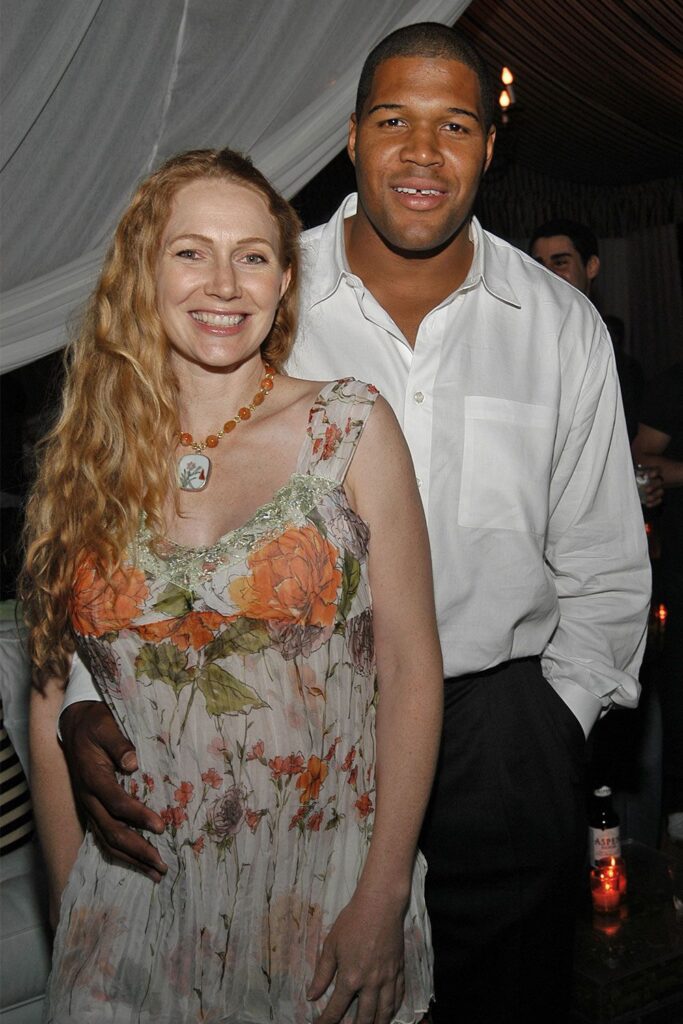 As of 2023, there are rumors that the football player is dating Kayla Quick, who is 18 years younger than him.
Apart from that, she is also a convict convicted of disorderly conduct and grand theft. The pair seem pretty happy and have kept their relationship relatively private.
Michael Strahan | Net worth, Salary, And Charity
Net worth And Salary
The defensive end has a massive net worth of $65 million. On top of that, he reportedly makes $17 million per year from the Good Morning America show.
Michael Strahan became one of the highest-paid players in 1999 when he signed a $32 million contract with the Giants.
Also, during the 2002-03 season, he made $20.6 million alone in salary.
Besides that, he earns pretty well from the shows he hosts. The athlete became one of the highest-paid Tv hosts after earning $21.5 million in 2017.
Likewise, he also hosted a $100,000 Pyramid game show. Not to mention, he also co-owns a production Company named Smac Entertainment.
Endorsement Deals
Michael Strahan is active with his endorsement deals and stands on numerous brand labels.
Some of his brand deals are alongside Metamucil, Subway, Snickers, Pizza Hut, Dr. Pepper, and Right Guard.
However, being the host of Good Morning America, Michael cannot endorse any brands per the ABC rules. Hence, as the contract expires, he can't renew it.
Also, check out a fellow Giant, Jason Bell Bio: Age, Career, Net Worth, Family, IG, Physical Stats Wiki.
Charity
The player permitted an organization, Junior League of Montclair-Newark, to conduct a fundraiser in his million-dollar home before even moving in.
The organization funded the programs Children At Risk and HomeCorp to help children, families, and low-income families achieve homes.
Moreover, he teamed up with his former teammate to fund Nike's Let me Play Campaign by designing their sneakers, whose proceeds would help girls and boys face discrimination in sports.
Also, the Giant volunteered at St. Jude Children's Research Hospital in 2018.
Michael Strahan Space Tour | Blue Origin | Jeff Bezos
Michael Strahan had a few of the most remarkable moments of his life in space in a Blue Origin founder Jeff Bezos' New Shepard rocket while he orbited above the earth.
In December 2021, he flew to space and landed successfully with his other companions.
"Being there at the first launch… it was mind-blowing," Strahan told his GMA co-anchors.
Michael added, "I believe that space travel will bring many technological breakthroughs and innovations to us here on Earth, and I just wanted to be a part of it."
He was among the few Journalists who first asked jeff Bezos how it felt above there in space. Who knew Jeff would offer him to go there after a month?!
Strahan, and five other members of his crew, upon arrival, were greeted by Bezos, who opened the capsule door and said, "Welcome back, guys."
"I want to go back," Strahan said after landing.
Michael Strahan | Social Media Presence
Instagram
Strahan is on Instagram with 1.5 million followers. Also, the player appears quite active on social media, with over one thousand posts.
He shares many adorable pictures of his kids and dogs, his late Father, his family, NFL days, GMA's behind the scenes, and projects.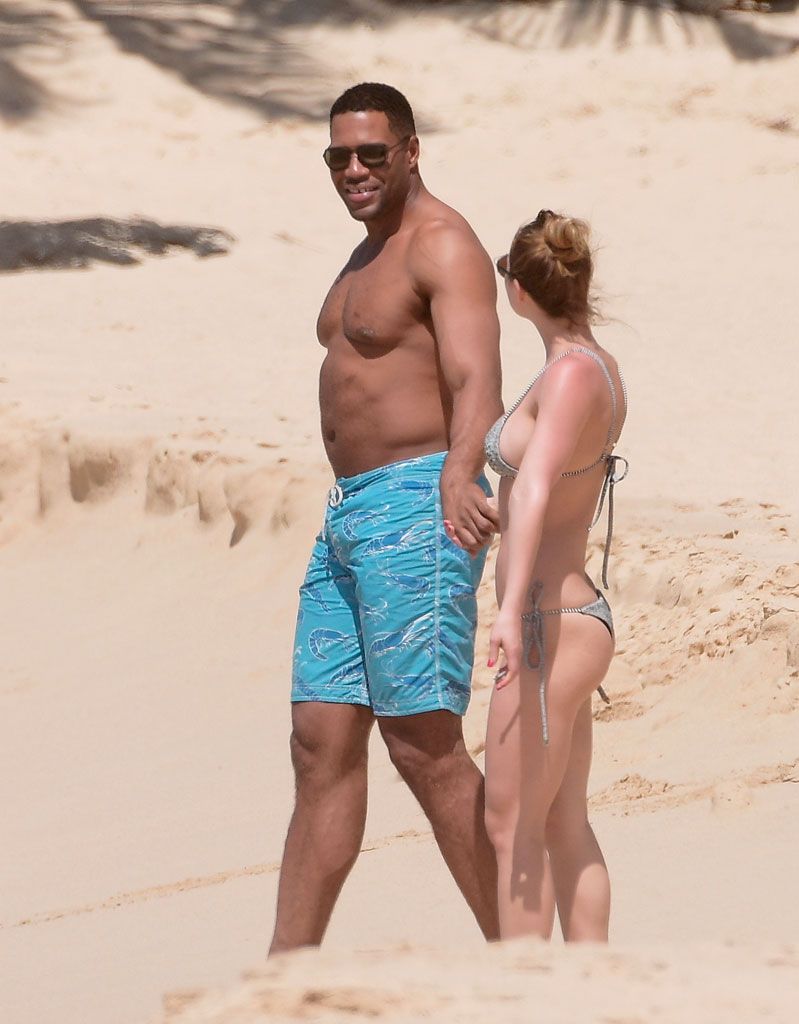 Not to mention, Michael often shares pictures and times from his leisure that he goes with his daughters.
Michael recently lost his Father and often shares how much he inspired him and how grateful he is for his life today because of his Father's sacrifices.
Recent posts
As one of his recent news, Michael posted a heart-wrenching post regarding the death of former Giant's coach, Jim Fassel.
He published several pictures and paid his condolences and tributes to the coach.
"He will be missed. I was shocked this morning to find out this news. Always remember life is too short and to make sure you hug and call the people you care about and tell them you love them." -Michael Strahan
Besides, Michael has also posted about his daughter, beaming with pride.
For elaboration, he shared the art price of his daughter Tanita. As a part of the good news, he also states that her works are on sale now.
Twitter
The athlete is also on Twitter since 2009 and has a little over 1.3 million followers. Several celebrities and football players follow him.
He is very popular in the hosting world and has many high-profile friends on his following list.
The sports analyst recently launched his MSX by Michael Strahan collection, which includes high-quality men's joggers, pullover hoodies, Polo shirts, long sleeve t-shirts, sweatshirts, and much more available in NFL shops and amazon.
He is also on Facebook with 1.1 million followers.
If you are interested in Michael Strahan's rookie card, check the link to follow!
Michael Strahan | Popularity
Strahan is still a popular name in the U.S, as we can see below the graph, growing up since last year.
Michael Strahan | FAQs
Does Michael Strahan still have a gap in his teeth?
Michael Strahan is well-known for the gap between his teeth. As many expected him to fix it, he revealed that he would not be fixing it.
In one of his episodes of "Good Morning America," Michael stated that his teeth gap is staying there and not going anywhere.
What happened to Michael Strahan?
After recovering from the global pandemic attack, Michael Strahan faced another injury. Well, it dates back to March 2021, when Strahan suffered from a cramp in the hamstring while making a Tiktok.
He was filming a Tiktok video with his youngest twin daughters, Isabella and Sophia. However, at the end of the video, he reached down to his leg due to the pain.
Is Michael Strahan in any political Party?
Michael Strahan is not involved in any political parties currently. However, he had run for a seat on the township council.
You might also like Terry Bradshaw's Bio: Early life, Wife, Career, Net worth.