Michael Strahan is a former NFL (National Football league) player who played the defensive end for 15 years for the New York Giants. Currently, he is working as a T.V. host and sports analyst and is becoming a famous television personality.
In 2007, Strahan contributed to the Giants' Super Bowl XLII win over the New England Patriots.
In addition, he is considered an outstanding talk show host and has two Daytime Emmy Awards under his name.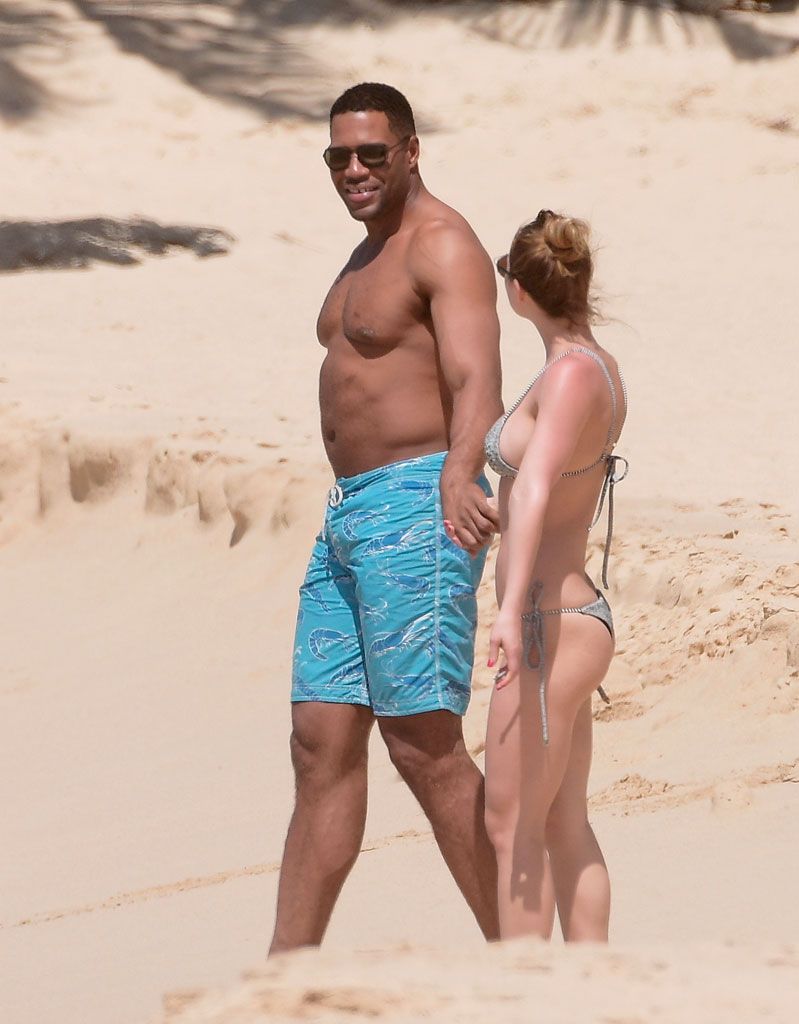 Strahan is praised for his charismatic personality and philanthropic nature.
However, his romantic life has intrigued many fans after two failed marriages and a string of dating rumors.
So, who were Michael Strahan's wives? Where are they now? Learn all about his former wives and his current girlfriend in this article.
Jean Muggli: Michael Strahan Ex-wife
Quick Facts
| | |
| --- | --- |
| Full Name | Jean Muggli Strahan |
| Nick Name | Jean |
| Date Of Birth | November 3, 1965 |
| Birth Place | Carson, North Dakota |
| Residence | New York City, United States |
| Age | 58 years old |
| Gender | Female |
| Sexual Orientation | Straight |
| Height | 1.68 m (5 ft and 6 in) |
| Weight | 127 lbs (58 kg) |
| High School | Not Available |
| University Name | Not Available |
| Horoscope | Scorpio |
| Religion | Christianity |
| Nationality | American |
| Ethnicity | White |
| Father's Name | Anthony Alphonse Muggli |
| Mother's Name | Marry Banning |
| Siblings | Five (David, Scott, Carolee, Timmy, and Denise) |
| Hair Colour | Blonde |
| Eye Colour | Light Brown |
| Skin Colour | Fair |
| Marital Status | Divorced |
| Former Husband | Michael Strahan |
| Kids | Sophia and Isabella |
| Profession | Beautician |
| Net Worth | $13.2 million |
| Salary | Not Available |
| Social Media | Instagram and Twitter |
| Merch | Michael Strahan's Book and Paperbacks |
| Last Update | November, 2023 |
Michael Strahan's Wife: Who is Jean Muggli?
Jean Muggli was born on November 3, 1965, in Carson, North Dakota, United States. Her parents, Anthony Alphonse Muggli and Marry Banning were farmers.
Anthony also served in the military before retiring to live a quiet farm life in North Dakota.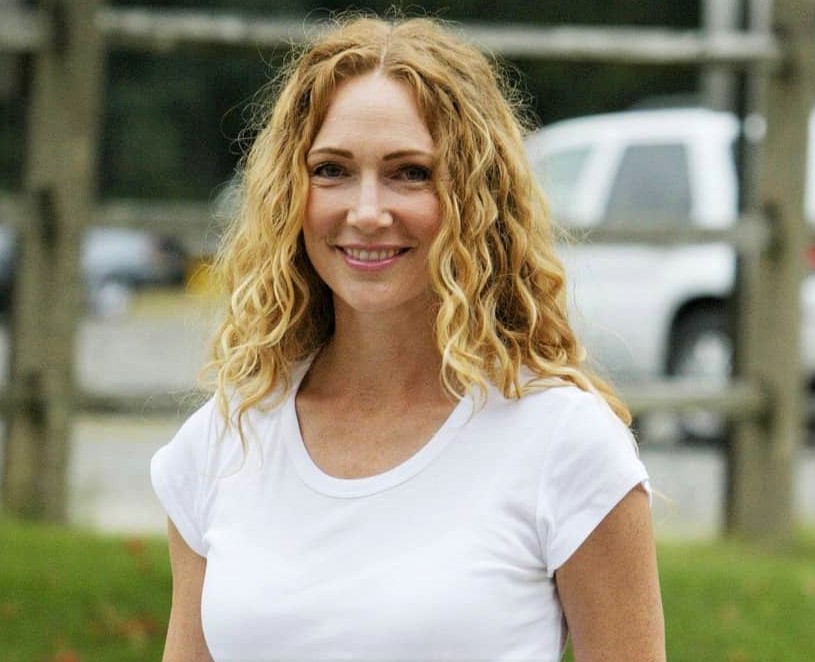 Muggli has three brothers and two sisters, so she comes from a big family. She went to New York to complete her high school education.
Jean Muggli works in the cosmetics industry. When she first met Michael Strahan, she was a store manager at a skin-care salon in Manhattan, New York.
Michael Strahan and Jean Muggli: Marriage and Kids
Strahan was immediately attracted to Muggli when he met her for the first time.
After that, he made excuses to visit her spa for months. Finally, she realized Michael liked her when he insisted on stopping by her salon daily.
Jean wasn't interested in dating sports players, but she gave him a chance when she came to like his shy and charming nature.
After some time, he successfully wooed her because of his likable personality.
Michael and Jean got married in 1999. Jean gave birth to twin daughters, Sophia and Isabella, in 2004.
Michael Strahan and Jean Muggli: Divorce
After seven years of marriage, Strahan and Muggli legally separated in 2006. Muggli was granted $15.3 million and $18k a month after the divorce.
Even after their divorce, the two continued to have a strained relationship.
In January 2020, Jean accused Michael of hiring private investigators to watch her at her North Carolina residence.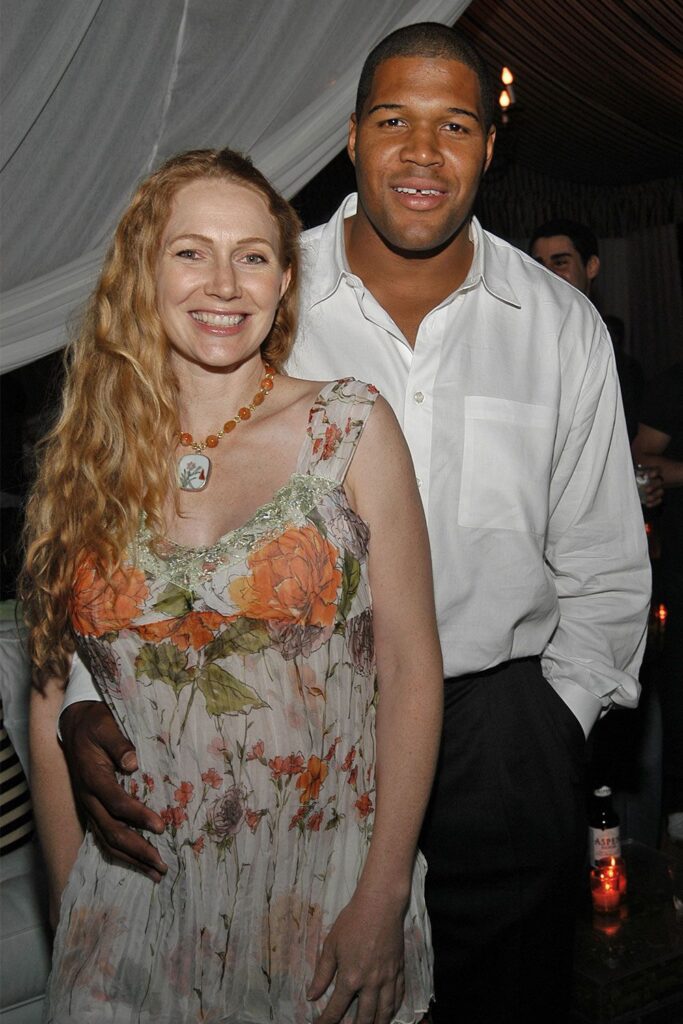 However, Strahan denied those allegations. A month later, he decided to take his ex-wife to court, so he had full custody of his twin children.
He claimed that Jean was abusive towards his daughters and did not take them to court-ordered therapy sessions.
They found common ground and agreed to let their children stay one week with each parent.
Jean moved from North Carolina and settled in New York City for convenience.
You may also like: Francisco Lindor's Mother: Maria Serrano Bio & Family >>
Jean Muggli: Net Worth
Muggli received around $15 million as compensation after her divorce from Michael Strahan. However, it was enough to allow her to indulge in a lavish lifestyle.
her estimated net worth is 13.2 million.
She quit her job after having children to become a housewife, so she doesn't have a particular source of income.
Jean Muggli: Social Media
The timeless blonde beauty has a private social media account. It seems she does not wish to live in the public eye.
However, you can follow her daughters if you are interested! They are equally popular.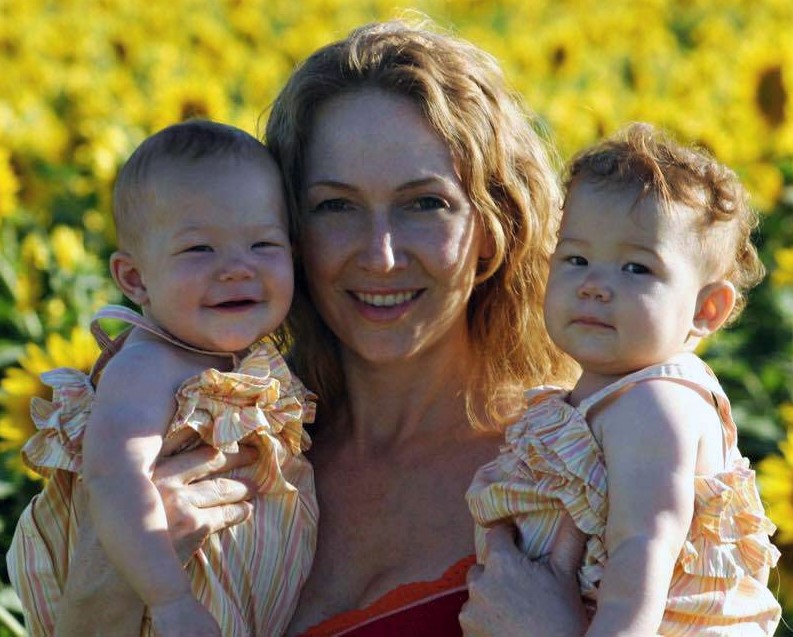 Jean's Instagram: 892 followers.
Sophia's Instagram: 19.8k followers
Isabella's Instagram: 804 followers
Michael Strahan's Wife: Who is Wanda Hutchins?
Wanda Hutchins was born on January 1, 1970, in Houston, Texas. Hutchins is a businesswoman, interior designer, and the owner of Wanda Home Designs.
She is the former vice president of Strahan Global Outreach, a non-profit organization that focuses on producing the most refined home appliances and furniture.
There isn't much public information on Hutchins, mainly since she lay low after her divorce from Michael Strahan.
Michael Strahan and Wanda Hutchins: Marriage and Kids
Strahan and Hutchins met at a football game in Germany. Michael was only seventeen, so they started dating after getting to know each other better.
When Wanda was twenty years old, she got pregnant with Michael's child. The two decided to get married in 1992.
The ex-couple has two children, Tanita Strahan and Michael Anthony Strahan Jr.
The entire family moved to Houston, Texas, where Michael bought a $163k House. His parents had lived in the same neighborhood.
Unfortunately, their marriage began to crumble after the birth of their second child, and they filed for divorce and separated in 1996.
In 2001, Hutchins gave birth to her third child Dorian, but the Father's identity remains unknown.
Wanda Hutchins: Net Worth
Wanda Hutchins is a businesswoman who runs her own successful Company.
Hutchins has an estimated net worth of $2 million.
There is no doubt that she lives comfortably, even as a single mother with three kids.
Wanda Hutchins: Social Media
Hutchins has a social media account promoting her furniture and home decor products. She also shares pictures of her children and cute pets.
Instagram: 507 followers
Michael Strahan: Why is he famous?
The former NFL player Michael Strahan was born in Houston, Texas, on November 21, 1971.
His mother, Louise Traylor Strahan, is a former basketball coach, and his Father, Gene Willie Strahan, was an army major and boxer.
Michael and his family moved to Mannheim, Germany, when he was only nine years old because of his Father's army posting.
He attended Mannheim American High School and played organized football.
Michael returned to Texas to live with his uncle in his senior year and joined Westbury High School. He played high school football for a single year.
Strahan was able to receive a scholarship from Texas Southern University. He played defensive end for the Texas Southern Tigers.
Since high school, Strahan had begun showing his athletic skills, but he displayed even more potential in college.
He was honored with First Team All-Southwestern Athletic Conference (SWAC) in 1992.
He was named SWAC's Player of the Year for two seasons (1991 and 1992) and Black College Defensive Player of the Year (1992).
The New York Giants selected Strahan in the 1993 NFL Draft.
Some of his first noteworthy seasons happened in 1997 and 1998, when he recorded 14 and 15 sacks, respectively.
In short, Michael Strahan was the NFL Defensive Player of the Year in 2001, a four-time First-team All-Pro, and a two-time Second-team All-Pro winner.
In 2001, he set the NFL record with 22.5 sacks in one season.
Michael Strahan: Life after Retirement
Strahan retired from his football career on June 9, 2008, a year after his Super Bowl win. That same year, he became one of the Fox NFL Sunday pregame show hosts.
In October 2010, he joined a morning talk show, Live! with Regis and Kelly with Kelly Ripa.
On September 4, 2012, he became an official co-host after twenty guest appearances, and the show was renamed Live! with Kelly and Michael.
Strahan was inducted into the Pro Football Hall of Fame and the Black College Football Hall of Fame in 2014.
He left "live! With Kelly and Michael" on April 19, 2016, to work on the ABC morning television program Good Morning America.
Similarly, Michael Strahan has worked in other television shows, movies, and daytime news programs.
Michael Strahan: Failed Engagement
After his divorce from Jean Muggli, Strahan started seeing former model Nicole Mitchell Murphy. Nicole was married to Eddie Murphy from 1993 to 2006.
Strahan and Mitchell got engaged in 2009 but decided it was best to remain friends. So they broke off their engagement in 2014.
Michael Strahan: Girlfriend
The former NFL star is rumored to be in a relationship with a mystery woman named Kayla Quick. The two were seen enjoying their holiday together in 2015.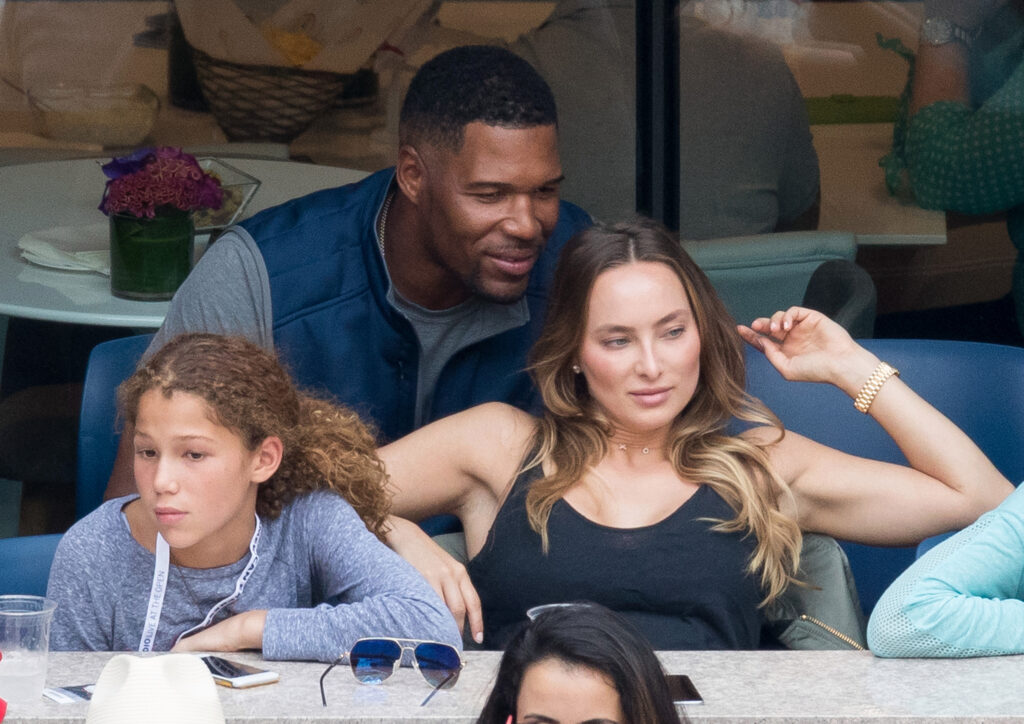 The new couple has made many public appearances together, and it seems Strahan is committed to Kayla.
However, their relationship has been quiet for a while, most likely to keep their romance under wraps.
Michael Strahan: Net Worth
As a renowned football player and television personality, Michael Strahan makes around $17 million annually.
In 2017, he earned $21.5 million as a television host for multiple shows.
Strahan has endorsement deals with brands like Vaseline Men and Procter & Gamble. In 2015, Strahan launched his clothing line through J.C. Penney.
his estimated net worth is $65 million.
In 2007, he sold his $3.6 million New Jersey mansion per the court's order a year after his divorce from Jean Muggli. The two split the money received from the auction sale equally.
He sold a Manhattan condo for $2.4 million in 2008 and another Los Angeles mansion for $21.5 million in 2015.
Strahan owns a sizeable car collection, and one of his prized possessions is the $400k Mercedes CLK-DTM that he bought in 2021.
15 Highest Paid NFL Player's Salaries >>
Michael Strahan: Social Media
The former NFL star is an active celebrity on social media. Strahan often uses his platform to talk about what he is passionate about and motivates his fans and followers.
Strahan loves his dog Enzo, which is pretty evident in his posting about the adorable fluffy creature.
Instagram: 1.4 million followers
Twitter: 1.3 million followers
Facebook: 1.1 million followers
In addition, he shows his love and support towards his children as much as he can, and it is great to see him have such a great relationship with them.
Michael Strahan Wife: Frequently Asked Questions (FAQs)
Why was Jean Muggli arrested in 2021?
On June 25, 2021, Jean Muggli was arrested in New York City for violating an order of protection.
She was unannounced at her former girlfriend, Marianne Ayer's House. Ayer accused Muggli of harassment, theft, and disorderly conduct.
She shared that Jean threatened her with a fake plastic gun that belonged to her son. She also claimed that Jean was abusive towards her dog.
Michael has been married twice – to Wanda Hutchins between 1992 to 1996 and Jean Strahan for seven years from 1999 until their divorce was finalized in 2006. Currently, he is dating Kyla Quick.
Strahan reportedly makes $17 million per year on Good Morning America.
Is Michael Strahan in any political Party?
Michael Strahan is not involved in any political parties currently. However, he had run for a seat on the township council.