The newlywed couple, Michelle Money & Mike Weir, together enjoy an impressive net worth of around $30 million as of 2023.
Michelle and Mike tied the knot in an oceanside wedding ceremony in Hawaii on November 19, 2023.
Their wedding was officiated in a private setting by their three daughters, Weir's parents, Money's mom, and their close friends.
Both of them are independent and working on their endeavors. Mike has been a professional golfer since 1992, and Michelle started acting and modeling at just 14.
So, it is obvious that they have accumulated their wealth through hard work and continuous efforts.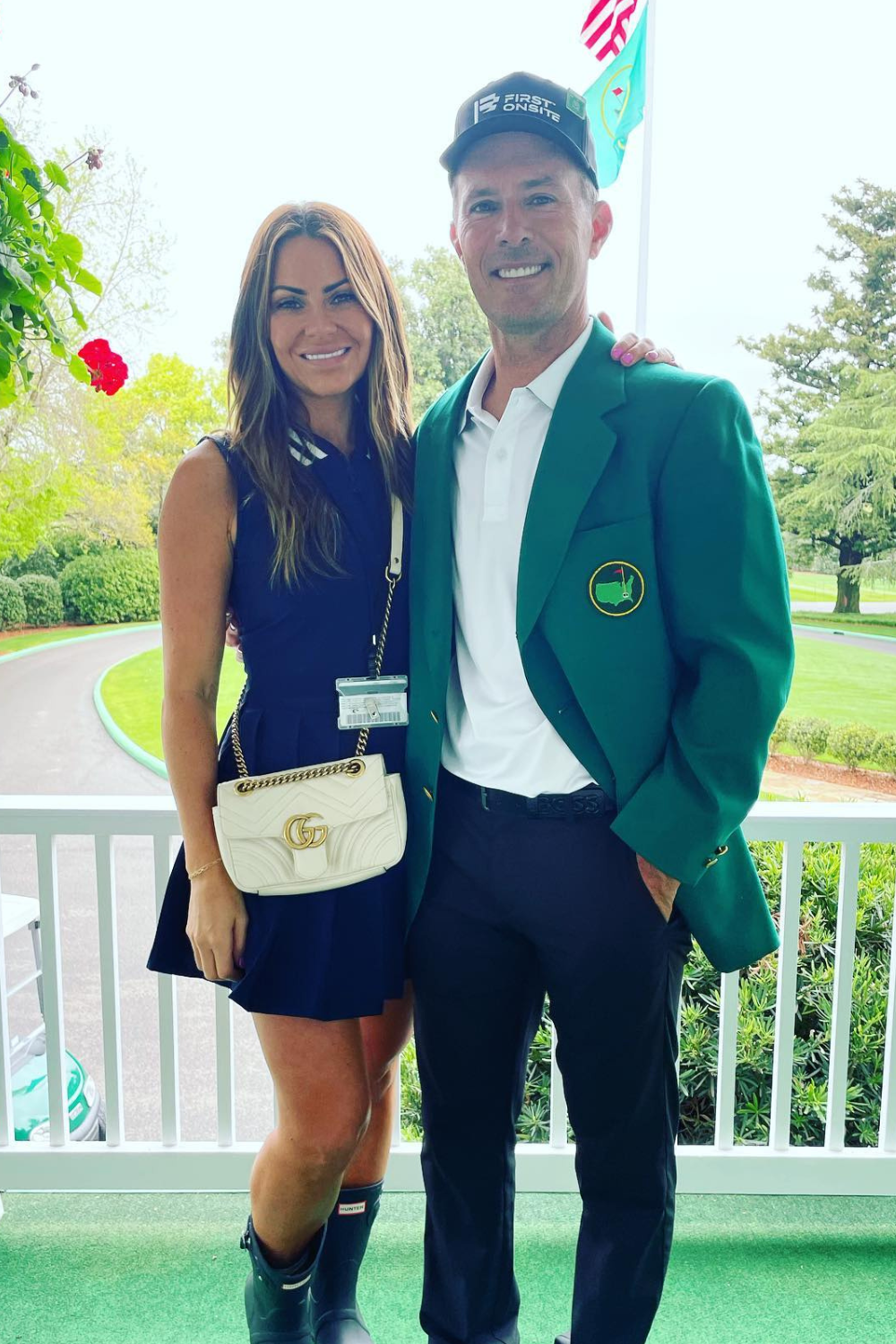 Michael Richard Weir, born on May 12, 1970, is a Canadian professional golfer who plays on the PGA Tour Champions.
Growing up in the Sarnia suburb, he learned to play golf at Huron Oaks Golf Course. By 12, he had already won a junior tournament.
The Brigham Young University graduate turned professional in 1992 and has competed in the PGA Tour, PGA Tour Champions, and Korn Ferry Tour.
Throughout his professional golfing career, Weir has bagged eight PGA Tour wins, two European Tour, one PGA Tour Champions, and five other wins.
Moreover, Michael was inducted into the Canadian Golf Hall of Fame in 2009 and Canada's Sports Hall of Fame in 2017.
How Rich Is The Newly Wed? Michelle Money & Mike Weir Net Worth
The newlywed couple who have excelled in their respective fields are estimated to have a combined net worth of around $30 million as of 2023.
Let's first decode the earnings and endorsement of the professional golfer before getting started with the multi-faceted Michelle.
Mike Weir Earnings And Net Worth
Starting his professional career in 1992, Mike's early years were relatively short in earning as he was in his initial career.
Later, the 1998-99 season saw the Canadian golfer bag his first million-dollar in salary when he earned $1.4 million from 30 tournament appearances.
As the year progressed, his earnings totaled around $4.9 million every year. Moreover, despite his fluctuating salaries, he would consistently make, on average, $903k per year.
From his golfing career, Weir has amassed $28.02 million in prize money winnings.
Furthermore, expanding his portfolio, he also partnered with Creekside Estate Winery and started producing wine for Weir in 2005. They released several wine labels, and his Icewine Vidal was named one of the top five golf-related wines.
Later, Mike started his own winery, Mike Weir Winery, after parting ways with Creekside Estate Winery. All the profits from the wine go directly to the Mike Weir Foundation.
Besides, his income was not limited to this; he has endorsement deals with Taylor Made Golf, which he signed in 2001.
Bell Canada is his longest-running sponsor, which has supported Weir since the earliest days. Additionally, Mike was sponsored by The Thomson Corporation (now Thomson Reuters).
Moreover, Mike alone has an estimated net worth of around $25 million as of 2023.
Michelle Money Net Worth
Michelle is a professional hair and makeup stylist, actress, and reality TV star. She is also a health, beauty, and wellness educator.
She ventured into the world of beauty by working at the Estee Lauder Counter at Macy's and did a few freelance works before attending Hairitage College of Beauty.
Moreover, at 14, the licensed cosmetologist started acting and modeling with her first gig in a Backstreet Boys music video.
Since then, she has worked with several brands like Reebok, MasterCard, and Sports Illustrated, earning handsome money.
The Good Things Utah's regular host came to prominence with her appearance in ABC's The Bachelor franchise.
Currently, she holds the position of co-founder at Fore All alongside Jen Clyde.
Overall, starting from her early days in modeling to her present business endeavor, Michelle is believed to have amassed a net worth of approximately $5 million.