Micky van de Ven hasn't shared any pictures with his girlfriend on Instagram. The Dutch defender has kept his social media handle limited to his soccer achievements.
Though he might not have shared romantic snaps, we can't fully confirm that the Spurs' latest signing is single. A few days ago, van de Ven was seen at the Spurs stadium looking at his new side from the stands with a female partner beside him.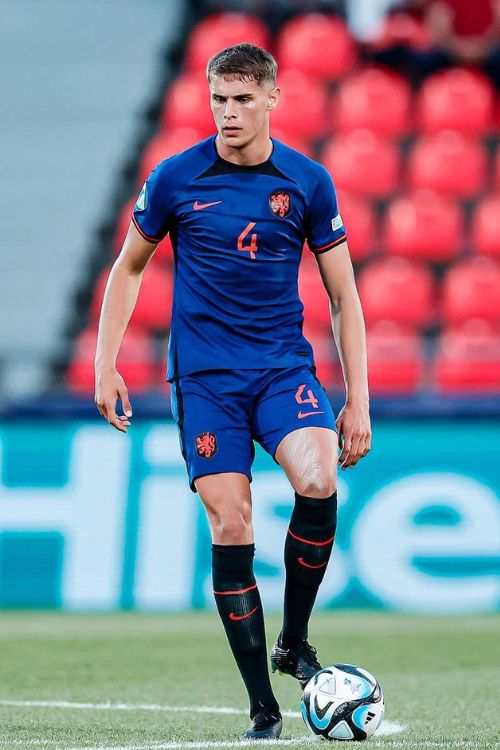 He hasn't stated whether the woman is his romantic partner, but speculations have been made about his romantic life. The defender saw his side beat the Ukrainian team Shakhtar Donetsk with ease as Harry Kane slotted four goals.
The former Wolfsburg is one of many signings made by Spurs in this summer transfer window. On Tuesday, the London club announced the signing of the young striker Alejo Veliz alongside Micky.
The former Leicester City player James Maddison also joined Spurs earlier this transfer window alongside Pedro Porro, Guglielmo Vicario, Manor Solomon, and Ashley Philips.
Micky van de Ven Girlfriend: Who Is He Dating?
Micky van de Ven hasn't revealed any details about his girlfriend. On Instagram, there isn't a single post the soccer player has shared that could hint at his romantic life.
But on August 6, as Tottenham Hotspur played Shakhtar Donetsk, Micky was present in the stands. The new Spurs player even clicked a few pictures with fans from the stands.
In a few of the pictures and videos taken by fans, a woman is seen sitting next to the defender. Some believe the lady is Micky's girlfriend, with whom he is yet to become Instagram official.
A clear view of the alleged couple can be seen in a video uploaded by one of the fans on TikTok. In the video, the lady shows her returning the pen to a fan after Micky signed his merch.
Micky has already become a fan favorite among Spurs fans since the rumors circulated of him joining the London club. With defense being one of the main issues of Spurs last season, fans are looking forward to seeing Micky make a quick impact on their side.
Micky van de Ven Parents, Father Marcel van de Ven Is An Author
Micky van de Ven's parents, Marcel and Bianca, raised him in Wormer, Netherlands. The latest Spurs signing is the couple's only son.
The Dutch defender's parents do not come from a sporting background but supported his soccer dreams from a young age. In fact, many Dutch soccer fans might be familiar with Micky's dad appearing on their TV screens.
Micky's father, Marcel van de Ven, is a former police officer who turned his professional life into a TV gig. Marcel van de Ven joined the Dutch police officer in 1995.
He started as an investigator at Police Zaanstreek-Waterland, where he worked for seven years until 2002. He joined Specialist Tactical Team for KLPD and became Chief Operations Vice Police for Police Zaanstreek-Waterland in 2009.
Marcel has appeared in various Dutch TV shows, including Hunted, Abducted, and On the Run. All these shows are based on Marcel and his detective skills.
The father of the soccer player has published two books by now. His books Under the Radar and The Cage hit the shelf in 2020, with The Cage focusing on his years as an undercover agent.
Marcel has always been hands-on with his son's soccer career. With the late soccer agent Mino Raiola, Marcel engineered a move to Wolfsburg from Volendam.
On his Instagram, Marcel has shared various pictures of his TV shows featuring his colleagues. He has also shared a few snaps with his son, the latest one being in 2022.
His mother, Bianca, remains away from social media, and he also has an older sister in Caya van de Ven, who is available on Instagram with the username @cayavdv.