"Life has knocked me down a few times; it showed me things I never wanted to see. I experienced sadness and failures. But one thing for sure, I always get up", although it wasn't officially said by this American, the quote definitely suits Mikaela Mayer.
Mikaela Mayer is a professional boxer, having delved into light welterweight, lightweight, and junior lightweight had a difficult life reaching the top.
It seems a little sexist to label women with only beauty or brains; in 2021, it's beauty, brains, and strength.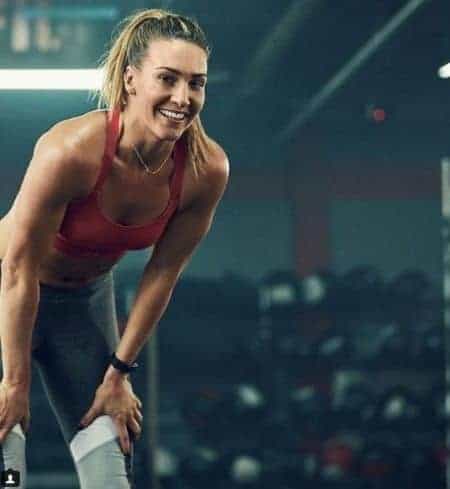 Women are much more than their aesthetic exterior. In the same way, Mikaela broke the gender stereotypes by being a boxer and a good one at that.
The Californian represented the U.S.A. in numerous competitions, even against fellow Americans.
What makes Mikaela so good? What got her into boxing? Who trains her? The article specifically deals with everything related to the boxing sensation.
So, lay back and enjoy the article on none other than Mikaela Mayer!
Quick Facts
Full Name
Mikaela Joslin Mayer
Birth Date
July 4, 1990
Birth Place
Los Angeles, California, U.S.
Nick Name
Not Available
Religion
Christian
Nationality
American
Ethnicity
White
Education
Northern Michigan University
Horoscope
Cancer
Father's Name
Mike Mayer
Mother's Name
Not Available
Siblings
Two sisters
Age
32 Years Old
Height
5'9″ (1.75 m)
Weight
60 kg (132 lbs)
Hair Color
Blonde
Eye Color
Hazel
Build
Athletic
Profession
Boxer
Current Division
Super featherweight, Lightweight
Reach
66

+

1

⁄

2

in (169 cm)
Active Years
2011 – Present
Marital Status
Not Married
Boyfriend
None
Trainer
Al Mitchell
Net Worth
$13 million
Social Media
Instagram, Twitter, Facebook
Merchandise
Autographed Glove, Apparel
Stance
Orthodox
Last Updated
March, 2023
Mikaela Mayer | Early Life, Parents, & Ethnicity
Mikaela Joselin Mayer, professionally Mikaela Mayer, was born on July 4, 1990, in Los Angeles, California. Also, the Californian is the daughter of Mark Mayer and has two sisters.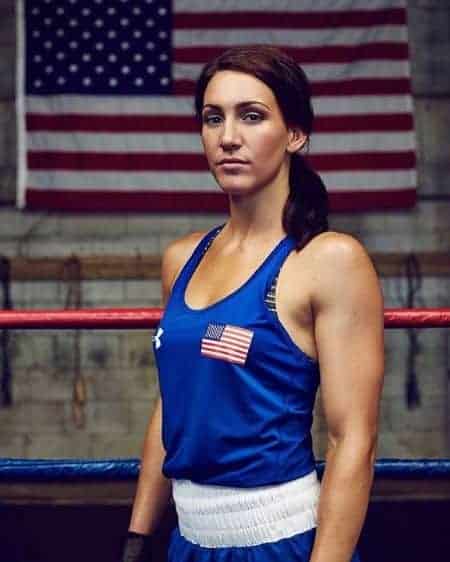 It is valid for a child to go astray without a mother. Even though Mayer's father tried his best to support the three children, things did not turn out well.
Being a single man and raising three girls is going to be hard work, undoubtedly.
Moving on, the American boxer had a roller coaster of a life. At 17, an aspiring model, Mikaela enjoyed the life of the party and was too little into her studies. On top of that, Mayer went to 4 schools in just three years.
However, there was a sudden awakening in the Californian.
The soon-to-be Olympian realized that the way things are happening wouldn't benefit anyone; desperate to turn her life around, Mikaela joined Muay Thai and Kickboxing at a gym closer to her house.
Mikaela Mayer | Age, Height, & Body Measurements
As of present, Mayer is a 30-year-old rising boxing star. Similarly, the American weighs a proper 60 kg (132 lbs) and stands at the height of 5'9″ (1.75 m).
A boxer has to keep fit and maintain a healthy dietary regime. There's a saying: "You are what you eat." As such, you can probably see how ripped Mikaela is.
Boxing is a taxing sport, and it's easier said than done. On top of that, the sport requires absolute discipline and focus. When one is in the ring, you don't want to beat down in the first round.
Mikaela's life is 60% training, 30% sleep, and 10% diet. Above all, the American is making her country and her family proud, not to mention the entire women population that avidly watch boxing.
Nobody sets out to inspire anyone. A great person, a great attitude, and a great personality automatically draw people toward you.
In like manner, Mayer's dedication and unrelenting efforts made her famous, and women look up to her with the same resolve.
Mikaela Mayer | Career, Life As A Boxer & Trainer
To begin with, Mikaela started as an amateur and was part of Team USA.
Similarly, Mayer participated in a 60 kg category at the 2016 Rio Summer Olympics, and after defeating Jennifer Chieng, the American finally lost to Anastasia Belyakova.
But before she represented the USA at the Olympic level, Mayer had a lot of work cut out. In fact, the American started training at 17 with a reputed boxing coach, Al Mitchell.
Especially, Al trained the likes of Mike Tyson, Floyd Mayweather, and Andre Ward. Initially, the Hall of Famer was hesitant to teach young Mikaela but later gave in when he witnessed Mikaela's determination.
Furthermore, Al made a deal to train Mayer if and only if she enrolls in college. Thereafter, the duo trained at the United States Olympic Training Center until the program's termination.
Mayer is made of steel. In the same way, the boxer spends countless hours training in the gym regularly, and these clearly reflect in her in-ring performance.
I highly suggest you check out some youtube clips and start following Mikaela on social media. The lady has got what it takes to reach the top. But, one person easily misses the limelight, Al Mitchell.
But, before we move on to the Hall of Fame inductee, let's wrap it up with Mikaela. At age 20, Mayer held two-time national champions, one national silver medal, and a fourth place in the 132lb weight class.
By the time the Californian would enroll at the USOEC, Mikaela came along with surfeit championship titles.
For instance, Jr. Olympic Champion2009, National PAL Champion in 2009, USA Bronze Medalist in 2010, and third place in the 178lb-plus weight event.
Contrarily, Mayer had to face defeat against Russia's Anastasia Belyakova after a series of questionable decisions from the judges. Any other person would probably break down, but not Mikaela.
Furthermore, the American vowed to come back stronger as she returned home to start from the beginning. Additionally, Mikaela remained committed to creating a tidal wave that would bring women's boxing into prominence.
For that, the Californian's dream would soon be a reality when manager George Ruiz arranged a meeting with Top Rank president Todd Duboef. After a good impression, Mayer signed a deal to fight fives time each year.
In like manner, Mikaela made her debut against Widnelly Figueroa by K.O. in August of 2017. Accordingly, the boxer retained her undefeated streak. As of 2021, out of 14 fights, Mayer has won all 14 matches; 5 by knockouts and 9 by majority votes.
In particular, Widnelly Figueroa, Allison Martinez, Nydia Feliciano, Maria Semertzoglou, Baby Nansen, Sheena Flamand, EdinaKiss, Vanessa Bradford, Calista Silgado, Yareli Larios, Lizbeth Crespo, Alejandra Soledad Zamora, Helen Joseph were some of the unlucky ones to face the Lady of Los Angeles.
Her next fight after Helen was against Polish boxer Ewa Brodnicki. Mayer won the fight by unanimous decision.
Mikaela Mayer's Trainer | Al Mitchell: Brief Bio
Without a trainer, a guide, or a mentor, a singular effort will go in vain. Let us talk about Al Mitchell. Mayer's trainer was born on October 31, 1943, somewhere near Philadelphia.
Al's family all became ministers. On the other hand, the oldest of seven paved the way to the boxing ring, being a professional in the 1960s.
Further, Mitchell went to the Police Athletic Gym with Joe Frazier, Bennie Briscoe, Al Massey, and cousin Gypsy Joe Harris. It might be surprising to some readers, but Al's career started in prison.
At the young age of 15, the Boxing Hall of Famer was an inmate at the Holmesburg Prison as he was a convict operating in a gang.
Notwithstanding this, Al even got into fights in the jail cell, and things were not looking good for him either.
At the same time, earning money through boxing was tough unless one was a welterweight, middleweight, and heavyweight. Being almost broke, Al decided to go to California in a $250 deal.
After the passing of his father and a single mother who was struggling to make ends meet. Obviously, things would only twist away for the worse; nonetheless, Mitchell served as a trainer while also being a restaurateur.
Despite holding a 43-1 bantamweight record before retirement, Al could never make the big stage.
However, the soon-to-be coach knew what the world was like out there, and hence he would accept students who were willing to discipline themselves and learn.
Coaching Career
Eventually, Al succeeded as a coach for the first time when Charlie "Choo Choo" Brown won the IBF belt under his tutelage. As a result, the University of Michigan offered him a job for a month, but it managed to last for three decades.
In the meantime, Mitchell coached Vernon Forrest to reach different world titles, David Reid to Olympic victory, and a WBA junior middleweight belt.
Al is a father of five and is 76-year-old at present. Above all, he takes great pride in one of his students, Mikaela Mayer, whom Al reluctantly took in but now has led the 30-year-old Californian to an unbeaten record in the existing records.
Upon serving in boxing for 60 years, the USA Boxing Association inducted Mitchell to their list of Hall of Famers in December 2019. A special moment for Al as he went on to thank the coaches and fighters that worked with him.
Mikaela Mayer | Career Achievements And Highlights
National Golden Gloves: Champion 60 kg (132 lbs): 2011
AIBA Women's World Boxing Championships: Bronze Medalist, Light welterweight 64 kg (141 lbs): 2012
AMBC Continental Championships: Gold Medalist 64 kg (141 lbs): 2012
USA Boxing National Champion 64 kg (141 lbs): 2012
U.S. Olympic Team Trials: Runner-Up 60 kg (132 lbs): 2012
USA Boxing National Champion 60 kg (132 lbs): 2014
USA Boxing National Champion 60 kg (132 lbs): 2015
AIBA Americas Qualifier: Gold Medalist, Lightweight 60 kg (132 lbs): 2016
Olympic Trials Champion: 2016
The Californian holds a 14-0 record, beating several contestants either by knockout or majority decisions at the professional level. As for the U.S. Women's team, she took away the Bronze at the 2012 Light welterweight in Qinhuangdao.
Mikaela Mayer | Boxing Record And Stats
| | | |
| --- | --- | --- |
| Fights | 14 wins | 0 losses |
| By knockout | 5 | 0 |
| By decision | 9 | 0 |
Head onto Mayer's Tapology profile to learn more about the player's stats and rankings.
Mikaela Mayer | Net Worth, Salary, & Earnings
As per sources, Mikaela has an estimated net worth of $13 million. Even though her salary is not disclosed, reports suggest that Mayer earns a considerable amount from endorsement deals.
During her budding stage, sponsors did not account for her brilliance, and hence the boxer was earning relatively less than she should have.
Nevertheless, in the present context, Mayer pockets a hefty earning through brands like Everlast, Trust You, and bliqq_us.
Mikaela Mayer | Personal Life And Relationship Status
As for Mikaela's personal life, she is currently single and directs her energy to only boxing. The 30-year-old has no plans to see anyone, let alone get married.
Granted that her personal life is none of our business, we hope to report good news soon in the future. Since Mikaela is not in a relationship, the idea of her having kids is also a bit farfetched.
Besides that, the boxer is quite focused on her workouts and training than dating and relationships. Nevertheless, she might be interested in a boyfriend and marriage in the future.
Mikaela Mayer | Social Media Presence
Instagram: 114 thousand followers
Twitter: 18,300 followers
Facebook: 21,411 followers
Mikaela Mayer | FAQs
Did Mikaela Mayer test positive for Covid-19?
Yes, the boxer tested positive for Covid in June of 2020. As a result, she had to miss her fight against Helen Joseph.
Although she was disappointed t miss her match, Mayer announced through Instagram that her health mattered more than fighting. She said,
"These protocols were put into place for a reason, and it's more important to care about the health and well-being of my team and the people at this event."
Furthermore, Mikaela was asymptomatic and tested negative a week later, on Jun 13, 2020. her quick recovery led many to believe that she might have been a false positive.
Is Mikaela Mayer single?
Yes, Mayer is single.