Mariusz Pudzianiwski is a Polish entrepreneur, mixed martial artist, and a former strongman competitor. In his strongman career, he has had 43 international victories at a record 70% winning.
On 28 May 2022, Mariusz won the match by Knock-Out against Michal Materla in Lodz, Poland, which was the Knockout of the Night.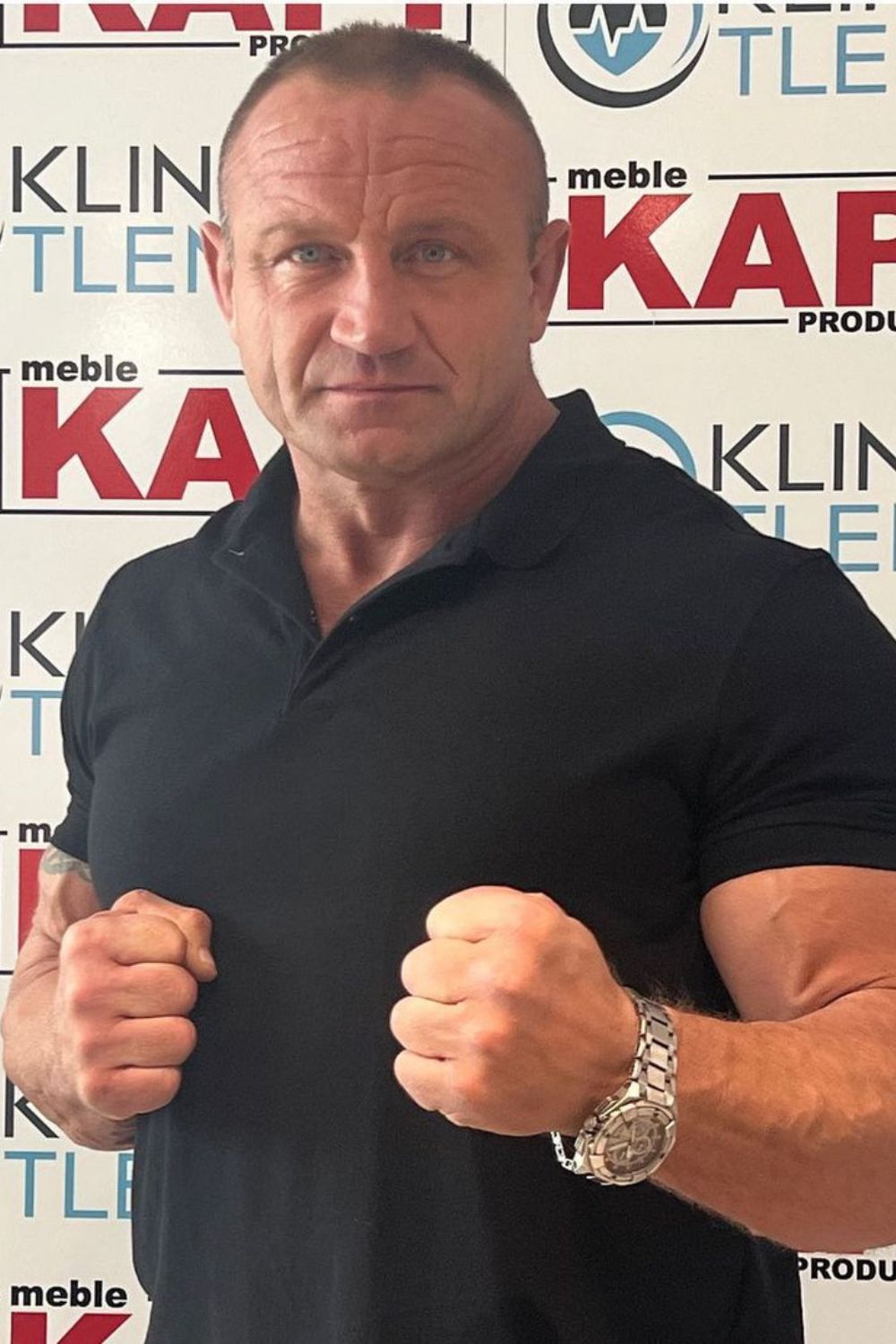 One of the strongest men walking on this earth, the Polish is an inspiration for aspiring bodybuilders and athletes who want to venture into martial arts.
Let's talk in-depth about how the former strongman started his career, early life, and net worth.
Mariusz Pudzianowski | Quick Facts
Full Name
Mariusz Zbigniew Pudzianowski
Date of Birth
7 February 1977
Birth Place
Biała Rawska, Poland
Nickname
Pudzian, Dominator
Religion
Unknown
Nationality
Polish
Ethnicity
Unknown
Zodiac Sign
Aquarius
Age
46 Years Old
Height
186 cm / 6 feet 1 inch / 1.86 m
Weight
120.2 kg / 265 lb
Hair Color
Dark Brown
Eye Color
Light Blue
Build
Athletic
Father's Name
Wojciech Pudzianowski
Mother's Name
Maria Pudzianowski
Siblings
Krystian Pudzianowski (Brother)
Education
Unknown
Marital Status
Married
Wife
Alexandra Hall
Kids
A son and a daughter
Profession
Mixed Martial Artist
Division
Heavyweight
Super Heavyweight
Affiliations
American Top Team (former), Berkut WCA Fight Team
Active Years
2009–Present (MMA)
Net Worth
$8 Million
Social Media
Instagram, Facebook
Last Update
June 2023
Mariusz Pudzianowski | Early Life & Career
Mariusz Zbigniew Pudzianowski was born in Biała Rawska, Poland, on 7 February 1977. He is the son of Wojciech Pudzianowski, a weightlifter by profession, whereas his mother's identity remains unknown.
While not much is available about his childhood, it is evident that he developed a passion for bodybuilding and working out from a young age.
Now that he lives his dream life, Mariusz doesn't fail to inspire his counterparts or the young generation.
At 11 years old, he was already learning the Kyokushin style of karate.
By 16 years, Mariusz was already lifting weights and participating in Weightlifting Championship. Additionally, Mariusz also holds a master's degree in International Relations.
Mariusz Pudzianowski | Age, Height, Body stats, & Diet
The former strongman is 46 years old. Mariusz stands at an astounding height of 1.86 meters, which further boosts his dominant presence.
He also weighs, unsurprisingly, 260 lbs. It is only natural that the Dominator has such a great weight, as the strongman has layers of massive muscles.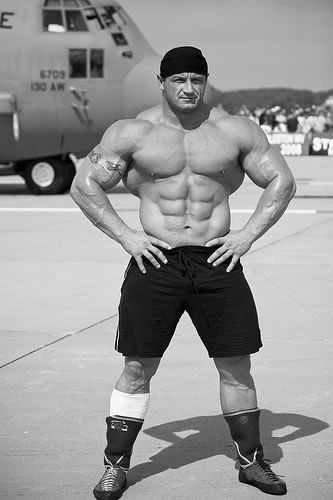 Mariusz is known for his vast built arm. His biceps span is 56 cm (22 inches), while his forearm size is 45 cm (18 inches).
Likewise, his nape measures 54 cm, waist span is 92 cm. Similarly, he has a chest size of 148 cm.
Being trained by Arbi Shamaev, Mariusz learned a lot throughout the years about maintaining his dietary regime.
Despite his strict routine, the strongman doesn't forget to occasionally treat himself to chocolate, ice cream, and even burgers.
During one of the Strongman events, Mariusz divulged some of his dietary secrets and routines.
Diet Routine
Ten eggs for breakfast
2-3 lbs of bacon
Candies between meals
In the morning, three musketeers or snickers bars
Lunch at 1-2 pm: Double meal of Polish pork chop, sauerkraut, and potatoes
One hour later: intake of supplements, magnesium, creatine, amino acids, and of course, chocolate.
Dinner: Depends on availability; steak, pork chops, and bacon. It also includes bigos, Polish soups, Polish sausages, potato-based dinner, 200-300 g of meat, and salads.
Similarly, at 9 pm or 10 pm, some more workouts, after which a mandatory protein shake and again more chocolates.
The man then starts his day by waking up as early as 3 to 4 am to have more chocolates, after which he hits the sack again till morning.
He also Includes cardio in his workout session to prepare his body for MMA exertion.
During the training, he focuses on enduring oxygen exertion and, thus, has started running and biking.
However, it seems like a weird routine, right? Nonetheless, it gets the job done.
It doesn't mean we suggest you devour bars and bars of chocolate. Just don't do it unless you know what you are doing.
Don't Forget To Check Out Joachim Low Bio: Age, Salary, Wife, Germany Coach >>
Mariusz Pudzianowski | Career
The year 2000 saw a new heavyweight champion, that's right, Mariusz Pudzianowski.
In 2001, Mariusz had to skip the competition due to a prison sentence for some undisclosed offense.
Likewise, the world saw the Polish weightlifter's return, who reclaimed the title and defended it in 2003.
Besides weightlifting, Pudzianowski was also keen on venturing into MMA. So, in 2009, Mariusz signed a deal with a Poland-based MMA institution named Konfrontacja Sztuk Walki.
He debuted in the fighting world in a KSW 12 event in Warsaw, Poland. We saw him defeat Marcin Najmar, a boxing pro, in his first fight.
Pudziandski received a handsome 200k Zloty (Polish currency), equivalent to 70k U.S. Dollars.
In KSW 13, a win awaited Pudzianski after delivering a winning blow against Yusuke Kawaguchi on May 7, 2010.
Moreover, the match lasted two complete rounds, and the Pole ultimately won after the judges sided in his favor.
Mariusz decided to participate in Mosin: God of Martial Arts competition, wherein a disastrous defeat was at the corner for the Polish strongman.
He fought a two-time UFC Heavyweight Champion, Tim Sylvia. Upon fracturing his metatarsus in the first round, Mariusz looked helpless and had to give in to submission.
He would fight Eric "Butterbean" Esch at KSW 14, organized on September 18, and James Thompson at KSW XVI on May 21, 2011.
Additionally
Although a loss was imminent for the Pole, and despite many contrary beliefs on his lack of stamina due to large muscles, Pudzianowski vowed to come back stronger.
As a result, he joined a training camp known as MMA Camp for the USA: American Top Team.
And likely so, the training came to fruition when Mariusz launched a barrage of high-force punches on his opponent Piliafas, winning via a TKO in the KSW XVII competition on 26 November 2011.
The fight lasted an astounding 39 seconds. The Pole was also Victorious in KSW 20 when he thoroughly dominated a fight against Christos Piliafas.
On 12 May 2012, Mariusz's opponent was Bob Sapp in a fight in Lodz on KSW 19.
He won by a TKO in the first round, battering Sapp with a bombardment of punches and securing a takedown followed by more punches to win just 39 seconds into the fight.
Furthermore
2012-2014
He faced Christos Piliafas on 15 September 2012 that same year in the main event of KSW 20.
Pyton, won via TKO in the first round after dominating Piliafas on his feet, securing a takedown, and posturing up and raining down some ground and pound to win at 3:48 seconds into the fight.
On 8 June 2013, Pudzianowski lost the fight against Sean McCorkle at KSW 23 in the first round by Kimura submission.
He rematched with McCorkle again on 28 September at KSW 24, avenging his loss via unanimous decision. After the second fight, Sean showed interest in the third fight.
In 2014, he defeated Oli Thompson via a 2nd round unanimous decision. On 6 December, he faced the Olympic veteran Pawel Nastula via unanimous decision on KSW 29's main co-event. It was his third win in a row.
2015-2019
Additionally, in Gdansk, Poland, he fought Rolles Gracie Jr. in KSW 31 on 23 May 2015. Pudzianowski secured the win by knocking him out in the 1st round, winning the Knockout of the Night bonus award with the performance.
On 31 October 2015, at KSW 32, he was defeated by Peter Graham via TKO in the second round.
Likewise, on 27 May 2016 at KSW 35, he fought against Marcin Rozalski and lost in the second round by guillotine choke.
In KSW 37, which was held on December 3, 2016, Dominator defeated Pawel Mikolajuw with TKO in the first round.
He won the fight against Tyberiusz Kowalczyk via submission to an elbow strike in the second round at KSW 39 on 27 May 2017.
On 22 October 2017, he was expected to fight against James McSweeney at KSW 40. However, after James was medically cleared, he faced Jay Silva and secured victory by unanimous decision.
Mariusz fought against Karol Bedorf at KSW 44: The Game on 9 June 2018 and faced defeat via first-round kimura.
Also, he faced Szymon Kolecki on March 23, 2019, in a heavyweight bout at KSW 47, losing the fight after suffering a leg injury in the first round.
Further, he had a match against a former bodybuilder Erko Jun on November 9, at KSW51: Croatia, winning the bout via second-round TKO.
Also
On March 21, 2020, he was scheduled to headline KSW 53 against Quentin Domingos, but before the bout, he had an injury.
Pudzianowski was fixed to return after a fifteen-month rest against the undefeated Sebegalese heavyweight Serigne Ousmane at KSW 59: Fight Code on 28 March 2021.
But, on the day of night, Ousmane Dia suffered an acute appendicitis attack and could not make it to the match.
On short notice, Serbia's Nikola Milanovic stepped in for the fight and lost to Dominator via TKO in the first round.
Mariusz fought against KSW 1 tournament winner Lukasz Jurkowski on June 2021 at KSW 63: Crime of The Century. He won the match via TKO in the third round.
At KSW 64: Przybysz vs. Santos on 23 October 2021, he faced Serigne Ousmane Dia and won the fight via knockout 18 seconds into the contest in the first round.
Moreover, Duzy Pyton faced former KSW Middleweight champion Michal Materla at KSW70: Pudzianowski vs. Materla on 28 May 2022.
He won the bout in the first round, knocking out Materla with an uppercut, and was awarded the Knockout of the Night bonus with the win.
Mariusz is now scheduled to face the former two-division champion Mamed Khalidovat KSW 77: Khalidov vs. Pudzianowski on December 17, 2022.
Heavyweight Record
Conclusively, we want to include a heavyweight record he achieved over the years:
Bench Press: 290 kg (640 lbs)
Squat: 380 kg (840 lbs)
Deadlift: 415 kg (915 lbs)
Reality Show
Finally, an exciting aspect of his career was being part of the Polish version of Dancing With the Stars and the singing show Just the Two of Us.
Band
Also, Mariusz was part of a musical group called the Pudzian band, founded by his brother Krystian. Added to that, the strongman plays amateur Rugby for Budowlani Łódź.
Injuries
Fame and success come after several downfalls and wounds. However, not everyone gets to the top.
Likewise, Mariusz first faced an injury in 2008 during the Polish Strongman Championship Cup. Furthermore, he struggled with an injury in his calf, impacting him until the finals.
Following it, he fractured his metatarsus during his 2010 match against the UFC Heavyweight Champion Tim Sylvia in the first round.
Indeed, with the injury, he did lose the match. Additionally, Mariusz faced a leg injury during the match against Szymon Kołecki in a heavyweight bout at KSW 47.
Likewise, Mariusz had his leg stuck in his huge frame during the bout while Kołecki tried to slam him down.
Right then, his leg bent awkwardly backward in the first round, which gave him to signal off the match.
Mariusz Pudzianowski | Net Worth, Income, & Assets
Mariusz has a whopping $8 million. Throughout his years as a strongman, we do not know how much he earned; however, from his MMA career, the Pole earns a staggering $111k.
On the other hand, the Polish heavyweight champ is much more than just bodybuilding.
He is a successful business owner, has a bodyguard training school, and even owns a shipping company named Pudzianowski Transport.
Pudzianowski earns relatively higher from his business than he does from fighting.
The strongman houses in a lavish mansion with an impeccable collection of cars. Mercedes Benz, Lamborghini, and, to name a few, our favorite, the Hummer.
Don't Forget To Check Out David Goggin's Bio: Career, Athlete, Wife, Net Worth, Instagram>>
Mariusz Pudzianowski | Relationship Status
If you are wondering whether Mariusz is single, then we have to tell you; he is not.
The hunk tied the knot to his lovely wife, Alexandra Hall, whose details are currently under wraps.
Moreover, the Pole fathered two children, one son and one daughter, from his marriage.
There are no details, either on Instagram or any other network, to indicate the signs of his family.
Fear not; they are alive and well; it's merely that Mariusz's social media encompasses weightlifting and training more than his personal life.
Nonetheless, we will return to you immediately upon uncovering any further information.
Social Media Presence
Mariusz is available on social media platforms; you can find updates on his life from there.
View this post on Instagram
Instagram: 667k followers
Facebook: 1.9 million followers
Popularity Graph
Mariusz Pudzianowski is a polish Mixed Martial Artist. He is nicknamed Pudzian, Dominator, Super Mariusz (Super Mario), Blektine-oczy Duren (Blue-eyed Git), Pyton (Python), and Duzy Pyton (Big Python).
His search rate increased as details related to his wife and salary were searched on the internet.
Frequently Asked Questions (FAQs)
How many times did Mariusz Pudzianowski win World's Strongest Man, and how much is his MMA record?
Mariusz Pudzianowski has won the World's Strongest Man title five times. As of now, his MMA record is 17 wins out of 24 games. Among his wins, 12 are by knockout and five by decision, while his losses count three via knockout and four via submission. Not to mention, one of the games ended in no contest.
Is Mariusz Pudzianowski retired?
Indeed, Mariusz Pudzianowski retired from the World's Strongest Man championships in 2005. However, he is still on the run for the MMA. He has no retiring plans any sooner.
When did Mariusz Pudzianowski debut at MMA?
Mariusz Pudzianowski debuted as a mixed martial arts fighter during the KSW 12 event in Warsaw, Poland. He won against Marcin Najman on December 11, 2009.
Did Mariusz Pudzianowski win 2009 World's Strongest Man competition?
No, Zydrunas Savickas won the 2009 World's Strongest Man competition. Mariusz Pudzianowski was placed in the second position.
Who won Mariusz Pudzianowski vs. Eric Butterbean?
Mariusz Pudzianowski won the fight by TKO (submission to punches) in round 1. He faced Eric Esch ( at "KSW 14: Judgment Day") on September 18, 2010.
Don't Forget To Check Out Robert Lewandowski's Bio: Age, Height, Stats, Club, Career, and Net Worth >>