Mike Conley Jr. is an American basketball player who plays point guard for the Minnesota Timberwolves of the National Basketball Association (NBA).
Back in 2016, he signed a five-year $153 million contract extension with Memphis, the richest contract in NBA history at the time.
As a result, Conley has an admirable net worth of $70 million as of March 2023.
He also had a stint with the Utah Jazz from 2019 to 2023. Not to mention, he spent 12 seasons with the Memphis Grizzlies before his trade to the Jazz.
Conley started playing basketball in his college days and even led his team to three state championships with many other achievements.
Aside from his glory days in the court, he is also blessed in terms of wealth. We will discuss this further with brief information on his personal life.
Quick Facts
Before getting to know more about Mike Conley's net worth, here are some of his quick facts.
Full Name
Michael Alex Conley Jr.
Known as
Mike Conley
Nickname
Captain Clutch, Money Mike & Mountain Mike
Birth Date
October 11, 1987
Birth Place
Fayetteville, Arkansas, USA
Religion
Christian
Nationality
American
Ethnicity
African-American
Education
Lawrence North High School, Ohio State University
Horoscope
Libra
Father's Name
Mike Conley Sr.
Mother's Name
Regina Conley
Siblings
3 (Jordan Conley, Jon Conley, and Sydney Conley)
Age
35 Years Old
Height
6 feet 1 inch/1.85 m/185 cm
Weight
175 lbs/79 kg
Eye Color
Dark Brown
Hair Color
Black
Body type
Athletic
Profession
Basketball Player
Marital Status
Married
Spouse
Mary Peluso (M. 2014)
Children
3
Name of Children
Noah Conley, Myles Alex Conley, And Elijah Michael Conley
Beginning of Professional Career
2007
Sports Team

Memphis Grizzlies (2007–2019)
Utah Jazz (2019–2023)
Minnesota Timberwolves (2023–Present)

Position
Point Guard
Honors

McDonald's All-American (2006)
NBA All-Defensive Second Team (2013)
NBA Teammate of the year (2019)
NBA Sportsmanship Award (2014, 2016, 2019)
NBA All-Star (2021)

Net Worth
$70 million
Endorsement Earnings
$1 Million
Sponsors
Nike Jordan, Dr. Scholl's, Pepsi, Mountain Dew, Toyota Motor, and Vivint Smart Home
Social Media
Instagram, Twitter, Facebook
Merch
Signed Card, Signed Photo
Last Update
March 2023
Net Worth & Income
Mike Conley has a staggering net worth of $70 million as of March 2023. In fact, he has earned an estimated amount of $249.7 million from the NBA.
In 2016, Mike signed the largest contract in NBA history at that time, which was worth $153 million.
Hence, he earned an annual salary of $26 million in 2016-17, which rose to $30.5 million in 2018-19.
After that, he signed a 3-year $68.04 million contract with Utah Jazz on August 6, 2021, that guaranteed $58 million and an annual average salary of $22.68 million.
While in Jazz, his salary amounted to $32 million in 2019-20, making him one of the highest-paid players.
Moreover, Mike earned $34.5 million in the 2020-21 and $21 million in the 2021-22 season.
In the same way, he earns nearly $1 million from endorsements like Nike's Jordan, Toyota Motor, and Vivint Smart Home.
Reportedly, Mike is also speculated to have invested in equity stakes and bonds.
With significant improvements in his playing style, he currently ranks in the 99th position as the best-paid player in the league.
His achievements and awards have also increased his value as a player, which will help him earn even more in the future.
Houses & Cars
Houses
The players owe $1.13 million worth of mansion in Memphis, Tennesse, and the estate is estimated to be 6,656 square feet home.
Likewise, Mike resides in Collierville in a mansion estimated at 7,100 square feet area. The house gives a great vibe with a spacious living room and an open and fully equipped kitchen.
Built in 2006, the mansion has four bedrooms, seven bathrooms, an outdoor pool with a hot tub, and an open grill to entertain guests.
For now, the mansion is worth $1.85 million as it has enough room for guests with luxury features.
Cars
Like houses, Mark has a collection of precious and global brands of cars, including Range Rover and Maserati Quattroporte.
Similarly, he has added the new Tesla Model S to his collection.
Lifestyle & Vacation
Lifestyles
Being one of the highest-paid players in basketball history, Mike's lifestyle is pretty high, and he takes his fashion sense seriously.
In 2014, Mike dressed up like Russell Westbrook at the Chesapeake Bay Arena for Game 1. This unexpected dressing sense of the two players made people keep noticing them for a long.
Marriage
On the 5th of July 2014, Mike married his long-time girlfriend, Mary Peluso. The couple is extremely happy and content with their life.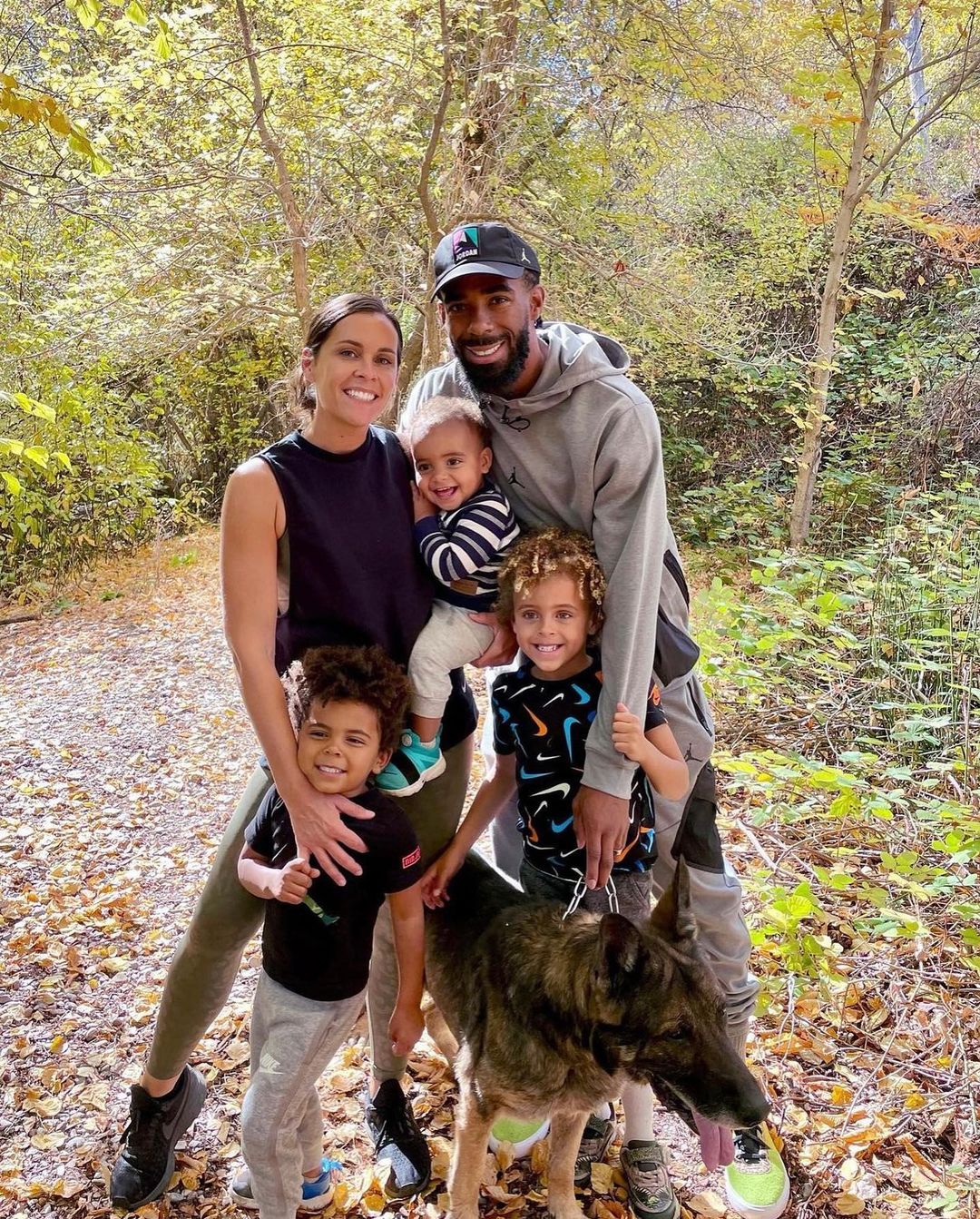 The couple has three sons; Noah Conley, Myles Alex Conley, and Elijah Michael Conley.
Vacation
Relating more to vacation, Mike usually disappears for some weeks and takes his family to exotic locations like Disneyland and beaches on his vacation days.
On the other hand, he also maintains a diet during his off days.
Movies
Mike produced a short film named 'Two Distant Strangers' (2020), which aired among Utah Jazz players and coaches, setting 29 minutes aside.
As the short movie won an Oscar, he joined the list of athletes who won an Academy Award.
Charity
Considering unexpected situations like the pandemic, Mike donated $200,000 to five different charities in five states so that people could fight homelessness and food insecurity.
He has also made a history of charity to children's organizations. Mike wants to help kids in their education by providing them with the necessary equipment.
Accordingly, he supplied 90 students with a laptop with a year of internet service so kids could sign up for summer programs virtually.
In 2019, the player donated $500,000 to the Methodist Comprehensive Sickle Cell Center.
Investment & Endorsements
Mike Conley earns a decent amount of wealth, endorsing various brands. Among the recent ones he added to his approved list was Jordan, a subsidiary of Nike.
Nike reportedly offered him brand endorsement to prevent his extension with Adidas.
Besides sportswear, Mike endorses Mountain Dew, Dr. Scholl, Toyota Motor, and Vivint Smart Home.
Career
Starting to play at Lawrence North High School, Mike led his team to victory on 103 occasions with only seven defeats. He also led the team to win the Indiana basketball state championship three times.
Recording second in position in the Indiana Mr. Basketball voting, Mike was named to the McDonald's All-American Team. He was ranked 5th in the high school class of 2006 and 18th among the top high school players.
Mike played for Memphis Grizzlies, making a major appearance in 2008. After a change in coach, he got more chances to be on the court and became a regular starter.
Likewise, Conley received some honorable awards for leading the Grizzlies to the semifinals and finals they had never reached before.
In 2017, Mike became the Grizzlies player with the highest number of three-pointers and a leading player in career points in 2019.
Afterward, he was traded to Utah Jazz on July 6, 2019, and stayed with the team until the start of 2023.
Conley was acquired by the Minnesota Timberwolves on February 9, 2023, as part of a three-team deal.
A day later, he made his Timberwolves debut against the Memphis Grizzlies, finishing with nine points, three assists, and two steals.
Awards & Achievements
McDonald's All-American – 2006
First-team All-Big Ten – 2007
NBA All-Defensive Second Team – 2013
NBA Teammate of the Year – 2019
Three times NBA Sportsmanship Award – 2014, 2016 & 2019
The Academy Award for Best Short Film – 2021
NBA All-Star – 2021
Social Media Appearances
Mike is active on Instagram and Twitter, adding a glimpse of his professional life. He also adds vacation photos, including trendy topic-related photos.
Instagram: 568K Followers
Twitter: 541.7K Followers
Facebook: 469K Followers
Quotes
"You just believe in positive thinking. And you can do much more with the body than you think."
"When I play any of the top teams or the top players, it's a stage."
"I always have faith that good things will happen regardless."
Popularity Graph
Mike Coley is a famous NBA player who has been searched many times by his fans and followers.
The above graph illustrates his 12-month search interest.
Frequently Asked Questions (FAQS)
How long is the contract of Mike Conley with the Utah Jazz?
On August 6, 2021, Mike re-signed with the Jazz on a three-year deal that will last till 2024, but he was traded on February 9, 2023, to Minnesota Timberwolves.
How is Mike Conley's injury?
In 2022, Mike Conley was sidelined with a knee injury but is doing fine now.