Former professional wrestler Mike Rotunda married his wife, Stephanie Windham, in 1984. Together, they became the parents of three kids, including the WWE wrestlers Bray Wyatt and Bo Dallas.
His oldest son, Bray Wyatt, died recently from a heart attack at 36. Previously known as Husky Harris, Bray had gained widespread fame during his tenure in WWE.
In addition to him and his sons, many of Mike's close relatives are former professional wrestlers. His wife, Stephanie, is the daughter of a former American professional wrestler, Blackjack Mulligan.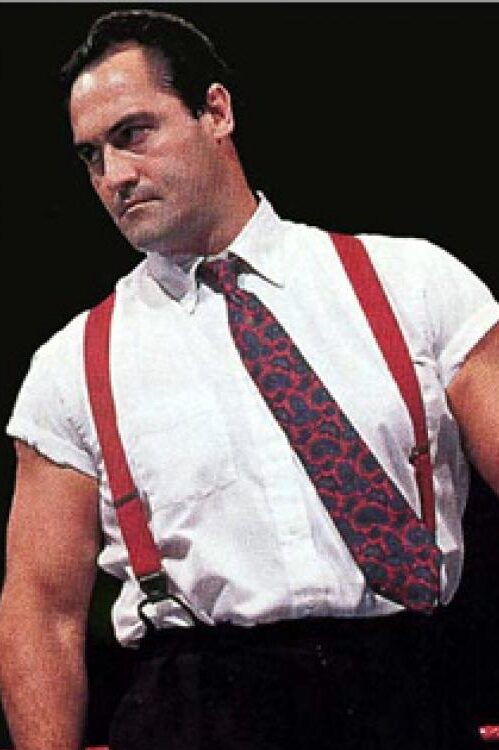 Lawrence Michael Rotunda, better known as Mike Rotunda, is a retired American professional athlete best known for his wrestling career in the 1980s and 1990s.
He started his wrestling journey in 1981, fighting for various wrestling promotions, including Lutte Internationale, Championship Wrestling from Florida, and Jim Crockett Promotions.
He later joined the World Wrestling Federation and World Championship Wrestling with Barry Windham, forming the tag team named The U.S. Express.
Throughout his wrestling career, he appeared on TV with various ring names like Mike Rotundo, Michael Wallstreet, V.K. Wallstreet, etc. After being active in professional wrestling for over two decades, Rotunda eventually announced his retirement in 2003.
Mike Rotunda's Wife, Stephanie, And Kids
Mike Rotunda married his wife, Stephanie Windham, on October 15, 1984. The couple has been married happily for nearly four decades.
As stated above, Stephanie is the daughter of former professional wrestler Robert Deroy Windham, better known by his ring name, Blackjack Mulligan.
She grew up with her brothers, Barry and Kendall Windham, in Sweetwater, Texas. Both her brothers later became professional wrestlers, following in their dad's footsteps.
Mike Rotunda and Stephanie became closer after his friendship with her brother, Barry, began in the early eighties. Soon after, they started dating, which led up to their marriage some months before Mike and Barry formed their tag team, The U.S. Express.
Following this, Stephanie gave birth to their three kids: Windham, Taylor, and Mika.
Their first son, Windham, was born on May 23, 1987, in Brookesville, Florida. He later performed as Bray Wyatt in the WWE until his death in August 2023. He was in a relationship with wrestler and singer JoJo and had two kids.
Similarly, their second son, Taylor, was born on May 25, 1990. He appeared in the WWE under Bo Dallas's ring name until 2021.
The couple's daughter, Mika, is a realtor who lives with her husband, Grant Taylor, and her daughter in Florida.
What Is Mike Doing After Retirement?
Even though Mike announced his retirement from professional wrestling in 2003, he has frequently appeared on WWE over the years.
The WWE rehired Rotunda as their road agent in 2006, after which he made guest appearances as Irwin Schyster.
On December 10, 2007, he participated in a 15-man Battle Royal, his first and final match after retirement.
Mike continued working as WWE's road agent until they released him on September 10, 2020. A year later, he reappeared on the program again with Rick Flair.
Since then, Mike has appeared several times in WWE's small segments, including backstage comedy skits. Besides, he runs a security company in Florida, which he started with his wife in 2004.