After Mikey Williams chose to honor Kobe Bryant with a tattoo, many fans were eager to learn more about his ink.
Each tattoo on Mike Williams' body holds a story that is very close to him.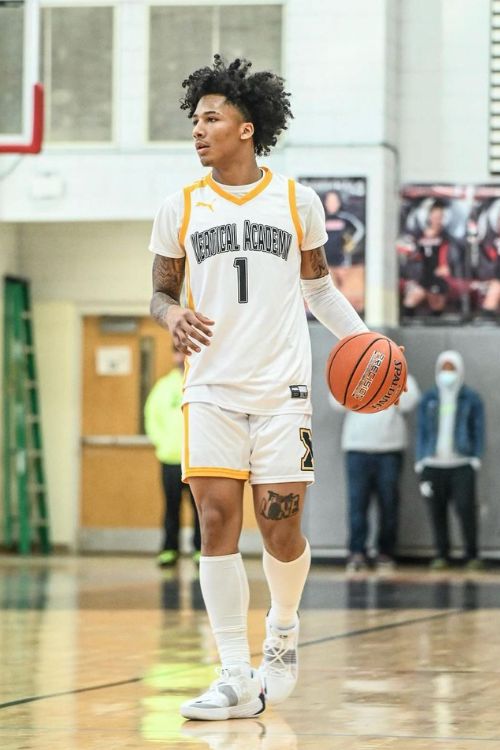 Michael Anthony Williams was born on June 26, 2004, in San Diego, California. He is an American basketball player committed to the Memphis Tigers of the American Athletic Conference.
He initially played for San Ysidro High School, after which he transferred to Vertical Academy. It is an extension of Lake Norman Christian High School in North Carolina.
The player was eleven years old when he held basketball for the first time. He was a ball boy for San Ysidro High School head coach Terry Tucker.
The coach said that he couldn't keep Williams out of the gym no matter how hard he tried.
Williams had his first official game dunk at 12 on April 15, 2017, while playing for the San Diego Sharks in sixth grade. He later joined the Malcolm Thomas All-Stars travel team.
247Sports, ESPN, and Rivals all rank Williams as a four-star recruit in the 2023 class. He had offers from numerous NCAA Division I institutions.
Let's Mikey Williams Tattoo And Their Meaning
Mikey William's tattoos have taken his appeal to a whole new level. The young basketball player has treated his body as a canvas so far.
But all of Mikey's tattoo is not random, as each of them holds a story that resonates with his life.
His right arm tells a story with a captivating full-sleeve tattoo, blending symbols and meaningful phrases.
Notably, he proudly wears a homage to his hometown, "DAYGO 9," etched on his hand, an attention-grabbing piece.
Additionally, a tribute to Kobe Bryant graces his forearm with the number 824, accompanied by the powerful quote, "Heroes come and go, but legends are forever."
He says that he got this tattoo to honor his basketball legend, Kobe Bryant.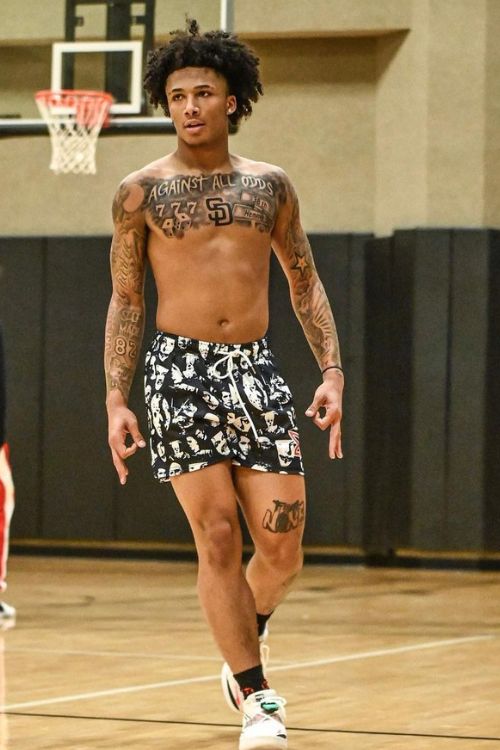 His other tattoos include phrases like "Self Made" and "Skye," as well as the number "69." In addition to these, he has tattoos of roses, numbers, and a distinctive lion inked on his shoulder.
On his left arm, we can see a full-sleeve tattoo featuring stars, his name "Williams," an analog clock, and various other motifs.
On his chest, one can find tattoos bearing phrases like "Against all odds," "777," "interlocked SD," "Hemlock," and "38th."
Furthermore, he has woven in impactful Bible verses, a testament to his unwavering faith and inner strength.
Williams Was Arrested On Charges Of Assault
On April 13, 2023, Williams was arrested in Jamul, California, for five counts of assault with a deadly weapon and released on $50,000 bail the next day.
He may face one charge with a maximum sentence of four years. The University of Memphis acknowledged the incident on April 14, 2023.
On April 20, 2023, Williams pleaded not guilty to multiple assault charges, appearing virtually due to security concerns.
He is accused of firearm assault, and each count carries up to four years. They rescheduled the preliminary hearing from June 29, 2023, to July 12, 2023, for more information.
They postponed the hearing from September 5, 2023, to October 10, 2023. Following the hearing, Judge Sherry M.
Thompson-Taylor ordered Williams to stand trial on six felony gun charges and set his arraignment for October 24, 2023.
The judge denied a bail increase, allowing Williams to stay free on a $50,000 bond.