Miki Sudo and her soon-to-be husband, Nick Wehry, are the power couple of competitive eating. The two announced their engagement in 2021 after three years of dating.
Growing strong together for 5 years, the couple is already parents to three children.
Miki Sudo is the mother of a biological child, a son, with her beau Nick. Moreover, she is the stepmother to two kids from his previous relationship.
Similar to Sudo, her boyfriend-turned-fiance Nick Wehry is a fellow competitive eater & holds a world record of eating 50 hard-boiled eggs in three minutes and four seconds.
Miki Victoria Sudo competes at Nathan's Hot Dog Eating Contest & has won every year from 2014 to 2020, replacing the former champ, Sonya Thomas.
The top-tier American competitive eater began her professional journey through Major League Eating debut in 2013. In 2022, she reached #3 in the world with MLE.
She has set 4 world records in eating competitions for Kimchi, Hotdish, ice cream, and hot dogs eaten by a woman.
In 2020, Sudo set the women's world record for most hot dogs eaten (48.5) in 10 minutes, which she holds to date.
Miki Sudo Husband, Nick Wehry: How Did They Meet?
Sudo is yet to get married, but her relationship with her boyfriend (now fiance), Nick Wehry, is nothing short of husband & wife.
Both of them compete in competitive eating, which led them to connect.
On June 21, 2023, Nick Wehry made an Instagram post on their 4th anniversary, suggesting he & Miko are in a relationship since 2019.
As reported, Miko met Nick at a hotel gym in 2018 when the former was working out & doing a photoshoot. Sudo approached him for a photo & became friends.
But it was until seven months later they would begin dating.
A Stylish Engagement
After two years of relationship, the duo took a step forth in their relationship.
They got engaged & took no time to share the news via Instagram on April 25, 2021.
Before Nick Wehry got down on one knee to propose to Miki, he competed & won in the World Hardboiled Egg Eating Championship at the 2021 DraftKings Red Carpet Film Feast.
In fact, with the victory, he made a world record of eating 50 hard-boiled eggs in exactly three minutes and four seconds.
A world record added with a commitment of love, what a way!
Moreover, Nick, who went professional in 2017, notched other notable victories in 2023.
He made a world record at 2023 Get Crackin' Wonderful Pistachios Eating Championship with 188 pistachios in 8 minutes. A week later, it followed another victory with 173 chicken wings in 10 minutes at the Wings For Wishes Wing Eating Championship.
Mother Of Three Kids, Including Two Stepchildren
With her to-be-husband Nick, Miki Sudo shares three children, including two stepchildren.
She is stepmother to William and Sylvie from her fiance's previous relationship.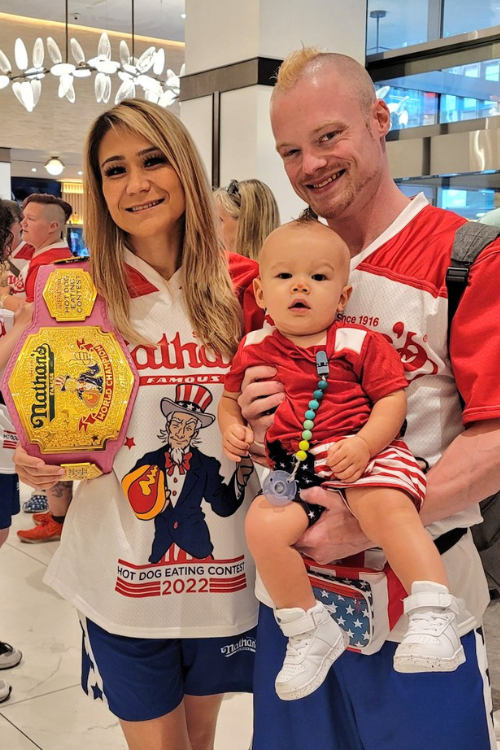 Together with Nick Wehry, she is the mother of a son named Maxwell Samuel Wehry (born in July 2021).
The year 2021 was filled with happiness for the couple.
In January 2021, the duo announced that they were expecting their son Max and got engaged a few months after.
The love birds often share pictures of their kids & beloved dog Dennis on their social media profiles.
Miki Sudo Net Worth & Earnings
As of 2023, Miki Sudo has a net worth in the range of $300K- $500K.
Not to mention, she is already an established figure in competitive eating & makes a lucrative chunk from it.
Sudo is primarily renowned as the seven-time consecutive winner of Nathan's Hot Dog Eating Contest.
She claimed her 8th title in 2022 after skipping the contest in 2021 due to pregnancy.
The prize money for the winner of Nathan's Hot Dog Eating Contest is $10,000. So, from that contest only, she has made $80K in these years.
Besides that, she participates in other competitive eating contests.
With her significant other, Nick Wehry, she runs a website called The Hungry Couple and a YouTube channel with 47.9k subscribers, where they promote local restaurants in Florida.
According to her LinkedIn, Miki, who is a Business Administration grad of the University of Nevada- Las Vegas, is a partner at Walden Technology Group.
Hot Dog Record Of Miki Sudo
In her debut year, 2013, Miki Sudo finished second, consuming 34 hot dogs and buns in ten minutes.
From 2014 to 2020, Miki Sudo won the women's division of Nathan's Hot Dog Eating Contest seven consecutive times.
Her most impressive record in Nathan's contest came in 2020 when she consumed 48.5 hot dogs and buns in ten minutes, setting a new women's world record.
Due to her pregnancy, Miki could not participate in the 2021 Nathan's Hot Dog Eating Contest. However, in 2022 she ate 40 hot dogs and secured first place.