Milaysia Fulwiley Wikipedia – Born and raised in Columbia, South Carolina, Fulwiley turned 18 in April. Fulwiley has confidently said she is one of the best female collegiate athletes in the country.
The 5'10 Guard of the South Carolina Gamecocks showed on debut why she is the best and why everyone fears her on the court. On November 7, Milaysia and South Carolina went head-to-head against Notre Dame, with Carolina winning 100-71.
And Fulwiley was the star of the show. Her impressive performance caught the eyes of NBA legends Magic Johnson and Kevin Durant. She has also been previously praised by Stephen Curry, whom she calls her mentor.
Fulwiley ended the game with 17 points, six steals, and six assists. She was only behind Kamilla Cardoso for the most points on the team.
Milaysia Fulwiley Wikipedia And Age
The new basketball sensation Milaysia Fulwiley hails from Columbia, South Carolina, and previously attended WJ Keenan High School. Milaysia was born on April 21, 2005, and is currently 18 years old.
Fulwiley began playing the sport at age three when her mother, Phelliccia Mixon, bought her a basketball as a birthday present. Fulwiley's early basketball training began at Crane Forest Park, where she first began dreaming of becoming a professional basketball player.
Standing at 5'10, Fulwiley plays as a guard and has always been a confident player from a young age. Her interview with UANESWORLD last year perfectly highlighted her confidence.
UANESWORLD began the conversation, asking the youngster at what age she realized she was going to be a basketball phenom. After a bit of thinking, Fulwiley said, "Ten."
People around her neighborhood knew her talent, and Milaysia would be going head-to-head against players older than her, and most of the time, it would be boys.
Fulwiley said she gets her confidence from practicing multiple times a day. She also added being a gym rat has helped her build her confidence.
During her conversation with UANESWORLD, Milaysia also talked about her conversation with Stephen Curry. She said Curry is one of her basketball inspirations for throwing the deep threes.
The talented player also added that the Lakers player, LeBron James, is an inspiration behind one of her behind-the-back moves.
Fulwiley said she saw LeBron pulling out that move during one of the NBA Finals and thought, "Oh my God! That was so easy. I think I can do that move."
At WJ Keenan, Fulwiley averaged 24.8 points, 6.1 assists, and 1.8 blocks per game. She became a three-time SCBCA 3A Player of the Year and was named to the All-America team.
Milaysia Fulwiley Parents: Raised By A Single Mother
Milaysia Fulwiley and her mother, Phelliccia Mixon, are soulmates. The mother-daughter duo has gone through various adversities together.
Fulwiley isn't her parents' only child and also has two sisters. Her parents went their separate ways when she was young. She was raised by her mother singlehandedly for most of her life.
But in her interview with UANESWORLD, Milaysia mentioned her father and step-father have also supported her basketball career. Previously, in an interview, Milaysia talked about the sacrifices made by her mother for her happiness.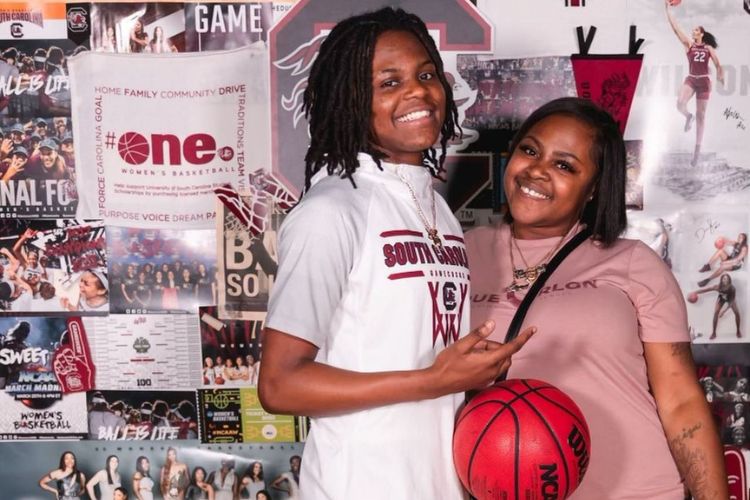 The South Carolina star said Phelliccia worked hard for her daughter so that Milaysia could keep moving towards her goals. Milaysia further added she could count on one hand the times her mother was not at her game.
Fulwiley said, "I owe her so much for her sacrifices in helping me become the person I am on and off the court."