MyKayla Skinner (pronounced as mick-ay-la) is an American former artistic gymnast who spent her whole lifetime flipping and rolling gracefully on the gymnast floor.
She won a gold medal at the 2014 World Championships. She claimed the bronze medal in the vault and stood fourth for the floor exercise in the same Championship.
MyKyala has grown from being a mid-level performer to one of the top gymnasts in the US. She has won 11 medals at the USA Gymnastics National Championships during her senior career.
The amazing gymnast decided to retire after the 2020 Tokyo Olympics and announced her retirement on August 1, 2021.
As of 2023, she has an estimated net worth of around $1 million.
Before diving into the details, let's look at the quick facts on the elegant gymnast listed below.
Quick Facts
| | |
| --- | --- |
| Full Name | MyKayla Brooke Skinner Harmer |
| Date of Birth | December 9, 1996 |
| Birth Place | Gilbert, Arizona |
| Nick Name | Mikky |
| Religion | Christianity |
| Nationality | American |
| Ethnicity | White |
| Education | Senior International Elite |
| Horoscope | Sagittarius |
| Father's Name | Cris Skinner |
| Mother's Name | Kym Skinner |
| Siblings | Two older sisters(Katie Skinner, Chelsea Skinner) and an older brother (Jeremy Skinner) |
| Age | 26 Years Old |
| Height | 5'0″/1.52 m/152 cm |
| Weight | 47 kg/103 lb. |
| Hair Color | Brown Ombre |
| Eye Color | Blue |
| Build | Athletic |
| Discipline | Women's Artistic Gymnastics |
| Level | Senior International Elite |
| Gym | Desert Lights Gymnastics |
| Active Years | 2011–2021 |
| Marital Status | Married |
| Husband | Jonas Harmer (m. 2019) |
| Kids | No |
| Net Worth | $100k – $1 million |
| Social Media | Instagram, Twitter, YouTube & TikTok |
| Last Update | June, 2023 |
Appearance
MyKayla is like a small angel with tiny, delicate features. She stands elegantly at just 5 feet (1.52 meters) and weighs 47 kg (103 pounds).
Skinner has a small, oval face with gorgeous brown ombre hair, adding to her beauty. Additionally, she has beautiful blue eyes to outshine many.
MyKayla Skinner | Early Life
The beautiful former artistic gymnast was born to Cris Skinner and Kym Skinner on December 9, 1996. They lived in Gilbert, Arizona.
She had three elder siblings, brother Jeremy Skinner and two older sisters, Chelsea Skinner and Katie Skinner, who are former gymnasts.
Mykayla is a member of The Church of Jesus Christ of Latter-day Saints (LSD), also known as the Mormon Church.
Educational Background
In 2011, Mykayla Skinner attended Higley High School as a freshman. However, she was homeschooled starting in 2012.
Afterward, in November 2014, Skinner joined the University of Utah's gymnastics team and was a two-time NCAA champion.
Finally, in 2016, she was included in the US team for the Summer Olympics.
Gymnastics Career
For MyKayla Skinner, her award accolades speak for themselves. The former gymnast is best known for her high-level performances on the vault.
She has performed both Amanar and Cheng vaults in her past performances. Equally important is her flawless floor performances, including the Moors (double twisting double layout) and Silivas (double twisting double tuck) in the same routine.
Junior Years
In the beginning, Skinner joined Desert Lights Gymnastics in Chandler, Arizona. During that tenure, she was personally coached by the head coach of the club, Lisa Spini. She also had other coaches, Tom Farden and Bruce McGhee, to train her.
In the 2011 American Classic, MyKayla Skinner was the individual all-around champion for the junior level.
After this, during the National Championships, she stood second on the vault and finished tenth in the all-around. She was then named to the Junior US National Team.
MyKayla Skinner | Senior Years
MyKayla had refined herself to handle all the coming circumstances with class and grace.
The Year 2012
Skinner's senior years started in 2012 as she joined the US senior national team. In March, she was also a member of the US winning team at the City of Jesolo Trophy.
Three months after the victory, Skinner competed at the US Nationals. She finished third on the vault and 15th on the all-around.
The former gymnast was expected to feature on the 2012 US Women's Olympic Team. But, unfortunately, she wasn't selected to compete at the Olympic Trials.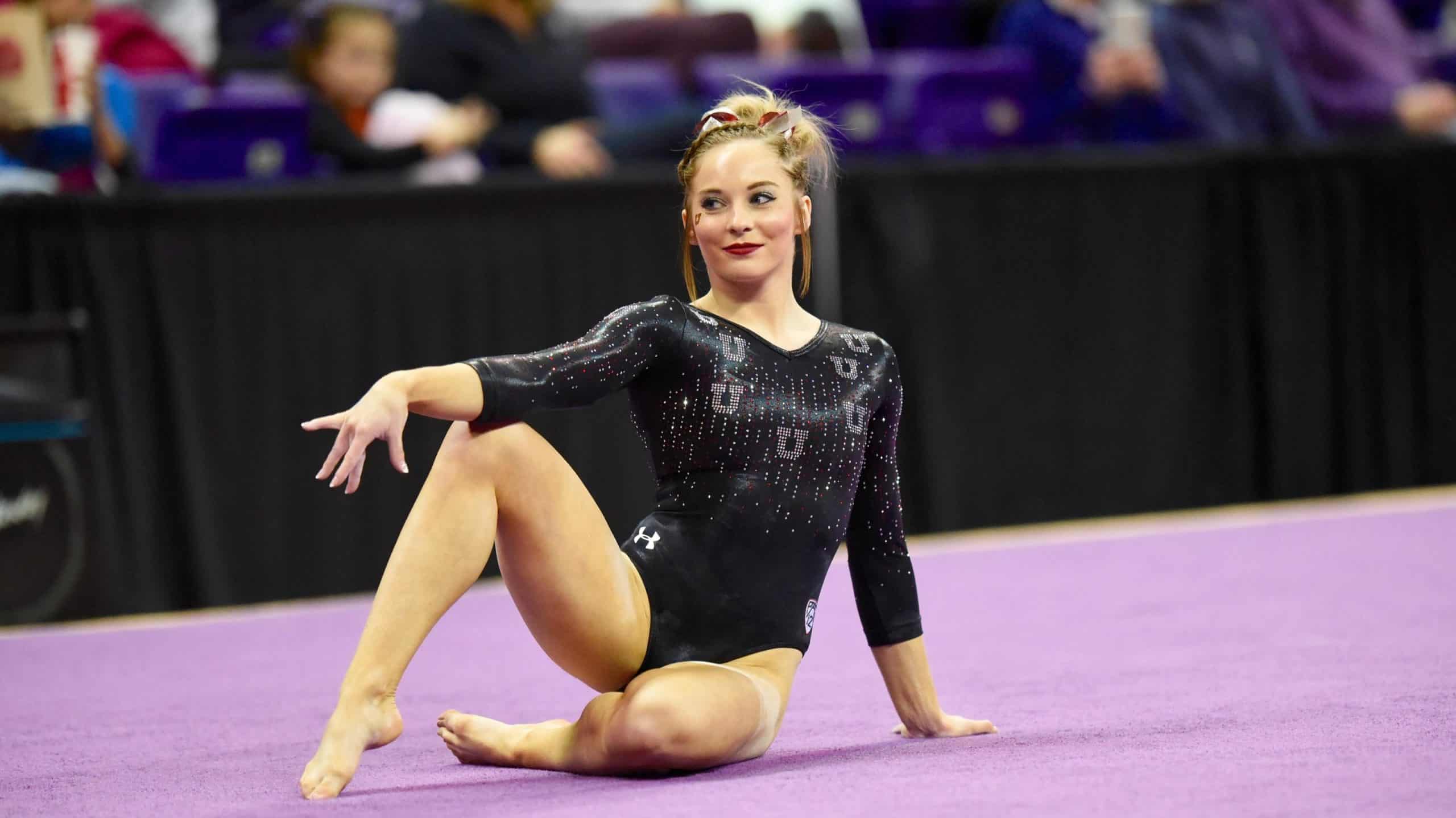 The Year 2013
In early 2013, Skinner competed at the Fiesta Bowl. She had excelled in every event except for the floor exercise, where she tied for eighth place.
Again, she partook in the P&G Championships, placing third on the vault and floor. Moreover, she finished sixth in the all-around.
The Year 2014
Skinner claimed the gold for both vault and floor exercise in March, whereas she finished fourth for the all-around at the City of Jesolo Trophy.
However, she was a winning team member at the City of Jesolo Trophy.
MyKayla competed at the Pan American Championships in Mississauga, Canada, in August and September.
Skinner helped the American team to secure first place in the team competition. She stood first for all-around and the vault round in the individual counting, scoring 56.850 and 15.037, respectively.
However, at the event's finale, she stood seventh for the balance beam scoring 13.475 but gained first place on the floor, scoring 14.750.
Skinner was selected to compete at the 2014 World Championships in Nanning, China, where she contributed a score of 15.775 in the vault and 14.666 on the floor for the team competition claiming the gold for the US team.
In the event finals, with a score of 15.366, Skinner was able to bag a bronze. Following it, she stood fourth in the floor exercise final, scoring a 14.700. She lost third place (bronze) to Aliya Mustafina, who scored 14.733.
The Year 2015
Skinner opened the season on March 7, 2015, competing at the 2015 AT&T American Cup, held in Arlington, Texas. She scored 57.832, finishing second after Simone Biles.
Although Skinner had an ankle injury, she competed in the US Secret Classic on July 25. She then finished 7th in the all-around with a score of 55.500.
Skinner was placed on the 12th due to her various fall-backs in the event. She had a fall on her back-handspring tuck full series.
Except for it, she had a smooth journey on the beam and scored 12.800. In addition, she showcased her Moors (double-twisting and double layout) and her Silvas (double-twisting and double tuck) tactics for the floor exercises.
Furthermore, MyKayla was placed ninth as she fell on her double tuck and scored a low 13.500.
She was placed second with a score of 15.100 on her Cheng vault and 14.800 on her double-twisting Yurchenko, which averaged 14.950. Skinner stood tenth in the bar with a more difficult routine and an acceptable score of 14.100.
2015 P&G Championships
MyKayla Skinner competed in the 2015 P&G Championship in Indianapolis, Indiana, and 2014 Worlds teammate Alyssa Baumann on August 13 and 15.
She stood 7th in the all-around behind Simone Biles, Maggie Nichols, Aly Raisman, Bailie Key, Gabby Douglas, and Madison Kocian with a two-night total of 115.700.
Night 1
Skinner started her night with the vault, scoring 15.150 on her Cheng vault and 14.800 on her double-twisting Yurchenko, with an average of 14.975.
She scored 13.650 on the uneven bars as she had issues with her transitions and was short on handstands.
Mykayla earned a respectable score of 14.350 on the beam. This is where she had nailed her back-handspring tuck full series and had a small hop on her double tuck dismount.
For her performance on the floor, she was only credited with a low 6.2 and scored 14.350.
At the end of the night, she was ranked eighth overall, with 57.500.
Night 2
Similar to Night 1, Skinner had handstand issues and the same form on the uneven bars. Hence, she was placed 16th with a score of 13.700 and a total of 27.350.
Although Mykayla had better connections to increase her start value to a 6.0, she came across a slight wobble on her signature back-handspring tuck full series.
She was placed on the 7th with Raisman with a score of 14.350 again, as she did on night 1, and a total of 28.700. Skinner stood third behind Raisman and Biles on the event of the floor.
Compared with her other performances, she had a good credited start of 6.5 with a score of 14.800, totaling 29.150.
Skinner scored a 15.350 on her Cheng vault and a 14.950 on her double-twisting Yurchenko. She stood second behind Biles with an average score of 15.150 on the vault and a total of 30.125.
In September 2015, Mykayla Skinner was invited to the 2015 Worlds Selection Camp as she was named for the Senior National Team.
In the 2015 World Artistic Gymnastics Championships, Skinner was selected for the US team's alternative on October 8.
The Year 2016
This year Skinner won a silver medal on the vault and a bronze medal on floor exercise at the 2016 US National Championships.
Altogether, Skinner closed her senior year with a total of 9 medals at the US National Championships.
After that, she stood as fourth in all around at the US Olympic Trials. Then, at last, in the 2016 Olympics, Skinner was placed as an alternative to the team and Ashton Locklear and Ragan Smith.
Collegiate
At first, Skinner signed a National Letter of Intent for the University of Utah and the Utah Red Rocks program in November 2014.
Later, to focus on her 2016 Olympics Championship, she deferred her enrolment at Utah by a year.
Utah coach Greg Marsden stated, "MyKayla Skinner is one of the top gymnasts in the world with the potential to get even better due to her passion for the sport."
To fill the gaps from the senior student's graduation, Georgia Dabritz, and Tory Wilson, Utah recruited four gymnasts, Shannon McNatt, MaKenna Merrell, and Erika Muhaw, alongside MyKayla Skinner.
Season 2016-2017
After deferring one year, MyKayla enrolled at the University of Utah in 2016 as a member of its NCAA women's gymnastics team and competed in the all-around.
Skinner was the Pac-12 champion in the individual all-around and on vault and floor exercise after winning 43 total events as a freshman.
She stood second with a score of 39.6125 in the individual all-around, just after Alex McMurtry of Florida at the NCAA Championship and fifth on the vault and eighth on the balance beam.
She claimed the co-national champion on floor exercise with a 9.9625 alongside Ashleigh Gnat of LSU and was placed fifth in the team competition finals right.
Season 2017-2018
Skinner bagged all 54 routines without failing as she led Utah to second place at the PAC-12 Championships.
In the individual performances, she finished first in the all-around alongside Kyla Ross of UCLA. Also, she ranked first on the floor exercise alongside Katelyn Ohashi of UCLA and Elizabeth Price of Stanford.
Besides, MyaKyla bagged the silver in the all-around behind Maggie Nichols of Oklahoma at the 2018 NCAA Women's Gymnastics Championship.
In the same event, she finished first on vault alongside Brenna Dowell of Oklahoma and Alex McMurtry of Florida.
Season 2018-2019
At the PAC-12 Championships, Skinner was placed second in the all-around and the team finals. However, scoring her third career perfect 10 on floor exercise, she bagged gold and vault.
Skinner set a record during her regional finals, though she took a fall on the uneven bars. Nevertheless, she completed her 161 routine streaks without fail.
Despite setting the record for the second-highest vault and floor exercise scores, she was placed fifth at the NCAA Championship due to four gymnasts tying for the title.
Adding to it, she stood seventh in the all-around after a subpar beam routine. She also led Utah to fourth position in their semifinal but did not advance to the finals.
Elite Gymnastics
On April 25, 2019, Skinner officially announced her return to Elite Gymnastics to run at the 2020 Olympics.
The Year 2019
Skinner's first official program on the elite level was the June national team training camp.
Skinner commenced her elite competition with her vault, beam, and floor performance in July at the US GK Classic.
She scored the second-highest single vault with a 14.900 for her Amanar behind Simone Biles and tied with Jade Carey. She was also placed eleventh and fourteenth on the beam and floor, respectively.
Skinner competed at the 2019 US National Championships and partook in every event on the first night.
She closed the night away, placing herself in the ninth position along with Grace McCallum.
On her second day of the competition, she stood eighth in the all-around and won bronze on vault behind Simone Biles and Jade Carey.
Skinner took a fall off the balance beam during her performance; however, she made it up to the National Team. She competed at the US World Championships trials in September and finished fourth after Simone Biles, Sunisa Lee, and Kara Eaker.
Similarly, she stood fourth behind Biles, Eaker, and Morgan Hurd the day after on bars and beam.
People chose MyKayla Skinner to travel for the 2019 World Championships in Stuttgart alongside Biles, Lee, Eaker, Jade Carey, and Grace McCallum. After her podium training with the US women, she was classified as the first in the team and secured the gold medal.
The Year 2020
In March, Skinner was selected for the International Gymnix meet in Montreal alongside Emily Lee, Lilly Lippeatt, and Faith Torrez.
She placed second in the individual all-around after Lee while leading the US team to the gold medal.
At the same event, her Cheng was downgraded by Svetlana Vasilyevna Khorkina. However, she won for her vault, uneven bars, and floor tiles in the event finals.
The 2020 Olympics was postponed due to the global virus COVID-19. Still, Skinner posted on Instagram, saying, "I am still training for the Olympics but taking things one day at a time!"
Skinner competed in the 2020 Olympics, which was later organized in July 2021. She finished second with an average score of 14.916 for her Cheng and Amanar vaults.
After competing at the Olympics, she announced her retirement on August 1, 2021.
Love Life
MyKayla met her love, Jonas Harmer, through MyKayla's best friend, Emma. They started talking for a while and eventually started dating.
As per the source, Harmer proposed to her while training at Desert Lights Gymnastics in Chandler after her junior year in college. Back then, Harmer was working as a sales rep in California.
However, after returning from the World Championships in Germany, she officially disclosed this information about her engagement and marriage.
On November 14, 2019, the pair shared their vows and went to Thailand for their honeymoon. The couple is seen roaming around different countries.
MyKayla Skinner had stated Jonas Harmer to be a keeper adding, "He's one of my biggest supporters. I can rely on him when I'm having a bad day."
Net Worth
As of 2023, Skinner has an estimated net worth of $1 million. However, her salary hasn't been disclosed.
She does not have a car or a house listed under her name. All in all, we can see how lavish her lifestyle is through her social media.
Why Was She Hated Way Too Much?
At an NCAA regional gymnastics meet, MyKayla Skinner did the unimaginable; She fell on the rough bars.
Falls are rather usual in gymnastics, but Skinner really does not fall during competitions. This was the initial miss of her NCAA work, terminating a 161-routine hit streak, the longest collegiate chronicle.
The rest of Skinner's round was nearly flawless, but it didn't value much.
After she docked her dismount, she quickly bowed and rejoined her team, her face blank but clearly lacking the post-routine jubilation for which NCAA gymnastics are popular.
Her reaction was notably stoic, but MyKayla Skinner was not about to let the haters see her cry.
Favorites
| | |
| --- | --- |
| School Subject | English |
| Hobby | Shopping |
| Music | Country, Taylor Swift, Quinn |
| Book | Twilight Series |
| Movie | The Longest Ride |
| T.V. show | Riverdale |
| Food | Gecko Grill, Mexican |
| Charity | Feed My Starving Children |
| Other Sports | Master Gymnastics Coach for camps |
Social Media
The flawless gymnast has been active on her social media and even runs a YouTube channel. She connects to her fans and the outer world, making time to post, tweet, or upload from her busy schedule.
Skinner also keeps in touch with her fans through Q&A videos on her YouTube channel.
You can find her on Instagram @mykaylaskinner2016, Twitter @MyKayla Skinner, YouTube @MyKayla Skinner, and TikTok @mykaylaskinner.
Instagram: 463k followers
View this post on Instagram
Twitter: 55.6k followers
YouTube: 136k subscribers
TikTok: 27.9k followers
Popularity
A former artistic gymnast has earned a lot of fans and well-wishers through her impressive career and bagging several titles.
The above graph illustrates the popularity of the former artistic gymnast based on Google searches in the United States over a year.
Frequently Asked Questions
Did MyKayla Skinner go back to the collegiate level after Tokyo?
No, MyKyala Skinner retired after competing at the 2020 Olympics.
Did MyKayla Skinner ever think of quitting gymnast during her time as an elite gymnast?
MyKayla Skinner did have breakdowns at times, as Elite is super difficult. However, she kept on going forward and learned to handle circumstances.
Is MyKayla Skinner in a TV Commercial?
The gymnast has appeared in different TV commercial ads.
Did Mykayla Skinner really Tweet Something Homophobic?
According to different news sources, it is claimed that she has tweeted things that are racist and homophobic.