Myles Turner has established himself top-power power forward/center in the NBA. He is an American professional basketball player for Indiana Pacers.
The athlete played one season for the Texas Longhorns before declaring for the 2015 NBA Draft and being chosen with the 11th overall pick by the Pacers.
Myles is one of the league's best rim protectors, ranking second in blocks per game (2.8) while averaging 13 points and 7.1 rebounds.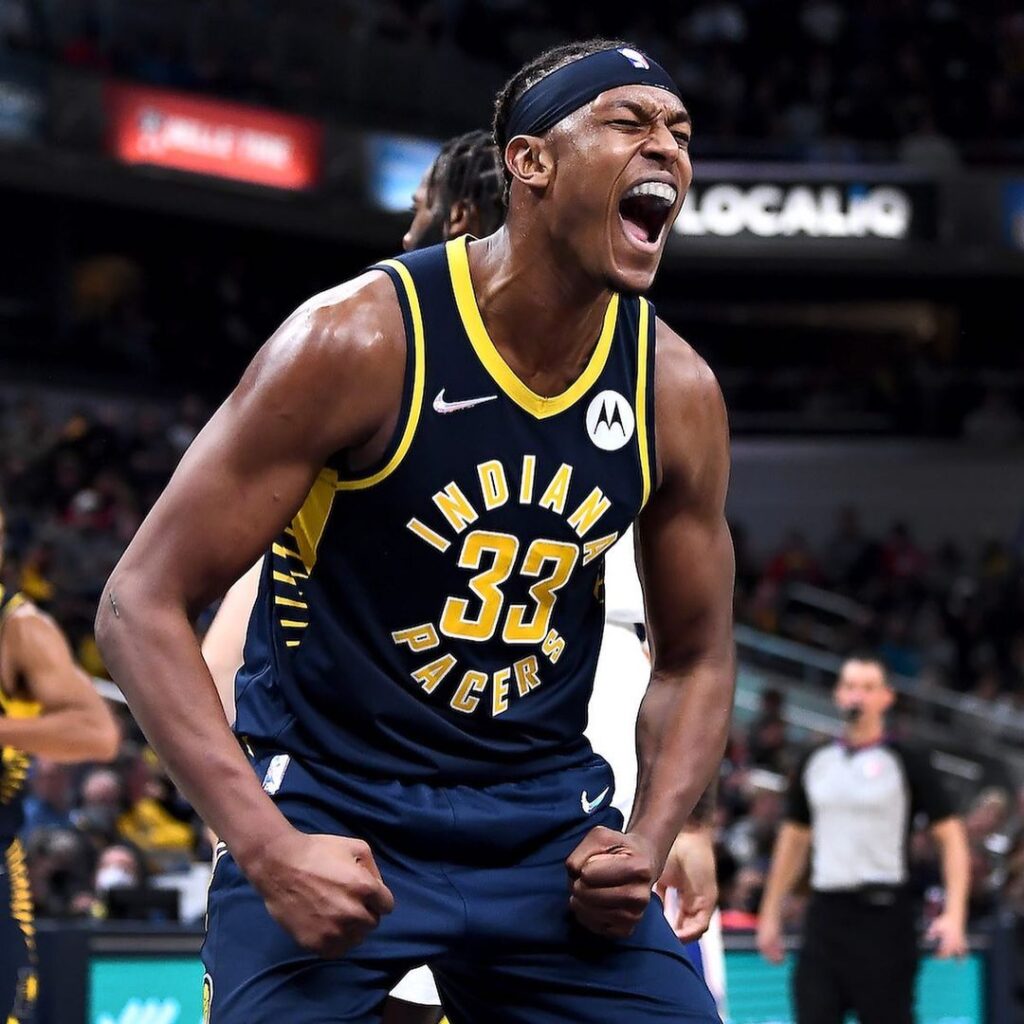 Turner has averaged 12.9 points, 6.7 rebounds, 1.2 assists, and 2.1 blocks per game in 280 games and 247 starts for the Pacers over his four NBA seasons.
He has a career field goal percentage of.495, a three-point percentage of.363, and a free throw percentage of.771.
This article will talk about everything about Myles Turner. Before getting into details, let's look at quick facts about him.
Quick Facts
Full Name
Myles Christian Turner
Known as
Myles Turner
Nickname
Samurai Myles
Birth Date
March 24, 1996
Birth Place
Bedford, Texas
Residence
Not Available
Religion
Christianity
Nationality
American
Ethnicity
African American
Education
Trinity (Euless, Texas), Texas (2014-2015)
Zodiac Sign
Aries
Father's Name
David Turner
Mother's Name
Mary Turner
Siblings
Mya Turner (sister)
Age
27 years old
Height
6 feet 11 inches
Weight
258 lb (117 kg)
Eye Color
Brown
Hair Color
Black
Body type
Athletic
Profession
Basketball Player
Marital Status
Single
Girlfriend
Not Available
Children
None
Active since
2015 – present
Teams
Indiana Pacers
Achievements
NBA All-Rookie Second Team (2016)
2× NBA blocks leader (2019, 2021)
Third-team All-Big 12 (2015)
Big 12 Freshman of the Year (2015)
Endorsements
Not Available
Net Worth
$1- $5 million
NBA Draft Pick
2015 / Round: 1 / Pick: 11th Overall
Position
Center
League
NBA
Merch
Basketball Card
Social Media
Instagram, Twitter
Last Update
March 2023
Myles Turner: Early Career
Myles played AAU basketball for the Texas Select team throughout high school to further develop himself and gain recognition.
He participated in well-known tournaments and camps such as the LeBron camp, the Nike Big Man Skills Academy, the NBPA Top 100 camp, Adidas Nations, and the Elite 24 invitational.
Myles, then 6'7″, broke his ankle during the first spring game of AAU play between his sophomore and junior years, jeopardizing his recruitment chances.
However, he quickly recovered and gained 30 pounds through a two-day weight training regimen to improve his game.
Junior Year
In his junior year, Turner averaged 15.7 points, 12.87 rebounds, and 8.64 blocks.
He led Trinity to a 17–13 r, reachingached the state playoffs for the first time in 10 years, and only the ninth time in school history dating back to 1968. He also recorded six triple-doubles.
Turner maintained his high production level during the 2013 AAU summer circuit, leading his Texas Select team to the title at the 2013 Jayhawk Invitational in front of coaches from the majority of the Big 12 schools.
People also like to read about; Richaun Holmes: Net Worth, NBA & Parents>>
In his senior year, Turner began gaining national attention and becoming a highly sought-after recruit due to his athleticism, ball handling, shooting ability, and natural shot-blocking ability for someone his height.
He backed that up by leading the Trojans to a 24–7 record while averaging 18.1 points, 12.2 rebounds, 3.5 assists, and 6.8 blocks per game.
Turner was one of the last highly sought-after recruits who remained uncommitted after finishing his senior year.
Many sites rated him a five-star prospect, including Rivals.com and other college basketball analysts. In addition, he was regarded as the nation's No. 2 center behind Jahlil Okafor.
Turner's parents offered when he entered his senior year in the fall of 2013. Still, by his senior year, the list had been narrowed down to Texas, Kansas, Duke, Arizona, Kentucky, Ohio State, and Oklahoma State.
The basketball player formally announced his commitment to play basketball for the University of Texas on April 30, 2014, live on ESPNU's Recruiting Insider.
Myles Turner: Age & Height
Myles Turner is a basketball player born on October 15, 1993. As a result, he is now 27 years old.
Turner has a well-kept body and app be quite athletic in terms of physical appearance. The athlete stays physically fit by eating well and going on a daily day.
Furthermore, the American player stands 6 feet 11 inches tall and weighs around 117 kg.
On the other hand, Turner does not have tattoos all over his body. He has beautiful dark hair and brown eyes. He is of African-American descent and American nationality.
Turner was born under the Aries astrological sign. Sapiens born under the Aeries sign are daring and ambitious.
They are always eager to take on new challenges. They are passionate and self-assured leaders.
Myles Turner: College Career
Turner was named Big 12 Freshman of the Year in 2015 after averaging 10.1 points, 6.5 rebounds, and 2.6 blocks per game as a freshman at Texas in 2014–15.
Myles declared for the NBA draft on March 30, 2015, preceding his final three years of college eligibility.
Turner stated in June 2015, "The decision was that difficult because I knew I'd be picked pretty high, so I knew this was my opportunity to go."
The athlete also played in the 2014 McDonald's All-American Boys Gwithe had seven points and seven rebounds.
He also competed for the United States in the 2014 FIBA Americas Under-18 Championship, where he helped the country win gold.
Myles Turner: NBA Career
Turner was the 11th overall pick in the 2015 NBA Draft by the Indiana Pacers.
Between November 13 & December 28 of his rookie season, he missed 21 games due to surgery to repair a fracture in his left thumb.
In a 122–110 defeat to the Golden State Warriors on January 22, 2016, he set a career-high with 31 points.
The player was named Eastern Conference Rookie of the Month for February on March 3 after finishing third among East first-year players in scoring (13.4 ppg), rebounding (6.6 rpg), and minutes (29.8 mpg) during the month.
In a 92–84 victory over the New Orleans Pelicans on March 24, he had 24 points and 16 rebounds.
Turner helped the Pacers reach the playoffs as the Eastern Conference's seventh seed with a 45–37 record, where they were defeated 4–3 by the Toronto Raptors in the first round.
The basketball player was named to the NBA All-Rookie Second Team at the end of the season.
Season-High Scores
Turner was named team capbeforeor for the 2017–18 season.
Turner had 21 points and 14 rebounds in the Pacers' season opener against the Brooklyn Nets on October 18, 2017. Due to a concussion, he missed the next eight games.
He set a season-high with 25 points against the Miami Heat on November 19.
Turner missed nine games in January due to a right elbow injury. He tied his season-high with 25 points against the Philadelphia 76ers on March 13.
Don't miss out; Jeff Teague Bio: Career, Injury & Net Worth>>
Turner agreed to ear a $72 million contract extension with the Pacers on October 15, 2018.
Turner had three blocks in a 103–93 loss to the Portland Trail Blazers on October 29, tying James Edwards (391) for eighth place on the franchise's NBA career list.
On December 10, he set a season-high with 26 points and 12 rebounds in a 109–101 victory over the Washington Wizards.
In a 105–89 victory over the Wizards on December 23, he had 18 points and a career-high 17 rebounds. The athlete scored 27 points in a 107–100 loss to the Orlando Magic on January 31.
He had a then-career-high seven blocks in a 105–96 win over the Chicago Bulls on March 5. He had a season-high 28 points in a 106–98 loss to the Trail Blazers on March 18.
Winning Over
Turner had a career-high eight blocks against the Charlotte Hornets on February 25, 2020.
In the Pacers ' season opener, Turner matched a career-high with eight blocks against the New York Knicks on December 22, 2020.
He matched a career-high with eight blocks against the Houston Rockets on January 6. Turner finished the season with 3.4 blocks per game, a league-high.
He had a career-high 40 points, five three-pointers, ten rebounds, and three blocks in a 135–134 overtime loss to the Washington Wizards on October 22, 2021.
Turner scored 25 points, made a career-high seven 3-pointers, and grabbed 13 rebounds in a 111–98 victory over the New York Knicks on November 4.
Injury
Myles Turner, a big man for the Indiana Pacers, will be out for at least two weeks after the team announced on January 16, 2022, that he has a stress reaction in his left foot and suffered ring from ankle and foot pain ahead of Indiana's game against the Los Angeles Clipp was ultimately ruled out.
After seeing several specialists, Turner will receive treatment for his left foot, be sidelined for two weeks, and be re-evaluated.
With his new injury, the Pacers may be unable to obtain the best possible package for the big man—Turner's injury impacts the amount of money Indiana receives for him.
Several teams in the league have expressed interest in him, including the New York Knicks, Los Angeles Lakers, Dallas Mavericks, and Charlotte Hornets. However, this latest injury may deter some teams looking to add someone who can help right now.
Myles Turner: Pluses and Minuses
What stands out the most is Myles Turnextraordinaryional length and frame. He stands 6'11" tall in shoes and has a wingspan of 7'4″, giving him elite size as an NBA power forward.
While he is still a lean player, he wears his 258 pounds well and has the potential to gain or lose weight and play at over 250 pounds without much or any loss in mobility or athleticism.
Turner also has excellent hands and a face-up game, which gives him enormous potential in the pick-and-roll and pick-and-pop-heavy NBA landscape.
Myles is unquestionably an NBA prospect, and 13 games into his NCAA career, he's demonstrating the type of shooter he is.
Turner is shooting 40% from three-point range, 44.4 percent from two-point range, and his efficiency model translates down low as well, where the young big is shooting 69.7 percent at the rim.
Shortcomings
He lacks fluidity; Turner's a mobile player who can run the court, but his athleticism doesn't stand out when you watch him.
He has had some hip problems as a result of his growth. His legs appear toughly stiff as if he runs with a slight limp.
His lower body strength is probably the most concerning right now, as he can be pushed off the block and out of position by older, more physically imposing NCAA players.
While he has held his own in some bigger games this year, he has yet to truly excel when matched against players whose size is significantly larger in bulk.
Myles Turner: Personal Life & Family
Myles Christian Turner is his full name. He is David and Mary Turner's son. Mya, his younger sister, is his only sibling.
In Texas, he wore jersey No. 52 in memory of Habram Rosario, a close friend, and middle school teammate who died of leukemia when Myles was in ninth grade (Rosario wore No. 52 on the middle school team).
He attended the University of Texas and majored in psychology.
You might like to read about; Marc Gasol Bio: Career & Net Worth>>
Myles Turner's relationship status is currently unknown.
However, Franchesca was a Puerto Rican International best known as Myles Turner's girlfriend.
Franchesca played basketball for Euless Trinity High School in Texas. She appears to have enrolled at the University of Texas, but little is known about her.
Myles Turner: Net Worth
Myles Turner has been a crucial member of the Pacers' team. He has accumulated significant wealth for himself and currently lives a lavish lifestyle.
Myles has a massive net worth of $14 million and a salary of up to $3 million.
His basketball career, endorsements, and honest business ventures made his fortune. The top cars in his collection are Alfa Romeo and Aston Martin.
Social Media Presence
Myles Turner is present on several social media platforms. However, he is more approachable on Instagram and Twitter.
He has an authenticated social media account. Turner's Instagram account primarily features posts about his professional and personal life.
There are also a lot of photos taken during photoshoots. You can find his social media pages by following the links below:
Instagram– 249k followers (As of Sep 2022)
Twitter– 126.9 followers (As of Sep 2022)
FAQs
What is Myles Turner's career-high?
Myles Turner scored a career-high 40 points against the Wizards on Friday night in Washington, D.C. However, his incredible night was cut short when the Wizards defeated the Indiana Pacers in overtime, 135-134.
Is Myles Turner left-handed?
Myles Turner of the Indiana Pacers will be out for an undisclosed period due to a fracture in his right hand. According to the team, Turner is listed as day-to-day and will not require surgery.
Is Myles Turner good?
Turner is a fantastic player. He defends at a level that is close to All-Defensive. His three-point shooting creates crucial floor space.
He scores effectively from beyond the arc and at the rim – albeit on a limited number of attempts.