Marc Gasol is a Spanish professional basketball player who plays for the Basquet Girona of the Liga ACB.
The center is a three-time NBA All-Star and a two-time All-NBA Team member. He was voted NBA Defensive Player of the Year while playing for the Grizzlies in 2013.
Gasol also won an NBA championship in 2019 with the Toronto Raptors.
Since 2006, Marc has been a regular member of Spain's national squad. He has two Olympic silver medals and two FIBA World Championship victories.
Moreover, the player also has two championships, a silver medal, and two bronze medals at EuroBasket.
Today, we have gathered information about Marc Gasol, his basketball career, family, relationships, and net worth.
First, look at some quick facts about the Spanish basketball player.
Quick Facts
Full Name
Marc Gasol Sáez
Birth Date
January 29, 1985
Birth Place
Barcelona, Spain
Nick Name
Marc, The Big Burrito
Religion
Christianity
Nationality
Spanish
Ethnicity
White
High School
Lausanne Collegiate School
College
Not Available
Playing Career
2003 – Present
Zodiac
Aquarius
Chinese Zodiac
Ox
Father's Name
Agusti Gasol
Mother's Name
Marisa Sáez
Siblings
Pau Gasol, Adria Gasol
Age
38 Years Old
Height
6 ft 11 in / 2.11 m / 211 cm
Weight
116 kg / 255 lb
Shoe Size
14 (US)
Food Habits
Non-Vegetarian
NBA Draft
2007, Round: 2, Pick: 48th Overall
(Selected By The Los Angeles Lakers)
Hair Color
Light Brown
Eye Color
Green
Career Highlights And Awards

NBA champion (2019)
3× NBA All-Star (2012, 2015, 2017)
All-NBA First Team (2015)
All-NBA Second Team (2013), etc.

Build
Athletic
Marital Status
Married
Wife
Cristina Blesa
Date Of Marriage
2013
Children
Julia Gasol (Daughter)
Position
Center
Profession
Basketball Player
Net Worth
$70 Million
Salary
$23 Million Annually
League
Liga ACB
Social Media
Instagram, Facebook, Twitter
Merch
The Inspiring Story of One of Basketball's Most Dominant Centers (Kindle)
Last Update
March 2023
Early Life & Family
Marc Gasol was born on January 29, 1985, to Marisa Saez and Agusti Gaol in Barcelona, Spain.
The player has two brothers, his elder brother's name is Pau Gasol, and his younger brother is Adria Gasol.
After Marc's elder brother Pau joined the Memphis Grizzlies, he moved with his parents to the Memphis suburb of Germantown, Tennessee, as a teenager in 2001.
The player attended Lausanne Collegiate School in Memphis and played high school basketball for them.
After a senior season in which Marc averaged 26 points, 13 rebounds, and six blocks per game, he was voted Division 2's Mr. Basketball in 2003.
Lausanne retired Gasol's number 33 jersey in 2008.
The Lakers retired Marc's brother Pau Gasol's jersey number 16 during the halftime ceremony on March 7, 2023.
Pau played for the Lakers for over a decade and won two championships in 2009 and 2010. In his speech, he shared a heartwarming message to Kobe Bryant.
Professional Basketball Career
Marc returned to Spain after graduating from Lausanne to play for FC Barcelona in the Liga ACB.
He then joined CB Girona in 2006 after three seasons with Barcelona, where the Spanish player was awarded the ACB's Most Valuable Player in 2008.
Memphis Grizzlies
The Los Angeles Lakers picked Marc with the 48th overall choice in the 2007 NBA Draft.
The Lakers transferred his draft rights to the Memphis Grizzlies on February 1, 2008, as part of a trade deal that featured his elder brother. Pau was moved from the Grizzlies to the Lakers.
Marc signed with the Grizzlies on July 9, 2008. With 53 percent, he set a franchise rookie record for field goal percentage in a season.
Pau held the previous record with 51.8 percent in 2001–02. Marc was later named to the NBA All-Rookie Second Team.
Likewise, Marc was named an NBA All-Star for the first time on February 9, 2012, earning a spot on the Western Conference roster as a reserve for the 2012 NBA All-Star Game.
In April 2013, he was awarded the NBA Defensive Player of the Year, becoming the first Grizzlies player and the first Spaniard and European to do so.
Advancement In Career
With Gasol anchoring the defense, the Grizzlies were praised by ESPN for their ability to force turnovers. He was also chosen to be the NBA's Second Team All-NBA.
Marc was nominated to the NBA All-Defensive Second Team despite winning Defensive Player of the Year due to a different voting procedure.
During the 2014–15 season, Marc was chosen to his second NBA All-Star team, made his first All-Star start, and was named to the All-NBA First Team for the first time.
For the 55-win season, The Big Burrito averaged a career-high 17.4 points per game, 7.8 rebounds, and 3.8 assists.
Toronto Raptors
Marc was traded to the Toronto Raptors on February 7, 2019, for C. J. Miles, Jonas Valaninas, Delon Wright, and a 2024 second-round selection pick.
Two days later, he debuted for the Raptors, scoring seven points and six rebounds in 19 minutes off the bench in a 104–99 victory over the New York Knicks.
The Big Burrito quickly took over as Toronto's starting center, and his pass-first offensive strategy helped the Raptors become the NBA's top 3-point shooting team in the second half of the season.
The player assisted the Raptors in reaching the 2019 NBA Finals, where Marc scored 20 points and collected seven rebounds in his debut NBA Finals game.
Marc joined his brother Pau, who won two NBA championships in 2009 and 2010, as the first brothers to win crowns after defeating the Golden State Warriors in six games.
The Spanish player signed with the Toronto Raptors on June 26, 2019, activating his $25.6 million player option for the 2019–20 season.
Los Angeles Lakers
Marc signed a contract with the Los Angeles Lakers on November 24, 2020.
He debuted for the Lakers on December 22, going scoreless with one rebound and one assist in a loss match against the Los Angeles Clippers 116–109.
Unfortunately, the player missed nine games in the middle of the season after contracting COVID-19. After the team acquired Andre Drummond, Marc was put on the bench.
He scored 13 points, nine rebounds, five assists, and four blocks in the Lakers' 110–101 win over the Raptors on April 6, 2021. During the regular season, he started 42 games and missed 20 others.
Marc averaged 5.0 points and 4.1 rebounds in 19.1 minutes per game while trying 2.3 three-pointers per game and making 41.0 percent of them.
In the postseason, the Lakers led the Suns 2–1 in the first round before losing three straight games and exiting the playoffs in six games.
To avoid elimination, the Lakers put Marc back in the starting lineup in Game 6, where he was scoreless but ended with seven assists in 18 minutes.
The Lakers added centers Dwight Howard and DeAndre Jordan over the summer.
Marc was traded back to the Grizzlies on September 10, 2021, along with a 2024 second-round selection in return for the draft rights to Wang Zhelin.
The trade saved the Lakers almost $10 million in luxury-tax fines. However, Marc was released five days later by the Grizzlies.
Basquet Girona
Gasol played for Basquet Girona of the LEB Oro, which he founded, until the end of the 2021-22 season.
He assisted the team in promoting it to the Liga ACB for the first time after defeating Estudiantes in the final of the promotion playoffs.
For Girona, he appeared 25 times in that season.
As per reports on March 12, 2023, Girona lost the match against Valencia, where Gasol scored four points, five rebounds, and three assists. It was Girona's fourteenth defeat in the ACB.
National Team Career
Marc was picked to Spain's national squad for Japan's 2006 FIBA World Championship. He replaced NBA draftee Fran Vázquez.
Spain won gold medals in Japan and EuroBasket in 2009. Marc also won silver medals at EuroBasket 2007, the Summer Olympics in 2008, and 2012.
He also earned bronze medals at EuroBasket 2013 and EuroBasket 2017.
At the 2019 FIBA Global Championship in China, the Spanish player earned his second world championship with the Spanish squad.
Gasol scored 33 points to help Spain defeat Australia in the semi-finals.
In the final versus Argentina, he scored 14 points and had seven assists, two steals, and three shots blocked. He was chosen to the World Cup All-Star Team along with teammate Ricky Rubio.
The Big Burrito became the second player in history to win a World Cup and an NBA championship in the same year.
He was also the first non-American to win an NBA title and a World Cup or Olympic gold medal in the same year.
On-Court Skills
Marc is best known for his on-court passing skills.
He looks at all those possibilities, and if someone's open, he'll find them while throwing it to them regardless of who the player is. He encourages his teammates to keep moving.
According to Marc, if his teammates get behind their defenders or make a mistake, they can pay the opposition for it.
Often, the rule is that whenever anyone is in trouble, they can throw the ball to Gasol and start flying.
He's on the lookout for everyone. So, all the teammates are always conscious and vigilant when taking the pass from him.
The player's passing skills are well admired by many. Likewise, the NBA player Anthony Davis also claims he is learning to improve his passing talents from Marc Gasol.
Age & Body Measurements
Marc Gasol was born in the year 1985, which makes him 38 as of 2023.
According to the Chinese calendar, he was born in the Ox year.
His zodiac is Aquarius. Sapiens with the Aquarius sign are honest, helpful, and cooperative. They are also highly intellectual and creative, and Marc is no different.
Talking about Marc's physical appearance, he has a well-maintained body with a healthy diet and daily exercise.
The Spanish player stands at 2.11 meters tall and weighs around 255 lb. The tall height is a plus point for the basketball player. He does not have any tattoos on his body.
The Big Burrito has green eyes and light brown hair. The player wears a shoe size of 14 (US). His ethnicity is white, and his nationality is Spanish.
Wife & Kids
Marc Gasol is a married man. On August 7, 2013, NBA player Marc Gasol married his fiancée Cristina Blesa.
They exchanged their wedding vows in Girona, Spain's northeastern Catalonia province.
It is usual for someone famous as The Big Burrito to draw much attention from the general public.
So, he instituted stringent security measures to avoid that activity and keep the public away from his wedding.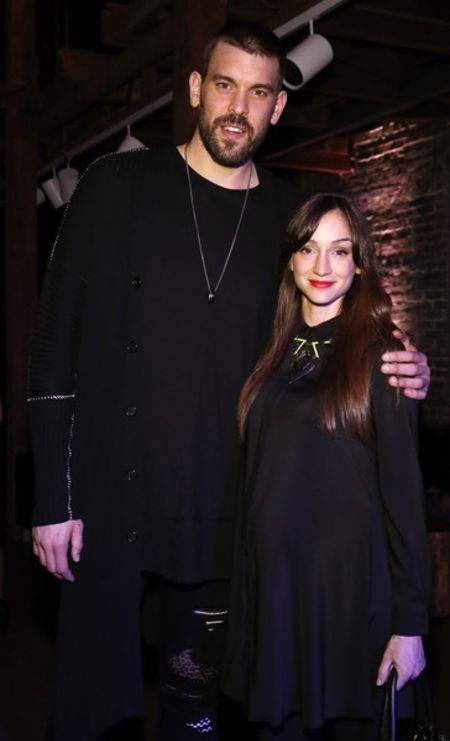 The Spanish player hired about eighteen security guards to keep the media from entering.
But police intervention was necessary to remove those men from the area since the place was public and not private.
Local people were unhappy and outraged at the fact that they were using a public place for private reasons. However, the wedding was successful.
Cristina Blesa and her husband, Marc, gave birth to a daughter Julia Gasol Blesa, in November 2014.
Their daughter is 8, as of 2023.
Net Worth
The basketball player Marc Gasol has had a very successful playing career. As a result, he has accumulated a hefty sum for himself to live a life of luxury.
Marc Gasol earns a salary of $23 million annually and has an estimated net worth of $70 million as of 2023.
The Spanish basketball player Marc has a luxurious mansion in Memphis, Tennessee which he purchased for $600,000 in 2012.
Furthermore, the player also enjoys luxury automobiles. His automotive collection includes a Mercedes-Benz GL350, a Jaguar XK, a Tesla Model X, a Tesla Model S, a Lawn Mower, and many other vehicles.
Gasol Foundation
Pau and Marc Gasol founded Gasol Foundation in 2013. It focuses its activities in the most disadvantaged neighborhoods where children's health is most vulnerable.
The foundation aims to construct a future in which children and their families can be equipped with healthy habits.
Moreover, the foundation also provides community support and global innovation essential to ending childhood obesity.
Social Media Presence
Marc Gasol is a social media star with millions of followers.
The Big Burrito is active on Instagram as @marcgasol and has around 472k followers, and the player is on Twitter as @MarcGasol and has about 1.2M followers.
Similarly, he has over 654k followers on Facebook.
Frequently Asked Questions (FAQS)
Is Marc Gasol retired?
Marc Gasol is still in basketball professionally, but he is not playing in the NBA. He plays for Bàsquet Girona of the Liga ACB. He last played for the Los Angeles Lakers of the NBA in 2021. However, his brother, Pau Gasol, has retired from the NBA.
Does Marc Gasol have a son?
No, Marc Gasol does not have a son, but he has a daughter, an only child, with his wife Cristina Blesa.
Was Marc Gasol always fit?
While arriving at Memphis Grizzlies, he was nearly 300 pounds, but a sheer offseason dedication brought him to 255 pounds.