An intriguing lineage lies behind the French athlete's incredible success as Nawal Meniker's parents come from diverse athletic backgrounds – her father being a marathon runner and her mother a swimmer.
The French Olympic athlete's exceptional achievements on the track have captured the attention of sports enthusiasts worldwide.
Let's explore the genetic and environmental influences that have shaped Nawal Meniker's journey to becoming a remarkable high jump sensation.
Nawal Meniker is a French athlete specializing in the high jump category. She is a remarkable talent whose innate ability sets her apart.
Born on December 9, 1997, in Perpignan, France, Meniker earned her mark early on by grabbing silver at the 2014 Youth Olympic Games.
Another remarkable achievement that further solidified her journey to success was winning a silver medal at the 2015 European U20 Championships.
The French attended Arago High School growing up and was already a distinguished athlete at 15.
A two-time National Indoor Champion, Meniker was promised to be one of the future stars of French heights.
Meniker is establishing herself as the French leader in the discipline. It is further evident from her performance in the 2023 World Athletics Championships.
Nawal Meniker Parents: The Athletic Roots
Nawal Meniker's story begins with her parents, who were no strangers to the world of sports.
Her father, a former soccer player, became a passionate marathon runner. He found solace, challenge, and exhilaration in the long-distance races.
On the other hand, her mother was a professional swimmer. Her swimming attributes undoubtedly contributed to Nawal's success as a high jumper.
The eldest child of her parents, Meniker, was followed by a sister and two brothers. Naturally, she could not escape the sport.
As Nawal Meniker's parents already had it in their blood, they passed it on to the young champion without forcing it.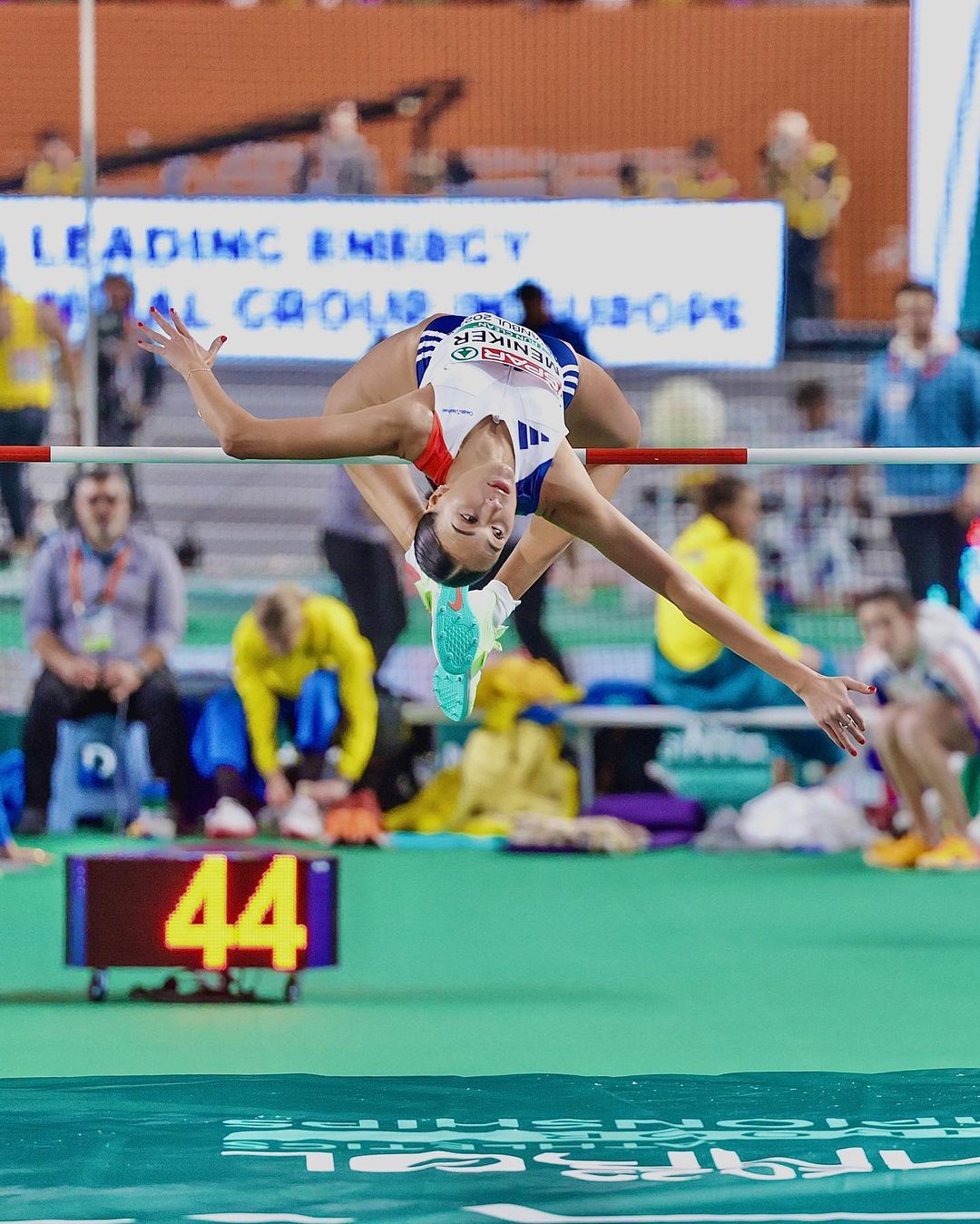 Growing up, Meniker tested a bit of everything: judo, swimming, gymnastics, and even horse riding.
However, the Olympic Games on TV developed an urge inside her to test a new sport.
Beginning from the sprint, she tested the other disciplines before specializing in the high jump in 2013.
Expressing her desire with her parents to participate in the Olympics early in her career, she said; "I wanted to be world champion and Olympic champion."
Nature And Nurture
The athlete always relied on the people who encouraged her. It was Meniker's parents who motivated her whenever she would start doubting herself.
Likewise, her parents instilled values of hard work, determination, and perseverance in her from a young age. That allowed her to continue until today.
In an unfortunate turn of events, Nawal Meniker was denied access to INSEP, the Vincennes training center for top athletes.
Moreover, she lost all her sponsorship contracts and no longer received financial aid. A string of injuries worsened the blow.
No matter what, Meniker always has had the support of her parents. They combined to provide her with a fighter mindset ideally suited for the challenges of her tremulous career.
In addition, her parents also supported her American dream. The French national trained in the US for a few months with Mickael Hanany, the French outdoor high jump record holder.
Meniker could count on the financial support of her parents. She recalled their contribution in a recent interview and stated,
"Without them, it would not have been possible".
In the meantime, Nawal Meniker continues to shine, standing firm in her dream of getting her ticket for the Paris Olympics in 2024.