The Baltimore Ravens wide receiver Nelson Agholor & his girlfriend, Viviana Volpicelli, once made highlights with their cozy moments together.
Many considered them as possible future husband-wife, so what's up with their relationship?
The college-time sweethearts met at the University of Southern Carolina & later went public about their dating story in 2017.
However, fans speculate that the Super Bowl LII champ Nelson Agholor and his lover are not together now. They used to share pictures with each other on social media but have since deleted those & do not follow each other anymore.
The former girlfriend of Nelson Agholor, Viviana Volpicelli, is a social media influencer, professional chef, and food blogger.
This article will cover Viviana Volpicelli's family background, profession, net worth, and her relationship.
Quick Facts
| | |
| --- | --- |
| Full Name | Viviana Volpicelli |
| Birth Date | May 8, 1995 |
| Age | 28 Years Old |
| Father's Name | Dr. Anton Volpicelli |
| Mother's Name | Diane Volpicelli |
| Education | University of Southern California |
| Profession | Blogger & Social Media Influencer |
| Marital Status | Single |
| Net Worth | $200k-$300k |
| Social Media | Instagram |
| Last Update | May 2023 |
Who Is Viviana Volpicelli?
Viviana Volpicelli was born on May 8, 1995, to her parents, Diane and Anton Volpicelli. The beauty blogger Viviana grew up in her hometown Palos Verdes, California.
Her father works as a managing physician at U.S. Healthworks Medical Center in California, while her mother works in real estate management.
Volpicelli's dad is medical graduate from the College of Osteopathic Medicine of the Pacific & interned for a year at Alameda Health System-Highland Hospital.
Viviana attended Palos Verdes High School before enrolling at the University of Southern California in 2013, where she majored in Real Estate Development in 2017.
In addition, she holds a certification in Plant-Based Nutrition from Cornell University's Center for Nutrition Studies.
Viviana is also a certified Plant-Based Culinary Professional recognized by The American Culinary Federation Education Foundation and The World Association of Chefs Societies.
A Blogger & Social Media Influencer
Vivian Volpicelli is a social media influencer, professional chef, and food blogger.
Upon completing her studies, she entered the blogging world and has since succeeded in this field.
She began her blogging career in 2017 and runs her own website, vivianavolpicelli.com, where she shares her expertise on different food recipes and related content.
On her Instagram (@viviana_volpicelli), Volpicelli has more than 208K followers where she often posts about her visits & modeling.
When Did Nelson Agholor & Viviana Volpicelli Meet?
Nelson Agholor and Viviana met while attending the University of Southern California. Volpicelli, who enrolled there in 2013, was a year junior to the NFL star.
As reported, the couple first crossed paths while Agholor played for the USC Trojans football team before entering the NFL draft in 2015.
However, the detail about when & how they began dating remain under wraps.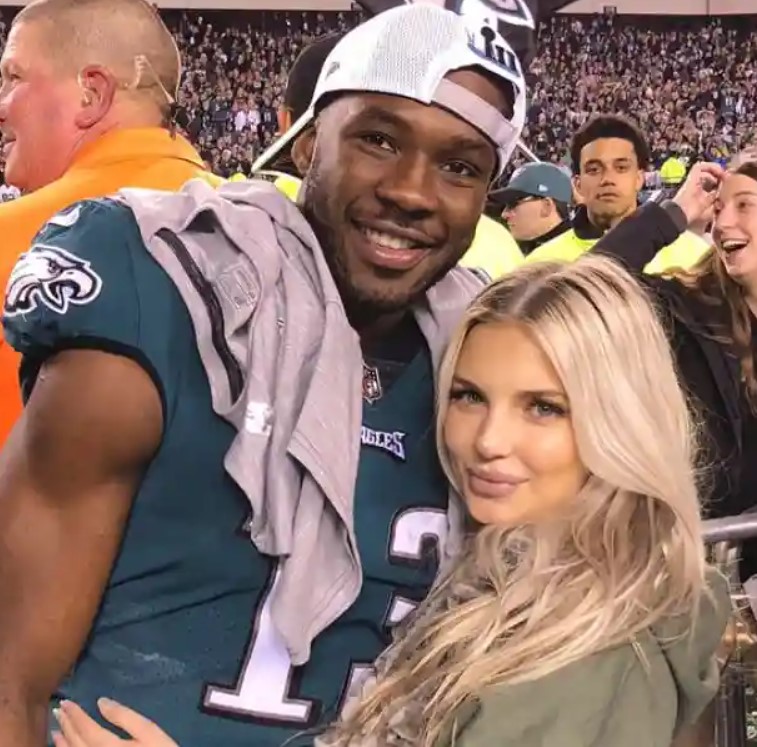 They made their relationship public in 2017, after Viviana shared pictures with the American football player on Instagram.
That same year, she graduated from the USC while Agholor won his first-ever Super Bowl (LII) with the Eagles by defeating Tom Brady's New England Patriots.
The Rumored Split Between Viviana & Nelson?
At the beginning of their relationship, Nelson and Viviana shared frequent snaps of their romance on social media platforms.
But now, there are rumors regarding the break-up of the duo, alleging that they parted ways in mid-2019.
While the split has not been confirmed, evidence suggests that the rumors may hold some truth.
Speculation of a breakup between Nelson Agholor and Vivian Volpicelli grew when they removed photos of themselves from their social media accounts and unfollowed each other.
In addition, the former couple has not been seen together publicly for quite some time.
While the reasons for their alleged split remain unclear, their social media and public actions suggest that they have moved on from their relationship.
Who Is Nelson Agholor's Current Girlfriend?
Amidst yet-to-be true claims of his split with Viviana, fans are already eyeing if the NFL star has moved on with his new girlfriend.
So far, it appears that the former Patriots player is not in any relationship. Online sources suggest that Nelson could be single at the moment.
This speculation inferred as Agholor has not shared any romantic content or posted any pictures or videos of a significant other since his alleged breakup.
Similarly, Viviana Volpicelli has not posted any update on her relationship, leaping the guesses ahead that she is also single.
Net Worth & Earnings
Viviana Volpicelli has not only gained fame as a former girlfriend of Nelson Agholor but also as a food blogger.
As of 2023, her estimated net worth is between $200k-$300k.
Viviana also posts on her Instagram to share her expertise on makeup, fashion, skincare, and related topics.
On her posts, she is often seen promoting apparel brands like Fendi, MESHKI, Stuart Weitzman, SET, and Hermes.
On the other hand, Nelson Agholor has earned a significant fortune during his career as an NFL player.
As of 2023, his net worth is estimated to be between $20 million-$25 million.
In March 2023, he signed a one-year contract worth $3.25 million with the Baltimore Ravens for the 2023-24 season. Through his 8 NFL seasons, he made total career earnings of $43.105 million.
Frequently Asked Questions
When did Nelson Algohor meet Viviana Volpicelli?
Nelson and Viviana crossed paths at the University of Southern California, where they studied.
What teams has Nelson Agholor been on?
Nelson has played for the Philadelphia Eagles (2015-2019), Las Vegas Raiders (2020), New England Patriots (2021-2022), and Baltimore Ravens (2023-Present).