The professional MLB player, Nelson Cruz, does not have a brother but grew up with two sisters, Nelsy and Olga.
Nelson Ramon Cruz Martinez Jr. is a Dominican-American professional baseball designated hitter and right fielder for the San Diego Padres of Major League Baseball (MLB).
He currently plays alongside Juan Soto, Manny Machado, Kim Ha-seong, and co for the Padres.
Cruz started his professional baseball career after signing with the New York Mets on February 17, 1998.
However, the Padres right fielder's MLB debut came only on September 17, 2005, with the Milwaukee Brewers.
He has played for teams like Texas Rangers, Baltimore Orioles, Seattle Mariners, Minnesota Twins, Tampa Bay Rays, and Washington Nationals.
Growing up, Cruz was passionate about basketball instead of baseball. His idol was none other than the basketball legend Michael Jordan.
He even played for the Dominican Republic Junior National Basketball Team but later followed in the footsteps of his father, who had played baseball in the Dominican Republic.
Does Nelson Cruz Have A Brother?
The professional baseball player does not have any brothers but has two sisters named Nelsy and Olga.
As per her Twitter bio, the elder sister, Nelsy, is an interior designer and governor of Montecristi province.
In addition, Nelsy has one daughter named Nelfa Toribio Cruz.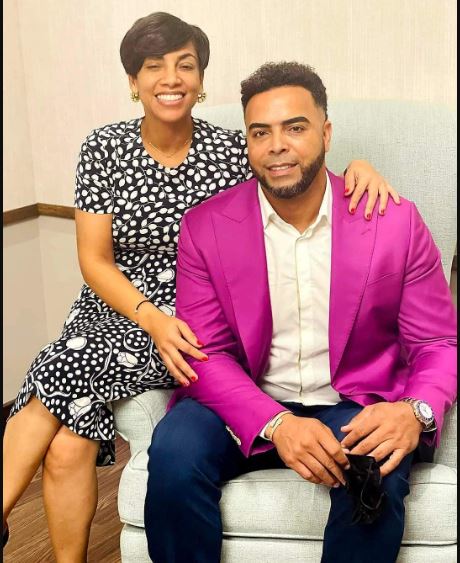 Unfortunately, there are not much details about Cruz's younger sister, Olga.
Despite the lack of limited information, there is no denying that the sisters love and support their brother and have always considered him their support system.
Similarly, many people assume that Oneil Cruz, the MLB player who was also born in the Dominican Republic, is Nelson's brother.
However, this assumption is incorrect as Oneil has a brother named Homer Cruz and is not related to Nelson in any way.
Hardships Endured By The Cruz Family
Nelson and his two sisters grew up in a place that lacked modern amenities like running water, paved roads, and a consistent electricity supply.
They lived in a wood shanty house with a single bedroom, a space his mom partitioned off with a curtain.
On one side, the parents slept, while on the other side, Nelson shared the bed with his sisters.
Both parents worked as teachers, but their salary was insufficient to meet the family's needs.
Cruz took on several jobs, including selling plantains from his grandfather's farm, cleaning shoes, and working in his uncle's mechanic shop to earn extra money.
Girlfriend: Yuberkis Mateo & Two Kids
The Dominican Republic-born is currently in a relationship with a girl named Yuberkis Mateo.
The couple made their relationship public in 2021, and reportedly they kept their relationship private for a long time.
As per the sources, they welcomed their first child, a son, Neon, in 2019 and their second child, a daughter, Gala, two years later.
Yuberkis Mateo was born to parents Carmen Rosa Perez and Rafy Mateo on October 3, 1989.
She is an entrepreneur who runs a car rental service named AutoRent with her brother.
Based on her Instagram posts, Yuberkis loves to travel, as over the years, she has shared several photos of her trips to countries like Greece, Spain, and Israel.
Furthermore, Yuberkis shared a video on Instagram, where they organized a basketball tournament and donated 100000 pesos to the La Penda Youth Educational Center.