Nicole Johnson is best known for being Miss California 2010. She is also widely known as the wife of the Olympian Swimmer, Michael Phelps.
However, there is more to her life than just that. She is a proud mother and an inspiring figure to everyone.
Nicole is highly passionate about mental health and often advocates for it through her social media.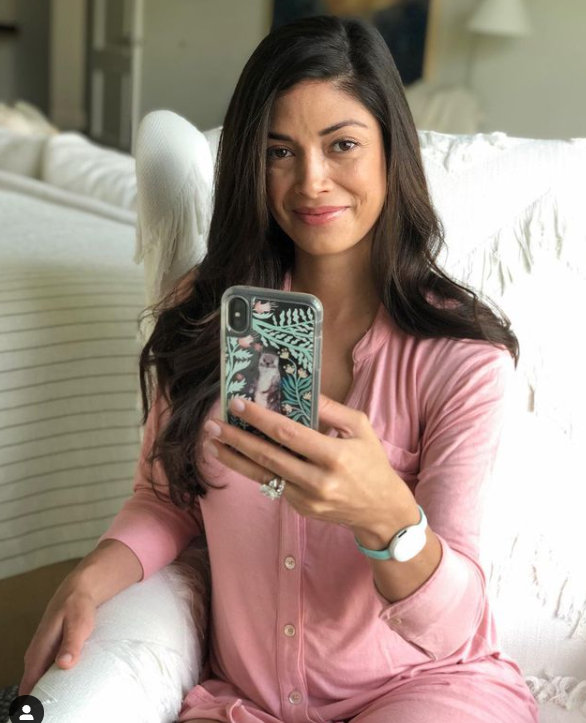 Today, we will talk in detail about Nicole Johnson, her life, and her family. But, before that, some quick facts.
Quick Facts
Full Name
Nicole Johnson
Birth Name
Nicole
Date of Birth
July 12, 1985
Religion
Christian
Sexuality
Straight
Father's Name
Richard Johnson
Mother's Name
Annette Johnson
Marital Status
Married
Birthplace
Colorado Springs, Colorado, U.S.
Age
37
Nationality
American
Gender
Female
Profession
Model, Beauty Queen
University

Moorpark College, Moorpark, California, USA
University of Southern California, USA

School
Westlake High School
Height
5'7″ (170.2 cm)
Eye color
Dark Brown
Hair color
Dark Brown
Weight
45 kg (143 lbs)
Birth Sign
Cancer
Residence
Paradise Valley, Arizona, USA
Husband
Michael Phelps
Children
Three
Pets
Dogs (@msjunoandlegend)
Net Worth
$4-$7 million
Social Media
Instagram
Merch
Nicole Johnson Books
Last Update
June, 2023
Nicole Johnson: Early Life and Education
Nicole was born on July 12, 1985, in Colorado Springs, Colorado. Her mother's name is Annette, and her father's name is Richard.
Her mother was a science teacher, whereas her father was a pharmaceutical sales manager.
Nicole spent most of her childhood at her early childhood in Pennsylvania. Later she moved to Westlake, California, with her parents before starting middle school.
Johnson attended Westlake High School and graduated in 2003.
After high school, she enrolled herself at Moorpark College. Then, when Nicole was 17 years old, she came across an advertisement in the Thousand Oaks Acorn for Miss California Teenager.
Nicole wanted to transfer herself to the University of Southern California. As a result, she was interested in the pageant because she thought that the scholarship could help pay for her education.
Nicole took part in the pageant and was able to succeed as a first runner-up among 304 contestants.
With that, she went to the University of Southern California. There, she continued her education in Bachelor of Arts in Communication. Her focus subject was sports and entertainment.
She graduated from the University in 2007.
Nicole Johnson: Professor Career
Taking part in the Miss California Teenager was a life-changing step for Nicole. The contest helped her gain confidence and encouraged her to participate in more of such events.
Nicole's mother initially was skeptical about her pageant interests. However, when Annette saw her daughter growing due to several participations, she could not help but be proud of her daughter.
The participation in beauty pageants did more than anyone had imagined for Nicole. In addition to the confidence, Nicole also got her college scholarship, which helped her get into USC.
Further, she also made a lot of connections at an early age which has benefitted her to date.
Before getting into the Miss USA competition, Nicole participated in six pageants and found success in several of them.
Luka Doncic's Girlfriend: All About Anamaria Goltes >>
Miss California 2010
However, the brunette's most successful pageant was winning the title of Miss California 2010 in the competition held in November 2009.
In an interview, Nicole mentioned that she wanted to win the title of Miss California more than anything. She further added that she hadn't ever exercised more in her life.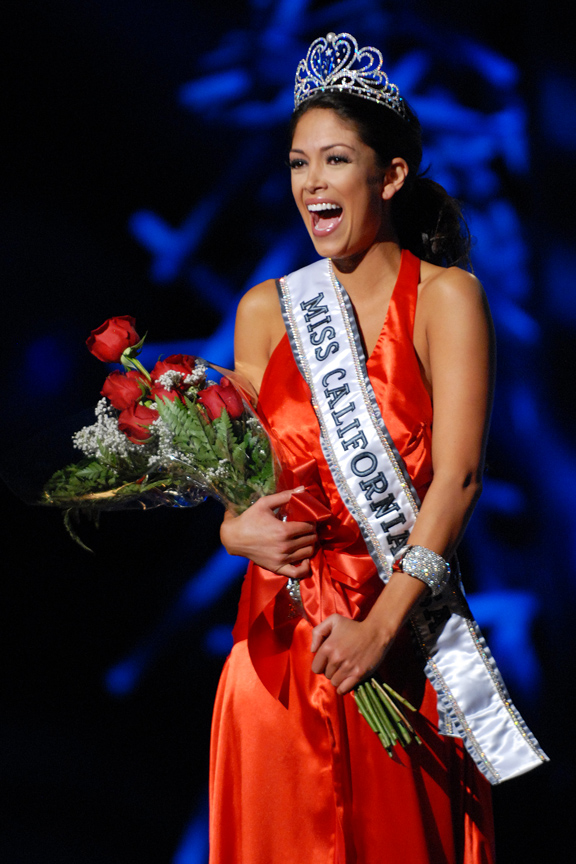 While preparing for Miss California, she worked with a personal trainer two days a week, did yoga two days a week, and ran on the other three days.
Additionally, Nicole also changed her diet and followed a strict regimen which included egg whites for breakfast, a few almonds or an apple for a snack, brown rice for chicken, and broccoli for dinner.
She usually opted for food having low sodium and low sugar.
After winning the title of Miss California, Nicole also worked with the residents of Camarillobased Casa Pacifica, which supported abused, neglected, and emotionally disturbed kids.
Miss USA
In 2010, Nicole shifted her focus and went on to participate in the Miss USA contest. The pageant was held in Las Vegas.
However, she could not win the title there. Nonetheless, the gorgeous Nicole secured the ninth position.
When Nicole was participating in the Miss USA contest, she got various opportunities. For example, the retreat held in Virginia for the participants included different self-esteem-building exercises, tips for interviewing and walking onstage, horseback riding, rock climbing, etc.
Nicole Johnson: Age, Body Measurements, and More
Nicole Johnson stands tall at the height of 5 feet 7 inches (170 cm). She weighs about 45 kg (143 lbs).
Nicole's zodiac sign is cancer. She does not have any tattoos on her body yet.
The gorgeous model has a stunning figure with body measurements (chest-waist-hip) of 32-28-34, respectively.
Talking about her personality, Nicole is not a quitter. She does not quit when she decides to do something until she achieves what she set out to do.
Nicole also believes that knowledge is essential, and ability gives confidence. Therefore, she reads and studies as much as possible before going to a pageant or doing any other endeavor.
Apart from beauty pageants, Nicole likes hiking, swimming, dancing, reading, and spending time with her family and friends.
Talking about her workout routine, Nicole lifts weights three times a week and does spin, swim, or do yoga 2-3 times a week.
Also, know about Lleyton Hewitt: Career, Net Worth, Wife & Kids >>
Nicole Johnson: Marriage and Husband
According to Nicole, she and Michael met at the ESPYS in 2007. Nicole was assigned "A swimmer" as a production assistant, which turned out to be none other than Michael.
Nicole and Michael got married twice! Yes, the pair first married each other in their backyard in Arizona on June 13, 2016. It was an intimate ceremony, and not many people were present.
The wedding was conducted just before the Olympics to make traveling easy. It was paperwork, and no one outside the family knew about the wedding.
After having conducted the secret wedding, the pair again got married on October 29, 2016.
The event took place in Mexico, and around 50 of their closest friends and family were invited. It was a perfect destination wedding.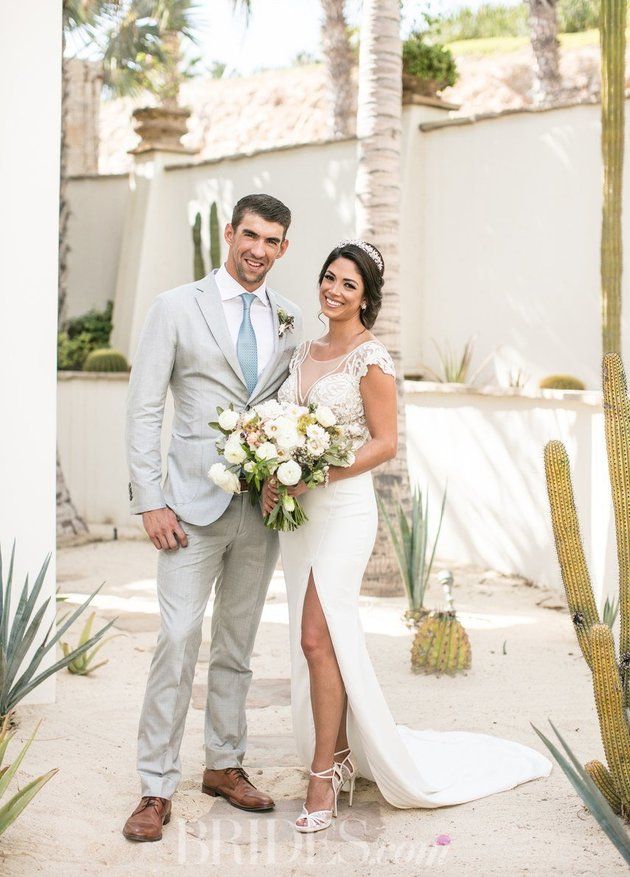 Now, the couple has known each other for 14 years and has gone through many ups and downs.
"With a lot of ups and downs, I am grateful for everything that I have experienced over the 14 years together and apart," says Nicole.
Talking about being apart, Nicole and Micheal had broken up for some time before getting back together again.
How did Michael Phelps propose Nicole?
As revealed by Nicole herself in one of her Instagram's "Ask me anything" series, Michael proposed to Nicole when they were at a stoplight coming back to the Olympic center in Colorado Springs.
Their song, 'All of me,' was on the radio, dumping snow. At that moment, Michael pulled the ring out of the center console and proposed to her.
Allison Schmitt was there to witness the whole thing because she was there in the back seat too!
Brief Wiki about Michael Phelps
Michael Phelps is the most successful Olympian of all time. He has 28 medals, all of which are gold.
Micheal is also a long-time world record holder in the men's 400-meter individual medley. Additionally, he also holds the record as the former long-time world record holder in the 100-meter butterfly, 200-meter butterfly, and more.
Talking about his early life, Michael was born on June 30, 1985, in Baltimore. He was raised in the neighborhood of Rodgers Forge.
His mother's name is Deborah Sue Phelps, and his father's name is Micheal Fred Phelps. Micheal has three siblings, and he is the youngest of them all.
Micheal went to the Rodgers Forge Elementary, Dumbarton Middle School. Later, he attended Towson High School.
Micheal is 6 ft 4 in (1.93 m) and weighs around 194 lb (88 kg). As a champion swimmer, he has also earned' The Baltimore Bullet' and 'Flying Fish.'
Micheal is on Instagram as @m_phelps00. He is also on Twitter as @Michael_Phelps.
Nicole Johnson: Kids
Nicole Johnson has three kids with Michael Phelps, and all of them are boys.
Their first child, Boomer Robert Phelps, was born on May 6, 2016. After revealing their first child, Micheal went live on Facebook and explained the reason behind choosing the name Boomer.
According to him, they always wanted "something different and cool," and Boomer felt like a perfect match.
Additionally, the name 'Robert' was added as an honor to his coach Bob Bowman and his grandmother, Roberta.
Their second son, Beckett Richard Phelps, was born on February 12, 2018. Their third child, Maverick Nicolas Phelps, was born on September 9, 2019.
All of the three children have their own Instagram accounts. You can follow them to know more about the Phelps children. We will leave the link below.
Boomer Robert Phelps: @boomerrphelps
Beckett Richard Phelps: @beckettrphelps
Maverick Nicolas Phelps: @mavericknphelps
Nicole is happy to be the mother of 3 children. According to her, she does not need/want a girl. She admits that girls are very adorable; however, it wasn't in the store for her.
Michael and Nicole had always talked to each other about having three children, and that is what they are blessed with.
According to Nicole, she knew after having Maverick that her family was complete and that the thought hasn't changed till today.
Nicole Johnson: Net Worth
Nicole Johnson is most known for being the wife of the Olympic Swimmer, Michael Phelps.
According to various sources, she has an estimated net worth of $4-7 million. However, she also shares her husband's net worth, which is about $80 Million.
With all the money that the pair have accumulated, they spend quite a lavish life.
Also, check out Josh Allen's Girlfriend: All About Brittany Morgan Williams >>
Nicole Johnson: Social Media
At present, the Miss California 2010 winner is on Instagram, Facebook, and Twitter. She has millions of followers altogether.
Nicole usually shares information related to her personal as well and professional life on her social media. She also often interacts with her followers and answers their questions.
Nicole is also passionate about Mental Health and often posts content related to mental health.
If you guys are curious about Nicole and her lifestyle, feel free to follow her on her following account.
Instagram: @mrs.nicolephelps.
Additionally, she also has a page dedicated to her dogs, @msjunoandlegend.
Nicole Johnson: Frequently Asked Questions
What is Nicole Johnson's biggest passion?
In addition to mental health and parenting, learning is another thing that Nicole is passionate about.
In her own words: "There is so much to learn about….to name a few, animals, healing, dinosaurs, the brain, depths of the ocean, different cultures……"