As you have landed on this page, you are definitely searching for deadlifting shoes. Nike deadlift shoes have been the favorite of many fitness freaks.
These shoes are very effective in deadlifting as they transfer energy evenly on foot.
If you regularly deadlift, you will know which shoes work best. And if you are new to deadlifting, you might have heard the debate on deadlifting shoes.
Some might recommend you high heel deadlift shoes, and some might suggest you to wear flat shoes.
Heel shoes and flat shoes are both effective for workouts. All you need to know is which shoe is best for you.
When you complete this article, you will have an idea of which shoes work for you. As Nike offers a range of deadlift shoes, people's preferences have scattered among the model.
Some people will lean more toward one kind of Nike deadlifting shoes, and others may completely disagree with the statement. This is because they may have different feet structures.
Though Nike has a range of deadlift shoes, the features of each shoe differ from each others. One model from Nike can completely support you while working out, and the other may not give you the support you need.
Have a close look at your feet, and then decide on buying suitable Nike deadlift shoes.
NO RUNNING SHOES FOR WEIGHTLIFTING
Why Not??
Running shoes suit most people and seem comfortable, but that doesn't mean you wear them for weightlifting.
Choosing running shoes over deadlift shoes is not a good idea as they won't support you while weightlifting and can cause injuries.
Running shoes are designed in a way to support you in the running. While running, you land on the heel, which is why they are designed with a compressive and cushiony sole.
And if you use these shoes to deadlift, you will lose a lot of energy when pushing down when you squat.
The sole in running shoes forces a lot of force from landing on the heel than the rest of the foot, which is not good while squatting.
When all energy is forced on the heel, you will lose the right posture of squatting, causing pain in your back, knee, and foot.
The strongest reason not to use running shoes for weightlifting is that they give you motion.
While lifting a bar, you want your feet to stay in the right position giving you stability, and you can't expect this support from running shoes.
But Support During Regular Exercising
Though running shoes are not useful for deadlifting, that doesn't mean they can't be used for any other exercise. Other than weightlifting, you can wear running shoes for other training.
Not all exercises demand foot stability. If you are newly joining a gym, you will not go straight to deadlift. You will look for easy exercise to start. In that case, you can put on regular running shoes.
Regular running shoes are great for many exercises. The cushioning soles in the running shoes are extremely comfortable and can support regular exercises.
They will tear out quickly if you wear them regularly in the gym. Make sure you wear the same running shoes for regular exercise and to the gym. This can decrease the life of the shoes.
Separate your regular running shoes from gyming shoes. You will have two shoes for two different activities making your shoes last longer.
Why Use Deadlift Shoes?
As you have already learned, weightlifting requires stable feet, and deadlift shoes provide the right feet stability to support you in lifting the bar. The hard sole has slight arch support giving you a strong ground for your feet to stand.
Deadlift shoes are designed to reduce motion as much as possible, which is required for deadlifting.
Lifting weight wearing deadlift shoes maintains posture and improves results. You will get a more upright chest, open hip, and angle.
Squatting with deadlift shoes allows your knee to transfer more forward over your toes, giving you more ankle mobility.
Ankle mobility allows your hip to drop as far as possible while maintaining your upright chest.
A more upright chest allows you to lift more weight without letting the bar fall. You can do a front squat, overhead squat, or any classic squat with deadlift shoes.
The hard insole in the shoes allows maximum energy transfer and lateral stability when you balance your position for squatting. You will get rock-like stability while squatting.
If you have a problem while squatting because of the poor ankle, a little lift in your heel will support you to hit deeper and easier.
Deadlift shoes are definitely beneficial for deep squatters and people with poor ankle.
Say Not To Deadlift Shoes If
Though deadlift shoes are perfect for squatting, they may not suit some people.
If you are at the beginning stage of squatting, you will definitely not go for a full squat. You will start with a low bar squat.
So, if you are a low-bar squatter, deadlift shoes will not please you. Deadlift shoes have a high heel which doesn't give good foot support for low bar squatter.
When low bar squatters wear deadlift shoes, they can feel pushed forward, which will not give an expected result and can cause back injury.
Low bar squatters will need flat shoes.
Flat shoes have a thin sole that lets you stick to the ground and maintain balance on your heel and forefoot.
Wearing flat shoes, low bar squatter will be able to get the right position and proper balance instead of heel shoes.
Know To Lift Wearing Deadlift Shoes
Deadlift shoes are heavier than other regular shoes. So, it may take a little time to get used to. In the beginning, you may feel heavy on your feet.
When you are used to it, you will definitely not feel comfortable in any other shoes than in deadlift shoes.
When you enter the gym in shoes other than deadlift shoes, you can easily exercise regularly. But that doesn't mean deadlift shoes are ineffective in other exercises.
These shoes can also support you in other exercises. With these shoes, you can easily maintain posture while exercising, helping you reach your goal faster.
You will have to change your back angle by wearing deadlift shoes. Your torso angle needs to come up, and your knee has to travel further. If this is not done correctly, you may have a back problem.
If you are a pro at the gym, you will surely not need an expert to teach you and guide you on the shoes or outfits you need. But if you are new at the gym, you can talk to your instructor to guide you to exercise with deadlift shoes.
Switching from regular shoes to deadlift shoes can be difficult initially so you will need guidance even doing normal exercises.
Unless you are not used to deadlifting shoes, you will need help from your instructor to correct you and guide you while gyming.
You may also use a deadlift sock for a good grip.
So, when there are various deadlift shoes in the market, which one is best for you? When it comes to gym shoes, there are many brands offering gym shoes. First thing first, Nike deadlift shoes are recommended shoes for the gym.
Nike Deadlift Shoes
Nike has a range of deadlift shoes that are perfect for weight lifting. And most importantly, Nike deadlift shoes fit a maximum number of people. Whatever foot type you have, you can find the right shoes for your feet.
Not only Nike provides a wide range of shoes, they also guarantee quality and durability. If you are Nike's loyal customer, you already know what they are best at. You will not need a reason why to prefer Nike products.
So, when you are convinced that you will buy Nike shoes for the gym, you just have to decide which deadlift shoes to get.
Below are the Nike deadlift shoes that fit people with different foot types.
Romaleos 3XD shoes from Nike are one of the most preferred shoes to hit the gym, especially for deadlifting.
These shoes are designed to hold your feet on the ground, supporting you while squatting for deadlifting.
As with most deadlift shoes, this model shoe from Nike won't be comfortable for walking or regular exercise.
But for sure, these shoes are great for deadlifting. You can have a worthy experience in the gym with these shoes.
They are heavy. Actually, deadlift shoes are made heavy to support you while lifting the bar. However, Nike Romaleos 3XD deadlift shoes are much lighter than shoes from other brands.
Nike Romaleos 3XD shoes are made of synthetic material, which gives a replica of leather. The outer cover of the shoe is pretty thick, ensuring enough support.
They got a very stylish heels. 0.75 inches heel can effectively support you in lifting and squatting, giving you rock-solid stability.
You can assure that Nike Romaleos 3XD can guarantee durability. The tough padding of the tongue ensures long life. Some deadlifting shoes can rip off when you pull the tongue to place your foot.
They have a strap on the top of the shoes to minimize mobility. Fixing your shoes always is something you won't consider when you are dedicated to work-out.
And yes, these shoes have a tiny drawback, not for narrow-footed people but best for wide-footed people.
Romaleos 3XD got a narrow toe box. So, these may not be the deadlift shoes for wide-footed people. And if you are ordering Romaleos 3XD, you may have to order one or half size up than regular training shoes.
Internet Reviews
Improve Deadlift
Reviewers have reviewed that this shoe from Nike can greatly improve deadlifting.
Excellent Quality
There is no doubt Nike manufacture top-quality products. Reviews are satisfied with the quality of the shoes.
Stability
This shoe from Nike offers proper stability while squatting. The reviewer has commented that Romaleos 3XD has provided stability while squatting.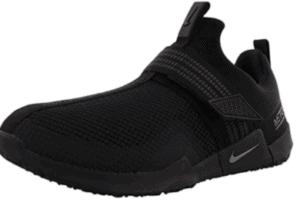 This model of deadlift shoes from Nike is perfect for wide-footed people. The toe box of the Nike Metcon is much wider than Romaleos 3XD.
If your feet don't fit in Romaleos 3XD, then Metcon is the perfect shoe for you. Metcon is a pretty wide shoe that can comfort people with wide footed while squatting deep and weight lifting.
The soft design of Metcon can mislead you. You may think this shoe's soft material won't support your deadlift.
But don't allow its soft material to mislead you. They are very effective and supportive in weight lifting.
Just like Romaleos 3XD, Metcon also got Strap to hold your feet. The strap helps you fit the shoes well without letting your heel slip.
The highlighting feature of the shoes is how easily you can slip your foot in and out of the shoes. The stretchy sleeve of the shoes takes the shape of your feet, which is why this deadlift shoe suits wide-footed people.
Another amazing feature of Metcon is its ankle area. The ankle area of Metcon is how comfortable it feels in your ankle.
Internet Reviews
Comfortable
Reviewers have agreed with the review, which states that Metcon is comfortable and looks good. The stretchy material of the shoe comfort you to work out.
Run Small
The reviewer has suggested getting one size up as they run small. And other people have supported the suggestion.
Excellent Wear
The internal footbed provides excellent support, making them great shoes to wear.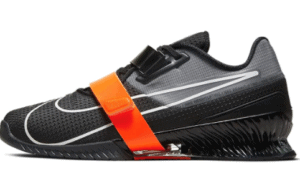 This cool-looking shoe from Nike is amazing for heavy weight lifting. Nike Romaleos 4 plant you on the ground helping you squat and maintain balance during weight lifting.
The noticeable feature of this shoe is the double strap. There is no chance that your heel will slip with the double strap.
These are heavy. They like pretty heavy shoes, and they got a narrow-foot box. If you are getting this shoe, you will need half or one size up than your normal training shoes.
When you get the right size, there is no chance you will experience any slips. You can lift weights and squats with this shoe from Nike.
As they are heavy, they are not the shoe to take out. They are perfect for the gym but not for walking on the street. You can surely not walk on the street.
And another highlight of this shoe is the heel. This shoe's still and solid heel is durable and supports your every move in the gym.
They are designed using hard material, which provides the exact support you need for weight lifting. And the stitches on the shoe are good enough to make them durable.
Talking about the ankle area, this shoe gives the maximum support you need in your ankle area to hold you down, keeping you planted on the ground.
Internet Reviews
Highly Recommend
The comfort and quality of the shoe have satisfied the reviewer, and they recommend buying them.
Great Squat Shoe
Reviewers were satisfied as these shoes support your feet while squatting.
Run Small
As these shoes run small, reviewers have recommended going half-size up.
Looking for a light deadlifting shoe? This is where your search shall stop. Nike Romaleos 3 is the perfect shoe for those who are looking for light deadlifting shoes.
They look a bit different from other weightlifting shoes but resemble them.
The toe box of this shoe is very flexible. Though flexible, these shoes provide stability and keep you on the ground.
Some people might feel they are pulled down to the ground when wearing deadlift shoes because they are heavy. But this is not the case with Romaleos 3. They are so light on the feet compared to other deadlift shoes.
And, of course, they don't just support you in deadlifting, but they are also best for exercise. These deadlift shoes can be worn with deadlifting and while doing other exercises.
Romeo 3 got a hollow honeycomb at the bottom of the sole to improve things. An open honeycomb reduces the weight of the shoes, making them even lighter.
And you don't have to worry about finding the right size. You can choose the same shoe as your normal training shoe.
Internet Reviews
Run True To Size
Many reviewers were delighted that they ran true to size and were wide compared to other deadlift shoes.
Light And Breathable
The lightweight and breathable features of these shoes have satisfied reviewers.
Interchangeable Insole
Reviewers were delighted with the interchangeable insole.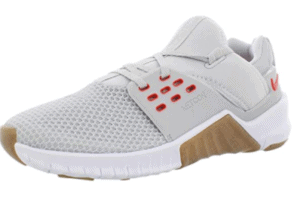 Metcon 2 is the shoe for beginners. These can be your first training shoes. If you want to start your training minimally, this is the right shoe.
For a beginner, metcon 2 will support you with every support you need in every workout. You will not go straight on doing a heavy workout.
You will start with basic training. You will need a shoe that supports you in every exercise when doing basic training. And this shoe will support you with a basic exercise routine.
Metcon 2 has a plastic piece at the top of the shoe to fit your feet in the shoe. You can tighten the shoe using the lace to fit it perfectly. These plastic pieces provide the lateral stability you need while weight lifting.
And the best part about this shoe is the ankle support. The shoe provides the best ankle support to lock yourself on the shoe.
Moreover, they provide good contact with the ground, which can aid in balancing your posture while exercising.
If you are doing light to heavy exercises, this shoe is what you need. If you are doing boot camp exercises like walking or running on the treadmill, this shoe will also comfort you.
And if you are lifting lightweight or heavyweight, this shoe will even support you.
With this shoe, you will be about to deadlift, do plyometric work, do a lateral box jump, and perform other regular exercises.
However, this shoe may not be for pros in the gym. They usually do heavy exercise like deadlifts, so they may not like these shoes. If you are a pro at the gym, this is not the shoe for you.
You would want something heavy and tough. You may choose the shoe mentioned above if you are looking for something heavy and tough shoe.
They succeed in providing great stability and support. If you are a beginner doing minimal exercise, you better choose lightweight shoes than heavy shoes.
Heavy shoes will not suit a beginner as they might feel heavy on their feet and make them unable to focus on training.
Internet Reviews
Stability
Reviewers found Metcon 2 to fit perfectly and provide stability while lifting weights.
Not For Wide Feet
The reviewer suggested getting one size up than the regular shoe for a perfect fit.
Soft and Comfortable
The reviewer commented that Metcon 2 is soft and comfortable to help you run and weighting.