Nikola Jokic, better known as 'The Joker,' is a Serbian professional basketball player who plays for the Denver Nuggets as a center. His career was not typical of a superstar's.
He was selected 41st overall in the 2014 NBA Draft and spent several years in Europe before coming to the NBA.
Despite being drafted in the second round, Jokic is arguably the best center in the league now and epitomizes the modern NBA center.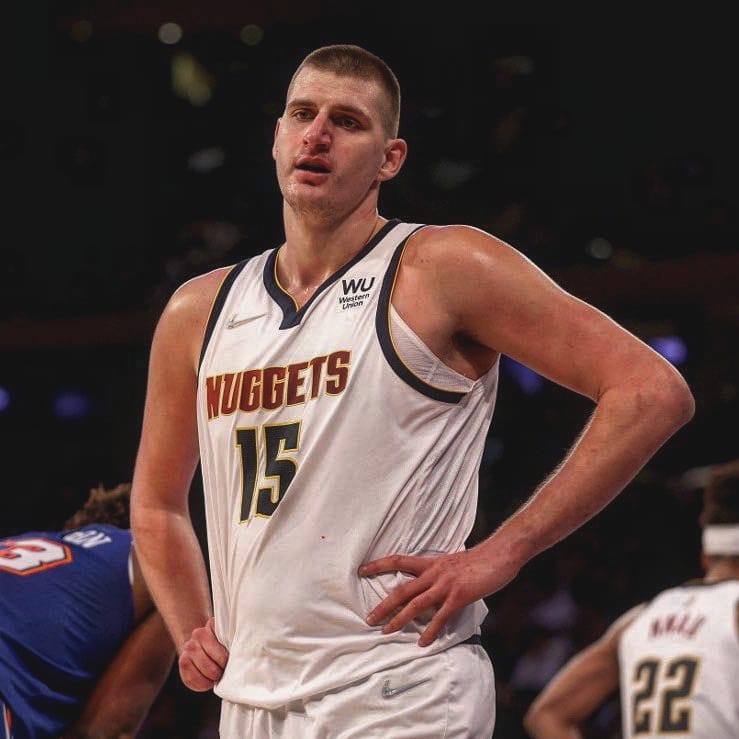 His playmaking abilities, combined with his versatile scoring, have turned him into an offensive monster.
Even if teams double-team him, his court vision allows him to make passes to open players for easy buckets. He is the current MVP Award winner and the first center to do so since Shaquille O'Neal in 2000.
Jokic became the only other second-round pick to win the award by accomplishing this feat. He is also the lowest pick in the draft to win the MVP.
Quick Facts
Full Name
Nikola Jokić
Nickname
The Joker
Birth Date
February 19, 1995
Birth Place
Sombor, Serbia, FR Yugoslavia
Residence
Sombor, Serbia, FR Yugoslavia
Religion
Christian
Nationality
Serbian
Ethnicity
White
Education
Not Available
Zodiac Sign
Pisces
Father's Name
Branislav Jokić
Mother's Name
Not Available
Siblings
2 (Strahinja and Nemanja Jokic)
Age
28 years old
Height
6'11" (2.11 m)
Weight
129kg (284 lb)
Eye Color
Blue
Hair Color
Brown
Body Type
Athletic
Profession
Basketball Player
Marital Status
Married
Wife
Natalija Macesic
Children
1, Ognjena (daughter)
Beginning of Professional Career
2012–present
Teams
Denver Nuggets
Achievements

NBA Most Valuable Player (2021)
4× NBA All-Star (2019–2022)
2× All-NBA First Team (2019, 2021)
All-NBA Second Team (2020)

Endorsements
Nike, Western Union
Net Worth
$30 million
NBA Draft Pick
2014 / Round: 2 / Pick: 41st overall
Position
Center
League
NBA
Merch
T-Shirt, Pop
Social Media Presence
Instagram, Facebook
Last Update
November 2023
Early Life & Family
Jokic was born in the Serbian town of Sombor. The athlete grew up in a two-bedroom apartment with his two brothers, both parents, and his grandmother.
His father was a farmer and an agricultural engineer. Jokic first became interested in basketball when he was a child playing with his two older siblings, who were a decade his senior.
Strahinja, the eldest brother, played basketball in Europe, while Nemanja, the second oldest, attended the University of Detroit Mercy.
Darko Milii, a former NBA player, is a friend of the brothers. Jokic also enjoyed horse racing as a child and competed as an amateur, a hobby he still maintains.
Also, read about Jerami Grant's Bio: Career & Net Worth.
Jokic played youth basketball in Vojvodina Srbijagas, where he established himself as a dominant figure and drew interest from larger teams.
Jokic signed a contract with Mega Vizura in the summer of 2012, though he spent his first season with the club primarily with their junior team in 2012–13.
He played in 5 Serbian League games at 17 and averaged two rebounds and 1.8 points in 10.2 minutes per game.
During the 2013–14 season, he played more minutes for the senior team. The athlete averaged 11.4 points, 6.4 rebounds, and 2.5 assists per game in 25 Adriatic League games.
He also appeared in 13 Serbian League games for the team, averaging 10.9 points, six rebounds, and 3.3 assists per game.
Nikola Jokic: Player Profile
Jokic plays exclusively in the center position, standing 6 feet 11 inches (2.11 m) and weighing 284 pounds (129 kg). Many consider Jokic the most remarkable passing big man in the history of the NBA.
Jokic, as a playmaker, uses his size and vision to set up his teammates for scoring opportunities, often using a variety of no looks and special deliveries.
His one-handed passes, in particular, have drawn comparisons to those of a water polo player.
Jokic, who plays at a slow and deliberate pace, frequently pauses after receiving the ball to scan the floor for defensive mistakes and potential openings.
Career
NBA Draft
The Denver Nuggets selected Jokic with the 41st overall pick in the 2014 NBA draft on June 26, 2014, and as a result of this and the departure of Ratko Varda, Jokic became one of the group leaders in the 2014–15 season.
The basketball player led his team to a 103–98 win over MZT Skopje in the first game of the Adriatic League, scoring 27 points and grabbing 15 rebounds for a total index rating of 44.
He was named the Round 1 MVP. In a 90–84 win over Zadar on November 3, he had 17 points, 12 rebounds, and a season-high eight assists for a total index rating of 40. As a result of his performance, the athlete was named Round 6 MVP.
League's Most Valuable Player
Despite Mega Leks finishing 10th in the Adriatic League, Jokic emerged as one of the league's most valuable players.
He averaged 15.4 points, 9.3 rebounds, and 3.5 assists per game in 24 games while leading the league with an index rating of 22.
On March 26, he was named Adriatic League regular-season MVP. In addition, he was named the ABA League's Top Prospect for the 2014–15 season.
Jokic left the team after being eliminated by Partizan Belgrade in the semifinals of the Serbian League to pursue a career in the NBA.
The athlete averaged 18.4 points, 10.4 rebounds, and 2.7 assists per game in 14 Serbian League games while shooting 56.6 percent from the field.
2015-2016 Season
Jokic joined the Denver Nuggets in the summer of 2015, one season after being drafted. He signed a contract with the Nuggets on July 28, 2015, after averaging 6.2 rebounds and 8.0 points in five summer league games for the team.
In a 109–98 defeat to the San Antonio Spurs on November 18, 2015, he had a season-high 23 points and 12 rebounds. He had a career-high nine assists in a 95–92 win over the Charlotte Hornets on January 10, 2016.
In a 102–98 victory over the team San Antonio Spurs on April 8, he set a new career-high with 15 rebounds.
The athlete finished third in the 2016 NBA Rookie of the Year voting and was named to the NBA All-Rookie First Team at the end of the season.
Don't miss out on Jonas Valanciunas Bio: Wife, Career & Net Worth!
Breakout Season
Jokic signed a five-year, $148 million contract extension with the Nuggets on July 9, 2018. He recorded 35 points, 12 rebounds, and 11 assists in the Nuggets' 119–91 victory over the Phoenix Suns on October 20, 2018.
He and Wilt Chamberlain are the only players in NBA history to have a triple-double of 30 or more points without losing a field goal—Chamberlain did it twice, in 1966 and 1967.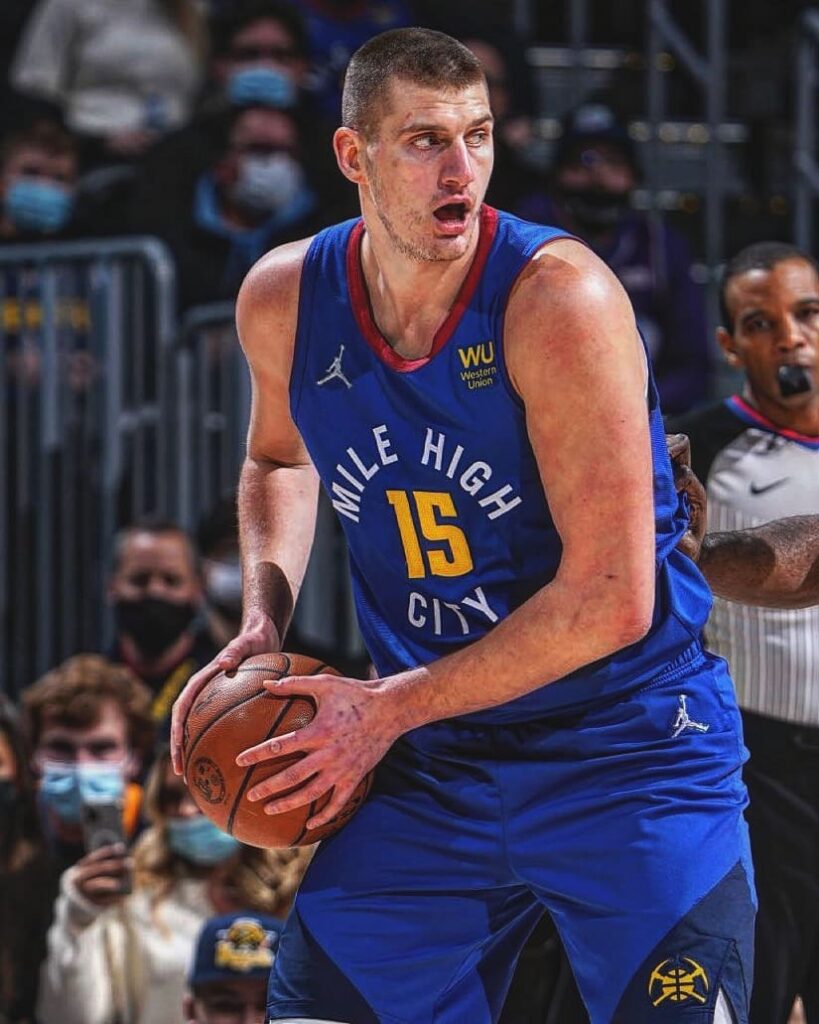 He also joined Fat Lever as the only Nuggets player to record a triple-double in the season's first two games.
Jokic went on to win Western Conference Player of the Week honors for the season's first week. In addition, he became the sixth player in franchise history to win the award three or more times.
He was named Serbian Player of the Year by the Basketball Federation of Serbia for his efforts in 2018.
First All-Star and All-NBA Appearances
On January 31, Jokic has named a Western Conference reserve for the 2019 NBA All-Star Game. In addition, he became the Nuggets' first All-Star since Anthony in 2011.
Nikola became the fourth player in NBA history to record a triple-double in his playoff debut in Game 1 of the Denvers' first-round playoff series against the San Antonio Spurs and the first since LeBron James in 2006. In a 101–96 loss, he had 10 points, 14 rebounds, and 14 assists.
The athlete averaged 25.1 points, 13.0 rebounds, and 8.4 assists in 39.7 minutes per game in 14 playoff games, with shooting splits of 50.6 percent /39.3 percent /84.6 percent.
Following the season, Nikola was named to the All-NBA First Team, his first All-NBA selection.
Records & Achievements
The basketball player became only the ninth player in NBA history to have 50 career triple-doubles and only the second center to do so, trailing only Wilt Chamberlain.
Jokic became the third-fastest player to reach 50 career triple-doubles, trailing only Oscar Robertson and Magic Johnson.
For the second time in his career, Jokic was named Western Conference Player of the Month for games played in March. As a result, he became the first Nuggets player in franchise history to win the award twice in the same season.
He was also the only player in NBA history to have 5,000 rebounds and 3,000 assists in his first 500 games.
World Cup & Summer Olympics
Jokic was a Serbia's U-19 national basketball team member who won silver at the 2013 FIBA Under-19 World Championship.
Serbia bagged the silver medal at the 2016 Summer Olympics after falling to the United States in the final game, 96–66.
Jokic announced on May 24, 2019, that he would represent Serbia in the 2019 FIBA Basketball World Cup.
The Serbian national team was considered the favorite to win the 2019 FIBA Basketball World Cup. However, they were defeated in the quarterfinals by Argentina. It finished fifth with victories over the United States and the Czech Republic.
Nikola Jokic: Signature Move
In addition to his playmaking ability, Jokic is a versatile scorer, capable of finishing in the paint and hitting mid-range and three-point shots.
Jokic shot .566 from the field and .388 from 3-point range during his MVP season.
His signature move, the "Sombor Shuffle" (named after Jokic's hometown of Sombor by Nuggets play-by-play announcer Chris Marlowe), involves jumping off his right foot before launching a high-arching fade away.
Jokic came up with the move while recovering from an ankle injury in 2017. The unconventional move is difficult to defend and has been compared to Dirk Nowitzki's one-legged fadeaway.
You might like Jaxson Hayes: NBA, Domestic Violence & Net Worth.
Nikola Jokic: Wife
Natalija Macesic is a Serbian psychologist married to NBA player Nikola Jokic. Together they have a girl Ognjena, born in September 2021.
Natalija is known for keeping her personal life and relationship with Nikola private, but being the wife of the league's MVP will bring attention to her. Her Instagram profile is private.
Every NBA success story must have a solid foundation for players to work and focus on perfecting their craft. This is true for Nikola and Natalija. Natalija has been a part of Jokic's life since high school.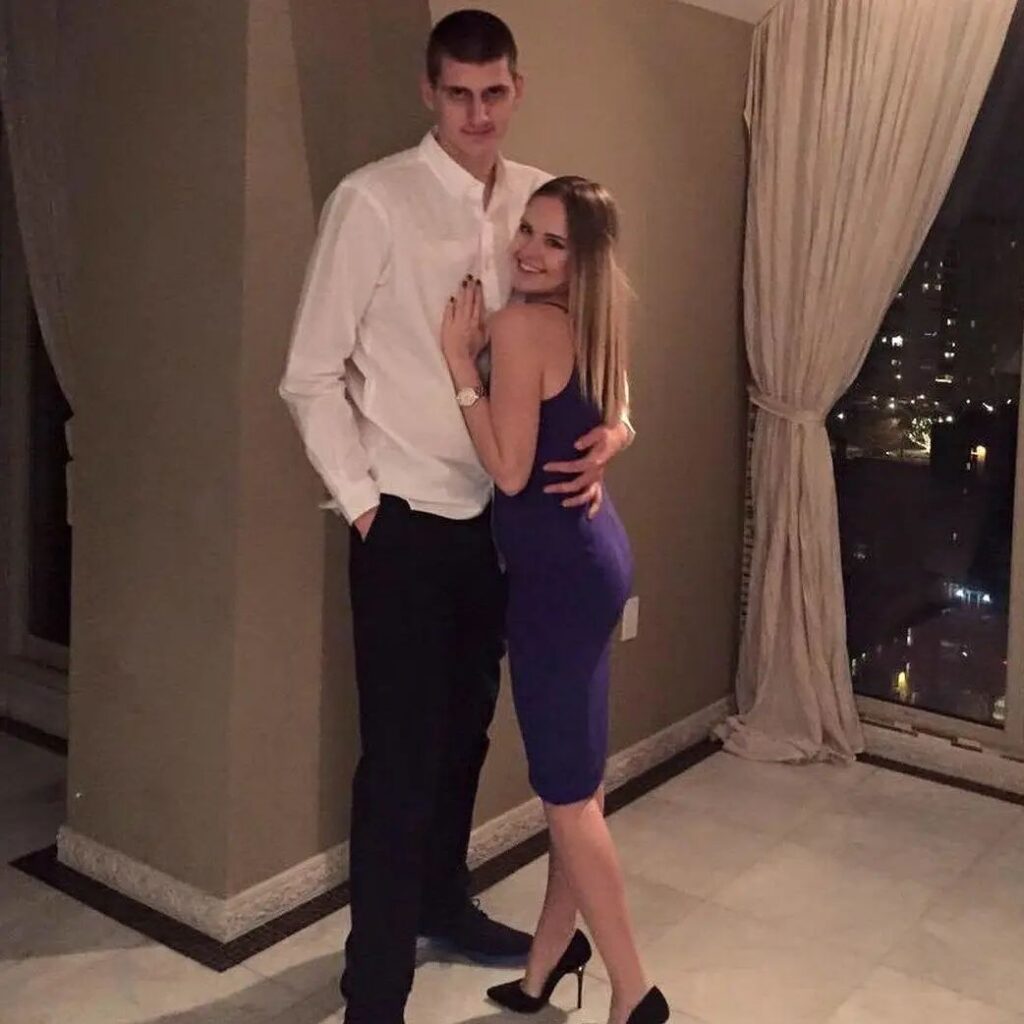 The Serbian was born in Sombor, Serbia, where she completed her secondary education.
As a child, this lady moved to the United States and spent the best years there. Before joining the Metropolitan State University of Denver, she played volleyball at a junior college in Oklahoma.
Natalija received her bachelor's degree in psychology from MSU Denver in 2018.
How did Nikola Jokic meet Natalija?
Nikola and Natalija were both born in Sombor, Serbia, and attended the same high school. They've been together since high school.
Natalija has been the anchor to Nikola's success for years and will continue to be as he progresses as an NBA player.
After leading his team to the Western Conference Finals, Nikola married Natalija on October 24, 2020, in their hometown of Sombor, Serbia.
The wedding was held under tight security, and only guests could enter the church where the ceremony was held.
The pair had planned to marry in June, but the wedding was postponed due to the NBA's schedule being altered due to the coronavirus pandemic.
Nikola and Natalija danced as a married couple for the first time after the wedding, with the center displaying some fine dancing and singing skills.
With his performance, the Serbian international is now dominating the league. Making a significant impact on the company, his new value has caused the NBA to take notice.
Nikola Jokic's net worth has increased in recent years. He is regarded as one of the best big men in the NBA.
While the Serbian international is making a name for himself in the league, the Denver Nuggets franchise has thrived.
Nikola Jokic's net worth is currently estimated to be $30 million. He also earns $29.5 million per year under his most recent contract with the Denver Nuggets.
In 2018, the youngster agreed to a massive 5-year contract extension worth approximately $147 million.
Endorsements
With his greatness, famous big star Nikola Jokic continues to increase his net worth.
After a successful season, he has attracted the attention of major brands, who have endorsed him. Jokic's endorsement earnings are currently $750,000.
Given that the athlete is only 28 years old, this figure could skyrocket. He has a Nike shoe deal. Western Union is another of his endorsement deals with Panini.
Social Media Presence
Nikola Jokic is very active on various social media platforms. He is, however, more accessible on Instagram and Facebook.
He has a verified Facebook account but hasn't posted anything on it since last year. Jokic primarily posts about his professional and personal life on his Instagram account.
In addition, there are numerous photographs taken during photoshoots. You can find his social media pages by following the links below:
FAQs
What is Nikola Jokic's injury?
The Nuggets center was declared questionable in the days leading up to the team's game against the Jazz, and the couple confirmed the news an hour before tip-off. According to reports, Jokic's injury or reason for sitting out is right-toe soreness.
Why is Jokic called Big Honey?
According to reports, Mike Miller gave him the nickname during practice, which Jokic stated he preferred to his previous moniker Big Honey, which didn't stick. After a game, Will Barton referred to him as Big Honey.
Why was Jokic drafted so low?
Jokic lasted so long for various reasons, according to Nuggets president of basketball operations Tim Connelly in a 2019 interview. The main issue, however, appeared to be his body type. According to the Denver Post, Connelly said of the draft, "it's such an inexact science."
Can Jokic dunk?
The 6'11" star is better known for his artistic passing than his aerial acrobatics, but he has previously dunked in NBA games. While he won't get very far off the ground, he can rattle the rim when uncontested.