Nikola Mirotic is a well-known Spanish basketball player born in Montenegrin. He is currently playing for FC Barcelona of Liga ACB and Euro League.
Playing in NBA since 2014, he has received many recognition and awards for his basketball skills.
Not to mention, his contribution led him to win the 2010 FIBA Europe Under-20 Championship and bring the 2011 gold medal to Spain.
Furthermore, Nikola has won the Spanish King's Cup twice, in 2012 and 2014, with Real Madrid.
Want to know more about Nikola Mirotic? If so, stick to the end of the article. Before that, let's have a look at quick facts.
Quick Facts
| | |
| --- | --- |
| Full Name | Nikola Mirotic |
| Birth Date | 11 February 1991 |
| Birth Place | Yugoslavia |
| Nick Name | Not Known |
| Religion | Christian |
| Nationality | Spain |
| Ethnicity | Serb |
| Education | Joker school in Podgorica |
| Horoscope | Aquarius |
| Father's Name | Not Known |
| Mother's Name | Not Known |
| Siblings | Not Known |
| Age | 32 |
| Height | 6 feet 10 inches |
| Weight | 250lb. (113 kg) |
| NBA Draft | 2011 / Round: 1 / Pick: 23rd overall |
| Hair Color | Black |
| Eye Color | Black |
| Build | Athlete |
| Marital Status | Married |
| Wife | Nina Vujacic |
| Kid | Aleksander (born in May 2013) |
| Position | Power Forward |
| Profession | Basketball Player |
| Net Worth | around $42 million |
| Salary | $ 41,631,175 |
| Currently Plays for | FC Barcelona |
| League | Liga ACB, EuroLeague. |
| Active Since | 2008 – present |
| Social Media | Facebook, Instagram |
| Merch | New Orlean Pelicans Card |
| Last Update | March 2023 |
Nikola Mirotic | Early Life & Family
Nikola Mirotic, a Spanish basketball player, was born in Montenegro on the 11th of February, 1991.
In the beginning, Mirotic was into football, but later, when he reached 13, his grandfather encouraged him to play basketball.
Nikola's height improved significantly as he grew, and that's when his family realized he could be helpful in other sports. The rest is history.
Similarly, he received training from Coach Jadran Vujacic at the Joker school in Podgorica.
Mirotic chose basketball at the age of 13 and signed a contract with Real Madrid at the age of 14; however, he managed to play well.
Read 12 Tallest Basketball Players in The World>>
Nikola Mirotic | Professional career
Real Madrid
From 2006 to 2008, Nikola played for Real Madrid juniors. Later, in 2008, he signed with Real Madrid senior.
Similarly, his efforts and dedication to basketball made him a valuable member of the team, and he also received the EuroLeague Rising Star award.
Moreover, he extended his contract with Madrid for five years in April 2011. He received the Spanish King's Cup and Spanish Supercup as a Real Madrid player in 2012.
Mirotic got selected by Houston Rockets in the 2011 NBA Draft with the 23rd overall pick on the 23rd of June, 2011. Later, he was traded to Minnesota Timberwolves and then to Chicago Bulls.
Not to mention, he was named to All-Euroleague Second Team in the 2012-13 EuroLeague season. Furthermore, he was named to All-EuroLeague's second team for a second consecutive season.
Nikola recorded 10.8 points and 4.5 rebounds in 97 EuroLeague games with Real Madrid.
Chicago Bulls
With three years contract worth $16.6 million, Nikola signed with Chicago Bulls on July 18, 2014. Moreover, as part of his contract buyout, he was made to pay $3 million.
Furthermore, he averaged his career-high 27 points in 103-97 victory against Memphis Grizzlies on December 19, 2014.
Mirotic was named Eastern Conference Rookie of the month in January 2015.
During the NBA All-Star Weekend, Nikola scored 16 points on 6-of-9 shooting from the field in the Rising Stars Challenge's 121-112 victory over Team USA.
With a loss against Los Angeles Clippers, he recorded 16 points on March 1. Because of injuries to teammates in March, Mirotic was supposed to take on a more prominent role for his team.
Similarly, he notched 10.2 points, 4.9 rebounds, and 1.2 assists during his rookie season in a total of 82 games. He was honored with the Rookie of the Year Award during that game.
Making Records
At the beginning of the 2015-16 season, Nikola recorded team-high 19 points against the Cleveland Cavaliers.
Moreover, he played in 18 games and averaged 10 points in 22 minutes, coming off the bench for the first time over Boston Celtics.
During his next start over Brooklyn Nets on December 21, he started as a small forward as a replacement for Tony Snell.
Similarly, Mirotic won against New York Knicks, recording 17 points and seven assist in 108-81 wins.
Nikola was ruled out on January 27 because of his acute appendicitis until after the All-Star break. He made his comeback after 16 missing games on the 5th of March playing over the Houston Rockets.
During his game against Rocket, he recorded career-high 35 points in a loss to Knicks.
Placed on the Inactive list
During his 2016-17 seasons, Nikola 2016 averaged 20 points in 90-85 wins against Indiana Pacers after falling out for a couple of games.
In addition, Mirotic was placed on an inactive list after declining to play by the coach's decision.
Similarly, after missing three-game, he returned and notched 24 points in a 115-109 victory against Charlotte Hornets on the 13th of March.
He won against Detroit Pistons with season-high 28 points in a 117-95 win on March 22.
Furthermore, during his game against Milwaukee Bucks, he scored season-high 28 points in a 109-94 win. On March 30, he had third 28 points in a 99-93 win against the Cavaliers.
He shot six three-pointers in back-to-back games against Milwaukee and Cleveland, making him the first Bulls player to do so.
Altercation and injuries
Nikola re-signed with the Bulls for the 2017 season. After a physical altercation with one of his teammates, Bobby Portis, he was transported to the hospital during practice.
After suffering from multiple fractures, he made his debut on the 8th of December, where he averaged 6 points in 14 minutes in a 119-111 victory against Charlotte Hornets.
Similarly, during his game against the Boston Celtics on the 11th of December, Nikola recorded 24 points in a 108-105 victory.
Furthermore, in a 103-100 win over the Utah Jazz on December 13, he averaged 29 points on 11-of-18 shooting, and in a 115-106 win over the Milwaukee Bucks on December 26, he scored 24 points in 28 minutes.
New Orleans Pelicans
Beginning of his 2018-19 seasons, Mirotic was traded to New Orleans Pelicans with a 2018 second-round pick on February 1, 2018.
In his first debut for the Pelicans, Nikola averaged 18 points in a 118-107 loss against Minnesota Timberwolves.
During his game against Brooklyn Nets, he averaged 21 points and 16 rebounds in 138-128 double-overtime victory.
Similarly, in a 122-103 win against the Phoenix Suns, Mirotic set a season-high with 31 points and 16 rebounds.
Furthermore, during his Pelican season, he averaged 30 points on 6 of 8 from 3 point range in 131-112 victory against Houston Rockets on 17th of October.
After two days, Nikola notched a career-high 36 points in a 149-129 victory against Sacramento Kings.
In addition, missing twelve games because of an ankle injury, Nikola returned to action against Cleveland Cavaliers on the 9th of January.
Milwaukee Bucks
In 2019, Nikola was traded in a three-team trade to Milwaukee Bucks, including Jason Smith, Stanley Johnson, and Thon Maker.
Nikola missed his first four games with the Bucks due to injury, but he debuted on February 21 against the Boston Celtics.
Moreover, suffering from a fractured left thumb on March 19, he again missed his final 11 regular seasons against Los Angeles Lakers.
In the Bucks' first playoff game, Mirotic made his comeback.
Barcelona
In 2019, on the 6th of July, Mirotic signed a three-year contract with FC Barcelona of the Liga ACB and the EuroLeague, with the option of an extension until 2023.
Furthermore, the contract was claimed to be for €26 million, making him Europe's highest-paid basketball player.
In addition, he was awarded as Most Valuable Player Award on the 27th of June, 2020, and the fifth player in Liga Endesa history to have multiple MVP awards.
Similarly, he recorded 19.5 points and 5.7 rebounds in each game at the end of the season. He has extended his contract to 2025.
National Team Career
At the 2010 FIBA Europe Under-20 Championship, Mirotic helped Spain's U20 national team earn a bronze medal.
Moreover, Nikola was named All-Tournament Team after his game at the 2010 FIBA Championship.
Similarly, Nikola's participation in the national team aided him in bringing a gold medal to Spain in 2011.
He averaged 27 points and ten rebounds in each game, making him the tournament's top scorer and MVP.
Sergio Scariolo, the head coach, nominated Miroti as one of 17 candidates to try out for the senior Spain men's national basketball team that would perform at EuroBasket 2015 team in 2015.
Furthermore, in September 2015, Miroti was named to Spain's final 12-man roster, and he went on to win a gold medal at the competition.
In addition, he also competed in the 2016 Summer Olympics for Spain, winning a bronze medal.
Award and Recognition
2× Spanish League MVP (2013, 2020)
NBA All-Rookie First Team (2015)
2× Spanish League winner (2013, 2021)
Spanish League Finals MVP (2021)
3× Spanish Cup winner (2012, 2014, 2021)
Spanish Cup MVP (2014)
2× Spanish Supercup winner (2012, 2013)
All-EuroLeague First Team (2021)
2× All-EuroLeague Second Team (2013, 2014)
4× All-ACB Team (2013, 2014, 2020, 2021)
2× Spanish League Domestic Player of the Year (2014, 2020)
Liga ACB three-point field goal percentage leader (2021)
Catalan League champion (2019)
2× EuroLeague Rising Star (2011, 2012)
FIBA Europe Under-20 Championship MVP (2011)
Also read about Bobby Portis Bio: Career, Stats, Contract & Net Worth>>
Nikola Mirotic | Net Worth
Starting basketball at a young age and achieving such fame, Nikola has earned a good amount during his basketball career.
Although Mirotic's exact net worth is still unknown, his estimated net worth is around $42 million.
In addition, after his last contract with the Chicago Bulls, his NBA salary is $46,631,175. He has undoubtedly been playing and earning a substantial sum of money for his family.
To find out his past salaries history goes through Hoopshype.com.
Nikola Mirotic | Personal Life
In terms of his personal life, Nikola has been married to Nina Mirotic since 2012. In May 2013, the couple welcomed their first child, Aleksandar.
Nikola's wife, Nina, is the daughter of former coach Jadran Vujacic. He has been happily living with his family and adores his son.
Nina has kept a low profile when it comes to talking about and sharing their personal lives, making it difficult to learn anything about her.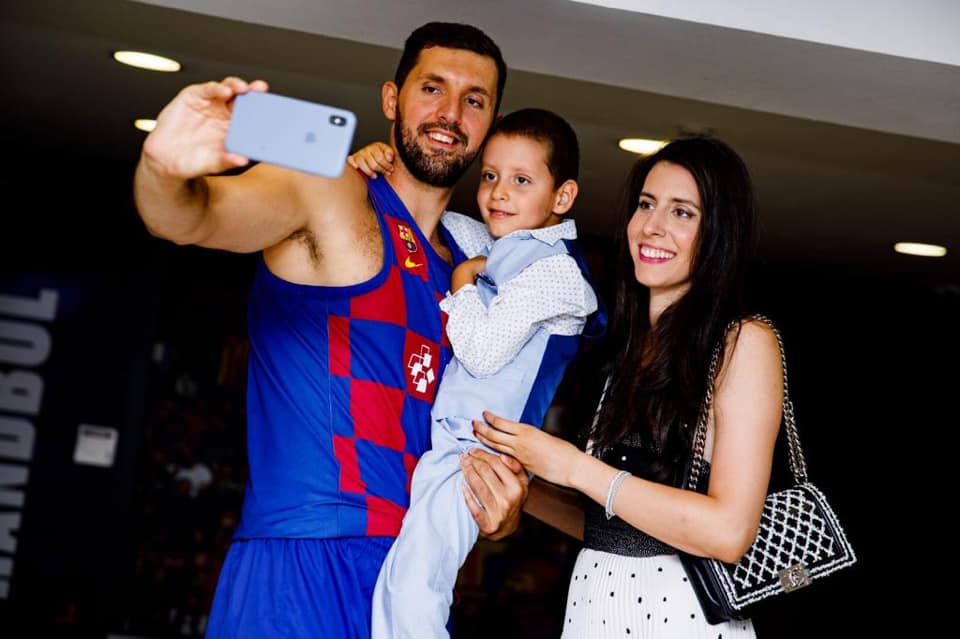 Nikola has been a proud Serbian from the beginning. In May 2017, he also received the Order of St.Sava. Moreover, Mirotic has also participated in a protest and prayer walk against the religious law that affects Serbian orthodoxy.
Even though there are no records of Nikola's parents or childhood, he stated in one of his interviews that his father was rigorous and that the fear of being punished drove him to work hard on the basketball court.
In addition, he stated that his priority was his family while he was away from home, focusing on his career, which is why he decided to return to Europe in the summer of 2019.
Social Media Presence
Nikola is active on social media platforms like Instagram, Facebook, and Twitter. Most of the posts are related to basketball.
With a verified account and a significant number of followers on all social media, he has 544 posts on Instagram, and 227k followers on Facebook.
To connect with Nikola Mirotic on his social media account, you can follow the link below.
Facebook: 227k followers
Instagram: 280k followers
Nikola Mirotic | Some FAQs
Will Nikola Mirotic return to NBA?
No, Nikola stated in one of his interviews that he has no plans to return to the NBA soon.
What is Nikola Mirotic wingspan?
Nikola Mirotic has a wingspan of 7'1.