Nina Earl is a former UCLA basketball player, businesswoman, and licensed therapist, well-known for being the wife of NBA point guard Russell Westbrook.
Westbrook plays for the Los Angeles Clippers and is a nine-time NBA All-Star. In fact, he signed with the Clippers on February 22, 2023.
He was awarded the Most Valuable Player in the 2017 NBA playoffs. The media often compares him to other good and hard-working players like Stephen Curry and Chris Paul.
Before the Clippers, he played for the Oklahoma City Thunders, Houston Rockets, Washington Wizards, and Los Angeles Lakers.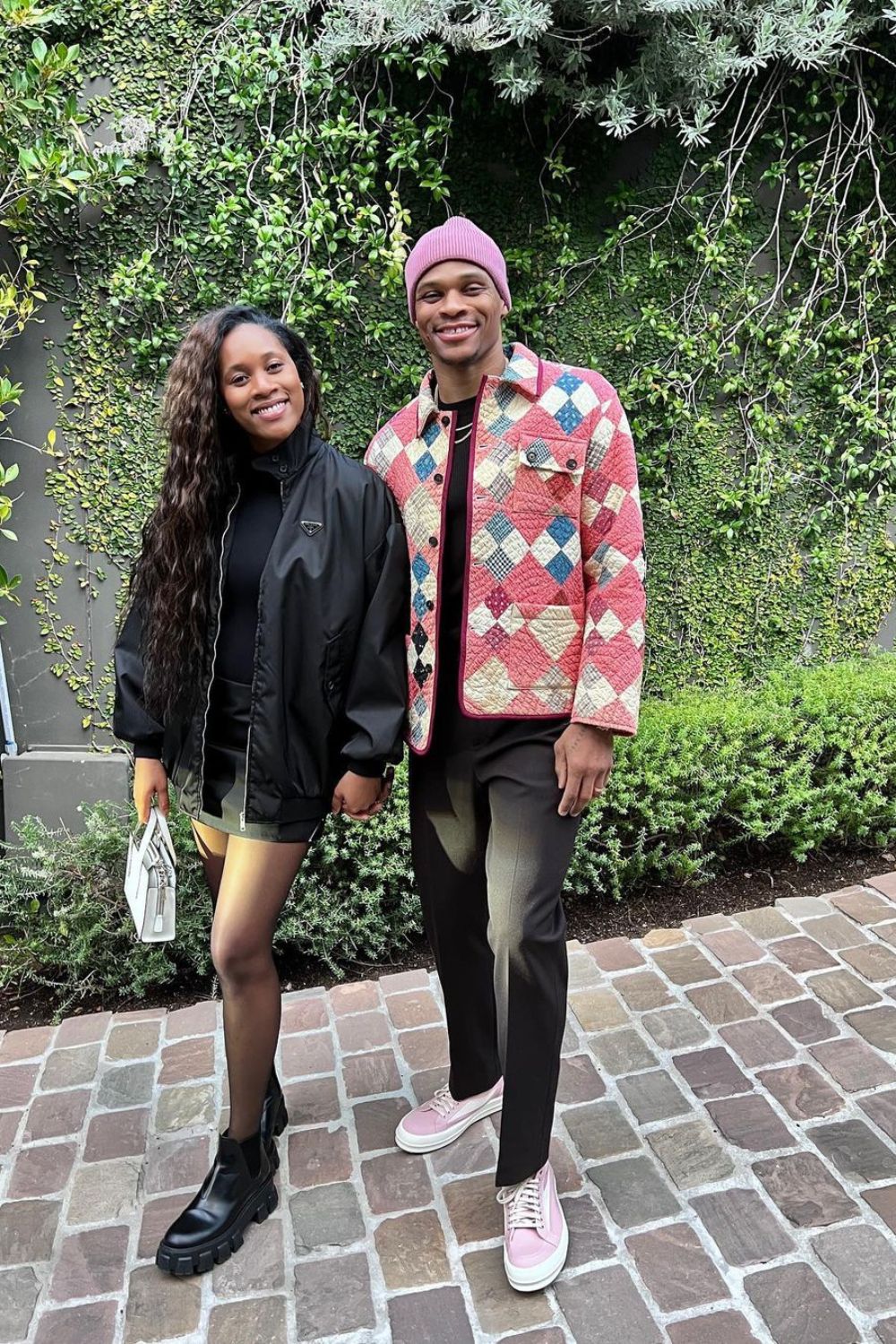 Earl is a hard-working young woman who balances her career and family perfectly.
She is a working mom and a therapist; she also owns a boutique shop and clothing line for babies and children. Also, she is known for her kind and caring heart.
The mother of three believes in community service and is very dedicated to it. Likewise, she participates in and donates to several charities.
She also offers guidance and awareness about postpartum wellness in her boutique. Besides that, there are several programs like CPR courses and storytime.
Before getting into details about the former basketballer's life, here are some quick facts about her.
Quick Facts
| | |
| --- | --- |
| Full Name | Nina Ann-Marie Earl |
| Birth Date | January 16, 1989 |
| Birth Place | Southern California, USA |
| Nick Name | Nina |
| Religion | Christian |
| Nationality | American |
| Ethnicity | African-American |
| Education | Diamond Ranch High School, University of California |
| Horoscope | Capricorn |
| Father's Name | Michael Earl |
| Mother's Name | Jennifer Lyons |
| Siblings | Three brothers (Michael Earl Jr, Jonathan Earl, and Benjamin Earl) |
| Age | 34 Years Old |
| Height | 6 feet/1.85 m/185 cm |
| Weight | 176 lbs/80 kg |
| Hair Color | Black |
| Eye Color | Black |
| Build | Athletic |
| Profession | Businesswoman, Therapist, Former UCLA Basketball Player |
| Current Team | None |
| Position | Forward |
| Active Years | Not Active |
| Marital Status | Married |
| Husband | Russell Westbrook (M. 2015) |
| Kids | Three; Two Girls And A Boy |
| Net Worth | $50 Million |
| Social Media | Instagram, Twitter |
| Russell Westbrook Merch | Signed Card, Signed Photograph |
| Last Update | November 2023 |
Early Life, Family, & Education
The former forward was born in the City of Pomona, California, to father Michael Earl and mother Jennifer Lyons.
Her father is a four-time Emmy-winning puppeteer Michael Earl. Apart from that, Michael was also a singer, songwriter, and voice actor. He was famous for his character on 'Sesame Street' and 'Men In Black II.'
She grew up with her three brothers, namely Michael Earl Jr, Jonathan Earl, and Benjamin Earl.
The beautiful Nina studied at Diamond Ranch High School in Pomona, California, where she had a successful basketball career.
Despite that, she was good at academics and participated in activities such as track and field.
After high-school graduation, she went to the University of California to pursue college-level education.
On top of being a basketball forward, she was also forward in her studies; hence, she graduated from UCLA with a degree in Psychology.
Including that, she has a minor in English literature. Furthermore, she has a Master's degree in Clinical Psychology.
Age, Height, & Weight
The former athlete is 34 years old, and she was born under the sun-sign Capricorn.
She weighs approximately around 176 lbs, which is roughly about 80 kgs and is 6 feet (1.85 m) tall.
Moreover, her look is incomplete without her gorgeous black hair and black pair of eyes.
Basketball Career, Therapy & Business
Basketball Career
The mother of three played high school as well as college basketball. She had a pretty successful career on both levels.
School Career
She started 27 games as a freshman and averaged 15 points.
The basketballer eventually improved in her sophomore year and averaged 20.6 points and 9.8 rebounds.
By the time she was a junior, Nina was very popular for her fantastic skills. In her junior year, Street & Smith's and Rise Magazine's All-America honors mentioned her.
Moreover, in 2003, she helped her team to get into the California Interscholastic Federation (CIF) 3AA championship.
When she was a senior, she led her team to the CIF title game in 2007. She scored 35 points alone in the game.
Above all, the basketballer ended up as the Most Valuable Player (MVP) of the CIF league three times. In addition, she was a two-time Player of the Year.
Earl was in the Cal-Hi Sports All-State selection. Besides that, she was also the MVP of the CIF vs. City All-Star game.
College Career
After high school, Earl chose the University of California, Los Angeles, for her college-level education. She played college basketball with the UCLA Bruins women's basketball team.
During her freshman season, she started 15 out of 31 games. Besides that, she continuously led her team in scoring and made double-digit scores in 11 games.
As a junior, she started five games and scored her career-best field goal percentage of .512.
Likewise, her playing time, as well as her scoring, increased to double digits.
As a UCLA forward, she played 124 games, scored 675 points, and made 2.3 rebounds per game.
Instead of choosing a basketball-filled career path like the WNBA, she decided to study Psychology.
Therapy
Even with a successful college basketball career, the American player graduated from UCLA with a bachelor's degree in Psychology.
Nina specializes in marriage and family therapy and is a licensed therapist.
It is not definite where she works, but her community and fans recognize her as an empathetic and kind person.
Moreover, she loves to serve people and work for underprivileged people.
Business
The mother of three owns a boutique in Oklahoma City named "The Little Ark." The store sells baby items, gifts, and products for moms.
On top of that, it offers baby classes for new parents.
Besides that, the store conducts other programs such as CPR courses, storytime, foster development, and postpartum wellness events for the locals.
Not to mention, Mrs. Westbrook is the founder and CEO of a clothing line called 'Minibrook' designed for kids and babies.
The business is based in Los Angeles; however, they deliver everywhere through their website.
College Stats
| | | | | | | | | | | | | |
| --- | --- | --- | --- | --- | --- | --- | --- | --- | --- | --- | --- | --- |
| Year | G-Gs | Min/Avg | Fg-Fga | Pct. | Ft-A | Pct. | Reb./Avg. | A | B | St | TP | Avg |
| 09-10 | 32-5 | 431/13.5 | 62-121 | .512 | 19-45 | .422 | 77/2.4 | 20 | 4 | 35 | 143 | 4.5 |
| 08-09 | 31-4 | 507/16.4 | 71-162 | .438 | 45-66 | .682 | 63/2.0 | 36 | 6 | 35 | 187 | 6.0 |
| 07-08 | 31-15 | 749/24.2 | 106-251 | .422 | 52-96 | .542 | 105/3.4 | 39 | 5 | 47 | 271 | 8.7 |
| Totals | 94-24 | 1687/17.9 | 239-534 | .448 | 116-207 | .560 | 245/2.6 | 95 | 15 | 117 | 601 | 6.4 |
Marriage & Kids
Nina is married to NBA point guard Russell Westbrook. They are college sweethearts and met each other through their love for basketball.
The duo dated throughout college and continued it during her master's. Soon after her degree, the pair got engaged on September 3, 2014.
At this instant, Westbrook is a point guard for the Los Angeles Clippers.
Russell started his career with Oklahoma City Thunder; he was selected 4th overall in the 2008 NBA Draft by the Seattle SuperSonics before relocating to Oklahoma City and signing with the team on July 5, 2008.
After 11 years of success with the Thunders, they traded him to Houston on July 16, 2019.
On December 2, 2020, he was again traded to Washington Wizards, followed by a trade to Los Angeles Lakers on August 6, 2021.
Overall, he became the 2017 MVP, nine-time All-Star, and two-time All-Star Game MVP.
Russell proposed to his now-wife with a beautiful $700,000 ring. After that, the couple took their vows in a lavish wedding at the Beverly Hills Hotel.
They tied the knot on August 29, 2015, filled with celebrities and high-profile players.
Almost two years later, the married couple welcomed their first child, a baby boy named Noah Russell Westbrook, on May 16, 2017.
In the beginning, the couples did not announce their pregnancy. Later, Nina hinted to her fans through the social media post that she was pregnant in early 2017.
Again in 2018, the couple announced their pregnancy through a YouTube video.
In November 2018, Earl gave birth to beautiful twin daughters named Skye Westbrook and Jordyn Westbrook.
Net Worth, Salary & Charity
The former athlete has an estimated net worth of $50 million as of November 2023.
The average annual salary of an established therapist is $75,000, on top of which she also runs businesses.
Besides that, her husband has a net worth of $200 million as of 2023.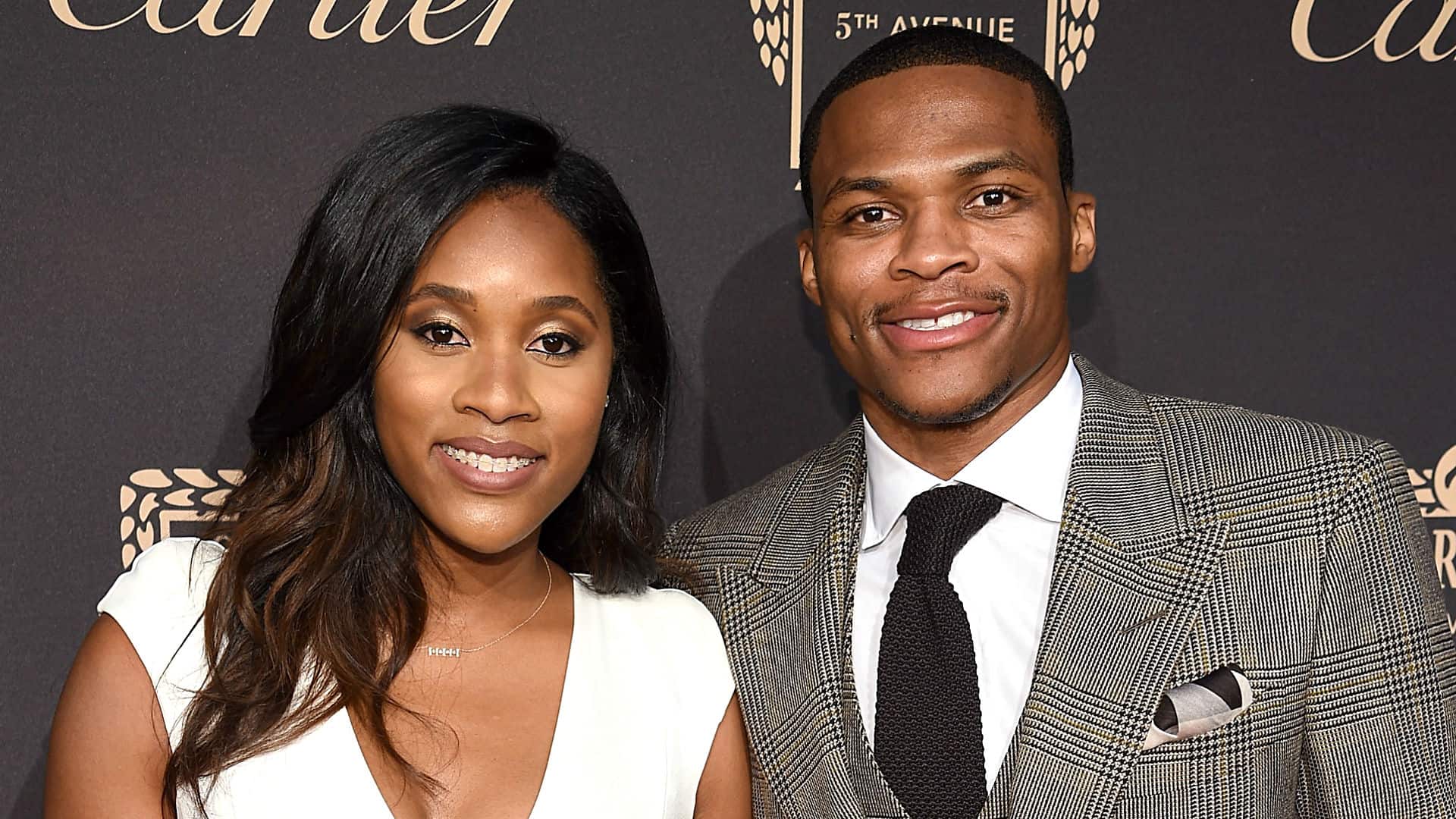 Westbrook is one of the highest-paid athletes and NBA players in terms of salary and endorsements.
Charity
Earl is involved in multiple charities and, together with her husband, contributes to 'Russell Westbrook Why Not?', which works for the welfare of children.
The foundation helps vulnerable and underprivileged children.
Moreover, she and Russell conduct an annual Thanksgiving event to serve meals to the ones in need.
Also, they help families fill their homes with joy and happiness during Christmas.
Besides that, through her business, she organizes events in her store.
Net Worth of Nina Earl in Different Currencies
Here is Nina Earl's net worth in different currencies, including the cryptocurrency BitCoin.
Currency
Net Worth
Euro

€47,337,500

Pound Sterling
£

41,723,000

Australian Dollar

A$74,469,600

Canadian Dollar

C$68,014,750

Indian Rupee
₹

4,138,937,500

BitCoin

฿2135.68
Social Media Presence
Nina Westbrook is quite popular on social media, where she posts pictures of her friends, families, and her lifestyle.
Instagram: 324K Followers
Twitter: 12.4K Followers
Popularity Graph
Nina Earl, the wife of one of the best players in the NBA, Russell Westbrook, is a famous figure.
She has her own business and career as a therapist, which has made millions of individuals curious about her life.
The above line graph illustrates her search interest in the last 12 months.
Frequently Asked Questions (FAQS)
What does Nina Earl do?
The former basketballer is a licensed therapist and a businesswoman. She runs a store that sells mama and baby products, including gifts and toys. Also, she is the CEO of a baby clothing line called Minibrook.
How old is Nina Earl?
Nina Earl is 34 years old but still looks as if she is in her twenties.
How much does Russell Westbrook get paid?
Earl's husband, Russell, signed a one year deal worth $784,914 with the Los Angeles Clippers in 2023. Westbrook is one of the highest-paid basketball players in the NBA.
Have Nina and Russell adopted kids?
The Westbrook couple has not adopted any kids for now. They have their own three kids, and they seem to be quite happy at present.