Paolo Banchero is an American-Italian professional NBA player for the Orlando Magic. He is famous for his brilliant skills in both American football and NBA from his high school days.
Banchero is still in contact with Jayson Tatum, who happens to be one of his favorite players and someone whom he modeled his game after. On 27 January 2023, he shared his views on how Jayson Tatum played a huge role in the 2022 NBA Draft.
In 2022, he was named the Rookie of the Year of the Atlantic Coast Conference (ACC). In his freshman season, he announced for the 2022 NBA Draft, where he was chosen as the first overall pick by the Orlando Magic.
At eighteen, this guy blended into the basketball world like ice in the water.
The 2.08 meters tall Paolo Banchero has gained massive hype after his mind-boggling performance at high school.
You must have heard the name if you are a big-time basketball lover. You must have gotten who he is with the hint mentioned above.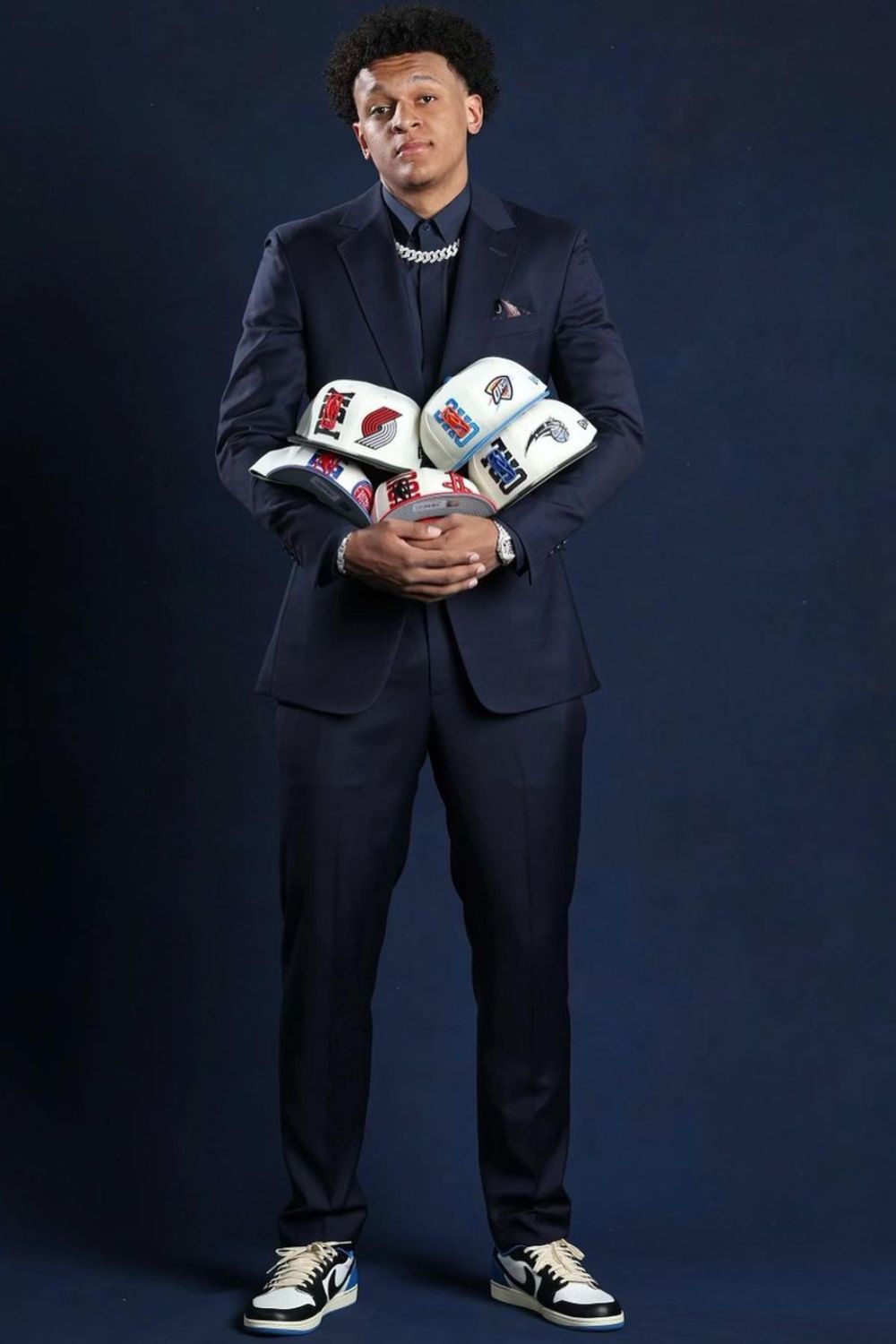 If not, here is a small introduction, Paolo Banchero, is a basketball player who studied at O'Dea High School in Seattle, Washington.
Paolo was committed to Duke after receiving tremendous opportunities from NCAA Division I programs.
Not to mention, all the limelight has been shed on him after being rated as one of the top three contenders in the 2021 class. Notably, he was also a potential lottery pick in 2022.
As claimed by sources, Paolo is one of the top five players in the whole nation for his age. He is a dual-sport athlete who plays both basketball and football.
Quick Facts
Full Name
Paolo Napoleon James Banchero
Birth Date
November 12, 2002
Birth Place
Seattle, Washington, U.S.
Nick Name
Banchero
Religion
Not known
Nationality
American / Italian
Ethnicity
Biracial
Education
Duke University
Horoscope
Scorpio
Father's Name
Mario Banchero
Mother's Name
Rhonda Smith
Siblings
A Younger Brother And A Sister
Age
20 Years Old
Height
6'9″ / 2.08 m / 208 cm
Weight
235 lb. / 107 kg
Shoe Size
Not Known
Hair Color
Brown
Eye Color
Brown
Jersey No
5
Build
Athlete
Marital Status
Single
Girlfriend
Not Known
Position
Power Forward
Profession
Basketball Player
Net Worth
$1-$5 Million
Salary
$11.6 Million
Currently Plays For
Orlando Magic
Team

Duke Blue Devils Men's Basketball Team
Orlando Magic (Current)

Active Since
2021-Present
Social Media
Instagram, Twitter
Merch
Rookie Card
Last Update
June, 2023
Early Life, Parents, & Education
Paolo was born on November 12, 2002, to his parents, Rhonda and Mario, in Seattle, Washington.
Besides his parents, he has a younger brother and a younger sister. The details are not available regarding his siblings.
At the age of four, Paolo started playing basketball and football at six, including track. It seems like a lot of athleticism was ingrained in him from the beginning.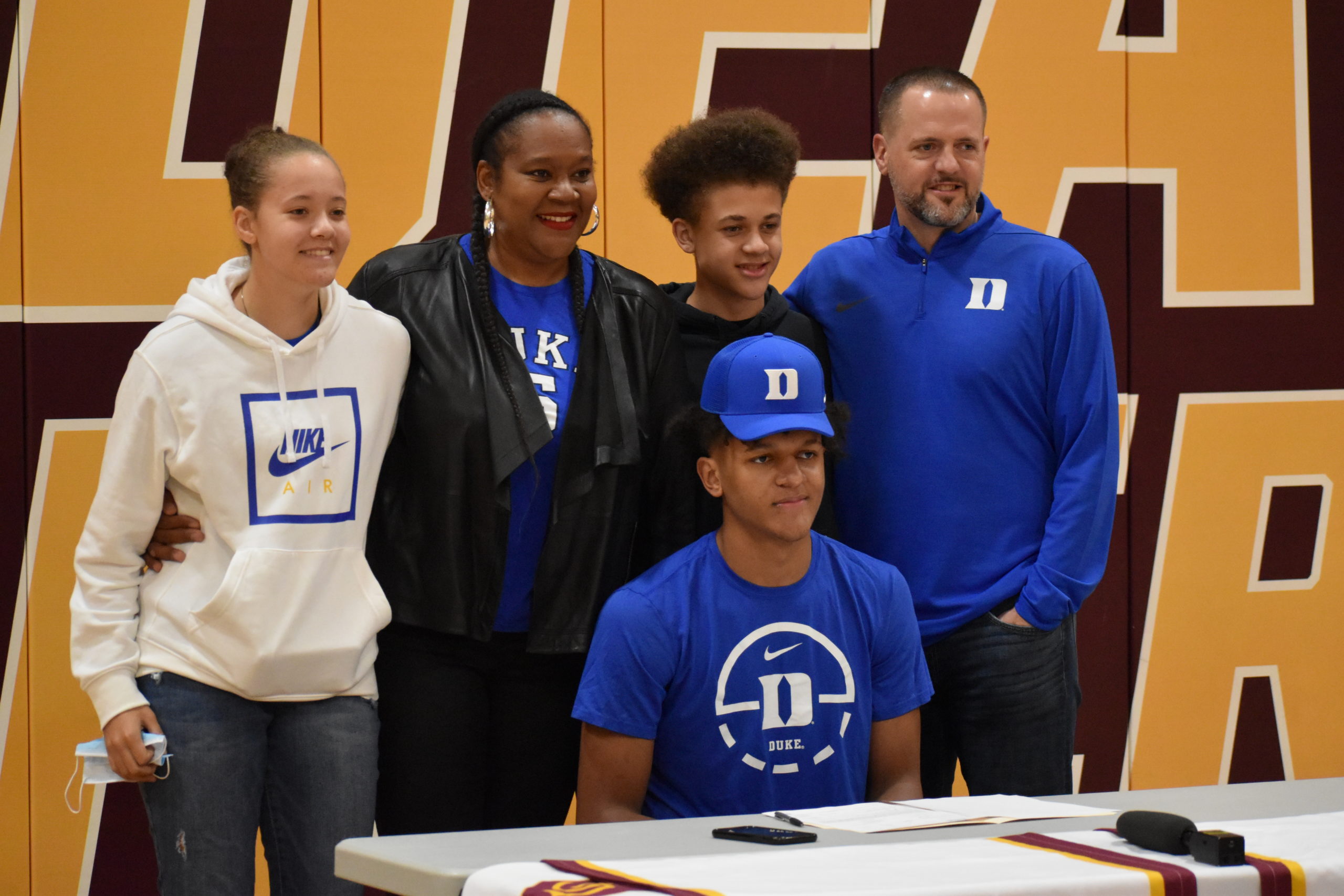 Paolo started his early basketball career by joining the Rotary Boys and Girls Club of Seattle, which was the result of direct inspiration from his mother, a veteran basketball player.
As a kid, Paolo knew his priorities and set his priorities accordingly. As a result, he always locked himself into two things: sports and the other is undeniably studying.
He wanted to take sports, school, and studies hand in hand. His favorite subject in school was English.
Paolo, In His Transitional Phase
Transitioning was an added responsibility in his life, like any other athlete.
He had to become a prominent high school athlete from his early youth. As per him, "transitioning" was not that easy.
Of course, growing from 1.85 meters to 1.9 meters in a year in his seventh grade was unconventional. So he had to ensure that it would be advantageous for him.
Paolo had already remained a dominant player and was expected to stay the same in high school.
But maintaining a balance between his mental capacity and physical growth was a challenge in the high school competition, and he had to overcome the thrills and fear.
Family Line
Paolo has a complete athletic background, all thanks to his parents, who ace sportsmanship.
His mother, Rhonda, remained a college basketball player for the Washington Huskies women's basketball team, who grabbed the all-time scoring leader's recognition for nine years.
Not to mention, Rhonda was a third-round selection in the 2000 WNBA Draft and showed up in high demand in the American Basketball League and overseas.
Following that, she served as a basketball coach at Holy Names Academy in Seattle.
His father, Mario, and his uncle both played college football for Washington; he served as a tight end during his tenure as a football player.
Paolo's parents gelled along quite well during their time at Washington, and destiny played its game.
Being hardcore sportsmen themselves, Paolo's parents quickly noticed the talent and the desire to win.
They knew he was fast and intelligent, which made them introduce Paolo to various sports.
Likewise, he is Italian from his father's side. Many might be confused about his nationality as Paolo was born in the States; well, in February 2020, young Banchero received his Italian citizenship.
High School Career & Highlights
Banchero attended O'Dea High School in Seattle and played basketball there.
He served as the backup quarterback on the state championship team on the football ground and played basketball.
Moving on to his first year, Paolo notched 14.1 points and 10.2 rebounds per game.
He notched 18.2 points, 10.3 rebounds, and 4.3 assists per game for his sophomore year and headed his team officially to the Class 3A state championship.
He also took the Most Valuable Player of the Year honor. Paolo was growing and astounding as a player every year.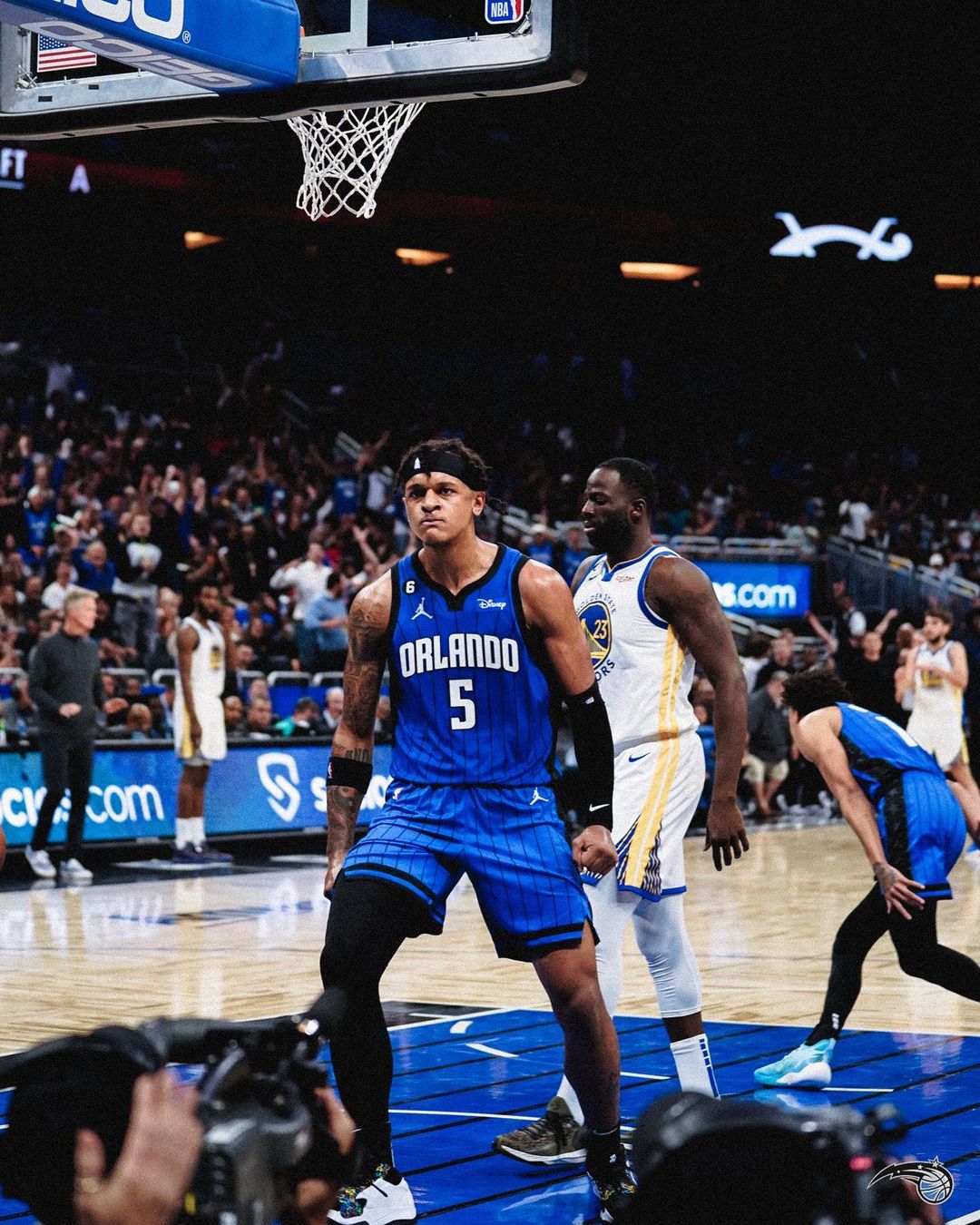 His numbers were improving, and so was his play style. He knew his work ethic and was always after to prove himself best on the court.
In his junior season, he scored 22.6 points, 11.0 rebounds, 3.7 assists, and 1.6 blocks per game for the Class 3A runners-up.
Paolo also received the Washington Gatorade Player of the Year and made it to MaxPreps National Junior of the Year honors.
Furthermore, he was also McDonald's All-American in 2021. Daryll Hennings remained his coach for the Seattle Rotary. According to him, Paolo is the most humble player on the team.
It's a little easier for him on the court because of his size, and during his ongoing season, he kept focusing on defense and shooting.
College Stats
Let's have a look at the 2021-22 season stats of Paolo Banchero:
| | | | | | | | | | | |
| --- | --- | --- | --- | --- | --- | --- | --- | --- | --- | --- |
| SUMMARY | G | PTS | TRB | AST | FG% | FG3% | FT% | eFG% | PER | WS |
| 2021-22 | 12 | 17.1 | 7.3 | 2.2 | 48.7 | 33.3 | 82.5 | 52.7 | 26.0 | 2.1 |
| Career | 12 | 17.1 | 7.3 | 2.2 | 48.7 | 33.3 | 82.5 | 52.7 | 26.0 | 2.1 |
Learn more about his stats and scouting report on NBADraft.Net.
Recruiting
Everyone must be familiar with his recruiting, as many renowned colleges demanded his presence after his phenomenal performance at high school.
Not to mention, Paolo was a consensus five-star recruit and also one of the top-rated players in the 2021 class.
The top NCAA Division I programs, including Duke, Kansas, and Kentucky, were willing to offer him the scholarship.
And aligning with most recruiting analysts confirming that Paolo would soon be attending Washington, probably because his parents also attended Washington.
But eventually, the predictions went wrong, and on August 20, 2020, he announced his commitment to Duke. Besides that, Crystal Ball also predicted that he would most likely attend Washington.
However, the Crystal Ball also predicted that there was a good chance he might attend Tennessee or Kentucky.
Now, let's see what the Pitt All-American Aaron Gray tells about Paolo to CBS Sports,
"He is a Coach's dream. His willingness to want to improve when he is already at such a high level is impressive to a guy like me. He's got a cool and calm demeanor."
Orlando Magic
Paolo was named a Third Team All-America on 15 March 2022. During the 2022 NCAA tournament, he played well and scored 22 points against Texas Tech.
As a freshman, his average was 17.2 points, 7.8 rebounds, and 3.2 assists per game. Banchero declared for the 2022 NBA Draft, forgoing his remaining college eligibility.
Orlando Magic selected Banchero with the first overall pick in the 2022 NBA Draft. In his Summer League debut, he played against Houston Rockets on July 7 with 17 points, four rebounds, and six assists in a 91-77 win.
On October 3, 2022, he made his preseason debut, putting up eight points, two rebounds, and one assist in a 109-97 loss to the Memphis Grizzles.
He also made his regular season debut, scoring 27 points, nine rebounds, five assists, and two blocks in a 113-109 loss to the Detroit Pistons.
He is also the second teenager in NBA history to put up at least 30 points and 15 rebounds in a game, joining LeBron James.
According to a report of 20 January 2023, Banchero is proving to belong to the elite basketball level, as most of his teams saw evidently during his first NBA regular season. Out of them, Gary Haris seemed to be impressed the most.
In 41 games, Paolo Banchero averaged 20.8 points, 6.4 rebounds, and 3.8 assists, but his team, Orlando Magic, is on the third last with a 19-29 record in the Eastern Conference.
National Team Career
Banchero has indicated he wants to represent Italy in International competitions as he is eligible to play for the Italy national basketball team.
He was chosen to the country's 24-man squad for the EuroBasket 2022 qualification games in November 2020; however, he did not play.
Injury
Paolo Banchero, Orlando Magic rookie, returned to practice on 23 November 2022 following a seven-game leave due to a sprained left ankle, as per head coach Jamahl Mosely.
He got injured during the match against Houston Rockets on November 7; he practiced on November 12 but was sidelined again after that session.
Paolo did not appear with the Magic on its recent three-game road trip so that he could continue treatment at the team facility.
He is still working on getting back into game shape. It is his first significant setback at any level of basketball.
He was calm and relaxed throughout his time away from the court and went through each benchmark the team put forth during his rehab process.
Banchero said,"I just gotta be patient. It is my first time dealing with an injury. At first, I wanted to just rush as quick as possible and try and get back, and I realized that wasn't doing any good for me, so I just had to learn to be patient and just listen to myself."
Rumors Before Committing
As reported by the Los Angeles Daily News, NBA All-Stars LeBron James and Dwyane Wade plan to admit their sons at powerhouse Sierra Canyon School, which has obtained the California Interscholastic Federation Open Division state championship two times in a row.
They also put the information that Paolo would be added to the school, which he denied.
The news landed with a picture of Paolo in USA Today's sports section. Paolo was thrilled to know that after receiving the information via text message forwarded by his dad.
A Dual-Sport Athlete
As claimed by sources, Paolo serves as a quarterback and free safety on the football field.
He guided FBU Seattle to a third-place finish at FBUNC in 2014 and later on carried to a second-place finish in 2015-2016.
Paolo scored three touchdowns and showed his passing ability with 200 yards in the 2017 FBU 8th-grade All-American game. He also capped off the game, showing his true colors of versatility as a player.
According to his coach Zuri Hector, the not-so-little kid Paolo has a great understanding of the Xs and Os.
His footwork, skill, and vision are incredible, and these aspects help him fight on the field.
What Does His Name Mean?
Paolo is quite a different name; many must be curious to know what Paolo means.
We don't know who named him, his mom or his dad. But Paolo in the Italian language means the name of an ancient heritage.
It also means small, little, and humble. Paolo's father is Italian, and he received citizenship in February 2020.
It pretty much makes sense to all of us; the origin of the name.
Net Worth & Salary
Banchero has just started his career. He is just 20 years old and has already signed a 4-year contract worth $50.1 million with the Orlando Magic.
In 2022-2023 Banchero is estimated to earn a base salary of $11.6 million.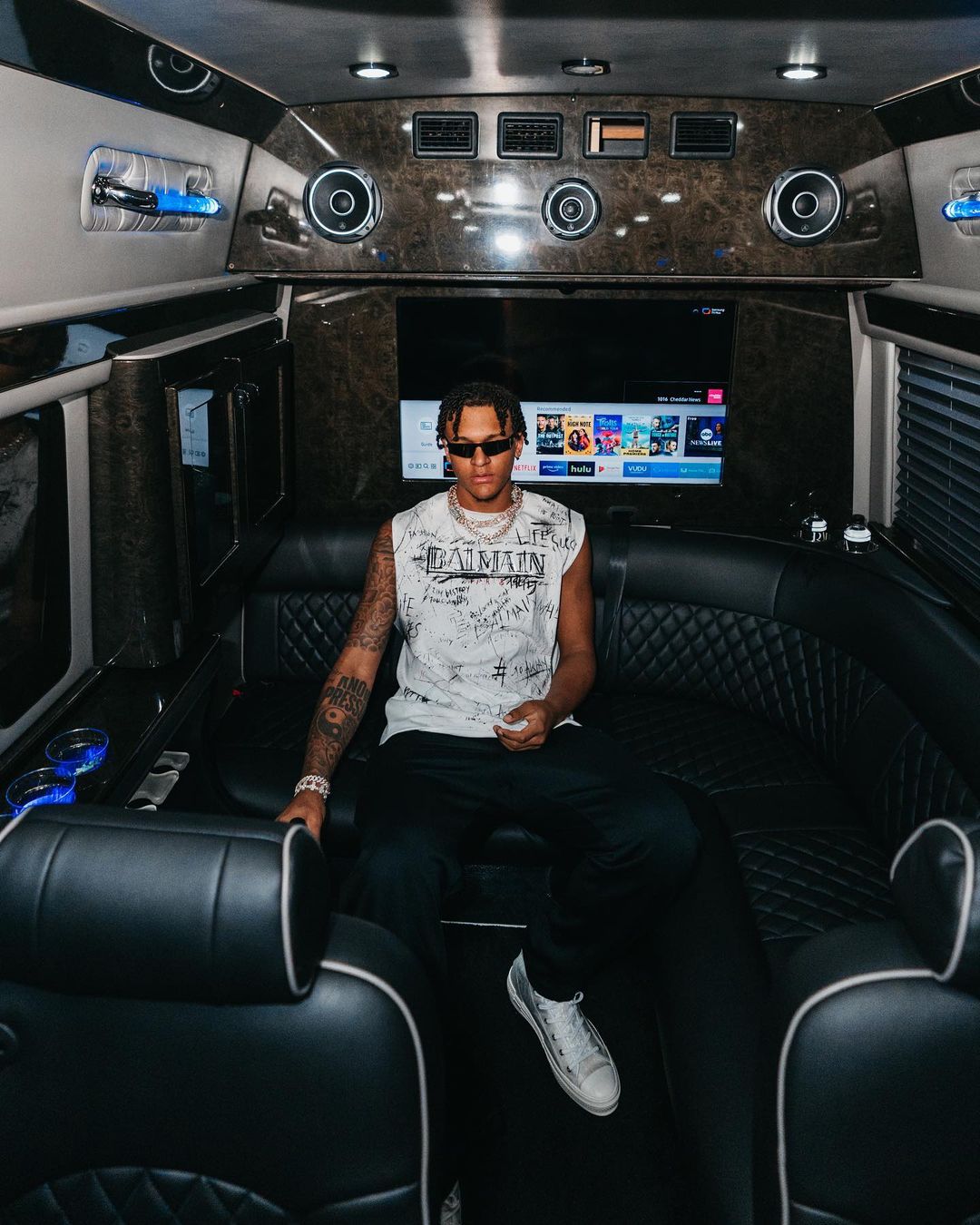 Paolo's net worth is estimated to be $1-$5 million as of 2023. Likewise, he lives a lavish lifestyle and enjoys life to the fullest.
Banchero has many years to earn a name and fame in his professional career.
Social Media Presence
Paolo is available on both Instagram and Twitter and has massive followers.
Twitter: @paolo5 with 100.5K followers
Instagram: @paolo5 with 96.5K followers
View this post on Instagram
Paolo, in 2022 has collaborated with Jordon to release Undefeated x AJXXXVII, limited Air worldwide.
Popularity Graph
Paolo Banchero is a rising player with very bright athleticism.
Paolo's search rate hiked because he excels in both the NBA and football and was first picked in the 2022 NBA Draft.
Frequently Asked Questions (FAQS)
What is Paolo Banchero's wingspan?
The basketball player's wingspan is 2.13 m.
Did Paolo Banchero and Ben Simmons play for the same team?
Paolo Banchero played for the Duke Blue Devils of the Atlantic Coast Conference, whereas Ben Simmons plays for the Brooklyn Nets of the NBA.
What did Fran Fraschilla say about Paolo Banchero?
The ESPN college basketball analyst Fran Fraschilla said that Paolo Banchero is a modern-day Carmelo Anthony with three levels of scoring ability. Carmelo Anthony is a basketball player for the Los Angeles Lakers of the NBA. He is a ten-time NBA All-Star and six-time All-NBA Team.
How much does Paolo Banchero's rookie card worth?
Paolo Banchero's rookie card price ranges from $0.14 to $19.19.
Is Paolo Banchero related to Chris Banchero?
Despite having the same last name and being from Seattle, Washington, the two basketballers are unrelated.
When did Paolo Banchero go through a growth spurt?
The athlete went through a growth spurt in middle school.
Has Paolo Banchero signed a deal with 2K Sports?
Paolo Banchero signed an endorsement deal with 2K Sports, making him the first college athlete to appear in any NBA 2K video game.