Fans are wondering about Paul Azinger net worth while the lead golf analyst parts ways with NBC Sports after five years.
In this article, we delve into Paul Azinger net worth, exploring his salary, career earnings, and the various facets that contribute to his financial standing.
Paul Azinger, a name synonymous with professional golf, has made an indelible mark on the sport throughout his illustrious career.
Born on January 6, 1960, in Holyoke, Massachusetts, Paul Azinger developed a passion for golf at a young age.
His journey in professional golf began in the early 1980s, and he quickly rose through the ranks.
Azinger's breakthrough came in 1987 when he won his first PGA Tour event, setting the stage for a remarkable career.
Azinger's success on the PGA Tour is highlighted by his 12 career victories, including one major championship – the 1993 PGA Championship.
In addition to his individual success, Azinger significantly contributed to the United States Ryder Cup team.
Notably, he captained the U.S. team to a memorable victory in the 2008 Ryder Cup at Valhalla Golf Club.
His triumph at Inverness Club solidified his status as one of the game's elite players.
What Is Paul Azinger Net Worth?
Numerous media outlets have attempted to quantify Paul Azinger net worth, and the figures vary.
While some reports suggest a net worth ranging between $5-$20 million, it's important to note that no official confirmation has been provided by Azinger or reliable sources.
Consequently, we can reasonably assume that Azinger's net worth falls within the million-dollar range.
It is attributed to his successful career as both a player and an analyst.
Paul Azinger Net Worth | Career Earnings As A Golfer
Paul Azinger's journey to financial success began on the golf course. According to Spotrac.com, Azinger's career earnings as a player totaled an impressive $15,197,448.
Breaking it down, his official earnings on the PGA TOUR reached $14,467,496, with an additional $729,952 earned in unofficial tournaments.
Azinger's skill and dedication to the sport translated into substantial financial rewards during his playing days.
Beyond tournament earnings, professional golfers often enhance their income through lucrative endorsement deals and sponsorships.
While specific details of Paul Azinger's endorsement deals are not always disclosed, it is common for successful golfers to secure partnerships.
These partnerships with golf equipment manufacturers, apparel brands, and other related companies contribute significantly to a golfer's overall net worth.
Broadcasting Career Earnings
Transitioning from player to analyst, Azinger continued to make his mark in the golfing world.
Speculations about his annual earnings as a golf analyst hover around $89,899.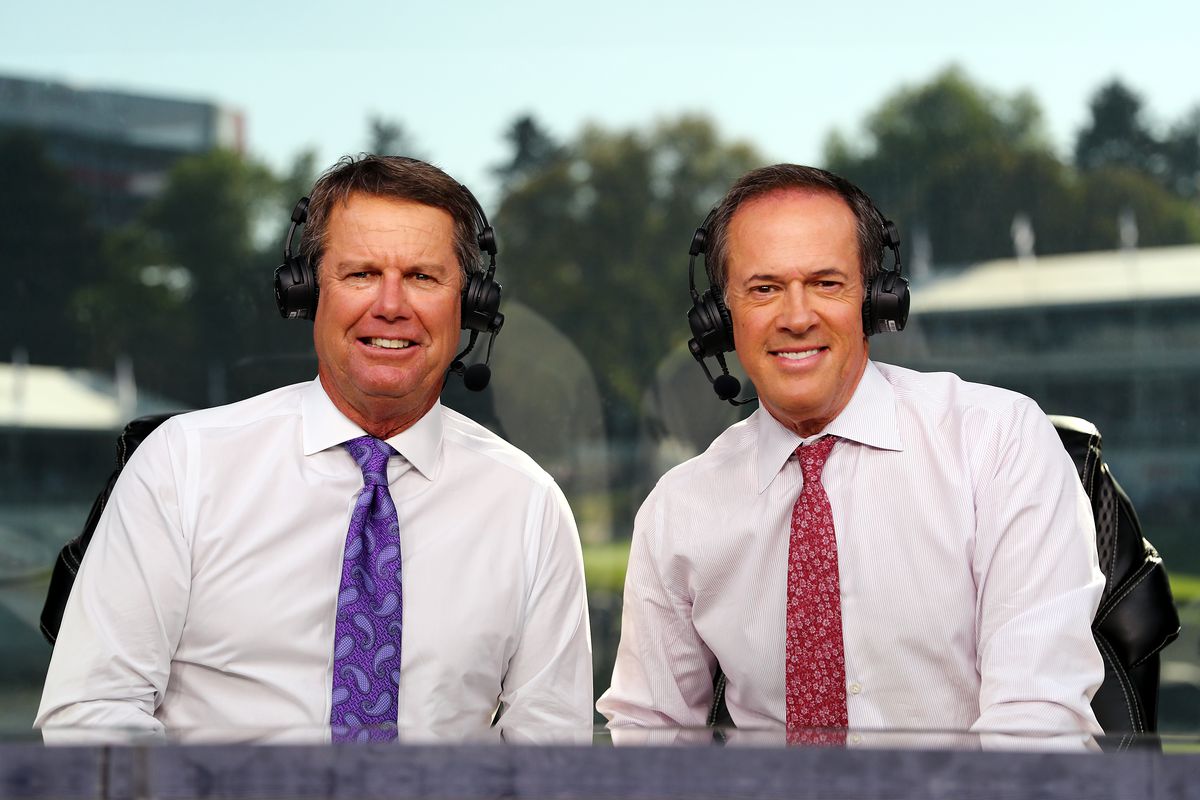 While this may seem like a decent salary, it's crucial to acknowledge the variability in golf analysts' earnings, ranging from $10,000 to $100,000 annually.
Given Azinger's successful career and affiliations with multiple networks, it's plausible that his actual earnings exceed the speculated figure.
Paul Azinger Parts Ways With NBC Sports
As per multiple reports, Paul Azinger will no longer be the lead golf analyst for NBC Sports. after five years.
It has ended his five-year stint with the network, with his last event being the Ryder Cup back in September.
According to the Golf Digest, the NBC network didn't renew Azinger's five-year contract, which caught him by surprise.
"I was supposed to do the Bahamas," he said, referring to the Hero World Challenge the first weekend in December.
Additionally, it is speculated that there could be a larger overhaul of the network's coverage. Thus, more changes are expected down the line.