A ski queen, or shall we call her 'Snow Queen,' Petra Vlhová is a 26 years old Slovak alpine skier. She is best known for representing her country in the Olympics and the world cup.
Her international exposure came in 2012, and since then, her career trajectory is only going upwards. She has set many personal records and won medals for her country.
Vlhova started skiing for fun when she was only a kid. But her passion later turned into her profession with hard work and dedication.
Petra and her achievements can be a source of inspiration for all of us. So let's get started with some interesting quicks facts about her.
Petra Vlhová: Quick Facts
| | |
| --- | --- |
| Full Name | Petra Vlhová |
| Nick Name | Snow Queen |
| Birth Date | June 13, 1995 |
| Birth Place | Liptovský Mikuláš, Slovakia |
| Home Town | Liptovský Mikuláš, Slovakia |
| Nationality | Slovakian |
| Religion | Christianity |
| Ethnicity | Slovakian |
| Education | Hotel Academy, Slovakia |
| Training | N/A |
| Father's Name | Zuzana Vlhová |
| Mother's Name | Igo Vlha |
| Siblings | One older brother, Boris Vlah |
| Age | 27 Years Old |
| Zodiac Sign | Pisces |
| Height | 1.80 m (5'11") |
| Weight | 73 kgs (161 lbs) |
| Hair Color | Brown |
| Eye Color | Dark Brown |
| Shoe Size | N/A |
| Married | No |
| Partner | Michal Kyselica |
| Children | No |
| Profession | Alpine Skiier |
| Affiliations | Uniqa, Addidas, Nike, Audi |
| Favorite Food | N/A |
| Net Worth | $1million – $5million |
| Salary | Under review |
| Status | Active |
| Hobbies | Motocross, Travelling |
| Social Media | Instagram, Facebook |
| Ski Merch | Googles, Helmet, Pants |
| Last Update | June, 2023 |
Petra Vlhová | Early Life and Family
Petra comes from Slovakia, a country in central Europe. She was born on 13th June 1995 in Liptovský Mikuláš, Slovakia. Her mother is Zuzana Vlhová and father is Igo Vlha. She has one brother, Borris Vlah.
Her country Slovakia is blessed with some amazing mountains. In addition to that, it is also full of great slopes that are perfect for skiing.
If you did not know already, Slovakia is well-known as a skiing destination. It is popular among tourists who want to do some budget skiing in Europe's best ski resorts.
Her parents organized buffets on ski slopes every winter. Petra and her brother spent all day skiing for fun. Petra was always the last one to leave the slopes. This fun adventure slowly turned into a serious passion.
Her mother was always supportive of them skiing. Father became more interested only after Petra did her first match.
She took part in her first ski competition at the age of 8. She ended third and won everyone's hearts. Her parents didn't fail to recognize that she had a raw talent inside her and provided her with proper training.
Her parents and her brother are also fond of skiing. She and her brother used to train together as a kid.
Petra Vlhová | Career, Olympics, and Achievements
Petra came into the limelight with the 2012 Youth Olympic Games. She became the slalom champion during this match. Indeed, all eyes were drawn towards her after this win.
In the 2014 Winter Olympics, she represented her country gracefully. She also won the slalom title at the Junior world championships in 2014.
Her world cup debut was at age 17 in 2012 December. She finished 11th place in the slalom. She won a slalom in December 2015 in Sweden, her first world cup podium.
In January 2016, she entered the second run in giant slalom and Flachau, where she ended in 14th.
In December 2018, Petra scored the first world cup giant slalom win for Slovakia in Austria.
A few days later, she won a parallel slalom in Oslo, which was her sixth win. It set a record for the most world cup wins by a Slovak alpine skier.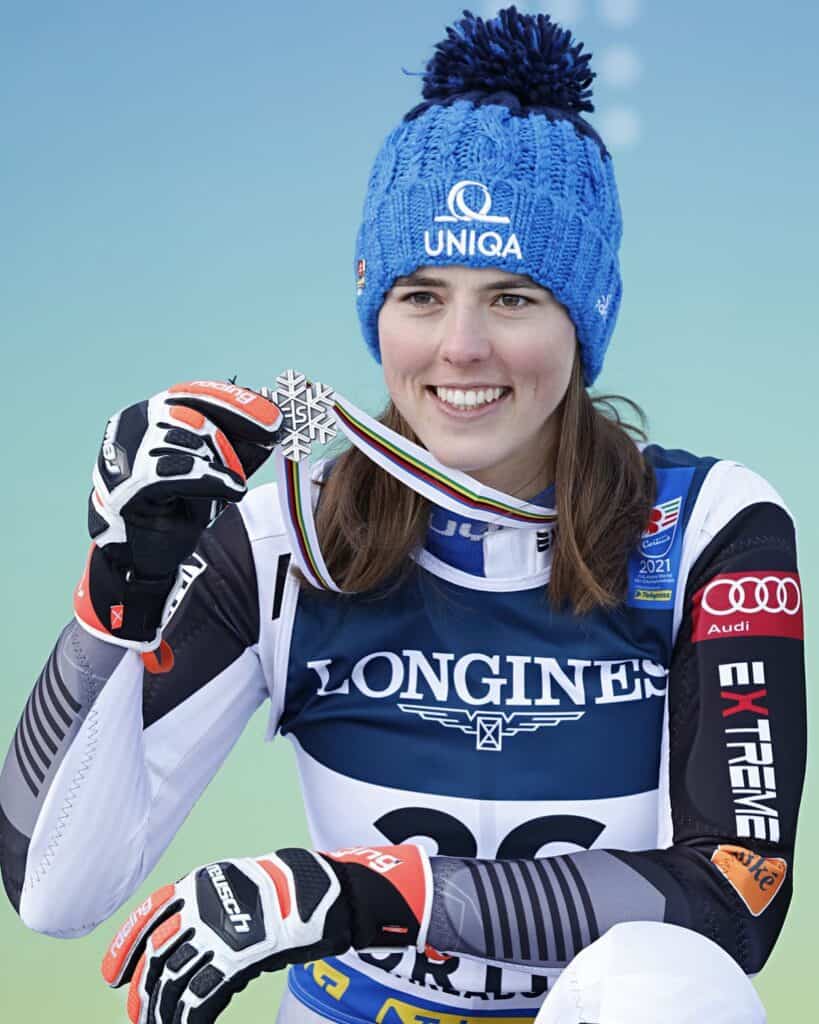 At the alpine world ski championship 2019, she won her first individual medal for Slovakia. Wendy Holdener won the gold while Petra took home the silver. She won her first gold for Slovakia in the championship's giant slalom, rounding off with a bronze.
She won her only Giant Slalom win of the 2020 season in January in Italy. Later in the season, she started competing in speed events.
This season was cut short due to the Covid-19 pandemic. However, Petra stood 3rd in the overall world cup ranking and also won her first two small crystal gloves.
Petra secured a silver medal in Women's Slalom in the 2021 FIS world cup.
Tokyo 2020 Olympics
Since Petra's sport requires ice, her competitions are not included in the current Tokyo 2020 Olympics as it is the summer Olympics.
Instead, she will be competing at the 2022 Winter Olympics, which is commonly known as Beijing 2022, if she is going. The Beijing 2022 Olympics will start on February 4 and end on February 20.
As of now, she has not won any Olympic medals, even though she participated in the 2014 and 2018 Winter Olympics. Nevertheless, Vlhova did win a gold medal at the 2012 Winter Youth Olympics.
Influences and Rivals
Veronika Velez-Zuzulová is a star alpine skier who has a huge influence on the whole family. Interestingly, the family has her poster hung in their common room.
Her well-known rival in her sport is his American Alpine skier, Mikaela Shiffrin. The cut-throat competition of a sport can turn any friendship into a rivalry. But Petra has said that they have an amicable relationship.
I have big respect for Mikaela because, for me, she is a true champion.
In the 2019 slalom race in Maribor, Slovenia, Petra made a mistake and ended fifth.
Subsequently, Miaeala gave her a consoling hug. This moment was an indication of mutual respect and friendship between these two stars.
Mikaela Mayer Bio: Ethnicity, Career, Trainer & Net Worth >>
Training Methods and hobbies
Athletes have their own training styles to sharpen their skills. A popular training style is cross-training, learning another sport to get better at their game.
On the contrary, Petra takes drums training with an Italian musician. It helps her sharpen her hand and foot coordination.
Similarly, she enjoys taking Krav-maga self-defense classes, cycling, climbing, kayaking, and tennis.
Another adventure she enjoys is motocross riding. Moreover, her brother is also really fond of motocross. In fact, it was her brother who introduced her to the sport.
She doesn't take motocross as just a fun hobby but as an opportunity to practice balance and strengthen her body.
A lot of people think I'm just going for a ride. It is not true.
People also think that motocross is a risky sport. Well, there's risk in everything, Petra says. But, overall, the whole Vlha family is into adventurous outdoor sports.
Petra Vlhová | Net worth & Lifestyle
Petra lives in Slovakia in her hometown. Her career as a rising skiing star is her major source of income. She has also partnered with major brands now, which is another source of income.
Her major partner brand is Uniqa, an Austrian insurance company. As a result, Petra is frequently seen in sportswear with the Uniqa logo on them.
Besides, she has also collaborated with Adidas, Nike, Audi, Rauch, and many other brands on different occasions. She drives an Audi.
Petra's net worth is estimated to be around $1 million -$5 million. Indeed, her worth will rise much higher if she keeps up her powerpack performance.
Family Support
That being said, the ski is one of the most financially demanding sports. First, the equipment itself can cost a fortune.
In addition to that, traveling abroad for races, and getting quality training can be a huge financial burden on any athlete.
Petra's family has invested a lot in her. The families' decision to put a major amount of their finances into Petra's sport was a big push for her to compete globally.
She herself says that she is fortunate to have got a supportive family. Nevertheless, Petra has a full intention of paying them back someday.
I am indebted to them, but I am hoping to be able to give back one day.
Petra is mostly busy with her games and practices. Rarely she gets time to take a break and enjoy a few days of vacation. She was spotted taking a vacation in Sri Lanka in the summer of 2019.
Sri Lanka's tropical climate must have been a nice change to Petra after spending most of the time in an alpine environment.
Petra has a small team that is dedicated to her performance and well-being. This team consists of her coaches, finance manager, physiotherapist, nutritionist, PR manager, and more.
What's more! The Nike brand sponsors a private jet to fly to her competitions.
Petra Vlhová | Social Media
Social media is the place for Petra to keep in touch with her well-wishers, and document her achievements. In addition, we can occasionally get a peek into her private life via her social media.
She often posts beautiful photos on her Instagram account. She has gathered over 189K followers on her Instagram account which she has been using since 2013.
Most of her photos flaunt beautiful snow-capped ski slopes, and we can never get too much of them.
Kristyna Pliskova Bio: WTA, Twins, Coach & Net Worth >>
She is equally active on her Facebook page. More than 140K followers follow her page.
This page is frequently updated with her latest updates, and her fans like to shower her with love and comments.
Instagram: 189K Followers
Facebook: 140K Followers
Petra Vlhová | Relationships & Boyfriend
This Slovakian beauty has achieved very much at a very young age. She has a name, fame, money, and great looks! No wonder so many guys are throwing their hearts toward Petra.
But sad news to all the guys, our girl is taken. She is currently dating a Slovak man named Michal Kyselica. Petra and Michal have been dating for more than 2 years now, based on her social media posts.
Who is Michal?
We have come to know that Petra's boyfriend Michal also has a background in sports. He used to play football but discontinued it due to injuries.
Kyselica is now an entrepreneur, marketing expert, motivational writer, and coach. He is the founder of FORLOGIS.
The platform allows authors, coaches, and course creators to increase their products' value via user experience.
He published his first book in 2016. 'Prekonaj svoj limit!' (trans. exceed your limit!) is a motivational book about mindset and growth. In addition to that, it includes tips about growing your online business.
He is fond of traveling and has traveled worldwide, meeting successful people and collecting inspiration for his book.
Camila Giorgi Bio: Early Life, Injury, Husband & Sponsor >>
Petra shares photos of the couple frequently with cute captions. It seems that Michal is not on Instagram, as he is never tagged in one of those photos! They celebrated last Christmas and Micheal's birthday together.
There is no other information about the past relationships with Petra. However, she is really close to her brother Borris. Boris is married with one daughter.
Petra is close to her little niece and enjoys her company. She frequently posts photos her this kid.
Petra Vlhová | Frequently Asked Questions
Where is Petra Vlhová from?
Petra is from Liptovský Mikuláš, a town in northern Slovakia. Slovakia is extremely popular for budget skiing opportunities. As a result, Petra was motivated to get into the sport.
Who is Petra Vlhová dating?
Petra is in a romantic relationship with Michal Kyselica. He is an entrepreneur, motivational writer, and coach. He published a motivational book in 2016.
What is the net worth of Petra Vlhová?
Petra has been doing good in her sports and thus making good money for herself. It is estimated that her net worth is around $1M – $5M.