Phil Foden is a product of Manchester City youth academy. Currently, the midfielder is playing for the senior team. At the tender age of 19 years, he broke several records including Guinness World Record.
As such, the Stockport native is the youngest scorer in the Champions League's knockout stages and the youngest starter in the Champions League. The future for City is looking bright with talents like Phil.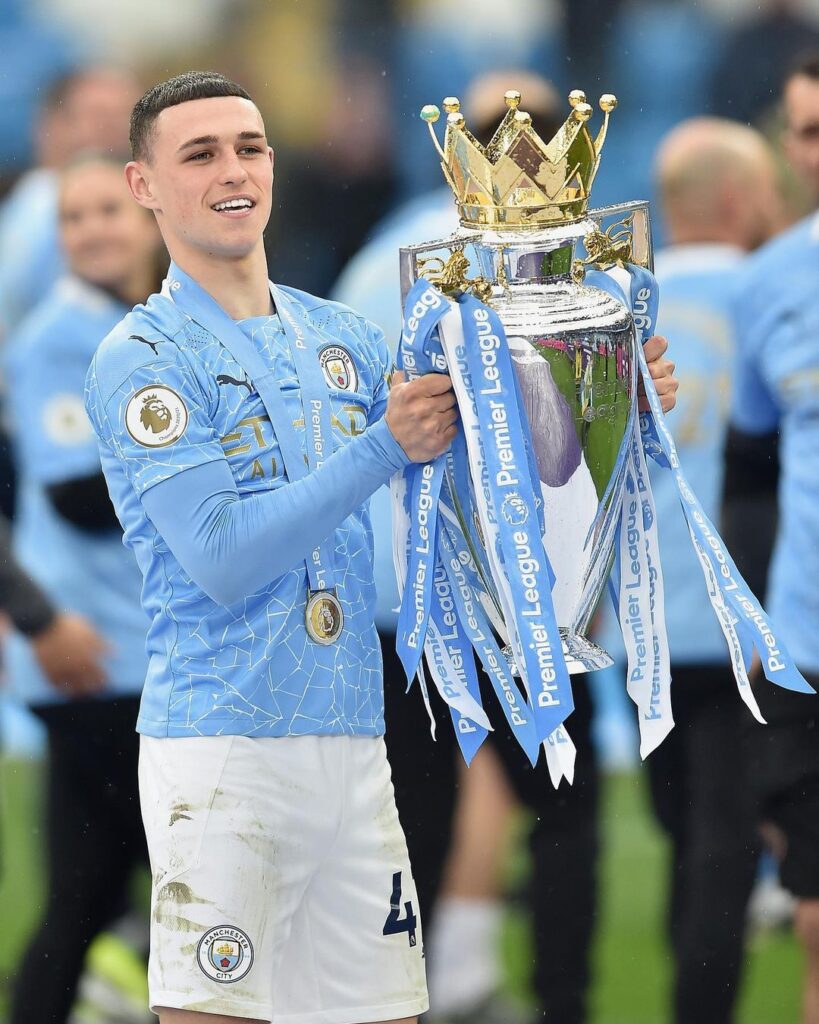 This article looks at his record-breaking career to date, his wife, son, family net worth, and transfer market value. So without further ado, let's get started.
Quick Facts | Phil Foden
| | |
| --- | --- |
| Full Name | Philip Walter Foden |
| Popularly Known As | Phil Foden |
| Birthdate | 28 May 2000 |
| Age | 23 years old (as of 2023) |
| Birthplace | Stockport, England |
| Height | 5′ 7″ (1.71 m) |
| Weight | 70 kg (154 lb) |
| Profession | Soccer Player |
| Position | Midfielder |
| Clubs | Manchester City |
| Net Worth | $3.5 million |
| Jersey Number | 47 |
| Father's Name | Phil Foden Sr. |
| Mother's Name | Claire Foden |
| Siblings | A sister |
| Marital Status | Unmarried |
| Relationship Status | In a relationship |
| Girlfriend | Rebecca Cooke |
| Children | A son |
| Son's Name | Ronnie Foden |
| Social Media | Instagram, Twitter, Facebook |
| Merch | Vinyl Figure, Book |
| Last Update | November, 2023 |
Phil Foden | Early Career & Life
On 28 May 2000, Phil Foden was born to Phil Foden Sr. and Claire Foden. Likewise, Foden grew up in the Metropolitan Borough of Stockport, United Kingdom.
Phil has a little sister who is almost as old as him. However, he is the elder of the two siblings. They are a middle-class family hailing from the Stockport suburb and grew up supporting Manchester City.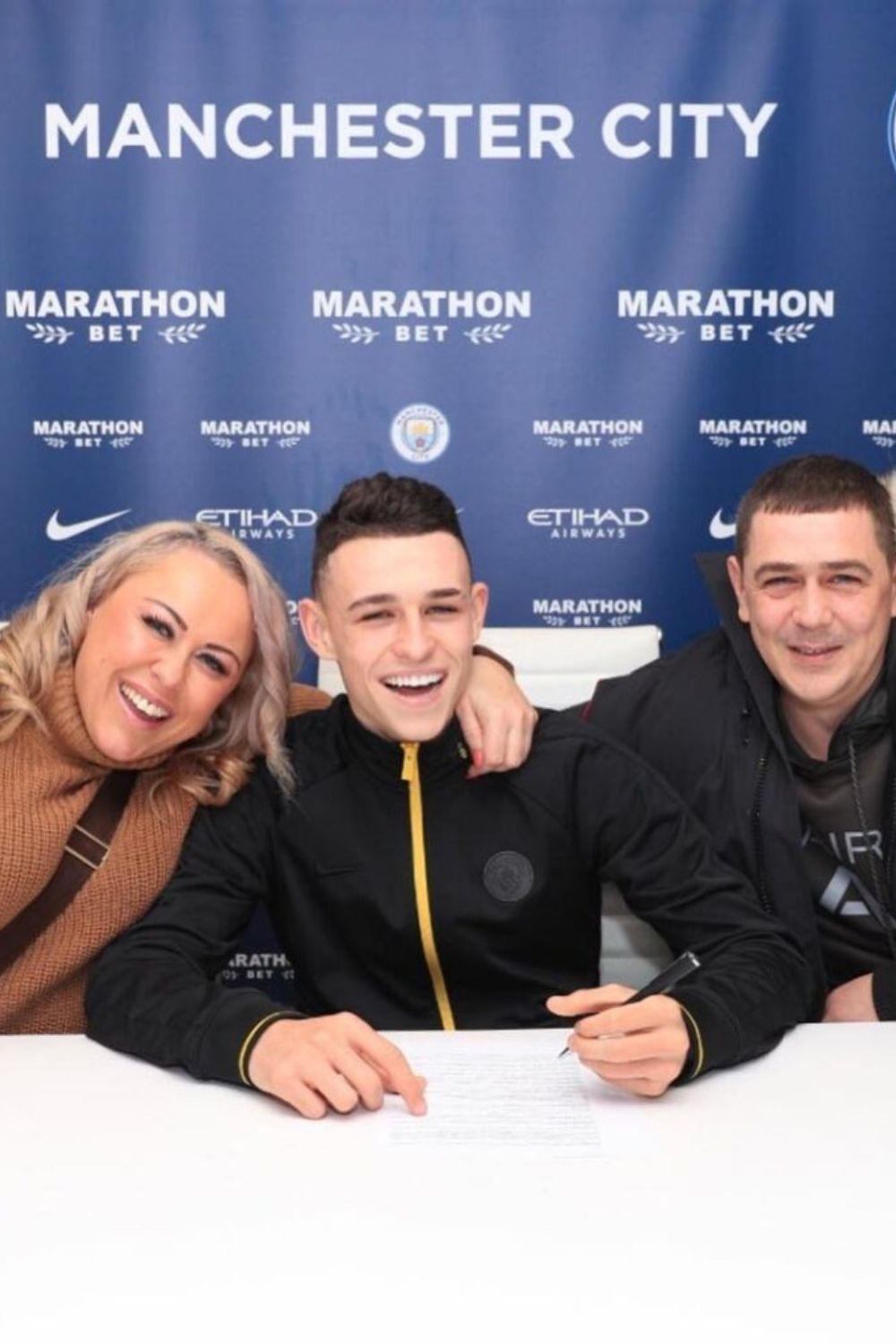 The England U-21 midfielder grew up watching the club play at the City of Manchester Stadium (now Etihad Stadium).
Therefore, when the time came to choose the perfect academy for young Phil to develop his skills, Manchester City's academy was the ideal choice.
He would go on to impress everyone at the Manchester-based club with his mesmerizing performances.
Even his parents and family were surprised about how the young midfielder was the best player in his age group.
Eventually, Foden joined the City academy at the tender age of eight. He quickly gained a reputation for himself as he was the best player in every age group he played.
Manchester City even provided a young Foden and his teammates with a limousine for their end-of-season presentation to perform even better in the coming years. Looking back, I guess it did work, as Phil is a tremendous talent now.
During his early years, Foden's parents prioritized his education over soccer as he did not have enough time to do both.
To deal with this problem, Manchester City provided young Phil with private tutoring at St. Bede's College.
From early on in his career, he showed his match-winning potential. Most notably, Foden helped his youth side win the prestigious Neon Cup.
As a result, he won the Best Player of the Tournament award. The Manchester City midfielder's stock has risen ever since and continues to grow under the tutelage of his current manager Pep Guardiola.
Learn More About Frank Lampard Bio: Career, Stats, Net worth, Clubs, Wife Wiki >>
Phil Foden | Career (Club & International)
Phil started his professional career with Manchester City after graduating from the club's academy.
He got his taste of senior team soccer on 6 December 2016 when Guardiola included him in the Champions League game against Celtic, although he did not play.
Then in the following season, young Foden was included in the pre-season tour of the United States. He impressed in the 2-0 loss to Manchester United and started the game against Real Madrid, which they won 4-1.
As a result, Pep said that Phil's performance was on another level and that he was a gift to the club and its fans.
Subsequently, he would go on to play a notable role in the title-winning City squad that season.
Although Foden made several appearances off the bench at the start of the 2017-18 season, his big breakthrough came when he started a UEFA Champions League against Shakhtar Donetsk in a 2-1 defeat.
Hence, the City player became the youngest English player to start a UEFA Champions League game at 17 years and 192 days.
Besides, Phil also became the first player born in the year 2000 to match the competition.
The Manchester City midfielder made his Premier League debut in a 4-1 win against Tottenham, coming on as a substitute in the 83rd minute.
Moreover, the 23-year-old became the youngest-ever player to win the Premier League winner's medal, which, as a result, got him into the Guinness World Records.
Furthermore
The same year Foden won the BBC Young Sports Personality of the Year for his impressive performances at the FIFA U-17 World Cup and Manchester City.
Similarly, Phil won the Golden Ball award at the FIFA U-17 World Cup, awarded to the tournament's best player as the national side won the prestigious cup.
On 5 August 2018, Foden started the FA Community Shield match against Chelsea. They won the game 2-0. It was a momentous day for the young midfielder.
Ultimately, Phil won his third significant honor in just his first year as a professional. Winning three major trophies in a single year is hard enough for a veteran, let alone a then 18-year-old kid.
Further, Foden knew the importance of winning awards. However, it did not faze the youngster as it was only the beginning of his career.
The England U-21 international scored his first goal for the senior team in a 3-0 away win at Oxford United in the EFL Cup.
Later, Phil scored the first home goal at the Etihad Stadium in a 7-0 drubbing of Rotherham United in the FA Cup third round.
The same season, the young City player scored an important goal in the Champions League against Schalke in another 7-0 win.
In doing so, Foden became the youngest Manchester City and youngest English player to score in the knockout stages.
Additionally
Also, the midfielder was just 18 years and 288 days at the time. Similarly, the Manchester City youth started his first game for the club in a 2-0 win over Cardiff City.
Accordingly, he became the youngest-ever English player to start a Premier League match after Daniel Sturridge.
Following an outstanding performance, Pep Guardiola told the press that Foden would become a vital player for the club in the coming decade.
Phil scored his first Premier League goal, which later turned out to be the winning goal against Tottenham in a 1-0 victory. For this reason, the Manchester City midfielder became the club's third-youngest goalscorer.
Even though Foden is still only 23 years old, the youngster is breaking several records continuously. With that, the English midfielder is turning out to be the player that everyone wants him to be.
At the time of writing, Phil has scored 10 goals and provided seven assists in 59 appearances for the Manchester-based club.
Now, let's take a look at Phil's international career. His achievements for England are as impressive as club level, if not more.
Did you know? Phil's rating for FIFA 2023 is 85.
International Career
The gifted Manchester City Midfielder currently plays for the England U-21 team. To date, Foden's international career highlight to date has been winning the Golden Ball at the 2017 FIFA Under-17 World Cup.
England U-21's won the world cup that year, beating Spain U-21 in the final in which Phil scored two goals. Not only did the player help his side win the world cup, but the Brit also took home the Golden Ball.
Winning the prestigious Golden Ball propelled Phil's status in the media and value for Manchester City. A great career awaits this marvelous young talent.
Winning the World Cup against Spain was even more satisfying because the same opponents had defeated Foden's national side in the final of the 2017 UEFA European Under-17 Championship.
Therefore, the English U-21 side saw this as a redemption for their loss in the 2017 UEFA European U-17 Championship.
Career Achievements
At Manchester City
2017-18, 2018-2019 Premier League
2018-19 FA Cup
2017-18, 2018-19 EFL Cup
2018, 2019 FA Community Shield
At England U17,
2017 FIFA U-17 World Cup
2017 European U-17 Championship Runner Up
Individual,
2017 UEFA European U-17 Championship Team of the Tournament
FIFA U-17 World Cup Golden Ball 2017
2017 BBC Young Sports Personality of the Year
Read More About Other Players Ronaldinho Net Worth: 2020, Career, Bio, House, Cars, Lifestyle >>
Salary Graph
The Salary Graph shows the Graph of all the Player's salaries in comparison to Phil Foden from 2021-2022.
Phil Foden | Wife, Son, Family, House
Even though Foden is only 23 years old, the young midfielder already has a son with a girlfriend, Rebecca Cooke. The two have been together since their teen years.
The Manchester City midfielder plans to marry his high school sweetheart soon. Surprisingly, the couple had their child when Foden was 18 years old.
It seems absurd to have a child at that age. But, hey, am I to judge the kid? He earns millions of dollars every year, and I guess millionaires can do anything, right?
Phil is lucky to have a very supportive family as his father, Phil Foden Sr., has always been encouraging his son's on and off-field activities.
Namely, Foden Sr. offered to help Phil raise his child as he was very young.
Claire Foden, Foden's mother, is as supportive as his father, if not more. Similarly, she ensured that the England international was adequately looked after and his sister.
Naturally, the two siblings are very close as they were brought up together and are of similar age. The City midfielder knows the sacrifices his family made to make him the talented player he is today.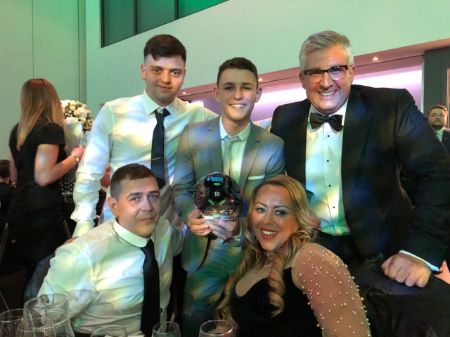 Therefore, to show gratitude, he bought his family a £2 million house in Manchester. Foden and his mum were involved in selecting the house.
In conclusion, we can say that the Foden family is as tightly knit as a family as one can be. They are very caring and supportive of one another. As a result, Foden is a quality person, not just on the field but also on it.
Phil Foden | Net Worth & Transfer Market
The England U-21 internationals at the moment stand at €3.5 million. All of it has come from his soccer activities. He signed a six-year deal with Manchester City, which keeps him at the club till 2024.
Half way there! That goal was for you, Richard. 💙 pic.twitter.com/NbIVwjtx4a

— Phil Foden (@PhilFoden) April 6, 2021
Foden is earning £30,000 per week or £1.4 million per year. Throughout his contract, the England international will make around £8.5 million, an eye-watering amount of money.
As of now, the transfer market website has set the transfer value of Phil at $33 million. It is a lot of money for a player who has never made a professional appearance for only one club.
Even though the midfielder lacks experience, he more than makes it up with his skills and ability, as shown by his transfer valuation. Over time, I expect Foden's net worth as well as transfer value to rise.
Visit Phil Foden – Transfer Markt To See An Overview Of Foden's Soccer Career >>
Phil Phoden | Autograph
Here's a picture of Phil Foden's Autograph:
Phil Foden | Injury
Foden, while playing in the final stages of the EFL Cup tie at Leicester City in 2017-2018, suffered from a ligament injury. He was then substituted by Guardiola.
Likewise, Foden suffered from another injury in June 2020. It was discovered after a fitness test.
Phil Foden | Haircut
Foden believes in keeping up with hair trends. The dashing footballer is popular for his quirky and dope hairstyles. Here's a picture of Foden with a barnet haircut:
Moreover, Foden's quirky haircuts have been subjected to meme material at times. A few netizens have trolled him, while most have loaded him with appreciation at the same time.
Have we all seen Phil Foden's new haircut?

He's going to be balling out for the next two weeks. pic.twitter.com/bOgQ5HkaXt

— Carl Anka (@Ankaman616) April 14, 2021
Phil Foden | Diet
When it comes to staying fit and healthy, Foden is very strict. He has hired a new private chef Adam Selby since August 2020, who functions with consultations from a specialized sports nutritionist.
Foden was not very fond of Salmon before, but he has, in fact, started loving it these days. He orders salmon quite a lot so that his omega-3 ratio stays right.
His favorite includes salmon, soy and ginger, honey, bok choy or mangetout, and grass-fed Swaledale beef fillet cooked medium-rare with broccoli, new potatoes, wholegrain rice, and peppercorn sauce.
He prefers having pesto pasta as a pre-match meal. The focus remains on iron-rich foods, and he also consumes micronutrients.
2022 Phil Foden Update
Phil Foden has signed a three-year contract, doubling his salary to more than £200,000 ($237,149) per week. Keeping him with Manchester City through the year 2027.
He is included in the 26-man squad of the England National Team for Qatar World Cup 2022. He is one of the young players who is expected to perform well in this world cup.
Phil Foden | Social Media Presence
Instagram: 5.7 M followers
Facebook: 8.1 M followers
Twitter: 1.1 M followers
FAQs
What are Phil Foden's major qualities?
Foden on the soccer ground is a treat to watch. He possesses a lot of good qualities that make him an excellent soccer player. Some of them are:
He is very strong when it comes to holding onto the ball.
Passing is his strength.
He has strong finishing skills.
His dribbling is praise-worthy.
His Key passes are good.
Is Phil Foden a father?
Phil Foden is a father to a beautiful baby, Ronnie Foden. Ronnie was born in January 2019 when Phil was just 18.
He is raising the child with his long-time girlfriend Rebecca Cooke, who also happens to be the mother of his child.
Read More To know About Federico Valverde Bio: Parents, Stats, Clubs, Transfer, Instagram Wiki >>