Frank Lampard is a former English professional soccer player who played as a midfielder in different premier league clubs and England national team. He is currently serving as a manager for Everton Football Club.
Frank James Lampard is possibly the most prolific goal-scoring midfielder to ever grace the footballing pitch. He is Chelsea Football Club's all-time top scorer with 211 goals.
Chelsea fans all over the world still remember Frank Lampard. Even today, they praise his achievements and sacrifices for the club, and rightly so.
Players like Frank come once in a generation. They are the jewels of the footballing world. One must rough out the diamond's edges for its beauty to truly shine.
West Ham Football Club and its fans were not able to see the diamond they had with them, but Chelsea did.
They roughed out the edges and made him the gem he turned out to be. The soccer club and its fans will never forget the contributions of Frank.
On January 31,2022, Lampard penned a contract with the Everton FC.
Here we look at Frank's career, achievements, family, and lifestyle. But first, let's go through the quick facts.
Frank Lampard | Quick Facts
Full Name
Frank James Lampard
Birth Date
20 June 1978
Birth Place
Romford, London England
Nick Name
Lamp, Lampsy, Super Frank, Super Frankie
Religion
Christian
Nationality
British/ English
Ethnicity
White
Education
Brentwood School
Horoscope
Gemini
Father's Name
Frank Lampard Sr.
Mother's Name
Patricia Lampard
Siblings
Claire Lampard, Natalie Lampard
Age
34 Years Old
Height
6'0″/1.84 m/184 cm
Weight
90 kg/198 lb.
Shoe Size
10 UK
Hair Color
Dark Brown
Eye Color
Blue
Body Measurement
CHEST – 40 IN or 102 CM, ARMS / BICEPS – 13 IN or 36 CM, WAIST – 33 IN or 86 CM
Build
Athlete
Marital Status
Married
Wife
Christine Lampard (married in 2015)
Kids
Luna and Isla, Patricia
Ex-Fiance
Spanish Model Elen Rivas
Profession
Former player and Soccer Manager
Kit/ Jersey Number as a Player
8 (Chelsea, West Ham United U18 and New York City FC), 18 ( Manchester City and West Ham)
Net Worth
$90 million
Salary
$6m per year
Currently Works for
Everton (Manager)
League
Premier League
Active Since
1995-2016 (As a player)
2018- present ( As a manager)
Social Media
Instagram, Facebook
Merch
Frankies Magic Soccer Collection, The Autobiography of Frank Lampard, Phone Case, T-shirt, Signed Photo, Canvas Poster
Last Update
May, 2023
Frank Lampard | Career
Early Years At West Ham
His accomplishments are even more extraordinary when we look at his early years, as he was never really seen as a goal-scoring midfielder he became one in his later years.
When Lampard made his debut for his hometown club West Ham United on 31 January 1996, many West Ham fans criticized him.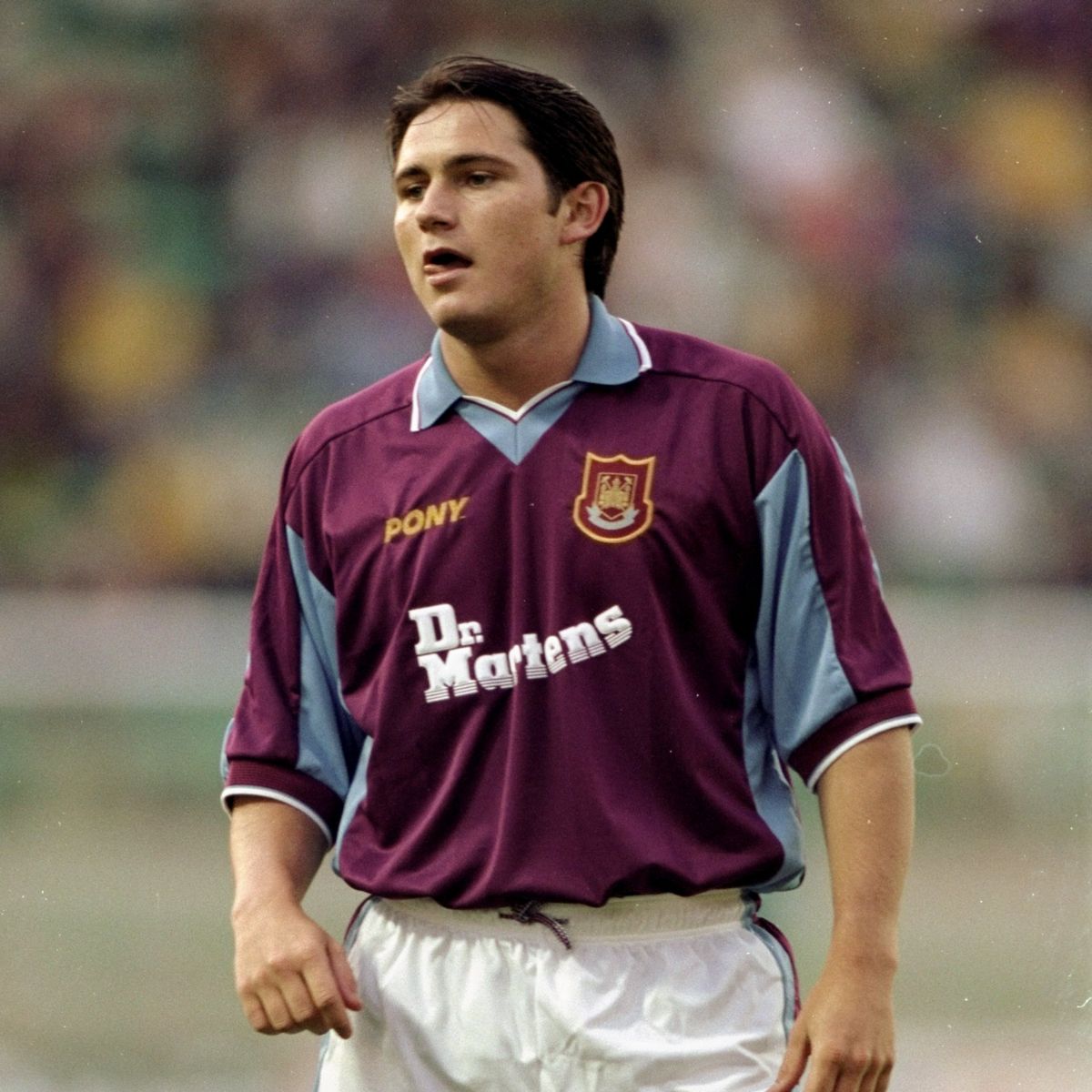 Many of them thought that the only reason Frank got his opportunity was because of his father, Frank Lampard Sr.
Since Frank Sr. was a legend of the soccer club and Frank Jr.'s uncle Harry Redknapp was the club's manager at the time, so the younger Lampard faced criticism.
Many of those fans thought his involvement in the first team was only due to nepotism, making their hate grow for Frank over time.
He stayed a further six years at the club, making 189 appearances and scoring 39 goals.
He never felt appreciated by the fans as he was always seen as "Frank Lampard Sr's Son" as long as he was at the club.
Therefore, after the 2000-2001 season, he left the club to join Chelsea, where he would eventually become the greatest goal-scoring midfielder in premier league history.
Golden Years At Chelsea Football Club
Frank joined Chelsea for around $16.47 million. It was a massive sum of money for a player at the time.
Therefore there was a lot of expectation from him since his starting days at the club. He had a mild start for a standard player during the first three years at the club.
Mourinho And Lampard Chemistry
But his big breakthrough season coincided with the arrival of the self-proclaimed "Special One" Jose Mourinho.
Fresh from winning the treble with FC Porto, Mourinho decided that he wanted to pursue a new challenge in his career, and there was none better than Chelsea Football Club.
Jose saw Chelsea as an up-and-coming team with many potentials but lacked some missing pieces to become a genuinely great and title-winning team.
Frank took his gameplay to a whole new level with the arrival of a manager who matched his ambitions of becoming a winner.
The English-man scored 13 goals (19 overall) in the league and accumulated a league-high 16 assists, helping Chelsea win the Premier League. It ended the London Based club's 50 years wait for a league title.
His contributions bagged him the Barclays Player of The Year along with the Football Writers Association Player of the Year award.
The following year Chelsea retained their League title, with Lampard scoring a career-high 16 league goals.
He was selected for the FIFA World XI that year. The fans of his former club, West Ham United, constantly criticized Lampard during his tenure at the club.
Therefore, getting selected for the FIFA Pro World XI was a milestone in his career.
He had finally become the player he always wanted to be. The future could only be bright for such a talented young player. Frank stayed at Chelsea until the summer of 2014. During his time at the club, the record-goal-scorer had countless memorable moments.
He scored the equalizer during the 2008 Champions League Final, which they lost in penalties to Manchester United. Lampard eventually won the Champions League in 2012, beating Bayern Munich.
The box-to-box midfielder signed a two-year contract with New York City FC, who subsequently loaned him to Manchester City for one season. Lampard returned to his parent club after a year-long loan and ended his playing career at the club on February 2, 2017.
Surpassing The Reigning Top Scorer Of Chelsea, Bobby Tambling
It was 11 May 2013 when Chelsea Football Club faced Aston Villa in a Premier League match. The match was not going well for the club as they were 1-0 down during halftime.
Then, like countless times before, Frank Lampard scored the 202nd goal of his Chelsea career to level the match at 1-1.
The goal not only had significant importance for the game, but it was also a milestone in Lampard's career. In particular, he had equaled the goal-scoring record previously held by another Chelsea Legend, Bobby Tambling.
Then, in the 88th minute of the match, Lampard scored the winning goal, which handed Chelsea three crucial points and made him the club's leading goal scorer with 203 goals.
This match was the perfect example anyone could give about the importance and the leading capabilities of Frank Lampard throughout his tenure at the Chelsea Football Club.
Frank Lampard | Stats & Achievements
Frank amassed several individual and team awards throughout his 13 years at the club, eventually making him the greatest player ever to play for the soccer club.
Only a handful of players have achieved what the Chelsea legend has achieved in his career. Lampard's impressive haul of achievements are listed below:
Premier League: 2004/05, 2005/06, 2009/10
FA Cup: 2006-2007, 2008/09, 2009/10, 2011/12
Football League Cup: 2004/05, 2006/07
FA Community Shield: 2005, 2009
UEFA Champions League: 2011/12
UEFA Europa League: 2012/13
He is one of the most decorated soccer players of this era; his awards are listed below:
2005 FIFA Player of the Year Runner Up
Ballon d'Or Runner Up 2005
2005 FWA Footballer of the Year Award
Fans' Player of the Year Award 2005
2004-05 Premier League Player of the Season
2004-05, 2008-09, 2009-10 Premier League top assist provider
2003-04, 2004-05, 2005-06 PFA Team of the Year
2005 FIFA Pro World XI
2004, 2005 England Player of the Year Award
2004 UEFA European Championship Team of the Tournament
2008 UEFA Midfielder of the Year
2004, 2005, 2009 Chelsea Player of the Year
September 2003, April 2005, October 2005, October 2008 Premier League Player of the Month
October 2019 Premier League Manager of the Month
Overall Career Statistics
Frank Lampard broke a lot of records during his career. He is Chelsea Football Club's all-time leading goal scorer. Lampard scored a total of 211 goals and 145 assists in 648 appearances.
What's even more impressive is that Lampard is a genuine box-to-box midfielder. He achieved all his goals while also fulfilling his defensive duties for the team.
The former English international left Chelsea during the summer of 2014 and subsequently joined Manchester City, where he scored 8 goals and managed 4 assists in his 38 appearances for the club.
Frank also played in the MLS for New York City FC. He made 31 appearances for the capital-based club scoring 15 goals and managing a further 4 assists.
A lesser-known fact is that Frank was a youth product of the West Ham Football Club amongst the younger generation.
The record goal scorer for Chelsea stayed at West Ham for six years. He accumulated 33 goals and 18 assists in his 175 appearances for the Hammers.
Playing for their national team is every footballer's dream. The box-to-box midfielder managed to appear 106 times for the three lions scoring 29 goals along the way.
Qatar World Cup 2022 Update!!
Since he has retired from professional soccer, he will not join the England national team in the World Cup. However, he might see him as a manager in future World Cups.
Scoring Against His Former Club Chelsea
As fate would have it, Lampard was subbed by Manchester City in the 78th minute of the match against Chelsea, and he inevitably scored against the club with whom he achieved all his success.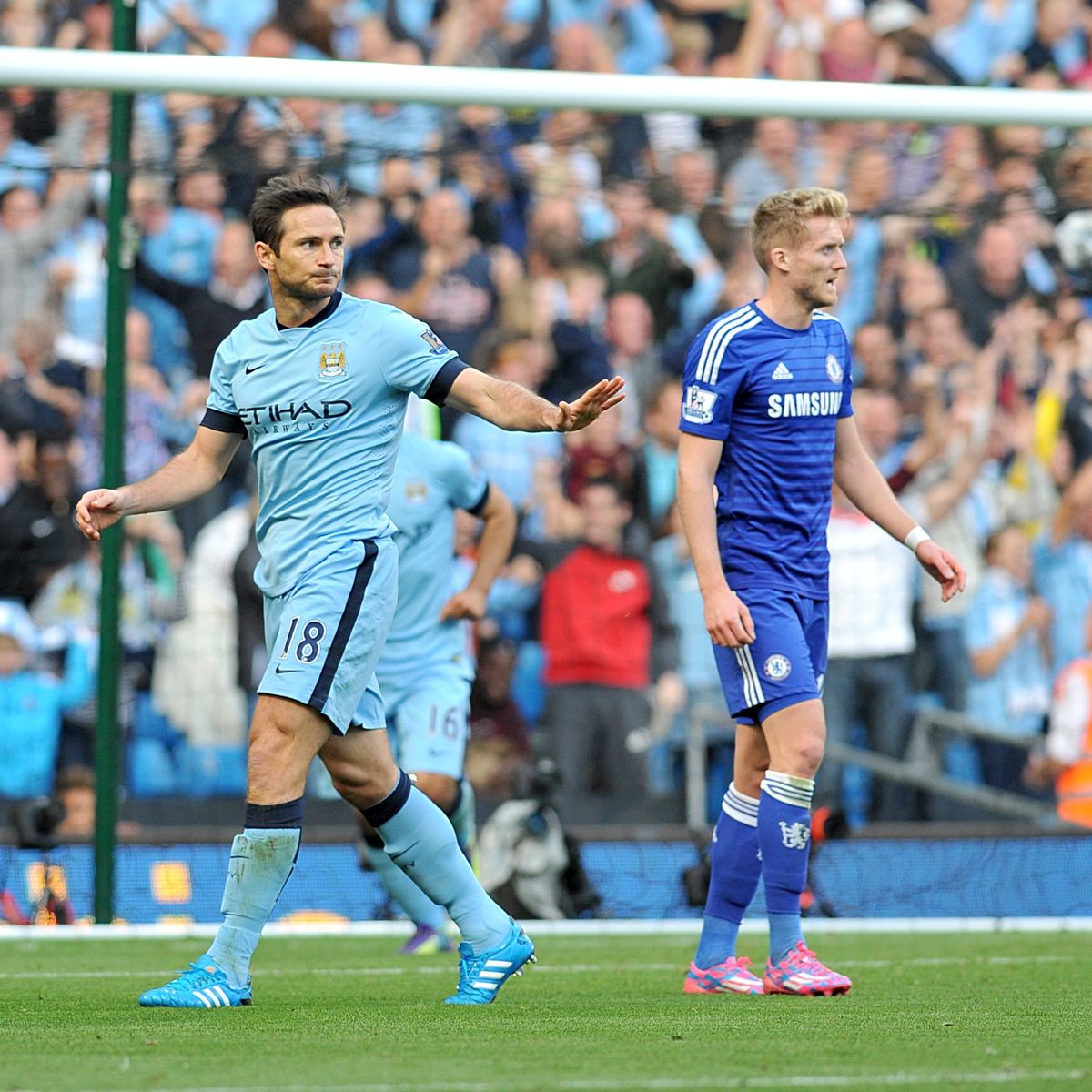 It was a bittersweet moment for both Frank as well as Chelsea. They were accustomed to seeing the English international score for them instead of against them.
The game eventually ended 1-1.
Learn About The Croatian Attacking Midfielder Ante Rebic Bio: Career, Net Worth, Stats, Transfer market, Instagram Wiki >>
Retirement From Playing Career
As a 38-year-old profound soccer player, Frank Lampard thought it was the right time to end his 21 years of playing career. He announced his retirement from professional soccer on February 2, 2017.
He enjoyed his time with all the teams that he played for.
Frank made 600 appearances for Chelsea, winning three Premier League trophies, one Champions League title with the club, and 106 Caps for the national team scoring 29 goals.
Frank Lampard | Managerial Career
Derby County
Prior to joining Derby County, Frank was a youth coach at Chelsea, appointed on July 1, 2017, and was in charge until July 30, 2018.
Around May 2018, Frank got appointed as manager of Championship club Derby County on a three-year deal. His first game as manager was a 2-1 away win for Derby with Tom Lawrence at Reading.
Frank's first loss was against Leeds United on 11 August. As a matter of fact, in just his 12th game as in charge, he took over the win against Premier League club Manchester United in the EFL Cup on penalties after a 2–2 draw at Old Trafford.
The Leeds confirmed their position at the top of the Championship table after a 2–0 win in the return fixture against Lampard's team at Elland Road. But there was a whole lot of conspiracy going on behind this win.
Leed's head coach Marcelo Bielsa himself admitted he had sent a spy the previous day to the Derby training ground.
Later, Tottenham Hotspur manager Mauricio Pochettino described the incident as 'not a big deal" in Argentina.
Lampard headed the club to the Championship play-offs after allowing them to finish 6th in the 2018–19 Championship season. However, the team faced a loss against Aston Villa in the playoff final with a 2-1 record.
Chelsea
Well, not everyone has the glittered opportunity to manage the same team that one has played before. But Frank Lampard was all shining and glowing to experience this feat.
Lampard got appointed as the new head coach at former club Chelsea on a three-year contract on 4 July 2019.
This acquisition made him the first English manager to manage the side in over two decades.
Talking about his journey further, his first game as a Chelsea head coach was sadly a 4-0 loss to Manchester United on the opening day of the 2019–20 Premier League.
It was almost a collapse for a Chelsea manager in their first game since Danny Blanchflower's team was defeated 7–2 by Middlesbrough in December 1978.
Likewise, Lamp's second game was also a loss to Liverpool in the 2019 UEFA Super Cup on penalties. Nevertheless, his win was not far away.
Lamp grabbed his first triumph as a Chelsea manager against Norwich City 2–3 away from home. Chelsea had their first home win under Lampard, defeating League Two side Grimsby Town 7–1 in the EFL Cup.
Frank notched Premier League Manager of the Month for October 2019 after Chelsea amassed a perfect record in the league for the month.
And this feat made him the third manager to win Premier League Player of the Month and Manager of the Month. Frank headed Chelsea to 4th in the Premier League and the FA Cup Final and lost to Arsenal.
In 2019, Lamp hired five major players, Hakim Ziyech, Timo Werner, Ben Chilwell, Kai Havertz, and Édouard Mendy, in the summer transfer window. The expenditures were over $237 million in total, the maximum by any other clubs in the 2020 transfer window.
On January 25, 2021, Frank was sacked by the club and signed German coach Thomas Tuchel as his replacement.
Lamp's release was reported just 24 hours after Chelsea's 3–1 win over Luton Town in the FA Cup. It was said that Lamp's leave was also caused by disagreements with the club's transfer policy.
Everton
After managing his beloved club, Chelsea, for almost 2 years, he was sacked by the club.
On January 31, 2022, Frank Lampard was signed by Everton Football Club, a two-and-a-half-year contract worth $5.93 million per season.
His tenure at the club has not been fascinating so far, as he has just managed to win 12 games in 38 total matches while the number of losses is 19.
Frank Lampard | Net Worth, Salary & Lifestyle
The England international has a net worth of $90 million. After all, Frank is one of the elite midfielders of his generation and therefore deserves all the wealth.
During his time at Chelsea, the box-to-box midfielder was amongst the highest earners. At one point in time, Frank was earning a whopping $9.3 million per year.
Furthermore, the serial goal-scoring midfielder earned $15 million a year playing for New York City FC, which became his final club as a player.
During his time as a manager at his beloved club, Chelsea, he was earning $6 million a year. He signed a three-year contract on 4 July 2019.
Lampard, at the moment, manages a premier league club, Everton FC, where he is earning $5.93 million a year. He signed a three-year contract on 4 July 2019
Famous athletes earn themselves lucrative contracts through various endorsement deals, and Lampard is no different. For this reason, Everton's manager earns a further $6 million from his sponsorship deals with Adidas, Pepsi, and NanoM.
Lifestyle & Family
Being one of the wealthiest footballers in the whole world has its perks. Therefore, Frank enjoys an envious lifestyle. He is happily married to Christine Bleakley Lampard, a sports analyst for Sky Sports.
The couple tied the knot in 2015, hosting a lavish event where many high-profile celebrities and business people attended. They had their first child in 2018 and named her Patricia Charlotte Lampard.
Besides, Frank also has two daughters from his former fiancee, Elen Rivas, Luna (15 years) and Isla (13 years). Frank and Elen called it quit in 2009. Nevertheless, the England international is very happy with his new family.
House And Cars
The goal-scoring machine currently lives in a $13 million mansion with his family. He had another estate in Esher but sold it for a reported $9.1 million.
Furthermore, the former Chelsea captain also owns an $11 million town hall in London and another $940,000 home in Surrey.
On top of that, Frank owns a terrace home valued at $230,000 in East London. He also owns apartments in Docklands, London, two apartments in Cambridge, and a flat in Leyton.
Lampard owns another property in Barcelona's magnificent city, which adds beauty to his impressive collection of real estate.
The Chelsea manager owns several properties, but he also owns several expensive cars. His collection of cars includes Lamborghini, Ferrari, Audi, and Berlinetta. Combined, they are worth around $10 million.
Frank Lampard, Inducted Into The Premier League Hall Of Fame.
The English player Frank Lampard became the sixth player to enter the Hall of Fame in May 2021. As one of the most complete and competent midfielders, he has represented West Ham, Chelsea, and Manchester City in the Premier League during a 21-year top-ranking career.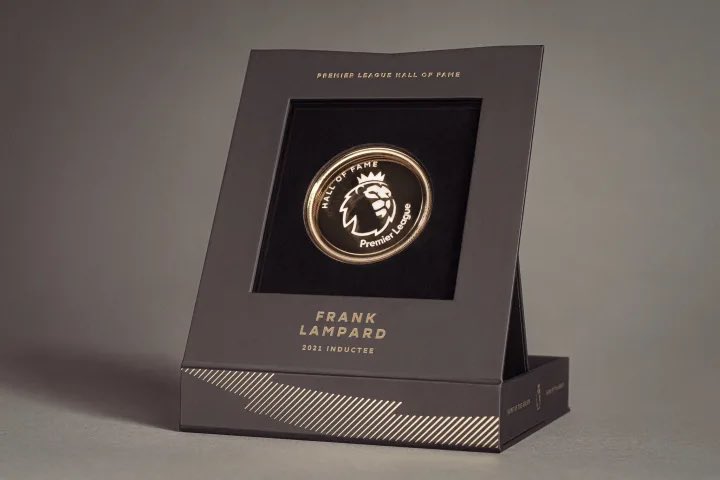 Thierry Henry and Alan Shearer were the first two inductees, while Eric Cantona and Roy Keane joined them later, including Frank. He is highly honored to be there with the big names, and as a young lad, he wanted this kind of recognition.
Frank Lampard | Social Media Presence
Lampard has a fascinating fanbase, and he does not forget to get his fan informed about his doings and whereabouts. He is active on his social media accounts. He is available on Facebook @Frank Lampard and Instagram @franklampard.
Facebook: 6.8m followers
Instagram: 5.8m followers
View this post on Instagram
Frank Lampard | Popularity
Lampard has always been in the limelight as a professional soccer player and now as a manager for the premier league club.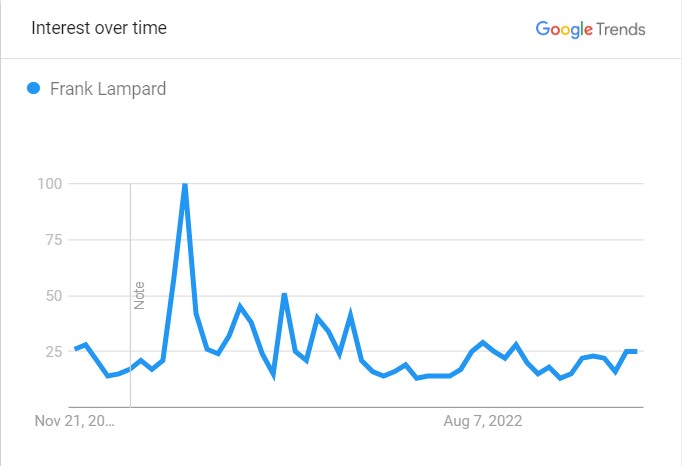 The above image illustrates his popularity all over the world.
Frank Lampard | FAQs
Is Frank Lampard rich?
After a 21-year-long professional soccer career and still working as a manager, he indeed has accumulated loads of wealth to his name.
He is estimated to have around $90 million, so it would be fair to label him rich.
How is Jamie Redknapp related to Frank Lampard?
Frank's father, Frank Lampard Sr., was married to Patricia Harris, who died on 24 April 2008 due to complications of pneumonia. And Patricia's twin sister is Sandra Redknapp, the better half of former Queens Park Rangers manager Harry Redknapp.
Therefore, in short, Jamie happens to be the uncle of Frank Lampard.
Is Frank planning on his comeback to management after his dismissal as Chelsea's head coach on January 25, 2021?
After he was sacked from Chelsea FC, he was appointed by Everton FC on January 31, 2022, on a three-year deal. So far, he has managed 38 matches for Everton.
Get To Know About The Colombian Midfielder Matheus Uribe Bio: Transfers, Wife, Instagram, Stats, Net Worth Wiki >>