A Brazilian legend, Ronaldinho has an outstanding net worth of $90 million.
Even at his time, this sum was as impressive as it is now. Ronaldinho is $90 million rich because of football.
But let me stop you right there. It's not in everybody's forte to excel as the Brazilian did. Being a footballer is one thing, but being Ronaldinho is another, who is a real magician.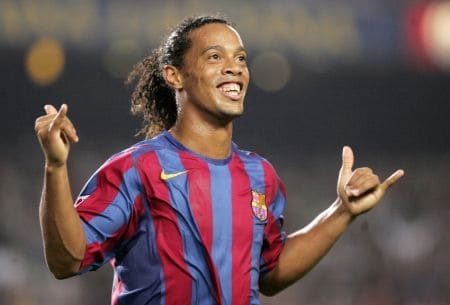 Accordingly, many top clubs at that time sought him for his service. PSG, Barcelona, and AC Milan were the lucky ones to get him to represent them.
Today we will talk about the wealth the Brazilian forward amassed over the years.
Quick Facts:
Full Name
Ronaldo de Assis Moreira
Date of Birth
March 21, 1980
Birth Place
Porto Alegre, Brazil
Nick Name
Ronaldinho,

Dinho, Ronnie

Religion
Catholic
Nationality
Brazilian
Ethnicity
Mixed (Brazilian- African
Zodiac Sign
Aries
Age
42 years old
Height
1.82 m (6 ft 0 in)
Weight
80 Kg (176 pounds)
Hair Color
Brown
Eye Color
Hazel
Build
Athletic
Father's Name
João de Assis Moreira
Mother's Name
Miguelina Elói Assis dos Santos
Siblings
Yes (1 Brother and 1 sister)
Education
Unknown
Marital Status
Unmarried
Kids
Yes (1 son)
Jersey number
10, 49, 21, 80
Profession
Football player
Position
Attacking midfielder Winger
Affiliations
Gremio youth squad


Barcelona




A.C. Milan




Atletico Mineiro

Active Years
1987-2018
Net Worth
$90 Million
Social Media
Instagram, Twitter, YouTube, Facebook
Merch
T-Shirt
Last Update
May, 2022
Ronaldinho Net Worth | Life of A Legend
Ronaldo de Assis Moreira, professionally Ronaldinho Gaucho, was born on March 21, 1980, in Porto Alegre, Brazil.
The Brazilian, often dubbed as The King, was born to Miguelina Eloi Assis dos Santos, a former salesperson/nurse, and Joao de Assis Moreira, a shipyard worker.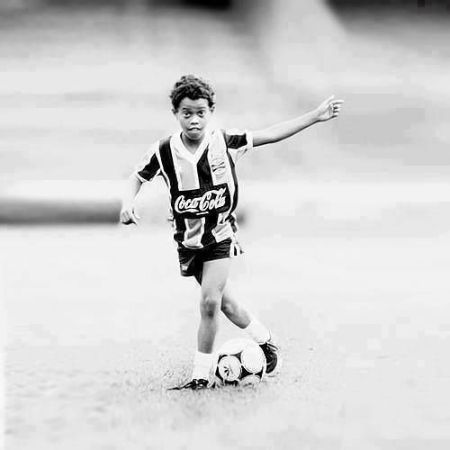 Joao was a footballer who played for Esporte Clube Cruzeiro. Likewise, Ronaldinho had a brother, Roberto, who signed with Gremio, and as a result, the family had to move to a more affluent neighborhood.
Undoubtedly, footballing genes ran in the family. In 1988, the soon-to-be phenom signed to be an attacking midfield for Gremio.
Often the youngest player in the field, people amalgamated his name with "inho," meaning small.
Initially, Ronaldinho was passionate about futsal and beach football that later culminated in an organized football.
Standing at the height of 5'11 (1.81 m), the Brazilian's technical ability and creativity surpassed his peers.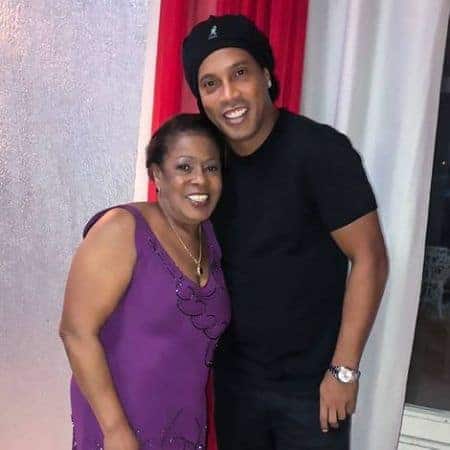 Most prominently, the Brazilian midfielder is attributable for his astounding pace, dribbling technique, agility, no-look passes, accurate free-kicks, feints, swift skill moves are still reminiscent in the minds of fans.
Ronaldinho Net Worth | Football Earnings, Investments & Endorsements
In Brazil's incredible footballing history, Ronaldinho's involvement cannot be unseen. Frankly speaking, he is Brazil's glory.
Apart from Pele and Ronaldo, only Dinho can ever share the glorious throne. It's not the goals that remind us of him but the sheer display of talent we as fans witnessed on the field.
For some who watched it from the telly, it would seem unbelievable and probably look choreographed. However, my dear readers, it is not so.
What you witnessed live or from the telly is not a fluke. It is what a man was born to do, play football, and gravitate us towards it. You witnessed football in its purest form.
PSG, Barcelona, and AC Milan fans were incredibly fortunate to call him their player. With a 35-year long career at these clubs, Ronaldinho earned a whopping $90 million all his active years.
While playing for Gremio, PSG came knocking and signed him for €5 million.
After spending a fantastic 3 seasons, the Spanish giants Barcelona came knocking and signed him for a record sum of €32.25 million.
The Brazilian winger-midfielder was hugely successful at Barcelona, having humiliated rivals Real Madrid at Santiago Bernabeu several times.
With a marvelous five seasons with the Spaniards, the Italian club AC Milan signed him for €24.15 million.
When he neared his retirement days, Ronaldinho moved to the Brazilian first-tier Flamengo for €3 million. By this time, the wingers' market value dropped to €27.5 million.
After a short spell, the Brazilian moved to Queretaro and ended his career at Fluminense.
If you are interested in buying soccer boots, click here>>
Even after retirement, the King was earning a significant sum through endorsements and marketing. For instance, below is the list of his wages received from his career and endorsements:
Gremio to PSG: Transfer ($5.96 million) – 2001
PSG to Barcelona: Transfer ($37.71 million) – 2003
Endorsements (Pepsi, Coca Cola, EA Sports, Gatorade, Danone): $19 million – 2006
Salary: $31 million – 2007
AC Milan (Transfer, Contract, Annual Salary, Bonus): $29.23 million, $23.81 million, $7.7 million, $1.1 million – 2008
(Total Earnings, Others): $11.4 million, $17.8 million – 2009 AC Milan
AC Milan (Bonus, Salary): $25 million – 2010
Transfer (AC Milan to Club de Regatas do Flamengo): $3.51 million – 2011
Endorsement: $548k – 2013
Fluminense( Rio De Janeiro Club): $190k – 2015
Apart from these, Ronaldinho started a business venture with an Italian businessman, Fabio Cordella. The two partners launched the Wine of Champions brand that produced 11 unique drink labels.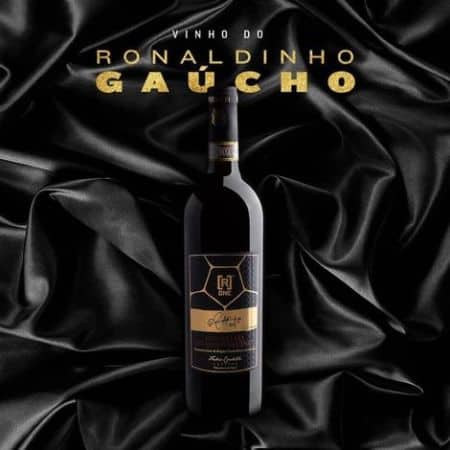 The drinks took inspiration from iconic footballers. In the same way, the legendary player is the face of EA Sports and maintains his relationship even to this day.
As such, the Porto Alegre native appeared in various commercials and FIFA game series.
Additionally, the former Barcelona star decided to boost his net worth with partnership deals with companies.
With that, he endorsed energy drink suppliers, mobile phones, and products like fidget spinners and condoms.
Charity Work
Knowing poverty as a child, Ronaldinho made sure to give back to the community and make life better for others.
As a result, the Brazilian tied an affiliation with the United Nations Children's Fund.
In a similar fashion, the legendary footballer organizes and volunteers in Soccer Aid that ultimately raises funds to help impoverished children.
In the same way, the retired star actively promotes campaigns to tackle HIV/AIDS.
Net Worth of Ronaldinho in Different Currencies
Let's have a look into Ronaldinho's net worth in different currencies, including BitCoin and Cryptocurrency.
Currency
Net Worth
Euro

79,465,950

€
Pound Sterling

66,991,500

£
Australian Dollar

123,475,950

A$
Canadian Dollar

113,026,500

C$
Indian Rupee

6,705,675,000

₹
BitCoin

1,494

฿
Ronaldinho Net Worth | House, Cars, & Lifestyle
Now, let's discuss the assets Ronaldinho owns. Starting with a lavish house in Barcelona, the Brazil legend bought the entire compound for a modest £1.66 million.
The residence is complete with a pool and a private lounge area. That particular residence overlooks the sea.
Added to that, the retired icon also owns a beautiful house in his native Rio de Janeiro and others in Curitiba that includes a home theatre and a large swimming pool.
The price of the property, however, is not available. Furthermore, the retired forward owns a Lamborghini Aventador.
The car is black and yellow and cost him a sum of $550k. On the other hand, Ronaldinho paired his Lambo with a Porsche.
If you are interested in buying jerseys, click here.>>
The reddish-yellow Porsche Carrera S had a market price of $113k, which is not a significant amount for someone like Ronaldinho.
Also, as a fan of the sports car, the Catalan winger went on buying a yellow Ferrari 458 S, which he purchased for a spectacular $345k.
Accordingly, in later years, Ronaldinho bought a white Audi R8 for a cheap $169k.
It seems the legends garage is as legendary as he is, doesn't it? Well, it doesn't end there. The list of his car collections goes on.
Besides these, the retired icon owns an Audi Q7 purchased for $46.8k, a Bugatti Veyron for $1.8 million, and a Mercedes Benz E-Class 2013 model for $54k.
Finally, Ronaldinho's most prized possession is his Hummer H2 that took out $53k from his pocket.
Social Media Presence:
Ronaldinho is quite active on social media. He had amassed millions of followers. You can follow him via these links:
Instagram: 51.2 million followers
Twitter: 19.2 million followers
Facebook: 33.7 million followers
Some FAQs:
When did Ronaldinho Retire?
Ronaldinho retired in the year 2018.
Who is Ronaldinho's manager?
Roberto de Assis is the older brother, manager, agent, and adviser of Ronaldinho.
W
hy did Ronaldinho leave Barcelona?
There are many reasons for Ronaldinho leaving Barcelona. In an official statement, Ronaldinho told :
I had signed a contract renewal at the end of the season. I went away on international duty with Brazil and five days later they called me to say that the renewal was off.
It was never in my hands. I wanted to stay but the club didn't value me as I felt they should so it was ultimately out of my hands.
What cleats did Ronaldinho wear?
Francisco Lindor usually wears Nike Mercurial, Nike Air Zoom Boots, and Nike Air Legend range cleats.
Why was Ronaldinho in jail?
Ronaldinho and his brother Roberto were in jail because they allegedly entered Paraguay with a false passport. Ronaldinho and his Brother spent five months in Paraguayan jail in 2020.
Did Leo Messi and Ronaldinho ever play together?
Yes, Leo Messi and Ronaldinho have played together at FC Barcelona. He spent five years alongside Leo Messi at the Camp Nou from 2003 to 2008 until his departure for AC Milan.
Did Ronaldinho and Rivaldo play together?
Yes, Ronaldinho and Rivaldo have played together in the 2002 World Cup.