There have been athletic scandals, such as drug abuse and steroid use in every sport. And the soccer world, too, is not an exception from such scandals. We will unveil 12 famous soccer players who were linked to such scandals.
There have been some big ones related to drugs and substance abuse that broke the news headline worldwide.
The biggest soccer legends, Maradona and Adrian Mutu shocked the whole soccer world. Similarly, there have been many such scandals.
Join us as we examine some of the most prominent steroid scandals about famous soccer players.
The scandals even banned them from sports for the time being and stained their reputation forever.
Unfortunately, let us look at some of the steroid scandals in soccer together, shall we?
Top 12 Popular Soccer Players Steroids Scandal
The list has been compiled with the help of various sources from the internet like Bleacherreport, YouTube, etc.
But let us look at the table below(it might not be very pleasant!) before we go through all the details.
| | |
| --- | --- |
| Players Name | Country |
| 12. Kolo Toure | Ivory Coast |
| 11. Abel Xavier | Portugal |
| 10. Sergio Ramos | Spain |
| 9. Mark Bosnich | Australia |
| 8. Willie Johnston | Scottland |
| 7. Claudio Caniggia | Argentina |
| 6. Fabio Cannavaro | Italy |
| 5. Pep Guardiola | Spain |
| 4. Andre Onana | Cameroon |
| 3. Samir Nasri | France |
| 2. Diego Maradona | Argentina |
| 1. Adrian Mutu | Romania |
12. Kolo Toure
Kolo Toure is an Ivorian player who joined the Premier League in 2002. After a short trial, Arsenal signed him on a long-term contract worth £150,000.
After earning two English League and cup titles with the team, in 2009, Manchester City signed Toure. Then in 2011, he failed a drug test.
Toure tested positive for a prohibited substance and was banned for six months. He had been taking water tablets from his wife to lose weight.
After his failed drug test, Toure became the first Manchester City footballer after Adrian Mutu to be banned from a Premier League Club.
Also, Read The 12 Most Beautiful Soccer Players in the World>>>
11. Abel Xavier
The former Portuguese soccer player Abel Xavier is the next player on our list of soccer players' steroids scandals.
He played his debut in the Portuguese top division with Estrela da Amadora.
Everton signed Xavier, and his English Premier League debut was in 1999. After this, in 2002, Liverpool signed him. But he was without a club at the beginning of the 2005-06 season.
Middlesbrough signed the player, and later the same year, following the UEFA Cup tie, he was tested for drugs.
Unfortunately, Xavier failed the test. In November of 2005, he tested positive for using a banned substance.
Xavier had been using the anabolic steroid methandrostenolone, also known as Dianabol.
Using the performance-enhancing drug led him to be banned from professional soccer for 18 months.
Although few other players also failed the test for recreational substances, Xavier became the first Premier League player found guilty of using performance-enhancing drugs.
10. Sergio Ramos
A Spanish soccer player Sergio Ramos is our number 10 soccer players' steroids scandal.
Ramos is considered one of the most incredible defenders of all time; however, even this great defender could not escape the steroid scandal.
Soon after the 2017 Champions League final, Ramos was accused of failing a drug test.
He supposedly took two hours to provide a urine sample. However, his sample contained anti-inflammatory cortisone dexamethasone.
The anti-inflammatory substance is on the banned list of the World Anti-Doping Agency. But Ramos' paperwork had no mention of the substance.
Therefore, he escaped sanctions which could have led him to some serious hot water.
Moreover, at the time, Ramos was signed by Real Madrid, and the club denied any wrongdoings.
9. Mark Bosnich
Mark Bosnich is another player from Chelseas who suffered from a drug scandal. Bosnich is a former professional football player and sports pundit.
Manchester United signed Bosnich and brought him to England in 1988.
However, he had come to England under a student visa and had to return. Then in 1992, Aston Villa brought him back.
While under the contract with Chelsea in 2002, Bosnich, unfortunately, developed a cocaine addiction.
Moreover, he has become reclusive and took up to 10g of cocaine daily. He was banned for nine months from playing professionally after failing the test.
Drugged, Mark almost shot his father once with an air rifle, mistaking him for an intruder.
After this, his father convinced Bosnich to quit his addiction.
The player himself admitted his expensive cocaine habit. Although he did make a comeback, Bosnich's career was no longer the same.
8. Willie Johnston
Willie Johnston is on our number 8 in the soccer players' steroids scandal.
This scandal is one of the biggest ones in soccer, as Johnston failed a drug test during the 1978 World Cup finals.
He is a former Scottish footballer who made 22 appearances for Scotland. Johnston is well known for his quickness and skill, but he is also renowned for his short temper.
During the tournament, a random dope test found he had taken the stimulant Fencamfamine.
Johnston maintains that it resulted from taking the over-the-counter flu medicine Reactivan.
The drug test was conducted before the opening game against Peru in the 1978 World Cup.
Johnston returned home, and consequently, his international career ended there. At the time, Johnston's case disgraced him and Scotland.
7. Claudio Caniggia
The next footballer on our list is a former Argentine professional footballer, Claudio Caniggia.
He was a close friend of Maradona and represented his country in three World Cups. Caniggia was well-known for his speed on the field and rockstar lifestyle.
He could run at a hundred miles an hour, was a passing defender, and was one of the prominent players of Argentina.
Then came the scandal in the 1994 World Cup. Caniggia's urine sample contained traces of cocaine.
His close friend Maradona tested positive for the same drug two years earlier.
A month-long investigation resulted in banning him for 13 months by Serie A's Disciplinary Commission.
Although he returned to the game, the scandal tarnished his reputation forever.
Over The Years, We Have Seen Much Great Soccer Forwards. Click Here To Read About The Top 12 best forwards!>>>
6. Fabio Cannavaro
We have made it halfway to our list, and on our number 6 soccer player steroids scandal is former Italian player Fabio Cannavaro.
The Italian player is regarded as one of the best defenders of all time and Italy's most capped defender.
In the 1999 UEFA Cup Final, a video taper where Cannavaro was injected with a substance, neoton, was leaked. However, there was no punishment or action.
But in 2009, while he was part of the Juventus club, he failed the drug test. The banned substance cortisone was found in his system.
Cannavaro had sought an exemption, allegedly taking medication for a wasp sting.
However, his drug testing came back positive. The club also claimed that Cannavaro only took an anti-allergy medicine. Later the charges were dropped against him.
Although he has achieved a lot of wins and titles, Cannavaro's reputation will forever be associated with these scandals.
5. Pep Guardiola
Regarded as one of the most outstanding players and soccer coaches, Pep Guardiola also was under hot water in his playing career. The Spanish player had failed his drug test.
In 2001, Guardiola tested positive for the banned anabolic steroid nandrolone. He became the second high-profile Italian player to fail the drug test when the news broke.
Many fellow players defended him, and Guardiola himself maintained his innocence.
Nevertheless, he was banned for four months. A court in Brescia had even handed him a seven-month suspended jail sentence.
But after a successful appeal, Guardiola was cleared of all charges six years later.
After that, however, the Italian National Olympic Committee (CONI) again reopened the case. Again in 2009, he was cleared of all charges.
4. Andre Onana
Our number 4 soccer players' steroid scandal is the most recent case of the steroid scandal.
Andre Onana is a Cameroonian professional soccer player playing for the Eredivise club Ajax.
Onana is one of the best youngsters in the soccer world. He made his debut in 2016 and was having an excellent run before he was found violating the anti-doping rules.
In February 2021, his drug test came back positive for Furosemide. Onana had been taking medicine prescribed for his wife's headache. UEFA then banned him for 12 months following the result.
This was a terrible blow for Onana and potentially harmed his chances of moving to a big European club. However, his club Ajax challenged the suspension of UEFA.
Subsequently, the Court of Arbitration for Sport reduced Onana's ban to nine months.
3. Samir Nasri
Next up, we have a French soccer player steroid scandal. Again, Samir Nasri was one of the players climbing the ranks of the best players.
His skills even drew comparisons to former French player Zinedine Zidane.
Nasri played for Olympique de Marseille and Arsenal before Manchester City signed him.
Then in 2016, a Los Angeles clinic, Drip Doctors, posted his photo on Facebook, providing him with a drip.
The Facebook post led to disciplinary proceedings, and Nasri was found guilty of overuse of drip treatment in the United States in 2017.
He had been violating the World Anti-Doping Code and UEFA's anti-doping regulation since 2016.
As a result, Nasri was suspended from playing for six months, which lasted for 18 months in 2018.
The scandal ruined his career, and in 2021, he announced his retirement from the sport.
2. Diego Maradona
Now the case of Diego Maradona is an infamous one. A legendary figure in the soccer world, his habit of using cocaine and other drugs made huge headlines many times.
Maradona struggled with drugs in his playing career. While the Argentine player was at the height of his career, he allegedly began doing cocaine.
He had started doing drugs while playing for Barcelona in 1983. The use of drugs affected his playing career greatly.
In 1991, Maradona tested positive for cocaine. Consequently, he was banned for 15 months and fined $70,000.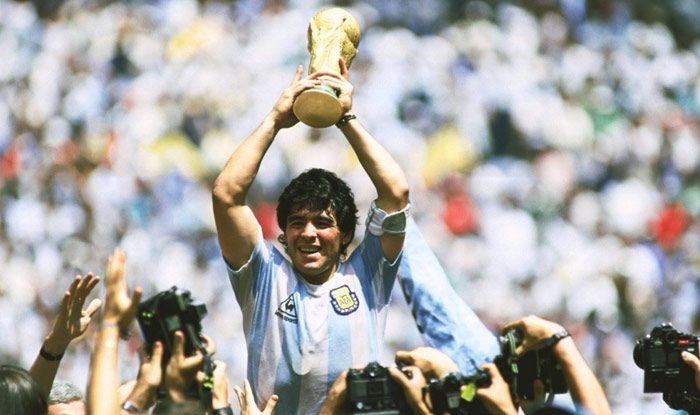 After his banned lifted, he made his comeback. But it wasn't long before he returned to abusing substances.
Maradona was in the Argentine team for the 1994 World Cup. However, he failed his dop test again and tested positive for five variants of the banned stimulant ephedrine.
As a result, FIFA banned him for 15 months, and the Argentine FA ended his international career.
Although Maradona actively played domestic soccer, in 1997, he again failed the drug test.
As a result, his playing career ended. Therefore he is second on our list of top soccer players' steroids scandals.
1. Adrian Mutu
Here we are, on our number 1. The biggest soccer player's steroids scandal was of Adrian Mutu.
He is a Romanian former soccer player who played as an attacking midfielder or a forward.
During his playing career, Mutu was one of the players climbing the top ranks.
However, while he played as Chelsea's striker, he was found guilty of using cocaine.
The scandal was the first instance that the Romanian player got into, leading him to a seven-month ban and ending his career with Chelsea.
In addition, the FA fined him £20,000 while Chelsea sought compensation for the contract breach.
However, Mutu was able to get back to the sport. But unfortunately, again, in 2010, he failed his anti-doping test.
He was playing for the Fiorentina, and this time, he tested positive for sibutramine.
Mutu was banned for nine months, and Fiorentina suspended him for breach of contract.
He returned, but his reputation is forever tainted by one of the famous soccer players' steroids scandals.
Conclusion
This concludes our list of the top famous soccer players' steroids scandals. These players were all at the height of their careers and had much potential before falling down the dark path.
While some players recuperated from their fall, some of their careers ended.
Can You Guess The Richest Soccer Clubs In The World Right Now & How Much Revenue They Generate? Click here to read more!>>>