Julian Alvarez's brothers: Rafael and Agustin Alvarez, play for the non-league side Abbey Hey F.C. Julian is the youngest of the three siblings.
For the Manchester City forward Julian Alvarez, the year 2022 was no less than a dream.
It started with him penning a contract with Pep Guardiola's side and closing the year-winning the 2022 World Cup alongside Lionel Messi.
The 23-year-old has made 25 appearances for City and has scored eight goals.
But many City fans argue that the Argentine deserves a starting spot in the City lineup as he is ranked 16th in terms of minutes played.
Alvarez ranks only behind prolific goal scorer Erling Haaland when it comes to goals-per-minute ratio. So if Guardiola can manage Haaland and Alvarez in the starting lineup, then there won't be many teams that can stop the City side.
Julian Alvarez Brothers, Rafael, And Agustin Alvarez
Julian Alvarez's brothers, Rafael and Agustin Alvarez joined Abbey Hey in August 2022.
The two older brothers of Julian Alvarez followed their little brother to England after his transfer to City in July.
Since joining Abbey, the brothers have found stardom alongside Julian, who now and then attends their games.
Rafael Alvarez Married Before His Move To England
Rafael Alvarez, the eldest of three siblings, tied the knot with his longtime girlfriend, Augus Ulla, on July 1, 2022.
A few after his marriage, Rafael, with his newlywed wife and family, moved to England after his brother became a Manchester City player.
At Abbey Hey, Rafael plays as a left midfielder and has scored five goals this season. His latest goal for the non-league side came against Alsager Town on April 15, 2023.
The three brothers have previously featured in a video uploaded on the Manchester City YouTube channel. It shows the brothers giving insight into their childhood and love for the sport.
In an interview with The Athletic, Abbey's Portuguese coach, Micael Caires, pointed out the fact that Rafael had been trying his best to improve his English.
Agustin Alvarez Plays Left Back For Abbey Hey
Agustin Alvarez is the middle child of the Alvarez family.
Nicknamed Turron, he plays as a left-back for Abbey Hey. He has so far scored one goal for the side, with the goal coming against Stafford Town.
It remains the only game where both the brothers have scored a goal each. Agustin and Rafael both have been praised for their professionalism and skill set by Abbey Hey's chairman, Jason Dunford.
The Alvarez brothers missed out on six games for Abbey Hey at the tail end of 2022 as they traveled to Qatar to watch their brother. And in the end, it was certainly worth it.
Julian Alvarez's Parents, Gustavo, And Mariana Alvarez
Julian Alvarez's parents, Gustavo and Mariana Alvarez raised three boys in Calchin, Argentina.
Previously, the couple was featured in the introductory video uploaded by Manchester City after completing his signing.
In the video, Gustavo and Mariana are seen reminiscing about the childhood days of Julian and his three brothers.
Gustavo shared it was difficult for him and his wife to put Julian to sleep as he would continuously play football till late at night with his older brothers.
In the video, Gustavo and Marian can be seen sitting alongside their son, going through the photo album, which had the entire football journey of Julian captured on it.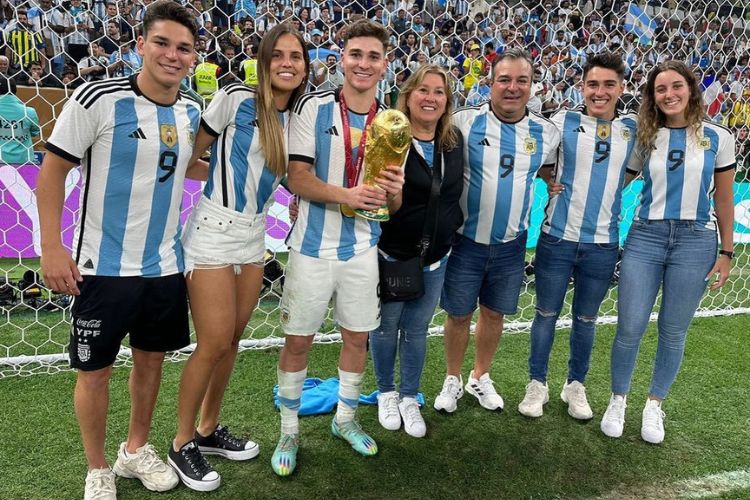 The couple also briefly talked about Julian's trial with Real Madrid at age 11. The City forward today probably would've worn the famous white and gold colors if his family had agreed to move to Spain.
But Gustavo said it was difficult for the family to shift to Madrid, so they decided to pass on the opportunity.
The Alvarez family hasn't regretted their decision, as they now find themselves in a comfortable spot in Manchester. Julian is doing his best at City and has plenty of time to prove himself as Pep Guardiola's trusted man.