It is not every day that we see women keeping their stand at the physically taxing and demanding games like MMA and UFC.
In a world dominated by men, few women have been growing up to people with their fierce attitude and daring styles. One of them is Randa Markos.
Coming from a middle-eastern family and adjusting to the new environment was already thought enough but Markos made her way to MMA despite many obstacles, whether it was her parents' disapproval or something else.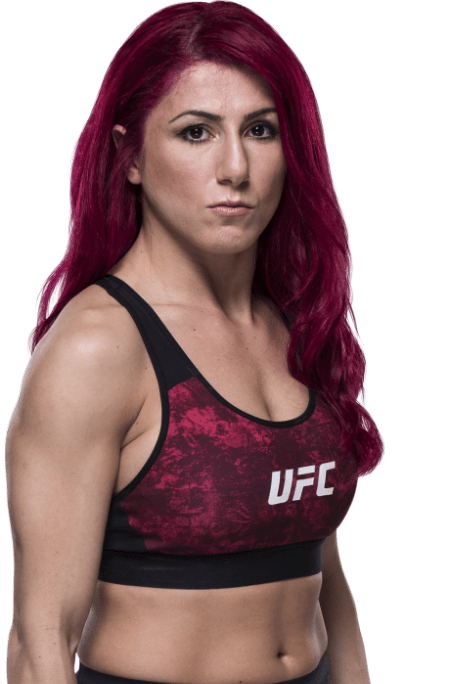 However, at the moment, Randa is one of the well-known female wrestlers who has many wins under the belts. Tough yet sweet, this fierce fighter is not successful only in the ring but in her personal life.
Well, today, we will reveal more about this tenacious lady who has been winning in the octagon since 2009. Let's find more exciting stuff about Randa, shall we?
Randa Markos: Quick Facts
| | |
| --- | --- |
| Full Name | Randa Cemil Markos- Thomas |
| Birth Date | August 10, 1985 |
| Birth Place | Baghdad, Iraq |
| Known as | Randa Markos "Quiet Storm" |
| Religion | Chaldean Catholic |
| Nationality | Assyrian Canadian |
| Ethnicity | Middle-Eastern |
| Education | TriOS College |
| Horoscope | Leo |
| Father's Name | Unknown |
| Mother's Name | Azhar Markos |
| Siblings | Two Brothers and a sister |
| Age | 37 Years Old |
| Height | 5 feet 4 inches (163 cm) |
| Weight | 52 kgs(115 lbs) |
| Build | Athletic |
| Eye color | Dark brown |
| Profession | Professional Mixed Martial Artist |
| Active years | 2009-present |
| Division | Strawweight |
| Team | Tristar Gym |
| Rank | A purple belt in Brazilian Jiu-jitsu |
| Marital Status | Married |
| Spouse | Jeff Thomas |
| Net Worth | $14.7 million |
| Social Media | Instagram, Twitter |
| Merch of Jeff Thomas | 1910: War in the Pacific |
| Last Update | June, 2023 |
Who is Randa Markos?- Early Life, Family, and Education
Randa Markos is an active UFC fighter who was born in Baghdad, Iraq. Born to her Iraqi parents, Markos's full name is Randa Cemil Markos-Thomas.
Thinking about the future of their children, Markos' parents tried to escape amidst the ongoing Iran-Iraq War. Sadly, they were caught and held at gunpoint.
But after numerous attempts, Randa's parents successfully escaped the war zone and boarded a plane to Ontario, Canada. When all this happened, Randa was just three years old.
Likewise, Randa was raised by her mother, Azhar Markos, along with her three siblings: a sister, Reva Hermiz, and two brothers, Chris Markos and Robert Markos. There are no details regarding her father, though.
As for her education, Markos went to TriOS College and earned her Pharmacy Assistant Diploma. Upon finishing, she worked as a pharmacy technician at a pharmacy in Windsor.
Also, Randa is an Assyrian Canadian by nationality, while her ethnic background belongs to middle-eastern.
Age and Height- How old is Randa Markos?
Famously known as "Quiet Storm" within the UFC fandom, Randa Markos is a little bomb waiting to explode inside the octagon.
This fierce fighter was born on August 10, 1985, which makes her 37 years old. Not to mention, she was born under the sign of Leo, one of the fiercest and successful signs.
Whether it is the sign on her sun or her never-give-up attitude, but Markos has successful established her name in the UFC world. Aside from her fierce personality, Markos is built like a rock to boots.
Talking about it, this Assyrian fighter stands at 5 feet 4 inches(163 cm) and weighs around 52 kgs(115 lbs). Apart from that, she is also a purple belt holder in Brazilian Jiu-Jitsu.
Randa Markos | Early Career and Start in MMA
Interested in fighting and wrestling from an early age, Randa finally made her MMA debut on November 17, 2012, at IFC 51 against Allanna Jones. She defeated the opponent in the third round via armbar.
Though it looked comfortable for the outsiders, the reality was far from that. Her struggles date back to her childhood, where her parents were overprotective of her.
Coming from Iraq, her family had a tough time in their early days, and even Markos and her siblings found it difficult to accustom to the new life.
Not only that, but her parents prevented Markos from roaming with her new friends and watched everything she did at that time.
Moreover, Markos's parents did let her pursue wrestling during high school and even scolded her for doing gym practice.
Hence, young Randa resorted to lying to her parents; she lied about joining a volleyball club and secretly practiced wrestling at school.
At high school, Markos joined jiu-jitsu and decided to pursue her professional career in it.
Now, coming to her debut days, after her first win, Markos kept on stacking the success, making her RFA debut against future TUF 20 teammate Justine Kish.
Unfortunately, Randa suffered her first loss that night. However, she was not the one to gloat over a loss and quickly picked herself up.
In her next match, Randa got victory over Lynnell House via armbar in the first round and captured the PFC Strawweight title.
Randa Markos | UFC Championship
After MMA, Randa tried her luck in UFC as well. She was among the eight contestants that tried out for the TUF(The Ultimate Fighter) house and join the 11 Invicta FC strawweight whose president was Dana White.
Likewise, Markos was ranked no. 14 for Team Pettis and got matched up against no. 3 Tecia Torres for the first fight of the season. She finally defeated Torres after three rounds via decision. It was also the first win for Team Pettis.
As for her ninth episode, Markos was set to fight Felice Herrig, whom she defeated via scaffold armbar in the first round. But the tension was there even before the match began.
During preparation, many fighters wanted to train separately and have two sessions; in the morning and at night.
But Markos only attended the morning session, which did not sit well with Carla Esparza, who confronted Randa to leave.
During the last episode, Markos was paired against Rose Namajunas in the semifinal but sadly lost via first-round submission.
After all that, Markos finally made her promotional debut at The Ultimate Fighter 20 Finale, where she took semi-finalist Jessica Penne.
Despite losing in a close split, she still got the Fight of the Night award. Following that, Randa then filled in for the injured Claudia Gadelha at UFC 186 and won against Aisling Daily. It was a unanimous decision.
However, Randa also lost to newcomer Karolina Kowalkiewicz on December 19, 2015, by unanimous decision. But once again, rather than succumbing to failure, she fought harder the next time.
After that, Markos went on and defeated fighters like Jocelyn Jones-Lybarger, Carla Esparza, Juliana Lima, Nina Ansaroff, and others; most of those wins were made via unanimous decision.
Randa Markos | Highlights, Achievements, and Stats
On September 22, 2018, Markos faced the promotional newcomer Marina Rodriguez at UFC Fight Night 137. The intense match ended with a draw.
The following year, she met Angela Hill again at UFC Fight Night, which she ultimately won via armbar submission in the first round. Apart from the win, she also got the Performance of the Night award.
Unfortunately, Randa went through a loss in a series of fights after that.
For instance, Markos lost to Claudia Gadelhas via unanimous decision in July, followed by another defeat in October against Ashley Yoder, and another one with Amanda Ribas, on March 14, 2020.
Likewise, Markos faced Mackenzie Dern on September 19, 2020, in her recent fights at UFC Fight Night 179. Sadly to most expectations, Markos lost the battle in the first round via submission.
Randa Markos | Quotes
It was hard to follow my dreams, I didn't let anything stop me.
Don't limit yourself, and don't let anyone put a limit on your potential.
No matter what's going on in your life, don't let anybody take those dreams from you.
Follow your dreams, don't let anybody hold you back.
Net Worth and Income Estimation- How much does Randa Markos make in a year?
As we know, Randa has been active as a fighter since 2009. Already in her 30s, Markos is still pushing her way through the UFC and making her mark as one the best fighter.
Thanks to her successful career in MMA and UFC, Randa has accumulated an impressive net worth of $14.7 million. Not to forget, most of her earnings come from her career as a UFC fighter.
Aside from that, it is estimated Markos makes $25k per fight, excluding the bonus if she wins the match. Nonetheless, the amount seems less compared to their daring and eye-twitching fight scenes.
Furthermore, she had a payout of $42,000 at the UFC Fight Night 170. Despite their appearances, the girls fight like no tomorrow inside the octagon.
And on most occasions, after the end of the match ends, bruises and cuts are familiar scenes behind the rings.
Talking about her income, Randa has yet to reveal her total earnings and income since she might earn extra from her endorsements as well. But everything from her assets and other valuables is unknown.
Personal Life and Marriage- Who is Randa Markos's husband?
In her 30s and being in one of the dangerous and physically taxing jobs, Randa is a happily married woman. Yes, the fierce and yet gorgeous Markos is married to her long-term boyfriend, Jeff Thomas.
Sadly, there is not much information on the couple to extract from, like how and where they first met, and so on.
Along with that, the couple has no children now and has made no plans of having any time soon either, at least not publicly. But this does not mean people are not eager about it.
Moreover, Randa has not been linked to any malicious rumors to date, but lots of gossips spread before her match. We wonder why?
Anyway, Markos spends her free time with her husband and family and engages in charity events.
As known, Randa is associated with Windsor Crossfit and participates in a HeartBreaker Challenge with a charity event where she shows her skills for a cause.
Randa Markos | Social Media Presence
If you want to know more about Randa and her life, follow her on social media.
Instagram– 96.8k Followers
Twitter– 59.2k Followers
Randa Markos | FAQs
Did Randa Markos contract Covid-19?
Yes, the Canadian fighter recently contracted Covid-19. Moreover, she had to withdraw from her fight against Brazillian MMA fighter Luana Pinheiro at the UFC 260.
She announced her Covid-19 contraction through her social media platform. Markos posted a video where she says, "Hey everyone. I've got some horrible news.
I got COVID, and my fight is off. But the good news is we're rescheduled for May 1. So 10 days of isolation, then I'm heading back to the gym, continuing my camp, and we'll be back at it May 1."
What is Randa Markos's net worth?
Randa Markos's net worth is $14.7 million.