Football is considered not only a sport but also a religion to some people. And those who follow football insanely must have heard the name Ray-Ray McCloud.
He is an American football wide receiver and return specialist for the NFL's Pittsburgh Steelers.
Also, McCloud remained a player for Clemson University. He has always been a player who can line up at wideout or tailback and has flourished in any role. He is widely popular for speed and athleticism.
And also, before starting his NFL career, McCloud was the winner of the CFP National Championship in 2016.
The title is provided to the one who carries the potential to determine a national champion of the NCAA division.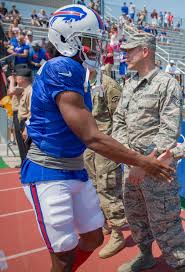 There are other achievements to talk about. How are his rankings before and after getting into the NFL season? What is his life like? We shall mention all about that in the article.
But before that, let's take a look at the easily available quick facts about Ray Ray McCloud.
Ray-Ray McCloud | Quick Facts
| | |
| --- | --- |
| Full Name | Raymond McCloud III |
| Birth Date | October 15, 1996 |
| Birth Place | Tampa, Florida |
| Nick Name | Ray Ray |
| Religion | Not known |
| Nationality | American |
| Ethnicity | African |
| Education | Sickles ( Tampa, Florida), Clemson University |
| Horoscope | Libra |
| Father's Name | Ray-Ray McCloud III, Big Ray |
| Mother's Name | Lisa McCloud |
| Siblings | Jordan McCloud and Kobe McCloud |
| Age | 27 Years Old |
| Height | 1.8m(5 feet 9 inches) |
| Weight | 86 kg |
| Roster status | Active |
| Hair Color | Black |
| Eye Color | Black |
| NFL Draft | 2018, Round: 6, Pick: 187 |
| Build | Athlete |
| Marital Status | Single |
| Girlfriend | Not Known |
| Position | Wide receiver, Return Specialist |
| Profession | NFL player |
| Net Worth | Under review |
| Salary | $7,50,000 base salary |
| Currently Plays for | Pittsburgh Steelers |
| League | NFL |
| Active Since | 2018 |
| Social Media | Twitter |
| Last Update | November, 2023 |
Ray-Ray McCloud | Early Life
Ray-Ray McCloud was born on October 15, 1996, to his parents, Ray-Ray McCloud II and Lisa McCloud.
He was not only the kid in the family; he had his brothers Jordan McCloud and Kobe McCloud by his side.
McCloud is American by nationality and African by race. And he comes from a family with an athletic background.
Ray-Ray is quite close to his father. Big Ray, aka Ray-Ray McCloud II, played football in Arkansas.
And his father, Big Ray, is the one who keeps guiding him to the improvements and nourishments that he requires.
His father sets up the schedule for him sometimes. Nutrition and a balanced diet is a strong points to focus on being an athlete.
Ray-Ray began playing organized football at four years old. He played in flat football leagues with the kids who were two years older than him.
And it would be no surprise that people in the audience were wonderstruck by his performance.
Moreover, Ray-Ray has been friends with Deon Cain since childhood and has won the little league title alongside him.
Also, his brother, Jordan McCloud, is a professional football player who currently serves for South Florida Bulls football. He is a plant high graduate too.
Also, Ray Ray met Nelson Agholor, his godbrother, at Little league when he was ten years old. He used to watch his games at Berkeley Prep, playing as a running back, receiver, and defensive back.
Ray-Ray takes his mother as his profound best friend, his ace, with whom he can talk at any time.
Read about yet another NFL player, Alex Tanney.
Ray-Ray McCloud | Age, Height, and Personality
The wide receiver is 27 years old as of 2023. He is born under the sun-sign Libra.
Talking about the physical appearance of McCloud, he weighs around 86kg and stands at a height of1.8m(5 feet 9 inches). Unfortunately, the body measurement of Ray-Ray is not available at the moment.
Also, The information regarding his shoe size is also unavailable.
His look is incomplete without Black Hair Color and Black Pair of eyes. Also, the football player belongs to American Nationality with African Ethnicity.
Ray-Ray McCloud | High School and College Career Summed up.
He went to Sickles High School in Tampa, Florida. Ray-Ray played as a running back there for the team, Gryphons football.
And yes, he did not regard any position as important. While growing up, positions did not matter to him, no matter what it was. According to him, football is football.
Moving on, Ray-Ray grabbed 17 touchdowns for 1933 yards. To brief on his high school scoring, he earned 5,765 rushing yards and 58 touchdowns.
Furthermore, Ray-Ray moved to Clemson University and opted to play for the Clemson Tigers Football program.
He had options available from Alabama, Auburn, and Florida. He amassed 29 passes for 251 yards and one touchdown playing in 12 games during his freshman season.
And yes, Ray-Ray had to miss three games due to an injury the same year.
Later, he grabbed 49 receptions for 472 yards and two touchdowns, showing up for 14 games. He missed a game due to an ankle injury.
Also, Ray-Ray led his team to win the National Championship the same year.
He went on playing well until junior year, grabbing 49 receptions for 503 yards and one touchdown. And later, he announced the 2018 NFL draft.
Overall, he got to experience as a returner, wide receiver, and even defensive back with the Tigers.
When asked about a favorite aspect of playing football, Ray Ray answered that blocking has always remained his fun-loving part. Blocking another player against his will is challenging to him.
Ray-Ray McCloud | Professional Career
Buffalo Bills
The Buffalo Bills drafted him in the sixth round with the 187th overall pick in the 2018 NFL Draft. And with his first team ever in NFL history, Ray-Ray led his team to a victory over the Minnesota Vikings.
After a year, in 2019, the Bills freed him.
Carolina Panthers
Also, Ray-Ray joined the Carolina Panthers, too, in between.
While signing up for the Panthers, he had his own set of beliefs. He said, Be like a coffee bean.
It all came from a thought: dropping an egg in a pot of boiling water; it goes hard. Drop in a carrot; it softens. But drop a coffee bean, and the water is changed. Viola, something new comes off from one disseminating source.
Yes, we can have our own perspectives on it, but Ray-Ray takes it in a sense; the coffee beans spread the energy and be the playmaker you are. Be a coffee bean.
Buffalo Bills (second stint)
Ray-Ray had a second stint with the Buffalo Bills. But this time, he got signed to the practice squad in October 2019.
He served as a wide receiver and scout team quarterback to boot, excelling in his skills and talent.
Although Ray-Ray signed a future contract with the Bills, he was soon waived in July 2020.
Pittsburgh Steelers
Lately, Ray-Ray has inked a contract with the Pittsburgh Steelers in August. The same team, whose player RB James Conner, has tested positive for Covid-19.
Moreover, the reason for adding Ray-Ray to the squad was to build a god empire of seven wide receivers on the team. And Ray-Ray might also assist as a punt returner.
No Doubt, the Steelers want to utilize his quickness and ability out of the backfield.
The wide receiver extended a year contract with the Steelers on March 2021.
Ray-Ray McCloud | Career Stats
Ray-Ray McCloud | Personal Life
Well, coming to his personal life Ray-Ray is a humble soul. He pretty much has evolved, understanding the value of discipline and responsibility.
Ray-Ray always has maintained faith in god. That's when he had the opportunity to pop up for the Nike Camp in Orlando, which would lead him to a chance on opening. Ray-Ray ended up attending a church retreat.
Also, Ray-Ray is never too dramatic in choice-making. He understands free will and power and stands self-dependent in
Keeping his personality traits aside, talking about his private affairs. Of course, Ray-Ray is one fine-eligible bachelor, but no such hearsay heard about his relationships, hookups, or breakups.
Maybe, he is just too engaged in making his career prolific. And that's okay because a career comes first to all.
Change the Narrative Protest
Also, news came up between the McCloud brothers and their fathers, who were active participants not in the protest but after the protest to clean up the looting in his hometown Tampa, Florida.
The protest was regarding George Floyd's death in Minneapolis.
People were coming together, standing united in support of George Floyd. But unfortunately, things went wrong; a Champs Sports store was burned down during the protests, as per news.
The protesters were trying to enter a mall, but law enforcement denied their entrance.
And the McCloud brother helped clean up the loot, tending to be the "leaders" of the cleanup gang.
We can clearly get to visualize the efforts from the video that's attached above. Truly an example of Blessings in disguise.
Ray-Ray McCloud | Net Worth
It's only been two years since he has begun his professional career.
Ray-Ray is still on his way to aligning all his mental toughness, focus, and attention to make it big in the NFL.
No doubt, people have praised him for his quickness, and he is getting in there real soon.
After all, Ray-Ray is a multi-talented personality who has played almost all positions, a punt returner, defender, and receiver. And he always carries an aim to prove naysayers wrong.
You cannot resist watching this tweet of his.
Moving on to his net worth and salary section. Not to mention Ray-ray has currently signed up a one-year contract with Pittsburgh Steelers.
And the Steelers pay him a base salary of $7,50,000 while carrying a cap hit of $7,50,000.
Prior to this, Ray-Ray worked under Buffalo Bills, which paid him around $ 2,619,824 as an annual average salary.
According to playerswiki.com, Ray Ray made a confined career earning of $640K until 2018. He must have progressed by today. He was ranked 3515th among active NFL players in 2018.
However, we cannot predict his net worth. The details regarding his net worth are not specifically displayed on the infobahn. It is still under review.
Ray-Ray McCloud | Social Media Presence
Not to mention, Ray-Ray is not an exposed personality regarding social media presence.
He is only available on Twitter, But his fanbase is quite loyal and supportive.
Twitter– 27.2k
Feel free to hop on to the article, Rich Gannon Bio: Early Life, NFL, Personal Life & Net Worth.
Some FAQs
Is Ray-Ray McCloud a Restricted Free Agent?
Yes, he is a restricted-free agent.
Who is Ray-Ray's Upcoming team?
As of 2023, he is playing for Pittsburgh Steelers and has extended a year contract with the team on March 2021. After the Steelers, there is no clue which team the player will join.
What are the Jersey Numbers of McCloud?
He wears a Jersey Number of 14.