Ricardo Lamas is a 38 years old professional mixed martial artist with 12 years of experience. At present, he has retired, and before retirement, he fought in the UFC in the featherweight and lightweight divisions.
Ricardo Lamas has competed in different promotion companies of MMA before making his way to UFC in the past. Likewise, as of 2020, Lama's MMA record is 20-8.
Certainly, Ricardo is one talented person but if it wasn't for his hard work and dedication, he would not have been in the place where he is today.
For the time being, Ricardo Lama stands tall as a proud MMA affiliated with UFC. But, talking about UFC, it is Nevada, the United States-based MMA promotion company.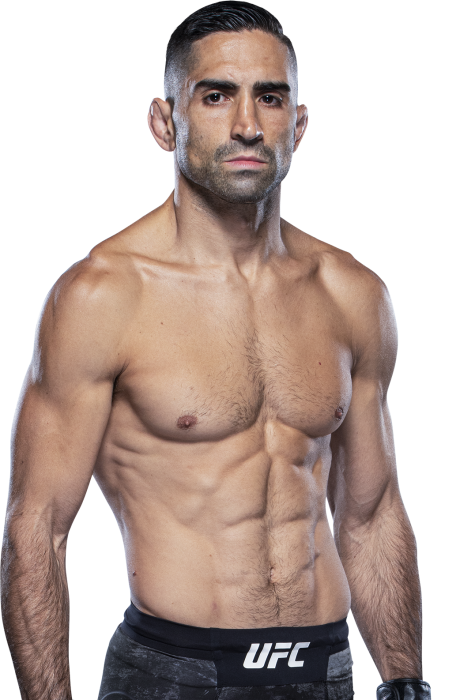 However, this journey has been a roller-coaster of emotions, full of highs and lows. Nevertheless, all the sleepless nights, pain, and suffering he had gone through in this journey have proven to be worth it.
Today, we dive into the life of Ricardo Lamas regarding his early life, career, net worth, personal life, and many more. But first, let us have an instant glance at the quick facts.
Quick Facts
Name
Ricardo Alejandro Lamas
Birthplace
Chicago, Illinois, United States
Birthdate
May 21, 1982
Age
40 Years Old
Nationality

American

Religion

Unknown

Ethnicity
Mixed
Height
5 ft. 8 inch/ 1.73m
Weight
66 kg/ 145lbs
Hair Color
Black
Eye Color
Light Brown
Sun Sign
Gemini

Education

Hinsdale Central High School
Elmhurst College
Profession
Mixed Martial Artist
Affiliation
MMA, UFC
Nickname
The Bully
Salary

$106,000
Active Since

2008
Retired
2020
Win-Loss Record
20-8
Father Name
Jose Lamas
Mother Name
Unknown

Siblings
5
Net Worth
$1 Million

Rank
Black belt in Brazillian Jiu-Jitsu
Division
Feather Weight
Light Weight
Sexual Orientation

Straight
Marital Status
Married
Wife

Olivia Lamas
Children
3
Wrestling

NCAA Division III

Reach
180 cm
Fighting out of
Miami, Florida
Achievements
One time Performance of the night
Two times CCWI Championship
One time fight of the night
Social Media
Instagram, Twitter
Last Update
March, 2023
Ricardo Lamas: Early Life
Ricardo Alejandro Lamas was born on 1982 May 21, in Chicago, Illinois, the United States, born to a Cuban father, Jose Lamas, and a Mexican mother.
Lamas father was a social activist and the Cuban resistance movement leader under the regime. Due to some reasons, Lamas's whole family escaped Cuba and moved to the United States. Before running, Ricardo's entire family was hiding in the Brazilian embassy.
Later, Lamas joins Hinsdale Central High School in Hinsdale, Illinois. After completing high school, Lamas joins Elmhurst College, where he studied exercise science. Moreover, Ricardo was also a member of the men's wrestling team during his college days.
Likewise, from 2001-2005, Lamas won over 100 fights, and he was even named CCIW's most outstanding wrestler during the 2004-05 season. Lamas has even worked as the assistant men's wrestling coach in his college after graduating.
Ricardo Lamas: Career
MMA Career
During Ricardo's college days, he was very interested in martial arts and even joined the men's wrestling team.
Nonetheless, he had already got the essential pieces of training and even won International Sport Combat Federation, North Central Regional Title in 2008 by defeating Cal Ferry Via Guillotine choke.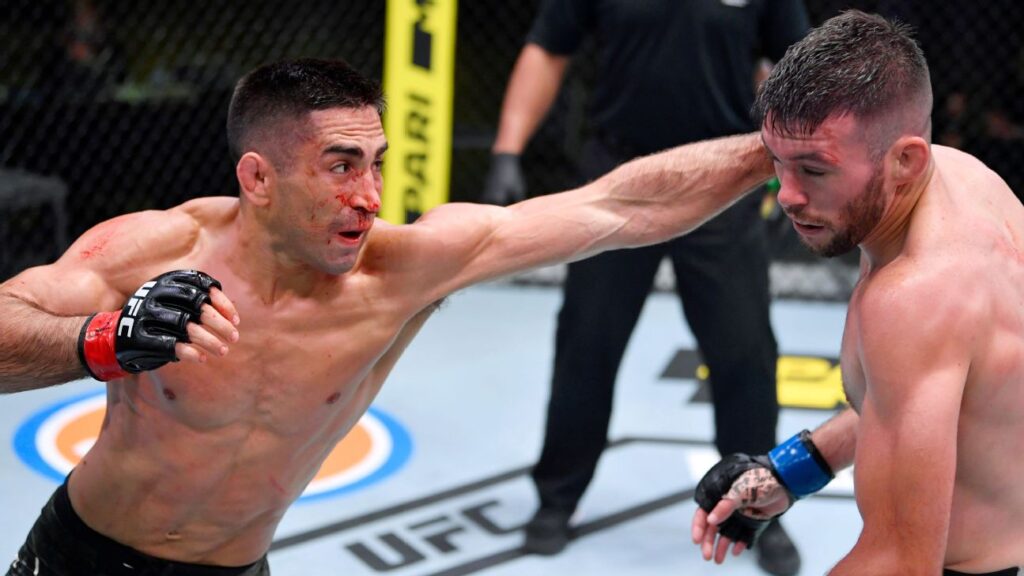 Similarly, in 2009 Lamas made his WEC debut, and for his first match, he faces Brat Palaszewski. Interestingly, Lamas wins his very first match.
However, Lamas was informed just four days before the fight as originally Rich Crunkilton had to fight, but he got injured, and Las took his place.
Sadly, in 2009 during a match with Castillo, Lamas loses his game in the second round via TKO ins WEC42.
In contrast, Lamas didn't let his loss make him sad, and he didn't lose hope. Soon after losing the fight with Castillo, La fights against James Krause in WEC44. Not so surprisingly, Lamas wins that match via unanimous decision.
In addition, Lamas had a great career in MMA, and he won 20 matches out of 28 games which is an excellent thing. However, there were many ups and downs in his career path, but he overcame them and proved himself a good fighter.
UFC
In 2010, after WEC merges with UFC, fighters of WEC were transferred to UFC; this way, Lamas got the opportunity to join UFC. However, his joining UFC was just a coincidence or, let's say, his luck.
Not surprisingly, Lamas wins his first-ever UFC match, fighting against veteran Matt Grice. But, unquestionably, this was one of the historical moments for Lamas himself as he wins the match via TKO.
Besides, at the beginning of Lamas's UFC career, Ricardo was fighting well. Lamas was achieving victory in a row.
Another proud moment for Lamas was when he defeated Hatsu Hioki in his third match in UFC for a featherweight.
But for all that, in 2010, Lamas couldn't perform well due to his injury. In the same year, Las got a lot of public attention after Lamas's match was fixed with Frankie Edger.
On the other hand, the match with Frankie couldn't take place because Edger was pulled out of that match. Then, Edger becomes the replacement for Anthony Pettis for another fight in UFC 163. As a result, automatically, Lamas couldn't be a part of the match.
Again in 2012, Las and Koch were facing each other, and that match was happening in Lamas's hometown. Furthermore, from this match, Lamas earns himself a shot.
Although later, Lamas lost that fight via decision, he finished in a favorable top position of the champion, delivering the blows until the bell rang.
On the contrary, after losing the match with Koch, he bounces back and wins two games against Hacran Dia.
Further
In 2017, Lamas was about to face Charles Oliveira, who is also a face of Submission expert. Nonetheless, Lamas was appreciated for that match, and he even was awarded the Performance of the Night award.
Over four years, Lamas has remained a top contender in the Featherweight division of UFC. Sadly, in 2020 after being injured and losing three out of five matches, Lamas finally decides to retire from UFC.
However, Lamas will always be regarded as the best player because, in his 12 years of career, he has only improved himself as a good player and a good human being.
Ricardo Lamas: Stats and Achievements
Fighting out of Miami, Florida, Lams has garnered a Black belt in Brazilian Jiu-Jitsu. Further, Lamas has an orthodox stance, and to date, he has had 28 matches in total.
Among all those fights, Lamas has won 20 contests and lost eight fights. To illustrate, among his wins, six are via knockout, five by submission, and nine by decision.
Likewise, Lamas has lost eight matches, out of which three by knockout and five by decision. Some of his achievements are listed below.
NCAA Division III All-American out of Elmhurst College in 2005.
One time ISFC Lightweight Championship.
Two times CCIW Champion at 157 lb.
Past performance of the night.
Won Submission of the night one time.
One time Fight of the Night.
Ricardo Lamas: Body Measurement
Ricardo Lamas is 39 years old. Besides, Lamas is extremely hardworking and constantly upgrading himself to be a better person and a better fighter.
Talking about his body measurement, Lamas has a perfect height of 5 ft. 8 inches. and weighs around 66 kg. Further, he has beautiful black hair and brown eyes. Besides, Lamas is an American by nationality and of mixed ethnicity.
Again, Ricardo is a Gemini as per his birth chart horoscope. People born under this sun sign are usually strong, passionate, and highly motivated. Undoubtedly, Lamas is one strong person who has made his path to success.
Ricardo Lamas: Net Worth
Lamas has earned quite a good amount of money. However, most of the fortune he has achieved is from his fighting career.
Ricardo Lamas has a net worth of $1 milliion.
Lamas started from zero, he had an average childhood, and for someone who has had a middle childhood and is at this height today, it is an outstanding achievement. Moreover, he earns $106,000 every year.
However, not much information has been found about his properties, his expenditure, and his lifestyle. Undoubtedly, Lamas live a happy and lavish life with his family.
Ricardo Lamas: Personal Life
Ricardo Lamas is happily married to Olivia Lamas. Along with it, this beautiful couple has three kids together. What's more, Ricardo loves to spend time with his family. Whenever Ricardo is free or not working, he tries to spend as much time as possible with his family.
Both Ricardo and Olivia have managed to give their kids a good education, health, and every basic facility they can. But, they want their children to live normal lives because they don't want their kids to take things for granted.
Nonetheless, this couple likes to keep their personal life private. They don't like constant media and camera attention.
Social Media Presence
Ricardo Lamas is active on social media namely, Instagram and Twitter. He keeps uploading his training videos, gym videos, and pictures of his family on his social media handle. However, most of the posts are about training and fighting.
Frequently Asked Questions (FAQs)
Does Ricardo Lamas have his gym?
Yes, he does. It is in Chicago.
Is Ricardo Lamas into Yoga?
Yes, he is; apart from gym and excessive training, he does yoga. He feels yoga gives peace of mind, and once in a while, everyone should take a yoga break to find peace and himself.