Many athletes and artists are often so driven that they cannot stay without pursuing their heart desires. Rick Story is one fine athlete who listened to his heart and pursued a career in Mixed Martial Arts.
Rick Thomas Story, popularly known as 'The Horror,' is a former American mixed martial arts fighter. He was active professionally from 2007 to 2018 as an MMA artist.
Besides MMA, Rick is also a member of the US National Guard, who knows when to serve his country and pursue his passion.
Before retiring in 2018, he last appeared in the Professional Fighters League after fighting for many years in UFC. Rick's fighting journey started when he was twelve years old, inspired by watching UFC fights.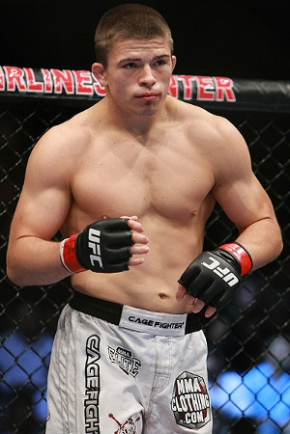 While at school, Story was good at wrestling, which he continued later in his collegiate years.
Additionally, he worked on submission grappling with his friend, and after graduation, Rick entirely focused on his MMA career.
Professionally Rick has participated in 21 MMA fights in his eleven-year-long career, 21 out of which were wins for him and ten losses.
There is more to learn about this down-to-earth phenomenon; before that, let's check some valuable facts about Rick's Story.
Quick Facts about Rick Story
| | |
| --- | --- |
| Full Name | Rick Thomas Story |
| Birth Date | August 28, 1984 |
| Birth Place | Tacoma, Washington, United States |
| Nick Name | The Horror |
| Religion | Not Available |
| Nationality | American |
| Ethnicity | Not Available |
| Education | Bethel High School, Southern Oregon University |
| Horoscope | Virgo |
| Father's Name | Not Available |
| Mother's Name | Not Available |
| Siblings | Elizabeth (sister) |
| Age | 38 years old |
| Weight | 77kg(170lbs) |
| Height | 5'10″(178 cm) |
| Body Measurement | Not Available |
| Build | Athletic |
| Married | Unknown |
| Wife | Unknown |
| Children | Unknown |
| Profession | Professional Mixed Martial Artist |
| Net Worth (2021) | $1 million or more |
| Retirement | 2018 |
| Social Media | Twitter, Instagram, Facebook |
| Last Update | June, 2023 |
| UFC Merch | Gloves, Shorts, Action Figure |
Rick Story | Age, Body Measurement & Horoscope
The athletic soul, Rick Story, is a gentleman with the soul of a fighter. The former fighter was born on August 24, 1984, in Tacoma, Washington, the United States.
He turned 38 years old last August. Likewise, his horoscope happens to be Virgo.
The people of this sign are known to be grounded, practical, and perfectionists.
Moreover, Rick has a toned, lean body with 77 kg and a height of 5 ft and 10 inches. Rick's well-maintained body helped him achieve what he dreamed of. Before MMA, he was active in wrestling.
Family
Facing family dilemmas early on, Rick became a sensible and strong person. When he was three, his parents got divorced, and he grew up with his elder sister and grandmother.
Hence, there is not much information when it comes to his parents and sister.
Not having strong financial support from his family, Rick had to think of a career that could take care of his economic needs. The reason why he resorted to wrestling at such an early age.
Where did Rick go to school? – College
Before he made it to his MMA career, 'The Horror' lived in Spanaway, Washington, with his grandmother and sister Elizabeth. He went to Bethel High School in Spanaway, where he pursued wrestling.
Besides wrestling, Rick was good at football also. But after graduating from high school, Rick's inclination was toward wrestling.
The enthusiastic athlete Story chose Southern Oregon University in Oregon for his higher studies, where he continued wrestling.
He was runner-up in the 2006 NAIA National Championships. After that, he became more involved in his MMA goal.
Likewise, he even got jiu-jitsu lessons from his friend during his sophomore year. After college, Story embarked vigorously on an MMA career.
Also read Frank Camacho Bio: Family, Guam, Wife, UFC & Net Worth >>
Journey to Mixed Martial Arts
In one of the interviews, Story explained how he became serious about his MMA career. Rick turned more and more towards MMA while being a high school wrestling coach.
His growing fondness for MMA ultimately led to his interest in UFC; Rick said he could easily make money as a UFC fighter.
However, Rick confessed that making the decision was not easy for him at that time. He could either go on active duty and wrestle for the army or get deployed and not pursue wrestling.
He chose to stay active on duty and pursue athletics. Moreover, Rick took the combative course from Dave Hagen, the head instructor from Oregon.
Dave introduced Rick to Pat, who would open a new gym for training as Rick was willing to train full-time.
Luckily, Story got an invitation from Pat to join his fight team just a week before he graduated from college.
Transition to UFC
For Rick, wrestling and MMA were just a way of staying busy and a source of fun at times. When it came to UFC, it became a way of staying fit and taking up a challenge whenever it came.
Rick said that he liked the idea of staying ready for fights in UFC, and once the opportunity is lost, it will not come back.
Moreover, Rick added that he took nine fights in nine months and waited for something big to happen.
Then, no one was ready to fight Rick, so his trainer Pat helped him level up to the Ultimate Fight Championship.
UFC Record
When UFC finally happened for Story, he signed a four-fight deal right away.
The ambitious fighter Rick debuted on UFC 99 Franklin vs. Silva, which took place in Germany on June 13, 2009. For his first match, he faced John Hathaway.
Though Rick lost his first fight via unanimous decision, he won his second fight with Brian Foster via arm-triangle choke submission at UFC 103.
Moreover, Rick received honors like Submission of the Night and Fight of the Night. Also, Story won against Jesse Lennox at UFC Fight Night 20 on January 11, 2010.
After the first contract, UFC made a significant decision and signed Story for another four-fight deal.
A new contract with UFC
For the first fight after his new contract, Rick faced Nick Osipczak at UFC 112 in Abu Dhabi; Story defeated Nick through a split decision.
His success did not stop here. On August 7, 2010, Story defeated Dustin Hazelett at UFC 117 via second-round TKO.
Likewise, Rick faced Johny Hendricks in December and won via unanimous decision.
After Hendricks, Rick roared like a lion and called out Thiago Alves, the former number one contender.
Similarly, Thiago accepted his challenge, and they faced each other on May 28, 2011, at UFC 130. Rick went on making his best moves and defeated Alves via unanimous decision.
After consecutive wins, Rick faced defeat on June 26, 2011, against Charlie Brenneman. It was a unanimous decision which was an upsetting defeat for Story.
The same year, he fought against Martin Kampmann at UFC 139 in November, the result came out quite controversial, and it went against Rick.
On June 22, 2012, Story had a mixed year; he defeated Brock Jardine after Rick Attonito and Papy Abedi got out of the match due to injuries.
In October, Rick fought against Demian Maia at UFC 153, and he lost via first-round submission. It was Story's first defeat via submission.
Similarly, in 2013, Rick faced wins and losses. The year 2014 came with a new challenge when Rick met Kelvin Gastelum, the Ultimate Fighter 17 winner.
He could not keep up with Kelvin and lost via split decision.
The unstoppable fighter Rick then defeated Leonardo Mafra in July and Gunner Nelson in October, respectively.
However, the year 2015 remained unfruitful for Rick. He could not fight any matches due to various unfortunate reasons.
Also, read Manel Kape Bio: UFC, Stats, Ranking & Net Worth >>
Story's Comeback in 2016
After 18 months without fights, Rick made his come back and fought Tarec Saffiedine on May 29, 2016, at UFC Fight Night 88 and won via unanimous decision.
After Saffiedine, Story fought Donald Cerrone on August 20, 2016, at UFC 202; he lost that match via technical knockout.
What after UFC for Rick? PFL & Retirement
Even though becoming a UFC champion was Rick's ultimate dream, one cannot live in dreamland forever.
After losing against Donald Cerrone, Rick took two years off from fighting. During that time, Story contemplated becoming a firefighter and serving his community.
But his last defeat did not sit well with Rick, and he probably did not want to retire with a loss.
Rick said, "I DIDN'T ONE HUNDRED PERCENT COMMIT BECAUSE I KNEW THERE WAS UNFINISHED BUSINESS IN MMA."
On March 12, 2018, the ambitious fighter announced that he had signed a contract with Professional Fighters League. He defeated Yuri Villefort via a unanimous decision.
Again, he fought Carlton Minus in August 2018 and won the bout via a rear-naked choke technical submission. Rick made his retirement decision with a win.
Finally, Story announced his official retirement on November 8, 2018, from professional fighting.
Other Hobbies
Almost everyone pursues something to stay entertained besides their main career. This multi-talented phenomenon Rick Story has his own list.
'The Horror' of the UFC ring, Rick enjoys music. When asked what his favorite musical genre is, he answered, 'Metal.'
Similarly, Rick likes to play video games in his leisure time. Besides wrestling, Rick used to play football while at school.
How much is Rick's net worth?
Story pursued professional fighting for more than a decade. During his successful years, he must have made a good fortune for himself.
Even though Rick looks like a simple and down-to-earth guy, he must have acquired a handsome amount of money to give him a decent life.
Rick's actual net worth is not declared yet, but there is an estimated value.
Rick Story has an estimated net worth of $1 million or more.
Is Rick Story active on social media?
It looks like Rick tried to stay connected with his fans and followers when he was actively fighting and stopped connecting after retirement.
Rick has a Facebook, Twitter, and also Instagram account. He even had a mySpace account a long time ago.
Read about: Felicia Spencer Bio: Husband, MMA, Net Worth & Social Media >>
He usually shared posts about his training sessions, diet, his pet, and news that inspired him.
There is a touching post about his retirement on social accounts, which also happens to be his last.
"To all my fans, friends and supporters, thank you." pic.twitter.com/mAumWDNB8q

— Rick (@Rick_Story) November 8, 2018
Twitter: 59.1K Followers
Facebook: 8,876 Followers
Instagram: 985 Followers
FAQs
What is Rick's favorite music genre?
Rick seems to enjoy music, and his favorite genre is Metal.
Is Rick a part of the US National Guard?
Yes. Rick is a member of the US National Guard. He still serves his duty.
When did Story start wrestling?
Rick said that he started to wrestle when he was just twelve years old.
Is Rick a married man?
Not sure. There is nothing written about Rick's relationship status until now. It is difficult to say anything on this matter.