Born on January 31, 1979, an American football coach who is the head coach for the New York Jets of the National Football League (NFL) Robert Saleh parents are Sam and Fatin Saleh.
Robert Saleh, a defensive specialist throughout his extensive 20-year coaching tenure, has contributed his expertise as an assistant coach for several NFL teams, including the Houston Texans, Seattle Seahawks, Jacksonville Jaguars, and San Francisco 49ers, spanning from 2005 to 2020.
His career reached a pinnacle when he assumed the role of defensive coordinator with the 49ers from 2017 to 2020.
Notably, Saleh boasts appearances in two Super Bowls, representing the Seahawks and 49ers and clinching victory in Super Bowl XLVIII with the Seahawks in 2014.
Following the conclusion of the 2020 season, Saleh embarked on a new journey as the head coach of the New York Jets.
Robert Saleh Parents And Lebanese Heritage
Born to Lebanese parents Sam and Fatin, Robert Saleh proudly embraces his Lebanese heritage.
He holds a unique and groundbreaking position in NFL history, being one of the select few Arab-American head coaches to have ever graced the league.
Robert Saleh Parents | Father Sam
Robert Saleh's football journey is deeply rooted in his family's athletic legacy.
His passion for the sport runs in the family, as he follows in the footsteps of his father, Sam, who had an impressive football career.
Sam earned a scholarship to play linebacker at Eastern Michigan University, showcasing his talent and commitment to the game.
However, his football journey took a heartbreaking turn during his senior season when he required reconstructive knee surgery.
Tragically, it was this same knee injury that ultimately ended Sam's brief stint with the Chicago Bears, preventing him from realizing his NFL dream. This shared experience of unfulfilled dreams had a profound impact on Robert.
In the aftermath of the 9/11 tragedy, Robert began to question whether he, too, might be on the verge of squandering his own football aspirations, adding a layer of personal significance to his pursuit of success in the sport.
Interestingly, Robert and his friends playfully noted that his father bore a resemblance to Bald Bull, the iconic bug-eyed, bald-headed Turkish boxer from the popular video game "Mike Tyson's Punch-Out!!".
The Saleh family's heritage traces back to Lebanon, with Sam being born in Michigan but spending part of his childhood in Lebanon and his mother, Fatin, being born abroad and immigrating to the United States as a teenager.
After years of hard work, Sam and Fatin eventually retired after running a furniture store in Dearborn, a city with a rich history of Lebanese immigrants settling there since the 1930s, to work in the burgeoning automotive industry centered around Ford.
Brother David And 9/11 Attack
Robert Saleh hails from Dearborn, Michigan, and is an alumnus of Fordson High School, where he graduated in 1997.
His educational journey continued at Northern Michigan University in Marquette, where he pursued a degree in finance from 1997 to 2001.
During his time at Northern Michigan University, Saleh not only excelled academically but also made his mark on the football field as a four-year starter for the Wildcats.
His exceptional skills as a tight end earned him well-deserved all-conference honors.
In addition to his impressive academic and athletic achievements, Saleh's personal story is deeply intertwined with the tragic events of September 11, 2001.
His brother, David, was inside the South Tower during the horrific attacks on the World Trade Center.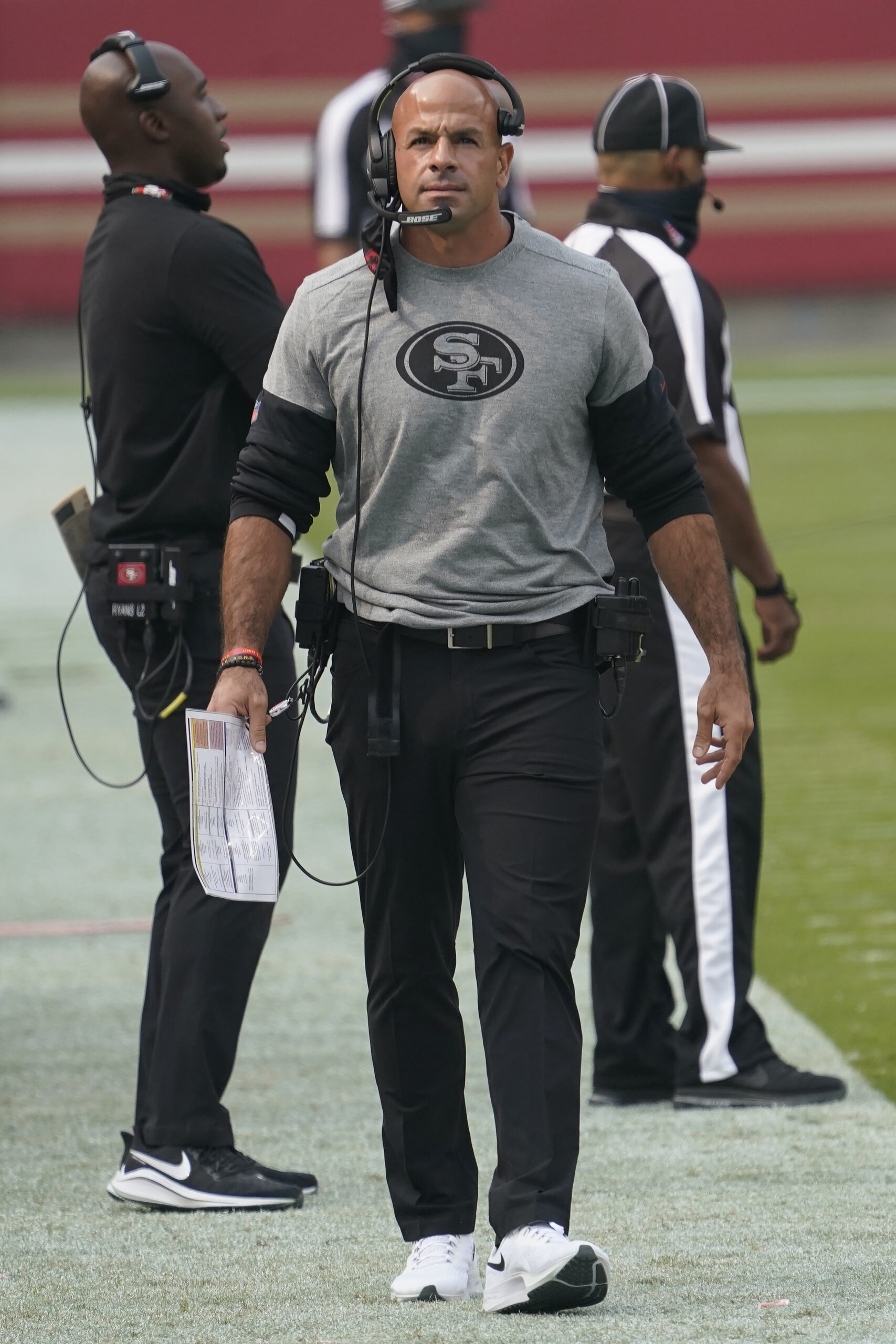 David, who was on the 61st floor of the building, witnessed the fireball caused by the initial plane's impact on the North Tower.
Despite calls from the public intercom to return to their offices, David descended to the 24th floor just before the second plane struck, this time approximately 50 floors above his location.
Fortunately, he safely made it to the lobby and managed to escape to safety.
This harrowing experience had a profound impact on Robert Saleh, serving as a powerful catalyst for him to pursue his dreams of coaching football.
It underscores the resilience and determination that have defined his journey from his Michigan roots to becoming a notable figure in the world of NFL coaching.
Religion
Robert is Muslim and follows Islam. He is widely recognized as the very first Muslim-American head coach in the NFL, marking a significant milestone.
Saleh's historical status is further emphasized by the fact that he is the fourth Arab-American head coach in NFL history, following in the footsteps of Ed Khayat (Philadelphia Eagles 1971–72), Rich Kotite (Philadelphia Eagles 1991–94), and Abe Gibron (Chicago Bears 1972–1974), all of whom share Lebanese roots like Saleh himself.
His remarkable journey and cultural significance within the NFL shine a bright light on diversity and representation in professional football.
FAQS
1. Who Are Robert Saleh Parents?
Robert Saleh parents are Sam and Fatin Saleh.
2. Which Religion Does Robert Saleh Follow?
The Jets head coach Robert Saleh follows Muslim religion.