Washington Wizard visited Amway Center for a match with the Orlando Magic on Wednesday night.
Bradley Beal returned for the first time after missing five games due to bruised hip to join Russell Westbrook.
Similarly, Rui Hachimura also returned for action after missing the last two games with right shoulder tightness for the Wizards.
The match ended with the Wizards winning over the Orlando Magic 131-116 consequently breaking the 4 games losing streak.
Both the teams started strong for the 1st quarter as the Wizards led the quarter by only a point.
The Wizards heated up in the second quarter, shooting 12 of 21 from the field and 7-9 from deep.
Wizards' Garrison Mathews and Raul Neto dropped three to spark an 11-0 run to give Washington a 45-35 lead with 9:35 left in the second quarter.
The Wizards outscored them 24-12 with five minutes left in the first half and leading 73-60 at the break.
Subsequently, the Wizards continued their incredible offense with Beal and Davis Bertans hitting threes on three consecutive Wizards possessions.
Eventually extending their lead to 21 points with 3:39 left in the third quarter. But Orlando began to make a comeback as they made a 15-2 run and cut the lead to eight in the final seconds of the third quarter.
As they enter the fourth quarter the lead of the Wizards cut down to four with Magic's R.J. Hampton making 3-pointer early in the fourth quarter.
However, Orlando couldn't overtake Washington's lead. With 5:46 left in the game, Beal made a layup.
And sparked a 16-2 run putting the Wizards up 20 points with two minutes to left ultimately sealing the win.
Russell drops his 20th triple-double in the Wizards win.
Wizards had their incredible shooting in the game for the win against the Magic.
The Wizards' made a 57.6% shooting percentage setting a new season-high in the category.
In fact, they topped their 55.6% shooting percentage set against the Pacers last week. From deep too, Washington was incredible shooting 19-36 from deep, setting a new season-high in 3-point made, and finished only one shot less to tie the franchise's all-time record.
King of triple-double Russell Westbrook put up another triple-double under his belt to give the Wizards a win by 15 points.
He dropped 23 points, 14 rebounds, and 15 assists, and made his 20th triple-double of the season.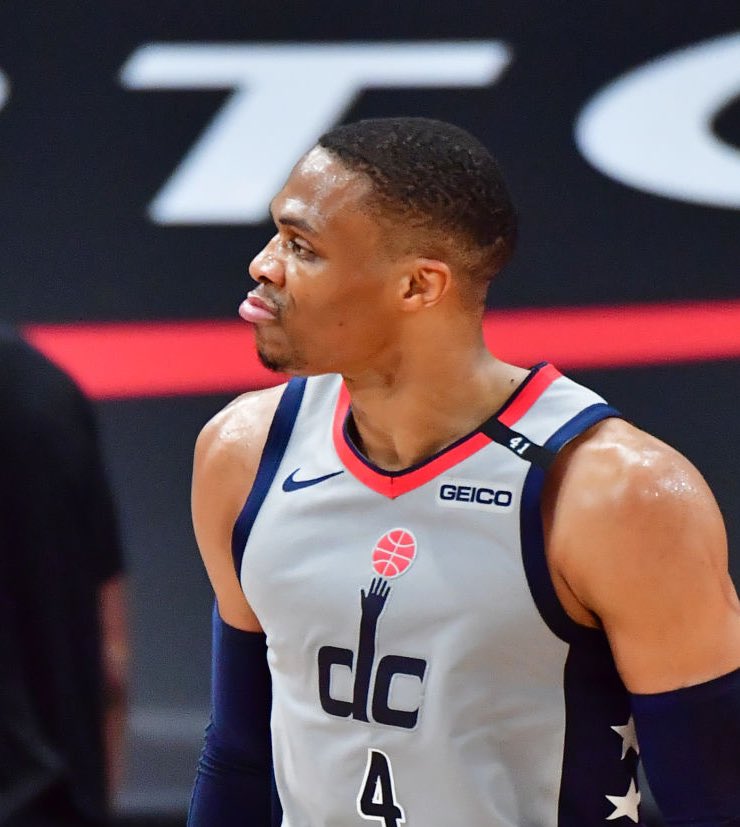 In fact, he now made triple-doubles in nine of his last 12 games. Westbrook nearly recorded the triple-double in the second half against the Magic as he made 10 points, eight rebounds, and nine assists.
He's now recorded 20-plus triple-doubles in a season four times.
Likewise, He is behind only Oscar Robertson for the most such seasons in NBA history as Robertson has done for five seasons.
Similarly, he is now 15 triple-doubles behind Robertson for the most in NBA history. Only nine active players have recorded 20 triple-doubles in their entire career.
He made his 20th triple-double of the season in just his 43rd game which is the third-fastest pace in NBA history.
Oscar Robertson accomplished that in 32 games in 1961-62 and Westbrook did the same in 42 games in 2016-17.
Wizards' strong offense.
Besides Westbrook, Wizards' Beal recorded game-high 26 points in his return after missing five consecutive games with a right hip contusion.
Beal played 30 minutes and added a rebound and 5 assists also became one of just three Wizards to record over 2O points.
Similarly, Rui Hachimura also returned from an injury. Even though he scored just nine points,
But showed great defensive performance, totaling seven rebounds, two assists, three steals in 30 minutes.
Davis Bertans was the only other person to score over 20 points as he scored 22 points.
On the other hand, Terrence Ross scored 24 points, 6 rebounds, and 3 assists for the Magic.
Similarly, Mo Bamba dropped 19 points, Wendell Carter Jr. made 15 points out of 116 points made.
Now, the Wizards will face Golden State Warriors on Saturday while Magic faces the Indiana Pacers.
Kevin Durant's return for the Nets' win over the New Orleans Pelicans.
The most awaited return for the Nets happened on Wednesday night as star player Kevin Durant took the court for the first time.
As Durant was sidelined with a hamstring strain and missed 23 games, the Nets won 21 of their last 25 games.
Similarly, Durant gave an incredible offensive show as the Nets beat the New Orleans Pelicans, 139-111 at Barclays Center.
The Nets superstar came off the bench in the second quarter and welcomed with a loud ovation from the Barclays Center crowd.
Fans were thrilled to see their star back in the court. Likewise, Durant delivered a great performance for the Nets' crowd.
As Durant scored 17 points on 5-of-5 shooting, including two 3-pointers, with seven rebounds and five assists in 19 minutes.
Durant entered the game with 7:37 remaining in the second quarter and quickly scored his first points with a mid-range jumper.
Then he made three free throws after being fouled, then scored in transition to put the Nets up 63-50. He played for the remaining half and put up nine points before halftime.
"It was nice to have him back. It's been a long absence no one predicted even when it first happened.
We're just thrilled that he felt good, played well and he's back. To see that smile on his face was important to me as well," Nash said.
"Thrilled for him. Loves the game more than anything and he needs to be out there playing."
"I thought he was very, very good," Griffin said on Durant's return. "After missing two months and looking that comfortable, it's crazy."
Kyrie continues to fill in for injured James Harden.
Besides Durant Kyrie Irving also put up an amazing performance and led Brooklyn with 24 points on 7-of-14 shooting, including 4-of-6 3-pointers, plus six assists.
Ever since James Harden missed games due to injury, Irving stepped up for the Nets and is dominating the opponents to give the Nets wins.
LaMarcus Aldridge played 30 minutes and shot 8-of-12 and made both of his 3-pointers in scoring 22 points, finishing with 24 points, six assists, and two rebounds in total.
Joe Harris scored 14 points on 6-of-9 shooting and Jeff Green had 11 points, four rebounds, and four assists.
Chris Chiozza scored 12 points on 4-of-5 shooting and Blake Griffin finished with 10.
On the other hand, Bledsoe scored 26 points in 29 minutes before ejected after picking up two technical fouls.
Similarly, Williamson scored 16 points including 4 rebounds and 6 assists in 23 minutes.
New Orleans falls to 22-29 on the season, dropping to 10th in the Western Conference standings.
The Nets will return Saturday to hosts the Los Angeles Lakers, while the Pelicans face another top team Philadelphia 76ers.