Bradley Fusco's heartwarming proposal picture stirred excitement among fans for the next chapter in the romantic journey of Ryan Donato and her.
Ryan Donato, born on April 9, 1996, is an American ice hockey forward currently playing for the Seattle Kraken in the NHL.
The Boston Bruins drafted him in the second round, 56th overall, in the 2014 NHL Entry Draft. Donato has previously played for the Boston Bruins, Minnesota Wild, and San Jose Sharks.
He was selected to represent the United States in men's ice hockey at the 2018 Winter Olympics.
He shone as a top scorer for Team USA, leading the squad with six points and tying with Ilya Kovalchuk and Kirill Kaprizov for the most goals scored (five).
However, despite Donato's impressive gameplay, the team's overall performance was disappointing, finishing in seventh place.
Ryan signed a one-year, $750,000 contract for the 2021-22 season with the expansion team Seattle Kraken as a free agent on September 12, 2021.
Notably, on October 12, 2021, he scored the first goal in Seattle Kraken franchise history in a game against the Vegas Golden Knights, although the Kraken lost with a score of 4-3.
Ryan Donato Family
Ryan Donato's love for hockey was instilled in him at a young age, thanks to his family's deep-rooted passion for the sport.
Growing up in a household where hockey was a way of life, his exposure to the sport began at an early age, and he quickly developed a fascination with it.
His father's own passion for hockey was particularly influential, and he passed on his love for the game to his son, who inherited his natural talent and determination.
Donato is the son of Ted Donato and Jeannine. His father, Ted Donato, had a successful NHL career and has been a mentor to Ryan.
The Donato family's ties to the Boston Bruins fueled Ryan's goal to play for the team. Their influence has shaped Ryan's love for hockey and his determination to succeed at the highest level.
Ryan Donato's Girlfriend, Bradley Fusco, And Relationship Timeline
The Seattle Kraken forward Ryan Donato and his girlfriend, Bradley Clark Fusco, have been capturing hearts both on and off the ice.
Fusco was born on November 19, 1996, and she comes from Winchester, Massachusetts. She is one of three children in the Fusco family, along with her sisters Mia and Nell.
Bradley can often be spotted cheering him on in the stands during Ryan's games with her infectious smile.
Her unwavering support for Ryan's career is evident in her presence at his games. She has always motivated Ryan both on and off the ice.
Ryan Donato Girlfriend | The Proposal
Ryan proposed to Bradley, on the beach in his hometown of Scituate, in front of friends and family.
It was a moment filled with joy, surrounded by loved ones, and marked a significant milestone in their relationship.
As a couple, Ryan and Bradley share a deep connection. Their love for hockey bonds them, and they support each other's endeavors.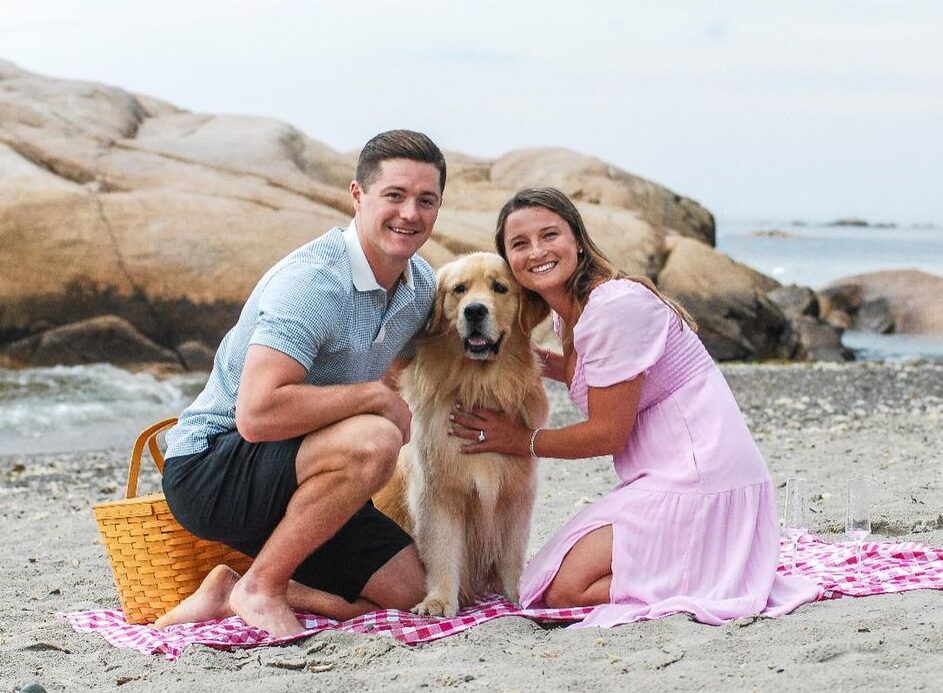 They often share glimpses of their life updates on social media, giving fans a peek into their loving relationship.
The couple has announced that they will tie the knot on Sunday, July 30, 2023. Their wedding registry is already generating plenty of excitement among friends and family.
Fans and well-wishers are excited for Ryan and Bradley as they embark on this new chapter of their relationship.