Everyone wants to be known to others with their own identity. However, Ryan Ripken grew up carrying his family's last name.
He was known to the world because of his family's last name, Ripken. Whenever we hear the word "Ripken," we associate it with the word "baseball."
Moreover, Ripken grew up in a family having keen minds and athletic prowess. The weight he carries on his jersey's back is heavy than a normal uniform because of the high expectations of the surname "Ripken."
It all started with Cal Ripken Sr, who spent his 37 years with the Baltimore Orioles organization playing lifetime love, baseball.
Later, Cal Ripken Jr joined the path paved by his father, which his son, Ryan Ripken, then inherited.
We will further discuss Ryan's family, education, career, and net worth. But, first, let's go through the quick facts.
Quick Facts
Full Name
Ryan Calvin Ripken
Birth Date
July 26, 1993
Birth Place
Hunt Valley, MD
Religion
Christianity
Nationality
American
Ethnicity
Caucasian
High School Education
Gilman School, Baltimore
Junior School
Indian River Community College (Fla.)
Horoscope
Leo
Father's Name
Cal Ripken Jr.
Mother's Name
Kelly Geer Ripken
Grandfather
Cal Ripken Sr.
Grandmothers
Violet Ripken, Joan Marie Geer
Siblings
Rachel Ripken
Age

29 years old
Height
6'6″ (1.98 m)
Weight
92 kgs (205 lbs)
Shoe Size (UK)

Not available
Build
Athlete
Marriage Status
Unmarried
Hair Color
Brown
Relationship Status
Single
Profession
Baseball Player
Positions
First Baseman and Designated Hitter
Jersey Number
#22
Batting
Left
Throws
Left
Current Team
Baltimore Orioles (minors)
League
MLB
Drafted by
Baltimore Orioles, Round 20 of the 2012 MLB,
Washington Nationals, Round 15 of the 2014 MLB,
June Amateur Draft (Gilman Baltimore-2012, Indian River State College-2014)
Net Worth (approx.)

Not Available
Salary (annual)

Not Available
Playing Status

2014 to present
Social Media

Facebook
Merch

Ryan Minor Signed Autograph OMLB Baseball Ball Cards

Last Update
December, 2022
Ryan Ripken | Early Life and Childhood
Starting with the basics. Ryan Ripken was born on 23rd July 1993 in Hunt Valley, Merryland of the United States.
He is Caucasian and belongs to the American nationality. Likewise, he is born under the sun sign Leo.
Leo, as the word represents courage and determination, Ryan too never lays back from working hard in his career.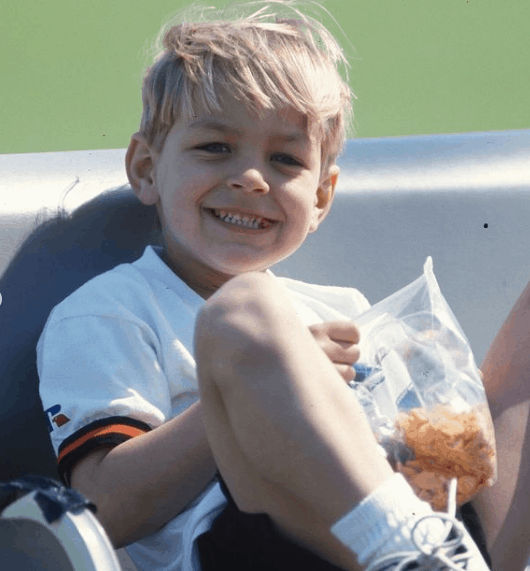 The young Ryan always dreamt of playing baseball professionally. He used to play on the amateur fields across the street when he was young.
Apart from baseball, Ryan also played basketball. He would watch his father, Cal, play on the court and mimic everything he does.
Whereas his father would stand back proudly, seeing Ryan wanting to make his way. Young and enthusiastic, Ryan Ripken never wanted help when he played basketball. Instead, he kept trying until he made a basket.
However, the young boy didn't fully understand his dad's accomplishments in his career. But still, Ryan never stopped rooting his dad in his thicks and thins during his professional life.
Moreover, Ripken loved watching Ken Griffey Jr. since he was offensively and defensively good in his play.
The six-foot-six-inch American athlete, though, does not have any favorite player. Instead, he learns to improve himself as a player by watching Major Leaguers like Mike Trout and Manny Machado.
Both of these players are physically talented and have made themselves progress to the Majors' aspects in their game.
<<Alex Avila Bio: Early Life, MLB, Wife & Net Worth >>
Ryan Ripken | Family
29 years old Ripken is the only son of his parents, Cal Ripken Jr. and Kelly Ripken. He has one older sister, Rachel Ripken, who spent her entire life working with the Buffaloes.
Talking about his parents, his father, Cal Ripken Jr., is a former Hall of Fame baseball player who spent his entire career in the Baltimore Orioles.
Ryan's mother, Kelly Ripken, is the Johns Hopkins annual women's health conference's co-chair and Kelly G. Ripken program's namesake for thyroid patients at Johns Hopkins.
More Details on Ripken Parents
Famous as the 'Iron Man,' Cal Ripken Jr. is an American former baseball shortstop and third baseman who played for the Baltimore Orioles in Major League Baseball (MLB).
When his Minor League career began, the Orioles first drafted junior Ripken in the second round of the 1978 MLB Draft.
During his professional career, Cal was rewarded with the awards AL Rookie of the Year, World Series, All-Star Game MVP Award, Gold Glove Award, and Commissioner's Historic Achievement Award.
Cal Ripken ended a baseball career journey after retiring in June 2001. Besides being a professional baseball player, Cal Ripken Jr. is also an author and a businessman.
Kelly Ripken was married to the Baseball Hall of Fame; Cal Ripken Jr. Kelly spent her thirty years of life focusing on health and lifestyle philanthropy.
Adding to it, she also served in leadership roles in businesses, charities, and schools. However, Kelly enjoys keeping her private life away from the public scenes.
Both Ryan's parents stayed married until they got divorced in 2016.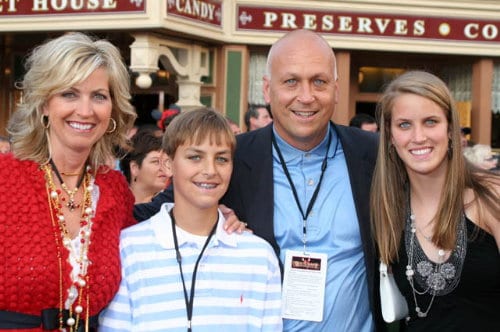 Ripken's grandfather Cal Ripken Sr was the Baltimore Orioles baseball team's former coach and manager. His uncle, Billy Ripken, too, was part of the Baltimore Orioles Baseball Team.
Ryan Ripken | Education
Ryan attended Gilman High School in Baltimore, Maryland. While in high school, Ripken participated in the Armour All-America Game at Wrigley Field, where he received a hardball scholarship to South Carolina for his baseball skills.
During his senior year in Gilman, he was entitled to Maryland Interscholastic Athlete Association All-Star.
Besides, Ryan led the Greyhounds basketball team to the MIAA Conference title scoring more than a thousand career points.
After graduating from Gilman, Ryan left the city that his family adored to the University of South Carolina, where the baseball players were expected to be great.
He attended the University of Carolina only for a year and did not play as he redshirted for eligibility. However, the depth of Gamecockers' limited his options to head for next season.
As a result, hoping to have more playtime, Ripken chose a junior college, Indian River State College in Fort Pierce, Fla.
Upon completing his education with good college stats, he was drafted by the Washington Nationals in the 15th round in 2014.
You can find much detail regarding Ryan's career stats and rankings on Perfectgame sites.
Age, Height & Body Measurement
As of 2022, Ryan Ripken is 29 year-old. Incredibly humble, the baseball player is 6 feet 6 inches tall, weighing around 92 kgs (205 lbs).
Likewise, Ryan has a long slender build and moppy brown hair.
His soft hands and good balance aim the target at first base. In addition, he is both a left-handed hitter and thrower, improving his regular training and diet strengths.
All in all, Ryan's attributes are not his talents but his personality.
You might be interested in buying Ryan Ripken's signed baseball, click to follow!
Ryan Ripken | MLB Career
Early Career
Ryan's interest in baseball was not because his father pressured him to play; instead, he grew up loving baseball, and just like his father, he is pretty good at the games.
Ryan started pursuing basketball when he was 8-years old. His father, Cal, would provide him plenty of instructions and advice about the game's finer points.
When he turned 18, he focused on baseball and was selected in the All-America game. Professionally, Ryan started playing baseball in 2014.
Professional Career
At 22, he was drafted by the Washington Nationals in the 15th round in the 2014 MLB Draft. But, Ripken's ankle injuries plagued him for two years.
Regardless of the injuries, the left-handed hitter finally felt in tip-top shape for the first time in his minor league career. As a result, on June 19, 2014, he was assigned to GCL Nationals.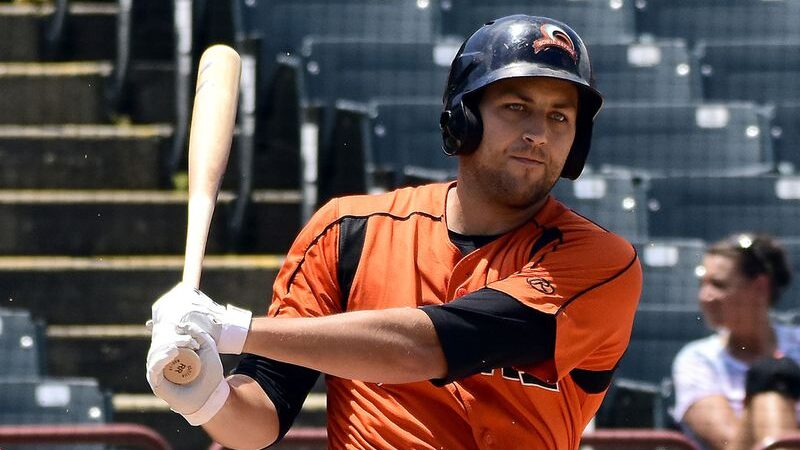 He then began the season with Class A Hagerstown of the South Atlantic League. However, Ryan's goal was not to be in Auburn or Hagerstown but to the majors.
On 2nd June 2017, Ryan, the first-baseman, was assigned to the Auburn Doubledays from Hagerstown Sun.
Five-game homestand opened with the Doubledays season led him to the Ripken Stadium-the Aberdeen IronBirds, owned by Cal Ripken Jr.
Soon after Auburn Doubledays released Ryan, the Baltimore Orioles signed Ripken to a minor league contract and assigned him to Aberdeen IronBirds.
Since then, Ripken has played for other Orioles affiliates in the Delmarva Shorebirds, Frederick Keys, and the Bowie Baysox.
With Bowie, Ryan, in thirty games, posted a slash line with a home run and nine RBI. And with the Frederick Keys, five home runs, 25 RBI, and ten doubles hit.
Contract
The 29 year-old Ripken spent most of his time with the Nationals' organization before the Orioles picked him.
Baltimore Orioles first signed Ryan Ripken to Aberdeen IronBirds back in 2017. Again on 12th February 2021, the organization re-signed Ryan to a minor-league contract for Short-Season Class-A Aberdeen.
Although Ryan is making advancements in his baseball career from minor leagues to the majors, he still has a lot more progress in reaching the standard set by his father, Cal Ripken Jr.
Learn more about his stats and scouting report on Mlb sites.
Dane Dunning Bio: Early Life, MLB, Personal Life & Salary >>
Ryan Ripken | Net Worth and Salary
Being a professional baseball player, Ripken has made a successful career throughout his life. Ryan's successful baseball career has helped him earn the name and a hefty amount of bank balance.
Sadly, the baseball player has not disclosed any information regarding the net worth and the salary amounts.
However, we can assume that being one of the world's richest baseball players' sons, Ryan makes good earnings. In addition, the house where Ryan lives is worth multi-million dollars.
Ryan's father, Cal Ripken Jr., has a net worth of $75 million, and the source of his income was baseball. Similarly, Cal Ripken Jr. owns the Orioles and Aberdeen IronBirds, baseball teams.
Therefore, the same source of income is predicted as of Ryan.
Social Media Presence
We can find Ryan on Facebook. However, he does not have his Instagram and Twitter accounts.
Though he has only one social media account, we can still find him using the relevant Instagram hashtag #ryanripken
Most Asked Questions
For what team does Ryan Ripken play?
29– year-old American athlete, Ryan, is the First Baseman currently playing for the Baltimore Orioles Organization.
Why did Ryan transfer from South Carolina to Indian State River College?
Ryan Ripken went to South Carolina after getting a scholarship to play collegiate baseball. But, being redshirted as a freshman, he did not get any playing time the first year.
Therefore, he transferred to Indian State River College, wanting more playing time.
What is Ryan Ripken's career statistic like?
Ryan Ripken maintains a career statistic of 1532 at-bats, 20 home runs, 160 RBI, and four stolen bases.
What is the jersey number of Ripken?
Ripken wears jersey number 22. He has this jersey number used from the start of his professional career.