Lauren Tannehill is the wife of Ryan Tannehill, a famous NFL quarterback for the Tennessee Titans who was drafted by the Miami Dolphins in the 2012 NFL Draft.
He spent seven years with the Dolphins and then moved to Tennessee after the 2018 season.
In Week 7 of the 2022 season, Ryan suffered an ankle injury and missed the next two games. He then missed the Week 15 games due to his aggravated injury.
Tennessee currently has the 11th overall pick in the first round of the 2023 NFL Draft. They will choose among four options (C.J. Stroud, Bryce Young, Anthony Richardson, and Will Levis) for replacing Ryan.
Lauren Tannehill is equally excellent, as she has been a great support system during Ryan's challenging period.
Many aspire to become someone and do something for fame, while others work for balanced charity and celebrity life.
Well, among such individuals is Ryan Tannehill. If we were to talk about Ryan and his career milestones, a mere 1000+ words would never be enough.
Tannehill has made significant achievements throughout his career, including leading his team to the AFC Championship. He was also named to his first-ever career Pro Bowl and selected as the NFL Comeback Player of the Year in 2019.
However, today, we will learn more about his better half. Hence, buckle up and find the latest updates about Mrs. Tannehill's professional and personal life.
Quick Facts
| | |
| --- | --- |
| Full Name | Lauren Ufer Tannehill |
| Birth Date | July 28, 1988 |
| Birth Place | Atlanta, Georgia |
| Known As | "Lauren" |
| Religion | Christianity |
| Nationality | American |
| Education | Texas A&M University |
| Horoscope | Leo |
| Father's Name | John Ufer |
| Mother's Name | Nancy Ufer |
| Age | 35 Years Old |
| Height | 5'7"/1.7 m/1.70 cm |
| Hair Color | Blonde |
| Eye Color | Green |
| Profession | Model, Cardiology Nurse |
| Marital Status | Married |
| Husband | Ryan Tannehill (m. 2012) |
| Kids | 2 – Steel Tannehill (Son) & Stella Rose Tannehill (Daughter) |
| Net Worth | $1 Million |
| Social Media | Instagram & Twitter |
| Last Update | November 2023 |
Early Life | Parents & Siblings
Ryan Tannehill's wife, Lauren Tannehill, is beautiful inside and out. She grew up in a lovely family in Texas with two younger brothers.
Before high school, she lived in several towns, including Houston, Corpus Christi, High Point, N.C., Fayetteville, Ark., and College Station.
Lauren graduated with a communications major and a psychology minor in 2010.
She, in A&M high school, Texas, was on the tennis team and cheerleading squad.
A Glimpse Of Lauren Tannehill's Professional Career
The uber-photogenic Lauren Tannehill is working as a model for several notable fashion names.
Lauren became the face of Levinson Jewelers, among others. She further did some modeling work in Houston and Miami.
Lauren worked as a cardiology assistant before becoming a model. Diverse career choices allowed her bank balance to expand significantly.
Primarily known as Ryan Tannehill's wife, Lauren is known for her sweet attitude and a massive Instagram following.
So, Tannehill's career took flight after a few modeling acts and expanded her reach via Instagram and other social platforms.
Besides having a thriving modeling career, Lauren also appeared in HBO's "Hard Knocks" in 2012. The season focused on the Miami Dolphins' contract negotiation with her spouse, Ryan.
Net Worth & Earnings
As aforementioned, Ryan Tannehill's beautiful beau, Lauren Tannehill's modeling career, leaped after her marriage.
Lauren Tannehill's net worth is a whopping $1 million as of 2023
Her notable work as a model aided her wealth to increase significantly. Moreover, lately, she has worked as a cardiology nurse, not as a model.
According to numerous sources, a cardiology assistant's average salary is $117,572 annually, excluding bonuses. Thus, Lauren Tannehill's earnings as an assistant must have added to her wealth substantially.
Endorsement Deals | Paid Promotions
Lauren Tannehill has also appeared in multiple print campaigns for the Da Vinci wedding dress line, handbags for Gucci, Maxim magazine, etc.
The notable names in the fashion world must have paid her significant amounts to promote their products.
Besides working as a model and cardiac nurse, she collaborated with Simple Modern and produced an exclusive laser-engraved bottle intended to spread light and positivity! that cost $25.99.
She also assured of donating 100% of the proceeds to the A21 organization.
Lauren Shares Net Worth With Her Husband, Ryan
Lauren also shares her husband, Ryan Tannehill's net worth, which happens to be $50 million. He has amassed significantly through his rigorous athleticism and other ventures.
Of his $50 million net worth, $300k came from endorsement deals with sponsors, including Regenexx, Adidas, and Panini.
Tannehill lives lavishly in Florida with all the money in the bank. Buying a house is always the most significant decision after planning a baby.
They made a significant purchase of a $4.3 million house in the South Florida area in 2016. They lived in a townhouse in Fort Lauderdale before shifting to their new home.
The Dolphins quarterback sold the townhouse for $1,325,000 within a month of being listed.
Ryan and Lauren also seem to have a luxury home in Nashville. He allowed his Titans center to live in their Nashville home in May 2020 as the power outage stretched for days.
Sharing a beautiful home and earning quite a substantial amount, Lauren never forgets to give back to society. She has several funding works, including visiting the shooting range and charity appearances.
Ryan With Tennessee Titans
After being named to his first Pro Bowl, Ryan resigned to a four-year, $118 million deal earlier in 2020. Amid the vulnerable pandemic, he had been trying to lead Titans.
In week 7 of the 2022 season, Ryan suffered an ankle injury and missed the next two games.
He then missed the Week 15 games due to his aggravated injury and is on injured reserve in 2023.
The Titans have a massive decision regarding what to do with their quarterback position moving forward.
Tannehill is good enough but disappointed in the postseason, so Tennessee has the 11th overall pick in the first round of the 2023 NFL Draft.
The four options for replacement are C.J. Stroud of Ohio State, Bryce Young of Alabama, Florida's Anthony Richardson, and Kentucky's Will Levis.
Ryan Tannehill NFL Ranking | Career Stats
Ryan's comeback in Tennessee has been recommendable in its efficiency. Since the beginning of the 2019 season, he has led in Y/A (8.55) and AY/A (9.23). He stood second in passer rating (110.6) and touchdown rate (7.2%).
With that profile, Ryan's passing volume might not be a rank-holder in the top-five Fantasy option in the consensus ratings as he comes in at 11th.
QB Ryan Tannehill, 87 Overall Rating: Ryan had an average college and pro-level start. Later, he proved his worth. In 2020 he passed for 3,817 yards, had 33 touchdowns, and seven interceptions.
That makes him one of the league's best-caliber players at his position. He has a total career stats of 33,265 yards, 212 touchdowns, and 108 interceptions in 145 games in his whole career.
Lauren Tannehill's Husband, Ryan Tannehill, 2012 NFL Draft Report
Strength Measure:
Arm Strength
Prompt thrower
Nice mechanics
He is good at picking up critical yards with his feet
Perfect fit for NFL offenses
Weak Points:
He needs to work on his anticipation
Ball security; interceptions and fumbles
Small hands
Only 19 collegiate starts, 20 games at quarterback
Ryan Tannehill Career Injury History
| Date | League | Injury | Details |
| --- | --- | --- | --- |
| Dec 11, 2016 | NFL | Knee ACL Tear Grade 3 | Tannehill partially tore his left ACL against the Cardinals. |
| Oct 28, 2012 | NFL | Leg Thigh Bruise | Tannehill suffered a deep-thigh bruise against the Jets. |
| Aug 3, 2017 | NFL | Knee ACL Tear Grade 3 | Tannehill suffered a partially torn ACL again, this time on a scramble in training camp. He went through surgery in August 2017. |
| Oct 7, 2018 | NFL | Shoulder | Tannehill reportedly dealt with a "capsule injury" to his right shoulder. He missed 5 games but avoided surgery. |
Favourites & Fitness
Standing tall at 1.7 m, Lauren Tannehill looks stunning with her blonde hair and deep green eyes.
Lauren is an animal and sports lover. Also, her go-to cheat meal is Mexican food or burger and fries.
Mrs. Lauren Tannehill took part in the Miami Dolphins Foundation Fishing Tournament and caught a big tuna weighing nearly 19 pounds.
Additionally, to groom herself and stay fit, Lauren has a personal trainer Danielle Herzlich, and they share excellent chemistry.
Made Headlines After Leaving A Gun In A Rental Car
Lauren Tannehill is a bit sporty, but the Texan woman is far rowdier than you anticipate a petite woman to be.
Besides making headlines, she once raised eyebrows when she left a gun in a rental car in 2015.
Lauren left her AR-15 rifle in Nissan Rogue from E-Z Rent-A-Car. Another person to rent the vehicle found the gun and returned it to the authorities. Thankfully, the gun was legally obtained.
Inside Lauren Tannehill's Married Life With Husband, Ryan Tannehill
Lauren Tannehill makes an irresistible marital bond with her husband, Ryan Tannehill. Both partners are lovely people and have a long history. While talking about history, the pair attended Texas A&M.
The couple had their first encounter in Panama City, Florida, in the spring break of 2009. Later, they became romantically involved after knowing they were meant to be.
The pair further bonded over their shared beliefs in Christianity. During an interview, Lauren revealed that their first conversations were funny and profound. Lauren knew he was the one within three months of the relationship.
The couple finally had a posh wedding in January 2012 in Mexico.
The pair owned a condo at a private yacht club in Fort Lauderdale within two years of marriage. They also bought the $650,000 condo with a boat slip a few months after the wedding.
Gave Birth To Two Adorable Children, Steel Ryan & Stella Rose
Being a beautiful and supportive wife, Lauren is also a doting mother to two kids. She gave birth to her first child, Steel Ryan Tannehill, in 2016.
Likewise, the pair welcomed their child, Stella Rose Tannehill, in 2018. Ryan proudly announced his daughter's arrival via social media.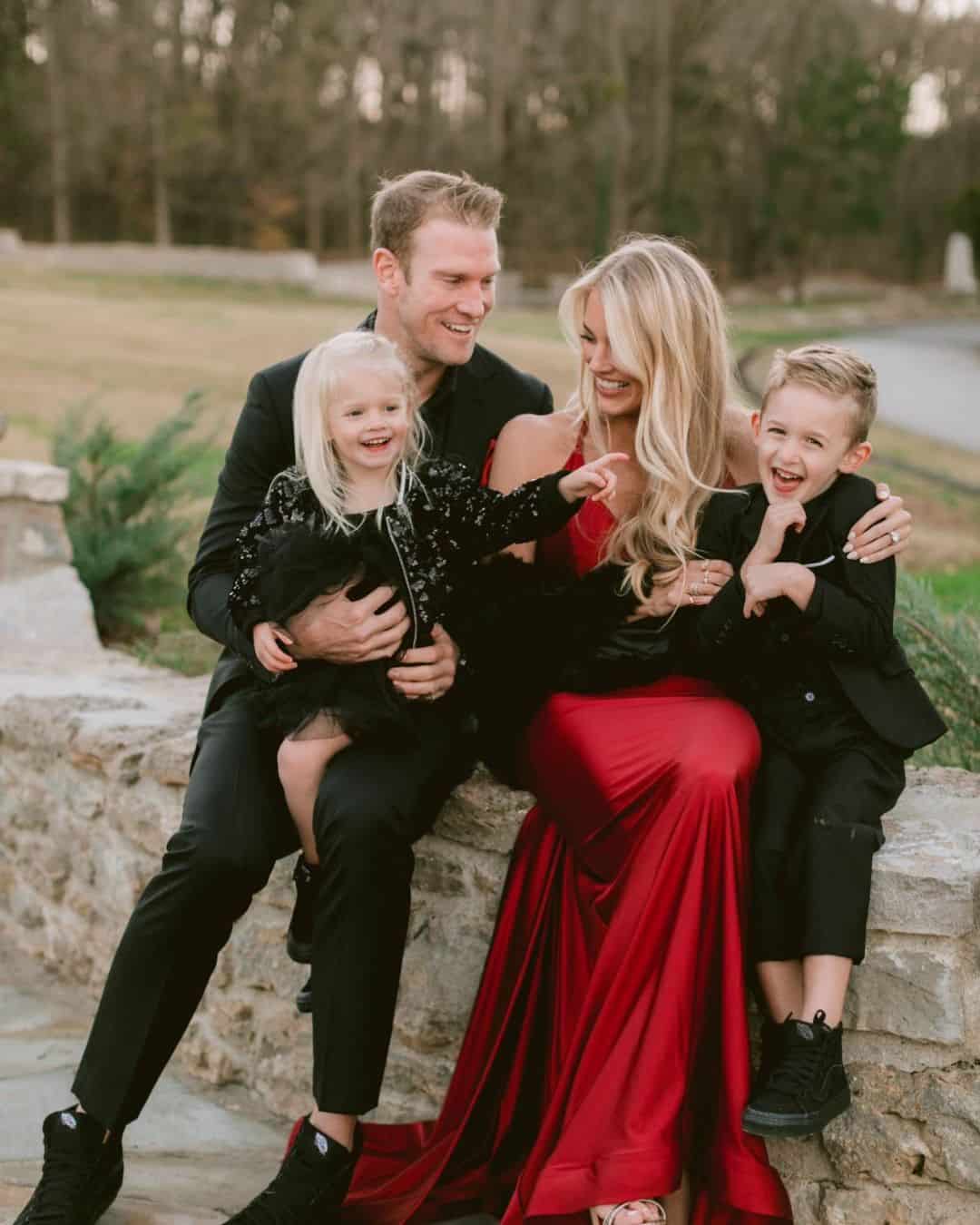 The couple's children saw their father's great supporting spirit when he played for the Titans. Similarly, we might as well hear more good news from the beautiful couple in the future.
Lauren Tannehill Is A Bible-Believing Christian!
As mentioned earlier, Ryan Tannehill's wife, Lauren Tannehill, is faithful, and the couple bonded over their beliefs. Therefore, it is not amusing to mention that Lauren is pretty vocal about her faith in Christianity.
Through social media, Lauren gushes her love for Jesus, her husband, and her dogs. The humble Texan girl is an all-rounder.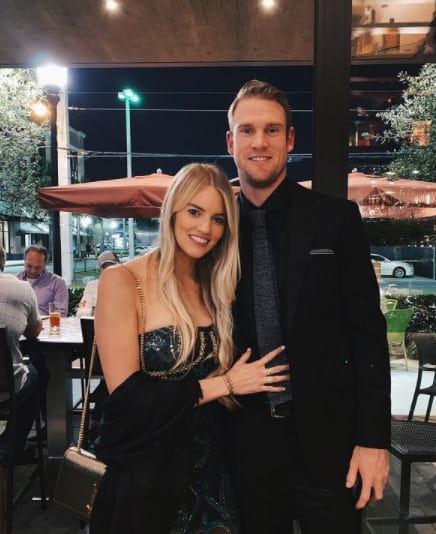 Lauren Tannehill truthfully revealed that she struggled to stay true to her faith during high school. However, she solidified her beliefs in college.
She committed to Bible study sessions during her junior and senior years and formed a base of like-minded people.
Also, during an interview, she revealed that she had to pray daily for strength. She further advises people to get involved in Christian organizations.
Lauren Tannehill's Husband, Ryan, Got Vaccinated!
Lauren Tannehill's husband Ryan has recently revealed NFL protocols forcing players to get vaccinated.
"But they're (NFL) trying to force your hand, and they ultimately have forced a lot of hands by the protocols, which is… everyone has their own opinions on it, so, it is what it is.
I love this game, I love this team, I want to be able to compete and do the things that I think are important, to build chemistry and win football games, so ultimately, that forced my hand to get vaccinated."
Mr. Ryan also implied that it's a personal choice for everyone. Similarly, they have a right to think about what's best for them and their family's health.
Social Media Presence
Lauren Tannehill is highly active on social media.
She has some lines from a poem by Maya Angelou in her bio, "My mission in life does not merely survive, but to thrive; and to do with passion, some compassion, some humor, and some style."
Instagram: 58.7k followers
Twitter: 26.3k followers
View this post on Instagram
In 2022, Lauren and Ryan appeared in a talk show of 20 Questions with Kendra Scott, where the couple asked 20 questions to each other.
Trivia
Lauren once won a screaming contest.
In modeling, the first ever shoot she did was a bridal shoot.
Lauren's father, John, passed away after his 55th birthday on October 28, 2019.
She signed on with Houston Modelling Agency Page 713 Model & Talent Agency for her modeling career.
Search Graph
Popularity graph of Lauren is highly fluctuating as she shares her famous QB husband's fame and wealth.
The graph illustrates the search rate for the past 12 months.
Frequently Asked Questions (FAQS)
How old is Lauren Tannehill as of 2023?
Lauren Tannehill is 34 years old as of 2023.
What does Lauren Tannehill do for a living?
Lauren Tannehill worked as a model and cardiac nurse; as a model, her first shoot was a bridal photoshoot.
Where did Lauren Tannehill go to College?
Lauren Tannehill attended Texas A&M University.
Does Ryan Tannehill has any tattoos?
Ryan Tannehill has a tattoo on his right arm, a tribute to his wife, which he got inked in 2017.