Ryan Walters' wife, Tara Walters, married the Purdue head coach in 2008. Ryan and Tara are high school sweethearts and are parents to two boys.
Packing and unpacking is a norm for a football coach's wives, and for Tara, it became an everyday experience during Ryan's first five years as a football coach. But she always remained supportive of her husband's profession.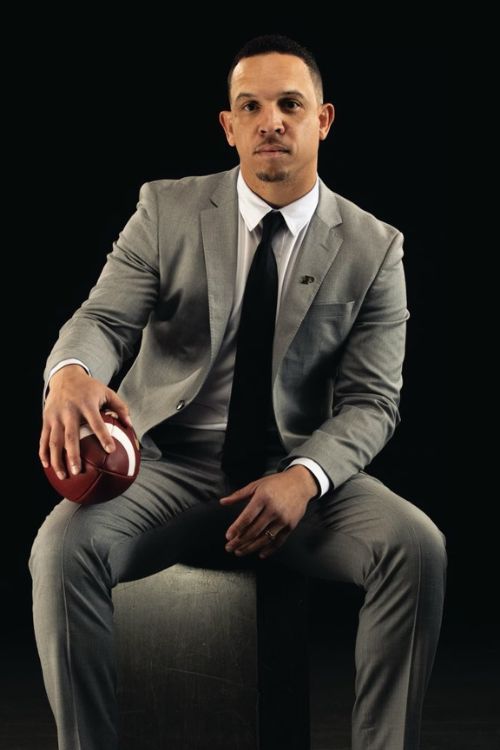 The family did find stability when Ryan joined Missouri in 2015 and remained there until 2020. He joined Illinois in 2021, and two years later, he received the biggest call of his life.
Last week, Ryan earned his first win as a head coach after Fresno State caused an upset in Week 1. A high-pressure game against Syracuse is waiting for Purdue and his team at home, the same team that beat Purdue a season ago.
Ryan Walters Wife, Tara Walters
Ryan Walters' wife, Tara Walters, previously worked at Achievers Gymnastics Center. The better half of the football coach has lived a life away from the spotlight.
Ryan and Tara first crossed paths when they were in middle school. But they only began dating when Ryan was in his junior year. Their love story is straight out of movies. Tara was a cheerleader, and Ryan was the star quarterback.
The two tied the knot in 2008 after Ryan graduated from the University of Colorado. The wedding took place in Ryan's parents' home in 2008, and since then, the couple has raised two beautiful boys, Aaron and Cason.
Ryan and Tara talked about their relationship in an interview with The News-Gazette in 2021. During the first five years of their relationship, as said by Ryan, Tara had become a professional packer and unpacker.
Ryan and Tara traveled from Colorado to Arizona to Oklahoma and Texas in five years. The family settled in Missouri in 2015 and called it its home until 2020.
When it came to packing again in 2021 to Illinois, Tara showed her husband her full support. Tara said she understood her husband always wanted to work for Bret and respected his career.
The couple added their sons had adjusted well to their move to Illinois and were friends with the children of the other Illinois coaches. Tara is available on Facebook and has shared a few family snaps.
Ryan Walters Coaching Career
Ryan Walters' coaching career began in 2009 with Colorado. His father, Marc Walters, is a veteran lawyer and has worked as corporate vice president for Microsoft.
After hanging up his cleats as a player in 2008, Ryan thought about going to law school. But he loved the high pressure and the high stakes of football.
In an interview, Ryan said he wanted to be a mentor for the young guys and help them realize their goals. His first full-time job came in Arizona as a graduate assistant, and a year later earned the defensive backs coach position.
He then joined Oklahoma as a graduate assistant and later as a cornerback coach. Walters worked in North Texas and Memphis before joining Missouri for a long term.
He started in Missouri as a safety coach and a year later rose to the position of co-defensive coordinator and safeties coach. He assumed the defensive coordinator's role full-time before moving to Illinois in 2020.
In Illinois, Ryan, as a defensive coordinator, found success as his team became second nationally in points allowed, third in total defense, third in yards per play, first in interceptions, and first in takeaways.
In December 2022, Ryan became the 37th head coach of Purdue University, and at the time of hiring, he was the fourth youngest coach in FBS. Ryan Walters' hiring might be an identity shift for Purdue, an organization defined by its offensive style.