The star, Samuel Davis Mills Jr. was an American football linebacker for the New Orleans Saints and the NFL's Carolina Panthers.
From an aspiring middle linebacker that a single NFL team did not want to hire to the five-time Pro Bowl player, Sam Mills had an inspiring and tear-jerking story.
Mills played for the United States Football League before making his debut in the NFL. He considers himself a fighter who does not give up.
He is someone who "keeps pounding" despite any problem that he might face in the world.
Before we get into the spellbinding career and life of Sam Mills, let us look at some quick facts about him.
Sam Mills: Quick Facts
Full Name
Samuel Davis Mills, Jr.
Birth Date
June 3, 1959
Birth Place
Neptune City, New Jersey, USA
Nick Name/Known As
Sam Mills
Religion
Christianity
Nationality
American
Ethnicity
African American
Education
Long Branch High School
Montclair State College
Horoscope
Gemini
Father's Name
Sam Mills I
Mother's Name
Juanita Mills
Siblings
Yes, an older brother
Age
[calculate years datestring="06/03/1959″] Years Old
Height
5ft 9 inches (1.75 cm)
Weight
105kgs (232 lbs)
Died On
April 18, 2005
Hair Color
Black
Eye Color
Dark Brown
Body Measurement
Unknown
Figure
Athletic
Marital Status
Married
Wife
Melanie Mills
Children
Sam Mills III
Profession
American football player
Net Worth
$15 million
Salary
N/A
Currently Works At
N/A
Affiliations
NFL, Carolina Panthers, New Orleans Saints
Active Since
1982-2005
Social Media
N/A
Merch
Football Card
Last Update
2021
Where is Sam Mills from?- Early Life, Upbringing, and College
Former Saints' Mills was born in Neptune City, New Jersey, the USA on June 3, 1959, to mother Juanita Mills and father Sam Mills Sr.
He grew up in Long Branch, New Jersey. An avid sportsman even as a kid, Mills loved to play the game called tag with his older brother.
Sam was also frequently seen playing pickup football with the older boys in the neighborhood.
This sporty streak did not leave him all his life as he went on to be connected to the game as a coach despite retiring.
Sam Mills studied in Long Branch High School and was a brilliant football player as well as a wrestler.
He was recognized for his skills in the football field as well as the ring, and hence he was appreciated and was clearly the best in his high school.
His high school has hanged his NFL jersey in the gym as an honour and a tribute to him and his brilliance in the game of football.
Age and Body Measurements
The extremely inspiring and legendary Sam Mills fell on the shorter side of the height spectrum.
Falling just a little under 5 ft 10 inches, Mills was overlooked numerous times as people considered his height to be a flaw.
His large physique at 105 kgs might seem too much, but it was perfect for a defensive linebacker for a footballer in the USFL and the NFL.
He overcame the height barrier through his excellent gameplay and lightning speed later in his life which earned him multiple honours throughout his life.
Sam Mills – Professional Career, Legendary Footballer
Montclair State University
Sam Mills attended Montclair State University, previously known as Montclair State College, from 1977 to 1980.
Mills is the all-time leader for career tackles with a whopping 501 tackles.
He was named NJAC First Team All-Star three times and won the New Jersey Collegiate Writers Defensive Player of the Year three years consecutively from 1978 to 1980.
Miles Boykin Bio: Football, Career, NFL, Family & Net worth >>
Despite performing brilliantly all through college, he was not paid much attention to by the NFL scouts because of his relatively short stature of 5ft 9 inches.
In 1981, Mills became an undrafted free agent and signed with Cleveland Browns. However, the Browns released him after they completed their preseason.
Professional Career
While for the Cleveland Browns, he wore the jersey number 41. This was one of the only two times when he did not wear his signature jersey number 51.
In 1982, Mills also signed with the Toronto Argonauts of the Canadian Football League, but he got released before the season even started.
During his early career, Mills was subject to extreme ignorance from the Scouters and NFL draft teams because of his short height.
People would be impressed by his game, but they dropped any interest in him s soon as they heard about his short stature.
Mills found a job assisting the football coach at East Orange High School and teaching photography to support himself.
If you are interested in buying New Orleans Saints Jersey, click here >>
The coach at Cleveland Browns, Sam Rutigliano, made a few calls and helped Mills land a tryout for the Philadelphia Stars of the United States Football League.
Sam Mills shined with his extraordinary performance at the training camp and became widely known as the "Field Mouse" because of his size and unbelievable speed. He quickly became the star of the League.
Sam Mills in 'The Stars'
Sam Mills spend good three years with the Stars, and he became a really important part of the team during the time.
He was popular for his leadership skills on and off the field as well as his tenacity in the game.
With Mills, the Philadelphia Stars(moved to Baltimore in 1985) won two championships.
Mills was hailed as one of the best defensive players in the history of the league during the short time it existed.
Sam was also a part of the All-USFL teams and a member of the USFL's All-Time team.
The Philadelphia Stars coach, Jim Mora, was hired by the New Orleans Saints and Sam Mills chose to follow along with his mentor and join the New Orleans Saints of the NFL.
In his time with the Saints, Mills was an important part of the defense. Mills was a part of the "Dome Patrol," a ferocious line of defense made by coach Mora.
Josh Barnett: Early Life, Career, Wife, Relationship & Net Worth >>
Sam Mills played for the Saints for nine seasons under coach Mora. Mills acted as the captain and signal-caller of the defense and led the team to be part of the first four playoff teams in the history of the NFL.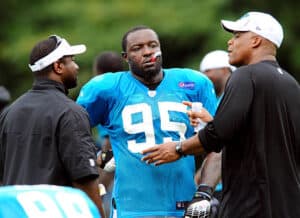 When Mills became a free agent in the NFL season end of 1994, Mills was offered a two year $2.8 million deal from Carolina Panthers. New Orleans Saints offered the same thing to Mills.
Shift to the Panthers
Mills eventually chose the Carolina Panthers because he wasn't pleased about the fact that New Orleans Saints did not provide a non-solicited offer.
In Carolina Panthers, Mills was considered a highly experienced player in an otherwise young team. For the first three seasons, Sam Mills started every game of the Panthers.
One of the most memorable games of Sam Mills for the Carolina Panthers would be in 1995 when he played against the New York Jets.
Mills guarded Bubby Brister a shovel pass and made a 36-yard touchdown. This victory gave the Carolina Panthers their very first victory in NFL history.
With the Carolina Panthers, Mills earned a fifth pro-bowl appearance at the age of 37, which made him the oldest defender to be invited to the Pro Bowl at the time. Sam Mills retired after the next season.
Sam Mills- Cancer, Last Moments, and Legacy
The NFL player, Mills was diagnosed with intestinal cancer in August 2003, when he was working as a linebackers coach for the Carolina Panthers.
The doctors concluded that he only had a few months to live.
Despite this, Mills did not stop his duty of coaching the team. He got started on the treatments like chemotherapy and radiation to prolong his life.
Sam Mills was an inspiration to the Panthers for the Super Bowl XXXVIII.
His emotional speech before the Panther's match against the Dallas Cowboys, where he made a request for everyone to "keep pounding," will always be remembered.
Speaking about Mills, Panthers Linebackers Will Witherspoon said,
"He's definitely the best coach I ever had, I got to talk to him the last couple of weeks and I knew that he wasn't doing well, but he never wanted to bring that up. He always wanted to focus on how I was doing. There's nothing better than the fact that he concentrated more on other people than he did on himself."
He fought with cancer for about two years while he continued to coach the Panthers. He died on the morning of April 18, 2005, in his home in Charlotte, North Carolina.
Panthers' Tribute
As a tribute to Mills, the Carolina Panthers retired famous Jersey No. 51. It was the first-ever number that the franchise had retired in history.
The speech made by Mills to keep pounding inspired the sports brand Nike so when they got the opportunity to make jerseys for NFL starting 2012 season, they sewed "Keep Pounding" on the insides of the Panther's Jersey.
Carolina Panthers, before the start of a game in their home ground, play the drumming bangs of "Keep Pounding" as a tribute.
The drums were also once played by Basketball Star, Panthers fan, and Charlotte Native, Stephen Curry.
If you are interested in buying other football gear, then click right here >>
Sam Mills- FAQs
1. What is Sam Mill's networth?
Sam had a net worth of about $15 million.
2. Is Sam Mills in the Hall of Fame?
Yes, Sam Mills is on the Hall of Fame of the Pro Football and many other formats.
3. Does Sam Mills have Social Media?
No, he does not have Social Media.
4. What kind of cancer did Mills have?
Mills suffered from intestinal cancer.