Saquon Barkley became a football sensation when he was listed as one of the most-paid athletes by Forbes in 2019. A football rookie who gained fame early in his career is a top prospect in American football.
Barkley is an American football running back currently playing for the New York Giants of the NFL. He played college football at Penn State Nittany Lions Football for three seasons, gaining 5,557 all purpose-yards.
The football running back came fourth in Heisman Trophy 2017 and received multiple national and Big Ten Conference awards. He set numerous records, like most career-rising touchdowns (49) and most total yards in a single game.
Thus, it should not come as a surprise when Forbes in 2019 listed Saquon in the top 100 of the World's highest-paid athletes. And that too at the age of 26!
Barkley is having an excellent 2022 season. He leads the Giants in rushing yards (1,083) and receptions (42). Saquon currently stands in the sixth position in NFL with 1,344 scrimmage yards.
Before looking at why Barkley gained so much fame at an early age, here are some quick facts about Barkley.
Saquon Barkley | Quick Facts
| | |
| --- | --- |
| Full Name | Saquon Rasul Quevis Barkley |
| Birth Place | Bronx, New York |
| Birth Date | February 9, 1997 |
| Nick Name | Saquon Barkley |
| Religion | Christian |
| Nationality | American |
| Ethnicity | Black |
| Horoscope | Aquarius |
| Father's Name | Alibay Barkley |
| Mother's Name | Tonya Johnson |
| Siblings | Ali, Rashard, Shaquona, and Aliyah Barkley |
| Age | 26 Years Old |
| Height | 6'0″/1.83 m/ 183 cm |
| Weight | 106 kg/233 lb |
| Hair Colour | Black |
| Eye Colour | Brown |
| Marital Status | Unmarried |
| Child | Jada Clare Barkley |
| Girlfriend | Anna Congdon |
| Profession | Football player |
| Net Worth | $40 million |
| Social Media | Twitter, Instagram |
| High School | Whitehall High School |
| University | Pennsylvania State University |
| Merch | Jersey, Funko Pop |
| Last Update | November, 2023 |
Saquon Barkley Bio | Life, Family, And Education
Saquon was born on February 9, 1997, in the Bronx, New York, to supporting parents Alibay Barkley and Tonya Johnson. Furthermore, Saquan is one of five children of his parents.
Unsurprisingly, Barkley is not the only athlete in his family. His father, Alibay, was a gifted boxer until his injury halted his career. He was only 19 when he was arrested on a gun charge and spent a year in Rikers Island prison.
While his uncle, Iran Barkley, is a three-time award-winning boxer.
Saquoan and his family relocated to the Pennsylvania town of Bethlehem in the Lehigh Valley in search of a safe community. They were rich even though they were immigrants.
Following their son's selection by the New York Giants, his parents were pleased to know that he was living nearby while playing professional football.
Saquon's father admits that leaving the Bronx was one of the best decisions he made in his life.
In an interview with AFMZ, his mother, Tonya, said that her son will gain from the game not just for himself but also for his family and close friends.
Saquan's younger brother Alibay Jr. is a star baseball player at George Washington High School in New York City and later got drafted by Los Angeles Angels.
Education
Saquon attended Whitehall High School in Whitehall Township, Pennsylvania. He played for his high school team from his sophomore to senior year.
During this time, he rushed 3,646 yards with 63 touchdowns. And subsequently, this earned Barkley a four-star recruit to Pennsylvania State University.
While attending Penn State, he also participated in world-class education. Barkley knows that he cannot play football forever. As his position is running back, the average career for it is shorter than in any other place.
Therefore he is doing the second thing he loves to do. He is pursuing his bachelor's degree in Communications. A communication degree is just one way of staying close to football.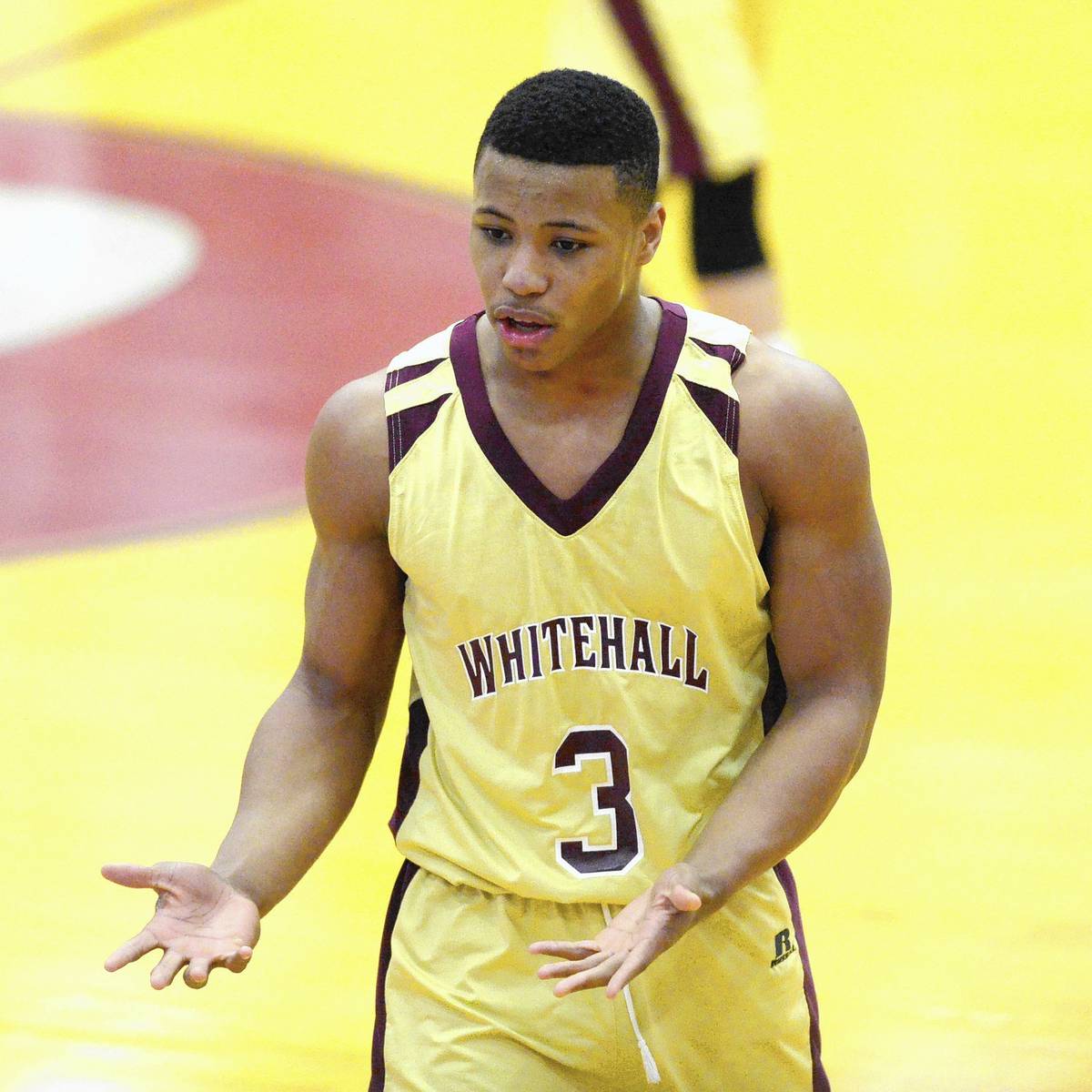 Balancing his grades is not a big problem for him. In an interview, his coach James Franklin said that Barkley's GPA is over 3.0, and he was named the team's "Leadership Council" during his sophomore.
Moreover, Saquon has a record of participating in more than 2,000 hours of community service. However, he dropped out during his studies due to conflicting schedules.
In 2018, he declared that he would return to Penn State. Penn State holds a special place for Saquon Barkley, as he met his girlfriend and the mother of his daughter there.
In an interview, Barkley said that he wants his daughter to be proud of him and show that he is much more than just a football player.
His talent is not limited only to football. At Whitehall, he also played track and field and basketball.
Furthermore, Barkley has won gold medals in the long jump and 100-meter dash, setting its record.
Saquon Barkley | Career
Coming from a sports background, Barkley has always been interested in sports. His father urged him to follow in his footsteps and opt for boxing.
But the heart wants what it wants, right? Boxing never interested him as football did.
Thus, he followed his passion instead of his father. The American football running back is blessed to have a father like him who does not force him to do anything he doesn't want.
Saquon was given the freedom to make his own decision.
College Career
Barkley played for three seasons for Penn State during his time at the University.
Freshman year
During his first year at Penn State, his excellent performance earned him the "Big Ten Network- Freshmen of the Year" award.
In his second game as a freshman, he rushed for 115 yards with a touchdown, followed by 195 yards and two touchdowns in his third game against Rutgers.
But sadly, he missed the other two games due to injury. In his freshman year alone, he rushed 1,076 yards, despite missing several vital competitions. This record broke the freshman record of D.J. Dozier.
Sophomore year
Unsurprisingly, his sophomore year proved to be even more fruitful. Saquon's first game was against Kent State, where he rushed for 105 yards and a touchdown in a 33-13 win game.
He rushed a total of 1,496 yards during his sophomore year. On November 3, 2016, Saquon was named a semi-finalist for the Maxwell Award, given to the all-around best collegiate football year of the year.
After the regular season, Barkley was also the Big Ten Offensive Player of the Year.
The football running back had 25 carries for 194 yards averaging 7.8 yards per carry, which gave Penn State a 28-27 win in the 2017 Rose Bowl on January 2.
Junior year
The amount of effort Barkley puts into a game can never be unnoticed. Despite his underwhelming games a few times, he was named "co-Big Ten Special Teams Player of the Week."
For his final college game, Barkley rushed 137 yards and two touchdowns, leading the victory of Penn State in the Fiesta Bowl Victory.
He rushed a total of 1,271 yards in his full junior year. Aft three years, Saquon decided to leave college for the 2018 NFL draft.
Although he left college, he promised his parents and coach that he would return and complete his degree.
Professional Career
Leaving college must have been a difficult decision for him. But the decision was all worth it as New York Giants Barkley selected him with the No.2 overall pick in the 2018 NFL draft.
After being drafted, Barkley signed a four-year deal on July 22, 2018. This deal was worth $31.2 million with $20.76 million as a signing bonus, $31m guaranteed, and an average salary of $7.79 million.
2018 Season
Although the first two weeks of his NFL were a loss, Barkley set a new record for 14 receptions, making an all-time franchise record for most catches in a single game.
Saquon recorded 82 passing yards, rushed touchdowns, and caught five passes for 35 yards in a 27-22 victory against Houston, Texas, in Week 3.
In Week 11, Barkley set his career-high record, rushing 142 yards with three touchdowns as Giants won against the Tampa Bay Buccaneers. Moreover, he was named NFC Offensive Player of the Week.
For all his effort during his rookie season, the American running back was given NFL Rookie of the Year, Pepsi Rookie of the Year, and FedEx Ground NFL Players of the Year.
Furthermore, he was named PFWA All-Rookie Team, which recognizes outstanding rookies for each position. And lastly, Saquon has also been named on AP All-Rookie teams, awarded by Associated Press.
2019 Season
2019 proved as a successful rookie year for Barkley. His teammates chose him as one of the seven team captains for 2019.
During his third week against Tampa Bay, he sprained his high ankle and only returned in the seventh week. He made his remarkable return by rushing 72 yards and touchdowns in the Gaints' 27-21 loss.
In his seventeenth week for NFL, Barkley rushed 17 times for 92 yards, including a season-long 68-yard run that resulted in a touchdown, leading him to win the NFC Offensive Player of the week.
Barkley finished his 2019 season by creating a history of 1,000 rushing yards for the Giants in two seasons. He was ranked 31st by his fellow players on the NFL Top 100 Players of 2020.
2020 Season
2020 has not been so great for Barkley. In week one against Pittsburgh Steelers, he rushed only 0.4 yards per attempt, making his career-low stat since making his debut.
But most importantly, Barkley's biggest unfortunate event came in the second week. He met with a significant knee injury which ended his whole season.
The MRI confirmed that he had torn his ACL and would undergo surgery. Barkley is no stranger to injury; in fact, no athletes are. But this was a massive blow, as this caused him to miss the rest of the season.
2021 Season
On April 28, 2021, the Gainst picked the fifth-year contract option on Barkley's contract, which was worth $7.217 million for the 2022 season.
Saquon again got injured in Week 5 against Dallas Cowboys, where his foot landed on Jourdan Lewis and rolled his ankle. Later, he was also listed in the NFL's Covid protocol.
The American football running back had 593 rushing yards, two rushing touchdowns, 41 receptions, and two receiving touchdowns in 13 games.
2022 Season
Barkley rushed for 164 yards and a touchdown and made six passes in the 21-20 comeback win against Tennessee Titans in Week 1.
His performance resulted in him receiving the NFC Offensive Player of the Week.
In Week 3, Saquon had 126 scrimmage yards and a rushing touchdown that gave them a loss against the Cowboys.
Saquoan made 146 rushing yards in the 20-12 victory over the Chicago Bears in Week 4.
Saquon Barkley | Awards And Accomplishments
Here are some of the career awards and achievements Barkley has received from his successful Career.
2022: 2X Pro Bowl
2018: NFL Offensive Rookie of the Year, Pepsi NFL Rookie of the Year
2017: Consensus All-American, Paul Hornung Award, Big Ten Offensive Player of the Year, Ameche–Dayne Running Back of the Year, Rodgers-Dwight Return Specialist of the Year, First-team All-Big Ten
2016: Big Ten Offensive Player of the Year, Ameche–Dayne Running Back of the Year, First-team All-Big Ten
2015: Second-Team All-Big Ten
2014: Mr. Pennsylvania Football
Saquon Barkley | Net Worth
There is no doubt that Barkley is famous and successful after checking his stats with the Giants.
After signing a four-year deal worth $31.2 million with Giants, his net worth is estimated to be $40 million.
He also generates $4.5 million from endorsements deals like Nike, Pepsi, Visa, Toyota, Bose, and Dunkin Donuts. Therefore, it is unsurprising that Forbes called Barkley a "marketing darling."
The football player currently resides in Pennsylvania, United States, and owns a lavish house with various expensive cars.
Saquan Barkley | Girlfriend
Barkley has been in a relationship with his beautiful girlfriend, Anna Congdon. They met in college as Anna Congdon also attended Penn State.
Anna came into the limelight in 2017 when she started dating Barkley. Sorry ladies!
But most importantly, she was the highlight of many news articles when Congdon and Barkley welcomed their daughter, Jada Clare Barkley. Anna was only 19 when she became a mother.
Nonetheless, even after becoming a mother, Congdon received her degree in nursing. Not only is she a loving girlfriend and a devoted mother, but she is also an Instagram influencer.
Not only is Anna attractive and intelligent, but she is also athletic. Standing 167 cm, she has always been interested in sports. She played basketball for her high school team.
Saquon Barkley | Personality
People close to Saquon describe him as hardworking, adaptable, and humble. A man with natural leadership and ethics, he has an excellent talent for management in his life.
It is without a doubt that he is a family man. In 2018, when his girlfriend was set to deliver their baby in Pennsylvania, he was listed for the NFL draft and presented in New York.
Barkley said he would have stayed with his girlfriend in an interview if he had to choose. But thankfully, he didn't have to choose, as Anna gave birth to their daughter two days before the NFL draft.
The American football running back says this is the best draft story. Two dreams came together at once. Moreover, Barkley appreciates his parents' sacrifices and is ready to do the same for his daughter.
His mother, Tonya, is his number 1 fan and doesn't miss a single game. His mother also persuaded him to consider a backup plan for the future.
Saquon Barkley | Some Famous quotes
Sometimes, you have to make a selfish decision and do what's best for you.
Nothing is given to you. Everything is earned. You have to have that mindset that you have to work every single day. Learn every single day.
I must believe in myself, set goals, set expectations, and continue working toward those goals daily.
Saquon Barkley | Social Media Presence
Barkley is primarily involved in various social media, particularly Instagram and Twitter.
Instagram :2.2m followers
View this post on Instagram
Twitter: 449.2k followers
Saquon Barkley | Popularity
The American football running back has a huge fan following in US and all over the world.
The graph shows his search trend for 12 months.
Saquon Barkley | Frequently Asked Questions (FAQs)
How much does Saquon Barkley lift?
Berkley has squatted 495 pounds seven times, according to PennLive.com.
Who replaced Barkley after his injury in 2020?
Devonta Freeman replaced Barkley, who signed one year deal with the giants.
What is the College Jersey Number of Saquon?
Saquon, during his college time, wore Jersey Number 26.
Does Saquon Barkley have a tattoo?
No, he doesn't have tattoos or any sign on any part of his body.
Where did Saquon take his football training?
Penn State coach James Franklin offered Saquon the coaching internship.