The elite prolific forward Sean May is an American former professional basketball player who played in the International and National Basketball Association (NBA).
May momentarily enacted as an assistant coach, and prior to that, he served as director of basketball operations at the University of North Carolina.
Alike, he accumulated NCAA championship and earned the NCAA Final Four Most Outstanding Player in 2005.
In addition, he outshined exquisitely during his stints in international; in the meantime, he became a French Cup winner in 2012 and a Turkish Cup winner in 2011.
Furthermore, he was labeled McDonald's High School All-American team in 2002 and USA Basketball Male Athlete of the Year in 2004.
Furthermore, May is well known for his great rebounds; he anticipates competently with his wide contour, and his rebounding abilities were his most affable asset.
Apart from being a coordinated hoopster during his eternity, his formidable injuries didn't commit him any favors over the long tenure.
Uncover additional enthralling information about the American-born former power forward, Sean May beneath.
Also, have a timely look at the quick informational facts represented below.
Quick Facts
Full Name
Sean Gregory May
Birth Date
April 4, 1984
Birth Place
Chicago Illinois
Nick Name
Sean May
Religion
Christianity
Nationality
American
Ethnicity
Unknown
Education

Bloomington North (Bloomington, Indiana)
North Carolina

Horoscope
Aries
Father's Name
Scott May
Mother's Name
Not available
Siblings
One (Scott May Jr.)
Age

38

years old
Height
6 feet 9 inches (2.06 m)
Weight
121 kilogram (266 lb)
Jersey no.
42
Hair Color
Black
Eye Color
Black
Body Type
Athletic
Profession
Former NBA player
The draft Year
2005 / Round:1 / Pick: 13th overall
League
NBA & International
Active Years
2005 – 2015
Coaching career
2015-present
Marital Status
Married
Wife
Grace Vargas
Kids
Four
Net Worth
$3 million
Position
Power forward
Last Played NBA team
Sacramento Kings
Social Media
Instagram, Twitter
Merch
Basketball Card
Last Update

November, 2022
Sean May | Early Life & Family
An athletic hoopster, Sean May, was born in Chicago, Illinois, on April 4, 1984.
His full birth name is Sean Gregory May, but he's commonly admired as Sean May. In addition, May holds American nationality and follows Christianity wholeheartedly.
May was born to a supportive mother and an athletic father, Scott May, an American former professional basketball player.
Growing Up in an Athletic Family
Moreover, the competitive 6'7″ Scott May played basketball with Indiana University, then several teams of the NBA, and received acclaim for his achievements and accomplishments.
Therefore, he earned the NCAA championship in 1976 and NBA All-Rookie First Team in 1977.
Likewise, Sean is sanctified to share his companionship with his older brother, Scott May Jr., who also retains a keen interest in basketball and played for the University of Indiana.
Furthermore, his father won a championship with Indiana University Hoosiers in the mid-70s and became the player of the year in the same year.
Also, his older brother attended Indiana and made the National Championship title Game in 2002 for Hoosiers.
Following this, Sean was expected to attend Indiana, but he decided to go to North Carolina and didn't fail to amaze the folks.
Accordingly, Sean May's determination towards basketball perhaps showed up because of the background he was raised in and wrapped up his triumphant basketball stints with name and fame.
Sean May | Basketball Career
College Career
Sean May enrolled at the University of North Carolina at Chapel Hill after attending Bloomington North High School.
In the meantime, he played college basketball for the North Carolina Tar Heels from 2003 to 2005.
Thus, in his junior season, he was labeled as the Most Outstanding Player of the 2005 NCAA tournament after he assisted Carolina to succeed in its fourth national championship.
Accordingly, he'd scored 26 points on 10-11 shooting and added 10 rebounds in a 75-70 victory against the University of Illinois.
Disclose everything out, Jevon Carter: Net Worth, NBA & Family>>
Professional Career
The Chicago native, Sean May, announced to enter the NBA draft forgoing his senior year at North Carolina University in April 2005.
Thus, he was selected by Charlotte Bobcats, a lottery pick with the 13th overall pick in the 2005 NBA Draft.
Moreover, he undertook his professional career exquisitely as he was labeled MVP of the summer league Rocky Mountain Revue.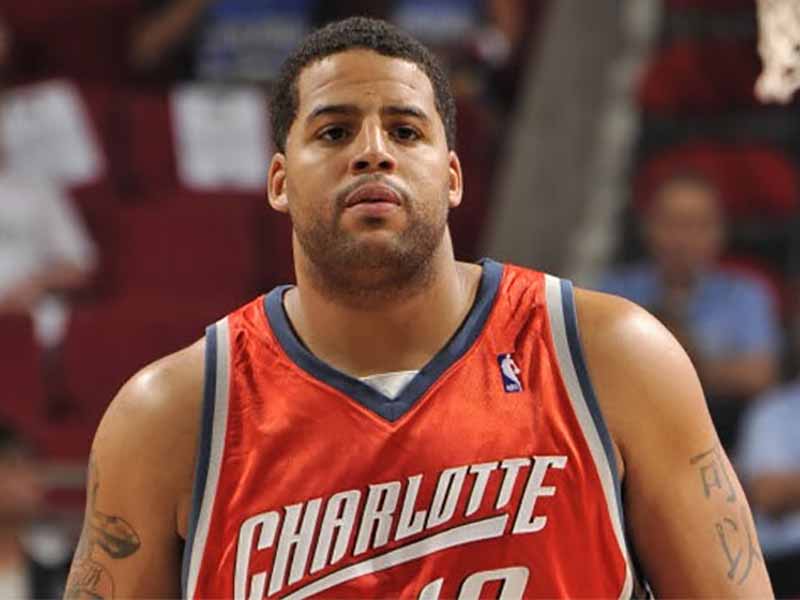 Consequently, a terrific injury slashed his rookie season to brief on December 2005.
Additionally, he missed the entire 2007-2008 NBA season due to microfracture surgery on his right knee in October 2007.
Also, the side effects of the surgery struck him roughly in the following season as he encountered repairing difficulties, tendinitis and weariness.
Therefore, May was believed physically incapable of playing, and the Bobcats receded to make a qualifying offer for the fourth year and render him an unrestricted free agent.
Then, May signed a one-year agreement with the Sacramento Kings in July 2009.
Moreover, in August 2010, he signed a one-year deal with the New Jersey Nets and was released in September 2010 due to a stress fracture to his left foot in the preseason training.
International Teams
Accordingly, he signed with Finerbahçe Ülker of Turkey in November 2010 for the 2010-11 season.
Later in October 2011, he signed with KK Zagreb of Croatia, and he split up his way with Zagreb and rolled to Sutor Basket Montenegro of Italy in February 2012.
Similarly, he signed a two-year contract with Paris-Levallois Basket of France in July 2012.
May appeared in only one game in the 2013-14 season due to the injury.
Moreover, in November 2014, he signed SPO Rouen Basket of France in November 2014, and he departed with Rouen in December 2014 and signed with Orléans Loiret Basket.
Coaching Career
Sean May was hired as the director of player development at a former University, the University of North Carolina, in 2015.
Therefore, during that eternity, he administered as the director of player development for two years and later switched to Director of Basketball Operations in 2017.
Then, he accepted a promotion from Director of Basketball Operations into one of the three on-the-bench assistants spots in 2021 and serving his assistant role to date.
Awards & Achievements
Sean May had an exalted basketball career starting from 2005 to 2015, where he earned numerous honors for his accomplishments and dedication.
Moreover, he earned supplementary recognition playing in the NBA and internationally, and he gathered bunches of awards and achievements to intensify his stature.
French League Best Scorer (2013)

French Cup winner (2013)

Final MVP in French Cup (2013)

Turkish Cup winner ( 2011)

Turkish League champion (2011)

NCAA champion (2005)

NCAA Final Four Most Outstanding Player (2005)

First-team All-ACC (2005)

Second-team All-ACC (2004)

Consensus second-team All-American (2005)

No. 42 honored by North Carolina Tar Heels

First-team Parade All American (2002)

McDonald's All-American (2002)

Indiana Mr. Basketball (2002)

USA Basketball Male Athlete of the Year (2004)
Medals
FIBA Americas U20 Championship (2004) – Gold Medal
Net Worth & Salary
A distinguished former hoopster, Sean May, had a net worth of $3 million.
Addressing his salary, in the 2009-10 season, he earned $884,881 with the Sacramento Kings.
Likewise, in the 2008-09 season with Charlotte Hornets, he amassed $2,661,027, and in 2007-08, he earned $1 862,160 with Hornets.
Accordingly, in 2006-07, he accumulated $1,740,720 with the Charlotte Hornets, and in 2005-06 his initial salary with the NBA team, Hornets, was $1,619,280.
Excavate everything out, Tomas Satoransky Bio: Awards & Net Worth>>
Age, Height & Weight
The formative former player Sean May was born on April 4, 1984, and assessing his birthdate, he's 38 years old.
About his physical stats, he stands at a soaring height of 6 feet 9 inches (2.06 m), and his body weighs around 266 lb (121 kg).
Moreover, May has an extensive frame and was physically powerful enough to epitomize himself down on the blocks.
Thus, his impressive hands deluge every ball that he can get his hands-on, and they were part of the reason why May was an incredible rebounder.
Social Media Presence
Sean May is quite an active persona on social media sites, specifically Twitter and Instagram.
After surfing his social media sites, he's thousands of posts shared with the general public that closely get to know his lifestyle.
Moreover, he's very familiar with his family and often shares pictures with his four adorable daughters and gorgeous wife.
Furthermore, his introductory bio on Twitter explains his intuitions; it stated,
"I Speak My Mind With Respect…Basketball is My Life…Child of God…Husband…Father…Son…Friend…Proud to be a Member of the TarHeel Family."
Therefore, find him on social media sites to get to know him better through his off-court and on-court activities.
Sean May | Wife & Kids
Tall and graceful player, Sean May is married to a gorgeous lady Grace Vargas.
The perfect twos have a beautiful tale before getting into a wedding, May made his first move and affirmed his heart to his lady, dates back, while May was twenty-six years old.
Moreover, Grace used to serve as a bartender, and in the meantime, May caught sight of gorgeous Grace, which was adequate to fall head over heels.
Then, after flourishing affection and dating each other for several years, the couple got married in August 2010, and they are endowed with four daughters thus far.
Therefore, May loves his four daughters exceptionally and self-claimed a #girldad in every respective picture he posted on social media sites.
The Sean May Foundation
The Sean May Foundation is a non-profit organization stabilized in 2005 by the American-born professional basketball player and coach Sean May.
Moreover, the foundation was born with the motive to educate, enrich and empower the youth in North Carolina.
As the institute believes that youth represent the future and keep that thing on focus, the purpose is to positively impact and enhance youth's lives and thus uphold the society around them.
Uncover everything about Malcolm Brogdon: NBA, Net Worth & Injury>>
Frequently Asked Questions | FAQs
Does Sean May have tattoos?
In the Chinese language, Sean May has carved a tattoo on his left arm, which folks found a little laughable as the player misunderstood the translation of the two characters inked on his arm.
Does Sean May have NBA Ring?
Sean May played with two different NBA teams, Charlotte Bobcats from 2005 to 2009 and Sacramento Kings from 2009 to 2010.
Thus, he didn't amass an NBA ring during his tenure with the teams.