Sean Williams is a former professional American basketball player who played the position of power forward/center in the NBA and international leagues.
He was a star athlete from his early years and was cheered by many! Along with being a star athlete, Sean was also a notable student.
The player completed his undergraduate from Mansfield High School. Following that, he enrolled in Boston College in 2004 and graduated in 2007 with flying colors.
After that, Williams was selected as the 17th overall pick in the NBA 2007 draft by the New Jersey Nets.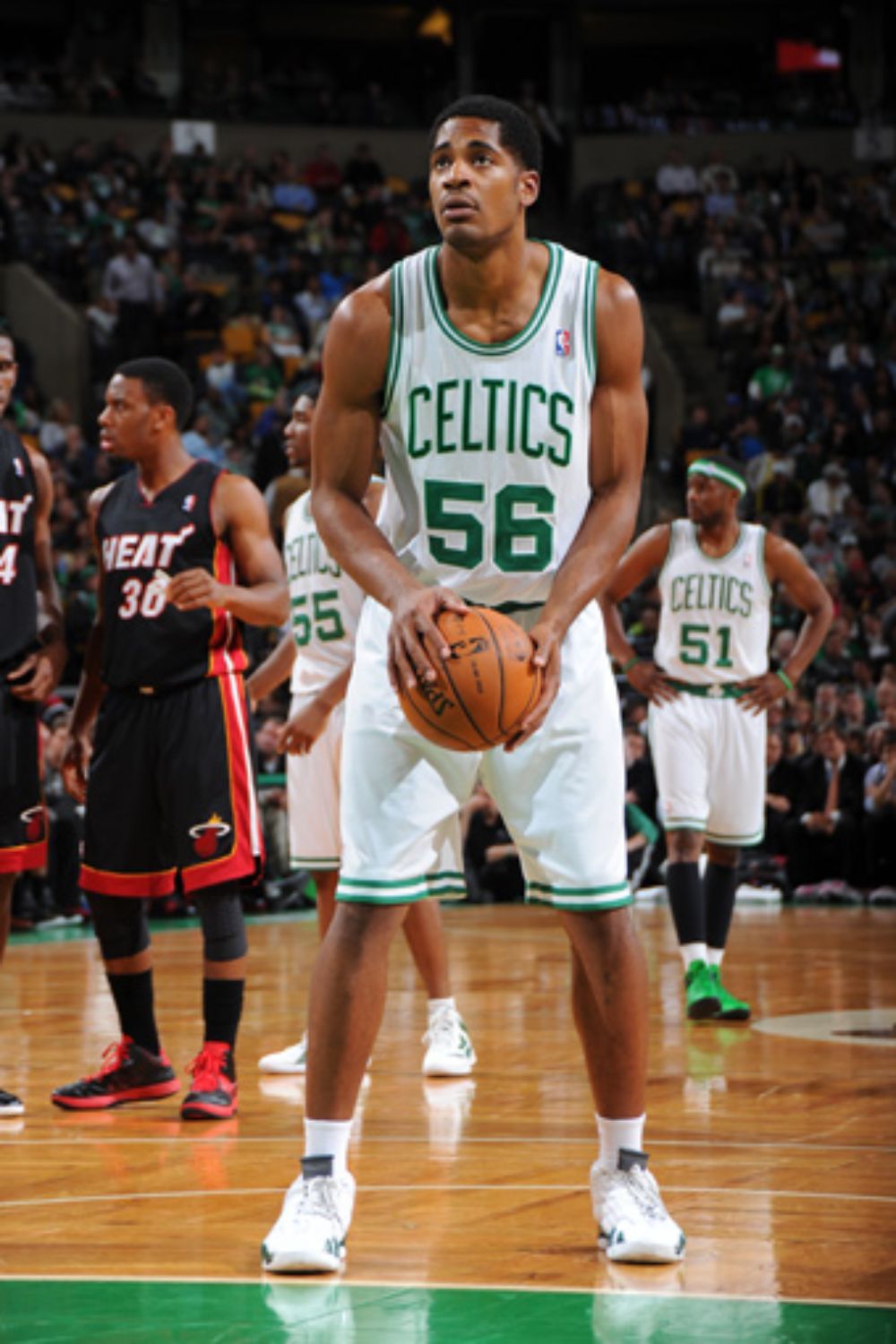 Williams joined the GlobalPort Batang Pier for the 2017 PBA Commissioner's Cup in 2017 and appeared in three-team games.
He is now a free agent with no club restrictions.
Want to know more about the player? Here, we have summarized all the essential information about Sean's life, including his career, controversies, and net worth. So, please read the article to the end!
However, first, have a look at some quick facts about Williams!
Quick Facts
| | |
| --- | --- |
| Full Name | Sean Christopher Williams |
| Known As | Sean Williams |
| Birth Date | September 13, 1986 |
| Birth Place | Houston, Texas, USA |
| Age | 36 Years Old |
| Religion | Christian |
| Nationality | American |
| High School | Mansfield High School |
| College | Boston College |
| Zodiac | Virgo |
| Chinese Zodiac | Tiger |
| Father's Name | Roland Williams |
| Mother's Name | Audrey Garrett |
| Stepfather's Name | Lawrence Garrett |
| Siblings | Myles Garrett, Brea Garrett |
| Height | 6 feet 10 inches/2.08 m/208 cm |
| Weight | 235 lbs/107 kg |
| Build | Athletic |
| Shoe Size | Not Known |
| Hair Color | Black |
| Eye Color | Dark Brown |
| Last Played League | Bahrain Premier League |
| Active Years | 2007- Present |
| Marital Status | Unmarried |
| Girlfriend | Not Known |
| Children | None |
| Profession | Basketball Player |
| Position | Power Forward/Center |
| Currently Playing for | Free Agent |
| Net Worth | $6 Million |
| NBA Draft | Round: 1, Pick: 17th overall, 2007 |
| Social Media | Not available |
| Merch | Signed Photo |
| Last Update | March 2023 |
Early Life And Family
Sean Williams was born on September 13, 1986, in Houston, Texas, to his father, Ronald Williams, and his mother, Audrey Garrett.
The player has two half-siblings; Myles Garrett and Brea Garrett.
Sean grew up with his mother, Audrey, and stepfather, Lawrence Garrett, in Arlington, Texas.
Sadly, Sean spent little time with his biological father.
Roland, his biological father, lived in Houston, Texas. Nevertheless, Williams grew up in a happy family despite being separated from his dad at a young age.
His mother deserves credit for leaving no stone unturned in providing him with a new proper, and functional family environment.
From a young age, Sean was enthralled by basketball. In his hometown, he used to participate in community service. However, the player did not play organized basketball until he was fifteen.
Sporting Family
Sean is not the only person interested in sports in his family. Both his half-brother and half-sister are athletes.
Myles Garrett, his half-brother, is a professional football player for the Cleveland Browns of the NFL. He is well-known in sports and is frequently praised for his defensive abilities.
Brea Garrett, Williams' half-sister, was a track and field athlete in their hometown of Texas. Throughout her professional career, she has won numerous titles and championships. Brea made history by winning the NCAA 20-pound throw championship in 2014.
Given the siblings' penchant for sports, we can conclude that passion and talent run in the family.
Coming from a sporting family, it's no surprise that Sean became a professional basketball player.
Age, Height & Body Measurements
The basketball player Sean Williams was born in the year, 1986. Hence, he is 36 years old.
Sean was born in the Tiger year, according to the Chinese Calendar. Likewise, as a September kid, his zodiac sign is Virgo.
Talking about his physical appearance, Sean is 6 ft 10 in (2.08 m) tall and weighs around 235 lb (107 kg). Similarly, he looks bold with his dark brown eyes and black hair.
Williams is his team's power forward/center, so he has good mobility and is physically fit. Based on his body measurements, we can conclude that he works hard to stay in shape.
High School Days
Sean Williams was not a highly touted recruit out of high school, but he preferred Boston College to Texas.
He excelled both as an athlete and a student; in his junior year of high school, he received 1280 on his SATs (out of 1600).
Williams averaged 16 points, ten rebounds, and six blocked shots per game for Mansfield High School.
During his senior year, he was named the district's top newcomer.
College Career
Sean Williams came to Boston College hoping to make an immediate impact. He was named Big East Rookie of the Week on January 10 for his efforts against Connecticut and Providence.
The player scored 24 points, grabbed 16 rebounds, and blocked six shots. Likewise, Sean scored in double figures in two games and had one double-digit rebound game.
He had one double-double, totaling 16 points and ten rebounds in a home win over Providence on Jan. 8, 2005, shooting 7-for-7 from the field.
Williams ranked third in the Big East Conference in blocked shots (2.25/round). He was either the team leader or tied for the team lead in blocked shots 20 times.
Sean's bold attitude and intense gameplay on the court while blocking shots from the opposing team earned him the title of Boston's blocking force.
Due to his superior blocking abilities, his teammates dubbed his games in college the 'Sean Williams Block Party.'
Sean did not play for his college team the entire season, but that did not stop him from establishing a significant presence on the basketball court as a member of the Big East Conference and the ACC.
During 2006-2007, Williams was the top player who could block shots and set numerous records.
Possession Of Marijuana
Sean was involved in some restrictive activities in college during his junior year, and the college's disciplinary team suspended him for his actions.
The player was arrested in 2005 on suspicion of marijuana possession. Following his arrest, Boston dismissed him from the college team.
However, Williams pleaded not guilty to the authorities and was eventually found innocent by the officials after the investigation was completed.
After completing the rehabilitation program, the charges were dropped. Boston suspended him for one semester. At that time, the player attended classes at Houston University.
Sean was soon back in the game after clearing his name of all the controversies surrounding the case.
Arrested For The Second Time
The basketball violated the no-trespassing order by attending a BC Duke game in February 2009. The police arrested him as a result of his actions.
Sean was hostile during his arrest, and according to the police report, he was scribbling profanity rather than writing his name on the fingerprint card and trespass warning.
Another incident occurred on March 16, 2009, which resulted in the player's arrest. Williams was charged with showing inappropriate behavior with a clerk in a cellphone store at Lone Tree's Park Meadows Mall.
During the argument, Sean threw the store's computer monitor, causing damage to the printer and signature pad. As a result of his actions, he was charged with a felony and malicious mischief.
He couldn't fly back to New Jersey after the incident and was suspended for two games, as such malicious behavior is unacceptable in sports.
NBA/NBA D-League
In the 2007 NBA draft, Williams was selected 17th overall by the New Jersey Nets.
The player was traded to the NBA D-Colorado League's 14ers on December 29, 2008. The Nets called Williams back on January 22, 2009; however, he was waived on January 11, 2010.
Sean signed with the Texas Legends in November 2010. He was chosen for the NBA D-League All-Star Game in 2011 because of his outstanding skills and performance.
The American player was named to the NBA Development League's Third Team. In 2011, he finished second in the Defensive Player of the Year voting.
Sean played for several teams between 2011 and 2012, but he could only play for a short time with each club due to frequent transfers.
Although Sean played for the NBA, the player was mainly drawn toward playing for international clubs.
Did Sean Williams Play Overseas?
Yes, the basketball player also played overseas!
Williams joined the Fujian SBS XunXin of the Chinese Basketball Association (CBA) in 2010. He appeared in 16 games for the team, and in 2010, he won the CBA All-Star Game Dunk Contest.
Similarly, Sean played for the Mets de Guaynabo in Puerto Rico during the 2009-10 season, where he averaged 10 points per game that season.
Williams also joined the Israeli League's Hapoel Jerusalem in August 2010. He was released before the first game, so he could not play for the team.
Following that, Sean signed a contract with Maccabi Haifa B.C. on August 10, 2011. The agreement included a provision that allowed him to return to the NBA if he received an NBA offer.
In September 2013, the player signed with the Turkish League's Torku Selcuk Universitesi. He spent four years with the Turkish League.
Sean joined the GlobalPort Batang Pier for the 2017 PBA Commissioner's Cup in March 2017. He also played in the Gaziantep Basketbol (2017) and Al-Muharraq (2018–2019).
Currently, he is a free agent with no club restrictions.
Career Highlights
2011 NBA D-League All-Star
2× All-NBA D-League Third Team (2012, 2011)
2× NBA D-League All-Defensive First Team (2012, 2011)
2010 CBA Slam Dunk Contest champion
Net Worth
Sean Williams' net worth is estimated to be around $6 million as of March 2023.
The primary source is his contract deals with various clubs during his professional career. He has played for several NBA teams and international teams, so his fortune is justifiable.
The Dallas Mavericks paid him an $885,120 annual salary in 2012. He has been involved in sports for over a decade, so his wealth has risen.
Social Media Presence
Unfortunately, Sean does not use any social media platforms. He does not like to present himself on social media because he is very private about his personal life.
However, the news about his professional life is not private. Several media outlets cover his professional achievements as a pro basketball player!
Popularity Graph
The former NBA player Sean Williams is still a famous sports figure.
The above line graph represents his search results in the last 12 months.
Frequently Asked Questions (FAQs)
Is Sean Williams married?
No, Sean is not married. We are unsure if he was dating someone, as the player has never come forward with the details of his romantic life.